Jeppa's Juniors – Round 11
On the eve of the bye rounds, getting your rooks right is critical in achieving at least 18 playing players. Don't miss Jeppa's full review from the weekend's action including those 'juniors' that should be on your radar.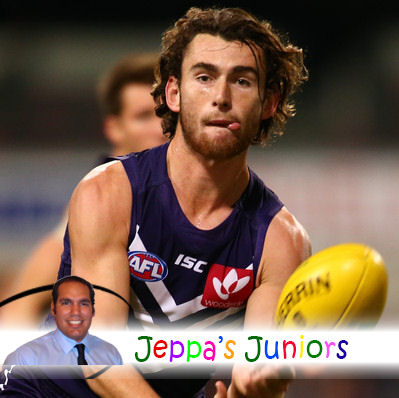 No one likes the bye rounds but it's part of the game and from experience, the elite coaches rise above during this period. As it stands, we're pretty good on the injury front but anything can happen and I urge you to have a playing squad of at least 28 this week.
At this stage, my strategy for the bye rounds is to bring in Rocky this week and have plenty of cash leftover, make a double downgrade in Round 13 to be cashed up for a major premo upgrade in Round 14 (Pendles, Docherty). Make sure you plan ahead!
Let's get into the rooks shall we…
Three-Or-More Gamers
KEEPERS
It took him a while to get going but Connor Blakely (Mid. $301,000, -9 be AF. $335,100, -1 be DT) has confirmed his status as a budding young AFL star. He's a one-touch player, excellent in congestion and is a great tackler. Playing a pure midfield role for Freo, Blakely reached his first Fantasy ton (108) against Essendon after amassing 25 possessions, 5 marks and 7 tackles. Keep starting him on your field…he's got Brisbane, Port and Collingwood until the Dockers Round 15 bye. Show me the money and the scores!
It would be a different Fantasy and Dreamteam season without Sam Kerridge (Fwd/Mid. $441,000, 55 be AF. $451,800, 57 be DT) and Daniel Wells (Fwd/Mid. $416,000, 49 be AF. $406,300, 12be DT). They've been colossal players all season and in a time of need they pull out a whopping 139 and 126 respectively. No doubt they'll be handy during the bye rounds.
Ryan Davis (Fwd/Mid. $288,000, 7 be AF. Mid. $304,100, 6 be DT) flourished in the wet conditions against the Swans and exceeded expectations with 98 Fantasy points for the round. His highest score of the season is timely and it looks like those that have held him will have him for a few weeks yet.
A new role at halfback for Hayden Crozier (Fwd. $338,000, 17 be AF. $362,700, 14 be DT) is doing wonders for his Fantasy scores. 107 last week after 88 in Round 10 has our attention especially since he'll continue his backline role for the foreseeable future. I'm not keen to outlay that much cash for Crozier but coaches looking to generate some dollars and obtain 75+ scores at the same time should consider him. If you're one of his 782 Fantasy owners…well done!
After a poor week in Round 10, Christian Petracca (Fwd/Mid. $347,000, 54 be AF. $331,400, 66 be DT) returned to form against the Hawks. He was at his aggressive best and managed to gather 17 possessions, 4 marks, 6 tackles, 1 goal and 85 Fantasy points. It's a no brainer to hold him. Darcy Byrne-Jones (Def. $311,000, 33 be AF. $320,500, 6 be DT) will be another handy rook throughout the bye period. DBJ has averaged 90 from his last two matches and he's cemented a spot in Port's 22.
Daniel Gorringe (Ruc/Fwd. $243,000, -1 be AF. $252,400, -14 be DT) 94, Callum Ah Chee (Fwd. $226,000, 22 be AF. $227,000, 20 be DT) 87, Lachie Weller (Mid. $291,000, 41 be AF. $310,000, 35 be DT) 85, Jacob Hopper (Mid. $326,000, 46 be AF. $282,600, 27 be DT) 78, Darcy Tucker (Def. $207,000, 4 be AF. $171,500, -18 be DT) 74, Darcy Parish (Mid. $353,000, 56 be AF. $356,000, 40 be DT) 73, Josh Smith (Def/Mid. $308,000, 44 be AF. Def. $296,600, 18 be DT) 73 and Corey Ellis (Fwd/Mid. $318,000, 48 be AF. $339,000, 63 be DT) 72 round out the keepers for Round 11 due to their recent scoring run.
DON'T PANIC
There are plenty of 'juniors' scoring steadily and going up in value. These include Marcus Adams (Def/Fwd. $326,000, 54 be AF. $327,000, 41 be DT) 69, Josh Wagner (Def. $326,000, 59 be AF. $335,600, 56 be DT) 68, Josh Dunkley (Mid. $278,000, 8 be AF. $253,700, -34 be DT) 65, Ciaran Byrne (Def. $285,000, 40 be AF. $290,600, 19 be DT) 62, Sam Frost (Ruc/Fwd. $214,000, 26 be AF. $243,800, 53 be DT) 59, Trent West (Ruc/Fwd. $199,000, 15 be AF. $194,600, 14 be DT) 59, Ben Keays (Mid. $252,000, 48 be AF. $232,400, 37 be DT) 56, Ben Crocker (Fwd/Mid. $186,000, 23 be AF. $185,300, 14 be DT) 36, McKenzie Willis (Fwd/Mid. $148,000, 13 be AF. $141,000, 1 be DT) 35, Dougal Howard (Fwd. $186,000, 23 be AF. $186,800, 22 be DT) 23 and Jackson Paine (Fwd. $156,000, 24 be AF. $149,200, 27 be DT) 22. Hold them if you own them but not for long!
TRADE, TRADE, TRADE
It's not rocket science now. Trade for the byes and those rooks that will lose you the most cash. Special mention to popular picks Anthony McDonald-Tipungwuti (Def/Fwd. $344,000, 59 be AF. $363,800, 77 be DT) 60, Jackson Trengove (Def. $324,000, 63 be AF. $345,700, 95 be DT) 53, Matt Dea (Def. $367,000, 74 be AF. $395,400, 113 be DT) 48, Mitch McGovern (Fwd. $288,000, 51 be AF. $304,800, 62 be DT) 47, Tom Ruggles (Def. $253,000, 48 be AF. $252,800, 53 be DT) 35 and George Hewett (Mid/Fwd. $287,000, 78 be AF. Mid. $299,600, 101 be DT) 10. Thank you for your services.
If I haven't categorised a player from Round 11 under 'Keepers' or 'Don't Panic' then trade them out as soon as you can but when appropriate.
Two Gamers
Sam Collins (Def. $194,000, -22 be AF. $121,300, -85 be DT) is head and shoulders above any other two gamer this week. The key defender had a day out against the Bombers showing his brute strength in the contest and amassing an impressive 24 possessions, 11 marks, 1 tackle and 97 Fantasy points. Note that as a key defender, these numbers are almost a once off. It's not too late to trade in this cashcow but remember he's suited to one of your defender bench spots. No job security issues here!
Tom Cole (Def/Mid. $181,000, 21 be AF. $121,300, -24 be DT) was a late inclusion for Jeremy McGovern but he failed to impact the stat sheet. 38 Fantasy points and job security issues are big enough indicators to stay away. Brodie Murdoch (Fwd. $198,000, 26 be AF. $235,700, 36 be DT) falls into the same category as Cole. Murdoch had little influence on the weekend scoring a mere 32 Fantasy points and will probably be dropped.
Harry Marsh (Def. $141,000, 11 be AF. $121,300, -9 be DT) and Matthew Goodyear (Mid. $138,000, 17 be AF. $128,300, 4 be DT) scored just 37 and 29 Fantasy points respectively this week and both have averaged less than 40 in their two games to date. They're not Fantasy relevant. Pass.
One Gamers
How many gems do Hawthorn have!? One of the Hawks best-kept secrets, Kade Stewart (Mid. $153,000, -18 be AF. $105,800 DT) was promoted off the rookie list and thrust straight onto the MCG for his debut. Showing a willingness to compete and ferocity for the contest, Stewart had 8 tackles and 48 Fantasy points to half time! He went on with it in the second half too to finish with 91 Fantasy points. The way Hawthorn have used their youngsters sparingly over the past couple of season means we just cant pick him two weeks out from the byes, it's just too big a risk…imagine if he was dropped for Round 13!
Even though he scored 80 Fantasy points on debut, I'm not convinced on Jarrad Jansen (Mid. $148,000, -12 be AF. $128,200 DT). The big, inside midfielder has been far from impressive in the NEAFL this season but did have 21 touches and a goal against the Blues last Saturday. Jansen has a history of going missing in games hence why I want another look at him this week before looking to trade him in. A risky pick in my opinion!
Elevated off the rookie list, Will Hams (Fwd. $173,000, 1 be AF. $137,200 DT) suited up against Freo and was a handy contributor for the Bombers. Playing between the midfield and forward 50, he had 14 touches, 3 marks, 5 tackles, 1 goal and a solid 75 Fantasy points at the final siren. You should note that Hams natural game is as a ball wining midfielder, making him Fantasy relevant. Over the past month in the VFL, he's averaged 28 possessions and 104 Fantasy points and there's no reason why he won't receive plenty of game time at Essendon. I'm trading Hams into my Fantasy team this week (for McGovern), as there are no decent forward rooks on the horizon. Get around him!
James Rose (Fwd. $205,000, 6 be AF. $186,700 DT) is a forward but his job security is far from assured at Sydney. He was a late inclusion for fellow junior Callum Mills on the weekend and the wet conditions at Gold Coast appeared to suit him. Working hard from start to finish, Rose racked up 16 possessions, 4 marks, 6 tackles, 1 goal and 83 Fantasy points. As good as he was, he's still a fringe player at the Swans. Avoid.
Former Dees captain Jack Trengove (Mid. $329,000, 65 be AF. $180,800 DT) finally made his return to senior footy in one of the feel good stories of the season. 63 Fantasy points is nothing to get excited about but he will improve. Trengove is Dreamteam relevant only given his price so wait the extra week before looking to trade him in.
News that Alipate Carlisle has suffered a serious knee injury forces us to think twice about Logan Austin (Def. $132,000, 14 be AF. $128,200 DT). As a key defender, Austin won't be a big scorer but having that extra player at D8 could suit a few coaches during the byes. He played well against the Pies and kept Cloke goalless (not hard) but his 42 Fantasy points doesn't get the blood rushing. Not for me.
Another to avoid because of job security issues is Jesse Joyce (Def/Mid. $129,000, 18 be AF. $105,800 DT). He's far from a lock in the Suns 22 and won't be a big scorer, proven by his 35 Fantasy points on the weekend. Trent McKenzie will likely take his spot come selection this Thursday night.
Unfortunately, Michael Apeness (Fwd. $120,000, 43 be AF. $128,200 DT) 7 and Hugh Goddard (Def. $196,000, 68 be AF. $239,800 DT) 1 suffered serious injuries last weekend. Apeness may be an option towards the end of the season.
Please note that if I haven't mentioned a rookie priced player above, it means I don't rate them. Remember rooks are classified as players under $250,000 in Fantasy and/or Dreamteam.

Click here to subscribe on iTunes.
Keep Your Eye On
A poor showing from Collingwood last week should see young ball winner Tom Phillips (Fwd. $125,000, 24 be AF. $121,300 DT) move up the pecking order. His most recent game in the VFL saw him rack up 33 possessions, 9 marks, 6 tackles, 3 goals and a whopping 158 Fantasy points! The big eye catcher with Phillips however, is his dual position forward/mid status, which will be priceless during the bye rounds. A sound option but maybe wait a week before looking to bringing him in as Collingwood have the Round 13 bye.
Aaron Mullett (Def. $231,000, 2 be AF. $249,000, 7 be DT) has been on the fringe for the Roos but a serious ankle injury to Sam Wright will see him back in the seniors. Mullett has averaged 68 Fantasy points from his three games to date but comes at a cost. I'm seriously considering him for Dreamteam. Could suit a few.
A recent injury crisis at St Kilda means Tom Lee (Def. $181,000, -6 be AF. $128,200, -62 be DT) is somewhat relevant again. He played two games earlier this season for 85 and 51 but you shouldn't expect more than 60 Fantasy points each week. Not for the fainted hearted.
Don't get your hopes up on Rhys Mathieson (Mid. $187,000, 7 be AF. $121,300, -45 be DT). I reckon he plays in the 2's again this week with Rohan Bewick to replace the injured Christensen. He'll hopefully be back for Round 13. Hold for now.
Feel free to ask me a question below and don't forget to add me on Twitter @JeppaDT for all things Fantasy and more. Happy trading!