Calvin's Captains – Rd. 12
Calvin has it all, right here in the best captains research in the land. Hit it up, Cal is up and about.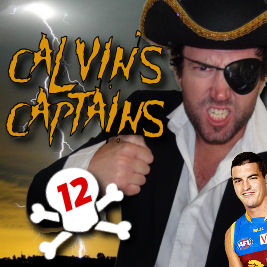 OINK 184 OINK
Did you come into Calvin's Captain and NOT expect to see Tom Rockliff mentioned?
No, I didn't think so – you're smarter than that.
Just to let you know that I was in Rocky's corner on the weekend, and for those who might have missed it, I wrote this Thursday heading into the live chat that night.
Rockliff spoke exclusively to the boys on Monday night's podcast and not only told them he'll return in round 11, but also promised a huge score of 180. Although that figure might have some sceptics thinking that 'pigs might fly', we all know that this pig can. He plays the Blues on Saturday afternoon, a team he averaged 130 on in his last three games.
There you go, I did everything BUT make him my captain. However… there's always this week.
Against the Dockers on Saturday, Rocky will be nasty. He never played them last year but in 2014 he scored 154 and 172 on them. Yes… 154 and 172.
Two weeks ago, St Kilda's midfielders had a day out against the Dockers. Armitage (138) Voldt (136), Steven (135) and Montagna (123) all went bananas. Last week the Dockers, in a win, we're a little more restrictive but it was only against the Bombers. With that said, Zach Merrett still managed 121 (37 touches) and Goddard also cracked the ton. I heard some people saying that Barlow will tag him. Pffth, no chance and if he does… good luck.
He is currently the most traded player in this week and rightfully so. I'm not as good at predicting scores like Rocky is… but I think he can easily pump out a 150 this week. OINK OINK!
In the same game is another ball winning monster, Lachie Neale. Ranked #2 on form over the last three weeks averaging 126, Lachie will be massive again as the Lions are his favourite team to score Fantasy points against. Over his career he has met them three times for 117, 107 and 124… and you can expect more than that this week.

Click here to subscribe on iTunes.
THE NEXT PIG?
Towards the end of the year, a new pig will be inducted into the pen to join Swanny and Rocky. So who could it be?
Tom Mitchell is a contender and has been killing it in recent weeks with scores of 132 and 163. This week he plays the third hardest team (GWS) to score against over the last 4 weeks. Tom had 111 on them in round 2 though, but I'll be steering clear this week as the top scorers against the Giants in the last three weeks have been Selwood (111), Tex Walker (116) and Picken (108). Players haven't been smashing them and it's hard to see how Tom will this week away from the SCG.
The second pig contender is Lachie Hunter after his 163 last week. He had 122 two weeks ago and has been smashing it all year. He plays the Power, which is fine, but at the Adelaide Oval it's a different story. Pendles (133) and Treloar (100) were the only Pies over 100 last week against the Power so I'll be playing it safe with Hunter this week. Keep an eye on Jack Macrae though, he had 130 on Port last year (at AO) and has scored 126 and 139 in his last two this year.
Heath Shaw is the third and final pig candidate and it's because he can go massive, he picks up loose uncontested ball and when his score is down, he'll kick to himself and yell for more unnecessary marks and switches. At home he has been unreal this year with scores of 176, 132 and 135. Although it will be tough this week against the Swans, he did have 113 on them earlier this year and 119 in 2015. Back him in, he'll be big once again this week.
TIGERS AGAINST THE EASIEST
When I start researching for this masterpiece I go straight to see who plays the easiest team to score against – the Gold Coast Suns. They gave the Swans 7×100+ scores last week and 4 of them were over 115.
The name 'Dusty Martin' then pops into my head after he has scored 140, 100 and 120 on the Suns in his last three game but his inconsistency turns me off. He had 67 last week and when you pan across his scores for the year you'll see 68, 75 and 82. He'll score somewhere between 80 and 150 this week, and for me that window is too open.
Averaging 122 in his last three with scores of 118, 120 and 127 is Mr. Trent Cotchin. He has averaged 119 on the Suns over his career 5 games against them and has never gone under 100. AMAZING!
Also in this game is the mighty Gary Ablett who has come back brilliantly with scores of 124 and 120. In his last 4 against the Tigers he has scored 141, 106, 128 and 101. Ablett doesn't make my top 5 this week, although he did make my short list of 8 (along with Gibbs and Pendles). It's not that I don't 100% trust him, it's the fact I don't trust the Suns against the Tigers who happen to be the 2nd hardest team to score against in recent weeks.
MONDAY FOOTY
Waiting for my Fantasy captain to play at 3:20pm on Monday would do my head in. But with that said, there are some good options and none better than Scott Pendlebury. The Demons are one of his favourite teams to play and he has scored a ton on them in 8 of his last 9 games. He had 103 on them in round 4 and is coming off some hot form of 133 and 124.
Adam Treloar had 124 on them in round 4 and that day Steele Sidebottom had 122. He only scratched up 89 last week but on his day he can certainly go huge.
JUST QUICKLY…
Jordan Lewis v Essendon @ Etihad – Freo had 7×100+ scores on the Bombers last week and the Hawks will have more. Lewis had 82 and 119 on the Bombers last year but has a shocking record under the roof. Hawks win this one by 120pts and 12 or more of them will crack a ton.
Patrick Dangerfield v Kangaroos @ Etihad – Hasn't registered a ton on the Roos in his last 3 games. That'll change, but the Roos have been tougher this year as well.
Nick Riewoldt v Carlton @ Etihad – Looked sore last week as a plodded around for 64. Only has 1×100+ score on the Blues in his last 7 games but this game is back under the roof where he has averaged 128 this year from 5 games. 50/50 even to play – too risky.
Andrew Gaff v Adelaide @ DS – The Crows are the #1 toughest team to score on based on recent form and last week, Steven (103) was the Saints top scorer against them. Gaff at home will be ok though and has scored 62, 152 and 124 on them in his last 3.
Zach Merrett v Hawthorn @ Etihad – 121 and 115 in the last two weeks but it'll be tougher against the fifth hardest team to score on over the last 4 weeks.
Jack Steven v Carlton @ Etihad – Ranked #4 on form averaging 125, Steven has 1×100+ score on the Blues in his career 10 games. Easily his worst team to play. I didn't expect that.
Dylan Shiel v Sydney @ SPO – 114, 113, 122 is hot hot hot form and last week, Prestia (149) and Gaz (124) found plenty of it against the Swans, so why can't this jet!
Leigh Montagna v Carlton @ Etihad – 36 last week? You have to be kidding. You'd be a gutsy coach to be making him your captain this week.
Dan Hannebery v GWS @ SPO – Still carries a lowest score of 99 in his last 9 games this year, averaging 113 in his last 5. He has scored 100, 83 and 111 on the Giants in his last three, but as I keep saying… the Giants are too tough.
Bryce Gibbs v St Kilda @ Etihad – Saints are easy to score on at the moment and Gibbs actually doesn't need any extra help. Ok, he did have 58 last week but prior to that he had 3 scores out of 4 over 130. Big bounce back week coming.
Sam Mitchell v Essendon @ Etihad – His 109 last week was his first ton in his last 5 games. Mundy (128) and Neale (126) racked it up last week and so will Sam on Friday night under roof where he had 117 earlier this year.
Josh P Kennedy v GWS @ SPO – 124 and 129 in his last two and traditionally finishes the back half of the season like a freight train. Don't make him captain this week, but you can soon enough if you trade him in.