Inside the Fantasy Numbers – Round 11
Pete from aflratings.com.au shares the numbers that matter.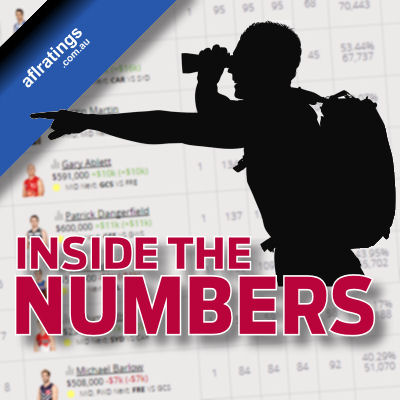 St Kilda delivered a season low team points in Round 11 scoring just 1159pts against Adelaide on Sunday, that score was far removed from the 1843pts they posted in Round 10 against Fremantle.
Adelaide scored 2034pts vs St Kilda in Round 11, that is the highest Team score this year (Previous High was R6 Geelong vs Gold Coast 2022)
Essendon has conceded 400+ Disposals 6 times in 2016 (Last 5 Games Ave 417.8), the Bombers play the Hawks in Round 12 and it would be fair to say this could be a fantasy fill-up for quite a few Brown and Gold players.
Thinking ahead to Round 23 ESS v CAR (AFL Fantasy Grand Final), might be worthwhile investing in some Blues to help your team win a Premiership this year.
Best Team Points FOR Last 3 Weeks
Adelaide 1810.7
Sydney 1723.3
Western Bulldogs 1715.7
Worst Team Points FOR Last 3 Weeks
Brisbane 1442.0
Melbourne 1508.7
Richmond 1539.3
Best Team Points AGA Last 3 Weeks
Adelaide 1402.3
Hawthorn 1510.3
Nth Melbourne 1511.0
Worst Team Points AGA Last 3 Weeks
Essendon 1754.0
St Kilda 1742.7
Western Bulldogs 1739.0
Who Am I?
I was priced under 300K Mid to begin the season
In the last 3 weeks I have averaged 103.7pts per game
I have kicked at least 1 goal in all but 1 of my games in 2016
I could be confused for a pop-up sprinkler this season
I currently average more than one of my popular team mates
I have appeared on 'Inside the Numbers' at least once already this season
Answer Below
Tom Rockliff
The 184pts scored by Rockliff was his 2nd Career Highest Score (Career High: R18 '14 v Gold Coast 190pts), Rocky has scored 150pts or more in 10 games over his career (Strike Rate: 8.1%). Despite the monster score in Round 11 the debate somewhat continues whether to trade him in or not based on his recent injury history, time will tell either way which is correct for this year but avoiding him could be quite detrimental to any type of season success for your team.
Trent Cotchin
Round 11 vs Kangaroos: 118
Last 3 Games Ave: 121.7
Season Ave: 105.0
Cotchin is flying since his return in Round 9, with 3 consecutive games over 100pts at an average of 121.7 he provides an option post the Round 13 Bye for Richmond. Cotchin has scored 100pts or more in 7 of his 9 games this year, he currently has a BE of 84 and plays Gold Coast in Round 12 & Brisbane in Round 14.
Jordan Lewis
Round 11 vs Demons: 106
Last 3 Games Ave: 106.3
Season Ave: 97.7
After an indifferent start to the season with wide ranging scores fewer than 60pts and a Round 1 mega return of 134pts Lewis hopefully has settled in with 2 consecutive 100pt games, he should be a potential target this week due to his Round 15 Bye and looking ahead to a Round 23 game against Collingwood (AFL Fantasy Grand Final).
Sam Kerridge
Round 11 vs Lions: 139
Last 3 Games Ave: 102.7
Season Ave: 89.7
Over half the AFL Fantasy competition owns Kerridge and investors were rewarded with a career high 139pts against Brisbane, he has scored 100pts or more in 3 of his last 7 games and has increased his starting price by $142K this season.
Jimmy Bartel
Round 11 vs Giants: 100
Last 3 Games Ave: 103.7
Season Ave: 91.3
Bartel has averaged 105.7pts in his last 6 games for the Cats, over the same period he has scored 100pts or more in 4 of the games. Bartel has been very durable over his career, having completed only 11 games in 2015 may be a concern but based on his current output in 2016 those concerns should have been alleviated by now.
Dion Prestia
Round 11 vs Swans: 149
Last 3 Games Ave: 117.3
Season Ave: 95.4
Prestia has stormed back on to the Fantasy radar posting his 2nd career highest score in Round 11 against Sydney, Prestia has a huge ceiling and alongside his running mate of Ablett should be able to put up some decent numbers in the 2nd half of the season.
Lachie Neale
Round 11 vs Bombers: 126
Last 3 Games Ave: 126.3
Season Ave: 113.3
Again Lachie Neale put up a big number this year with 126pts against Essendon, he has scored 100pts or more in 8 of 11 games (2 Scores also of 99 & 98) with 4 exceeding 120pts or more. If you are looking for a Round 15 Bye Premium option then Neale should rank highly amongst those to be considered.
Scott Pendlebury
Round 11 vs Power: 133 (8 of last 9 games 100+)
Last 3 Games Ave: 123.6
Season Ave: 109.3
Pendlebury has been a rock this year, after a slow start in which he averaged 91.0pts in his first 2 games he has bounced back averaging 113.3pts in his last 9 games which has included 8 games of 100pts more.
Lachie Hunter
Round 11 vs Eagles: 163 (Career High, best previous career high by 30pts)
Last 3 Games Ave: 125.7
Season Ave: 111.8
The warning signs were evident late last year when Hunter averaged 101.3pts from his final 8 games of 2015, after being priced at 433K he has not failed to deliver especially after recording a career high 163pts against West Coast in Round 11. Hunter has a huge ceiling of points and should post some decent numbers in the 2nd part of 2016.
Rory Sloane
Round 11 vs Saints: 140
Last 3 Games Ave: 109.0
Season Ave: 102.3
Sloane cranked out another huge score in Round 11 with 140pts against the Saints, he is now averaging over 100pts on the season and is some chance to post a career season high average (Season Career Ave, 2014: 104.6).
Who Am I Answer: Aaron Young 
Good Luck for Round 12