The Friday Scramble: Round 11
We get a few back, we lose a few. Seems to be the story of the season this year. But one thing is always a constant, the need to Scramble!!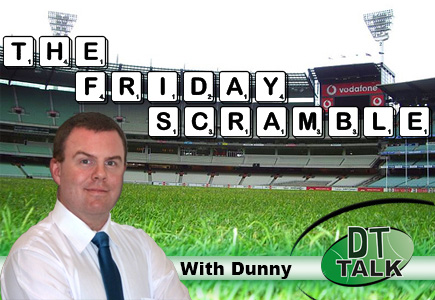 Another round and more injuries to deal with.  We aren't far from the byes and during that time of the year it is harder to carry injuries.  The other thing we need to consider now is that any rookie we are bringing in is one that we should be confident will be playing over those weeks.  On top of that we have premiums that are just not delivering.
To be honest we are struggling to get things going this season.  Is there anything going right for us this season?  If there is it ain't happening in my team.
So, there is plenty to talk about this Friday, so let's jump in and scramble!
Forced Changes
Taylor Adams and Marc Murphy are both out for extended periods, so is Jack Viney.   All of these guys are out for more than the 2 week benchmark we set, so you should be moving them on.  Particularly if they are going to be out in a bye week when we will be relying on them to play in our sides.
There were a few guys come back in for us like some guy you may have heard of called Tom Rockliff.  Well done to those that held on to him and now he can deliver.  Apparently a 180 if you listened to the boys on the podcast from Monday (*no guarantee on that score was given).  Yeo is back as is Gaff for the Eagles.
The other big name we have been waiting on is Rory Laird who is also back this week.  A lot of teams will breathing a sigh of relief (I certainly am).  Mundy is back again this week which is great for his owners, but the thing that I am more than interested in is how his return will impact on Michael Barlow.  Hopefully this will be a good thing for Barlow.  The first hurdle has been cleared and that is Barlow keeping his spot in the side!
#AskDunny
is Lycett a good R2 option behind Gawn? #askdunny

— Jordan Jamieson (@chewy8891) June 1, 2016
Lycett certainly has had a great season so far.  However, I have concerns as to whether or not he can maintain this level of scoring.  He scored a 51 and a 60 in the first two rounds which he could do at any stage again.  They face the Bulldogs and then Adelaide which will both be tough tests.  He is averaging more than Nic Nat at this stage, but long term I don't think he has the runs on the board to keep that up. Nic Nat is also cheaper!  To sum it up, do I trust him at R2?  No, I would be nervous but if you are a gambling man then you may want to take the risk.
Is Kerridge's time up? Downgrading to Wingard looks like a tasty option #askdunny

— Matt Gent (@_MattyGent) June 1, 2016
Kerridge's BE in RDT is 71 and in AF it is 90.  His average is 84.  So based on that if you were keeping Kerridge only to make money then in AF it is definitely time to trade him out.  Having said that he comes up against Brisbane and St Kilda over the next two weeks.  And he does have a very good finals series of Saints, Brisbane, Melbourne and Essendon.  The fact that you can make money and go to Wingard then I think that is a very sound plan.
would u trade in lewis or Robbie gray? Gray probable top 6 fwd lewis prob not top 8

— morgs640 (@morgs640) June 2, 2016
For me I go Robbie Gray here.  Robbie is cheap and has come back from injury well with two great scores.  Now, whilst Lewis has had some big scores,he can often go on a very dry spell.  I just think that Gray is more likely to provide you some very consistent scoring.
Trade Plans
Given there isn't much in terms of downgrades this might be a good week to hold on to your trades (in the limited trades forms of the games of course) in preparation for the bye period.  I am finding this season interesting though, normally we are into the byes by now and that is prime upgrade season and we can trade around the byes.  However, given the byes are later, we may be forced to either go into the byes having held rookies too long or with a nearly complete team which means minimal trading.
I have been running with the plan of upgrading when I can and worrying less about the byes this year.  My theory is that we should downgrade and upgrade when the opportunity presents itself.  If we wait until a certain round, we may hold a rookie too long or miss a bottomed out rookie.  Some people have a number of trades they want after the byes, well this year that number may be a couple less given the byes are a couple of weeks later.
Just one thing that I am thinking is that whilst Martin has been sucking lately we shouldn't be too hasty to trade him out in the limited trade versions of the game.  My plan would be to hold him for now, you really have nothing to lose.  With his two terrible scores his BE is high so his price is low and getting lower.  But really, unless you have some cash burning a hole in your pocket and nothing else to do to your team I would probably hold him still.  This slump will come to an end and when it does you will be happy you held him.  I guess the converse could be also said if he doesn't turn it around, but I am confident he will.
I had a few requests for trade targets now that Mathieson is out, so I went straight to the source of all Rookie Knowledge… Our mate Jeppa!!  He gave me this list, in order, of the guys you should be targetting.
Dunkley
Collins
Tucker
Hams
Stewart
Thank God For Heater!
Many people like myself may have made their trades early this week as I had my trades well planned and pulled the trigger with a fair bit of comfort.  Then… Leppitsch pulled a fast one and DROPPED Mathieson.  He was one of the most popular trade in targets this week.  So we should all say a big Thank You to Heath Shaw for whatever it was that he did all those years ago and caused the creation of the Reverse Trades button!
Don't miss the big articles of the week.
Things To Remember
There is no magic number of trades.  I have been hearing people asking how many trades should you have left etc.  Really for me it is you trade until your team is finalised, then whatever you have left is what you have left.  No point having trades in the bank and a rookie stinking it up with 40's on the field.
Don't trade for the sake of trading.  Have your plan and stick to it!
Terrible scores happen. When they do, just move on.  If it is a popular player, well it would have happened to everyone else too.
Hopefully we can get some good scores this week and no more injuries!!  There are some good games of footy this weekend and hopefully they live up to the hype.  Enjoy watching the footy and see you all next week! @pkd73
P.S. Bit of a shout out to the guys at Edwardstown Juniors.  Catch you boys at training.