Moneyballin' – Round 11
Lockout is fast approaching, so jump inside and soak up Round 11's Moneyball tips and analysis! More of an audio person? We've got you covered, with the weekly Match Committee podcast embedded inside. Check it out!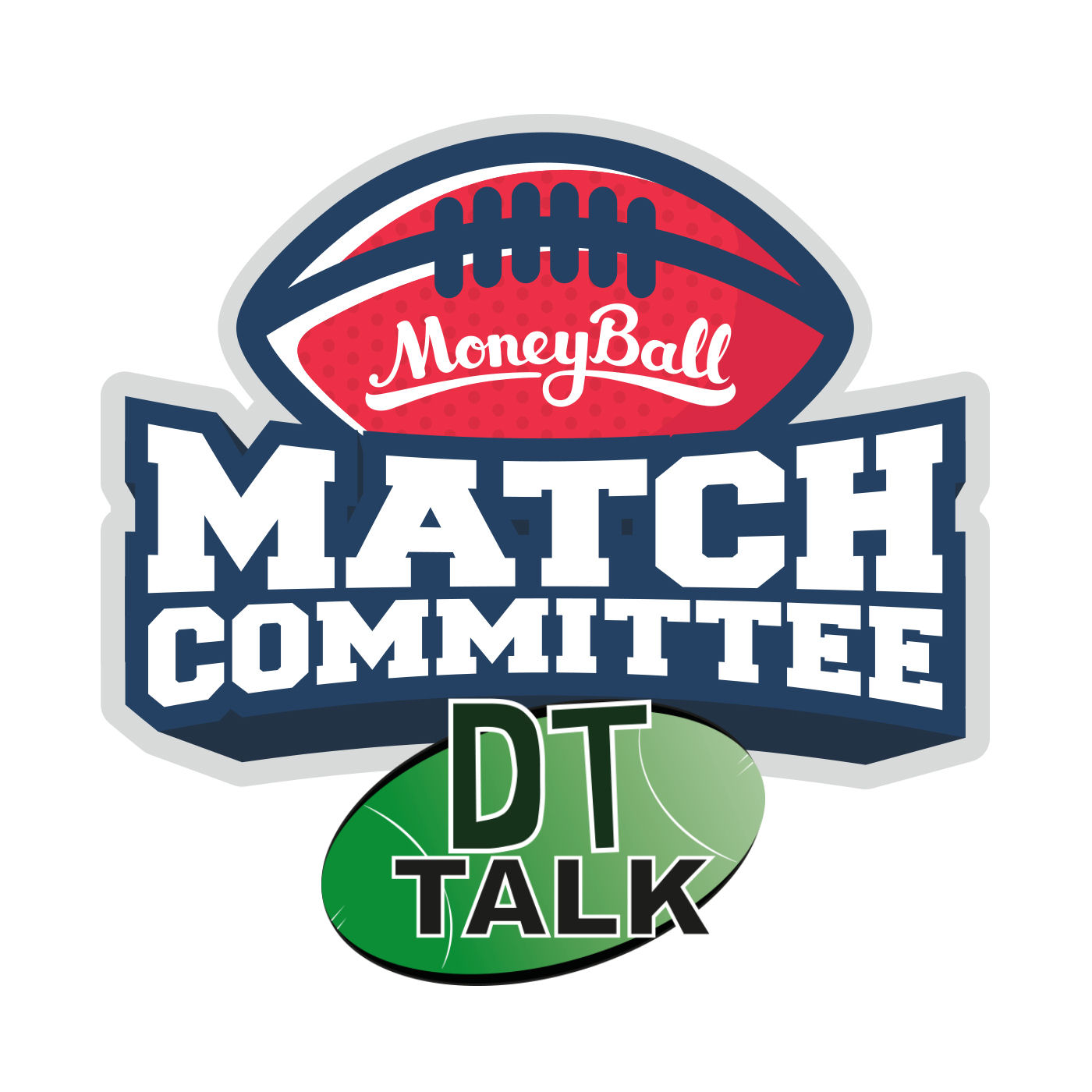 Tbetta here, and welcome to the self-proclaimed top resource for keen Aussie Rules Moneyball punters! DFS (Daily Fantasy Sports) is taking off around the world and Moneyball have the perfect platform for you to turn your AFL Fantasy prowess into cold hard cash. Signing up is easy – head to moneyball.com.au and you could be ballin' within minutes.
If you're unsure how DFS works, be sure to head to the 'Help' section for all the info you need to start cashing in on your AFL Fantasy knowledge!
Let's start Ballin' by checking out the excellent Match Committee Podcast below, starring your favourite DT Talk lads and brought to you by the legends at Moneyball:
Click here to subscribe on iTunes.

It was worrying signs for prospective Goldy owners last week, with the big man spending a large chunk of time on the bench before finally limping to 98 MB. He'd been in great form before that (115, 115, 153 MB) and normally, we'd expect him to cream the likes of Hampson, both in the air and around the ground.
Join the $5000 guaranteed Kangaroos vs Tigers Special here.
However, there've been rumblings out of North all week that he's a moderate to fair chance of failing to be passed fit for Friday night's clash in Hobart. Luckily, being a Friday, we'll know before lockout whether or not he takes to the field but it can't hurt to have your "Plan B" drafted ahead of final squads.
Majak Daw ($4,200 RU) will be Goldy's replacement in that scenario and he's a serious option at that price – especially after collecting 90 points in his only game for 2016 so far. Shaun Hampson ($4,600 RU) is the other possibility at our fingertips and not strictly a terrible one – just be aware that he was actually the inspiration for Katy Perry's song "Hot and Cold", such is the predictability of his recent scores.
AVOID:
It's hard to get too excited about Jarrad Waite ($8,400 FWD) this week, for a combination of reasons. Firstly, he's cooled off recently after started the season on fire; averaging just 1.25 goals per game in the last month, compared to 3.7 over the first six rounds. Secondly, he's now at a fully saturated price of $8.4k thanks to that early blitzkrieg, so the value isn't there. And lastly, he'll match up against the dour Alex Rance for much of the night, which is always a tough battle to wrestle the upper hand in. Too many red flags for mine.
SMOKEY:
I was bullish about Nick Vlastuin ($5,900 DEF) as a midfielder but cooled off big time once he was sent back to defence to cover an injured Houli – but those solid scores have been flowing regardless. What you get with Vlastuin is rock-solid consistency, churning out scores of 88, 83, 93 and 89 of late. He might not win you the big bucks in the $5000 Kangaroos vs Tigers Special, but he's a great pick for the double-ups where reliability is golden.
TOP PICK:
Did you know that Trent Cotchin ($8,700 MID) is averaging 32 touches in his last 5 uninjured games, which is easily career-best pace? Cotch has featured in this article for the last couple of weeks and will probably continue to until he gives us a reason not to love him. On top of a torrid disposal output this year, he's quietly been undertaking his best tackling year since 2012, which is an under-appreciated reason for his fantasy resurgence this year.
What a story of perseverance, with former Melbourne Co-Captain Jack Trengove ($7,300 MID) back to play his first game in years! Unfortunately, a quirk in the pricing system means that we can't ride the wave of emotion in DFS, as $7.3k is simply too much to pay for someone who's basically the AFL equivalent of a wild Robin Williams in Jumanji.
Sign up for Moneyball fun here.
Speaking of injury comebacks, how nice is it to have a fresh Tom Rockliff ($7,800 MID) back on the menu? He's obviously a bargain based on his best, but durability is a serious concern which dampens the excitement ever so slightly. His comeback games over the past two years have been varied, but I think we can take optimism out of the fact that when he returned from a hammy in Round 5 this year, he played out 81% game time in a midfield role.
AVOID:
Sam Mitchell's ($8,700 MID) produced recent tagged scores of 49 MB (Tom Mitchell) and 95 MB (Mitch Robbo), in one of his coldest streaks in AFL for some time. He runs into a Demon outfit without Jack Viney however, who's been their prime run-with option this year.
Is that enough to consider purchasing Mitchell for serious coin, who's averaged just 77 MB over the past 5 weeks? Or will Roos direct another of his Melbourne troops, such as Bernie Vince or Tomas Bugg, towards Mitchell given its effectiveness over the past few weeks? Too many questions, too steep of a price – I'll be avoiding.
SMOKEY:
Andrejs Everitt ($6,500 FWD) isn't normally a name I like the put forward, but in the spirit of capitalising on a dodgy Brisbane defence, he's worth a gander. He's kicked at least 3 goals in three of his past four games, scoring 106, 91 and 106 in those matches. The form is there, and Brisbane gives us a big tick for fixture, so strongly consider at his price for just the one week.
Another mid-price unique worth monitoring is Josh Kelly ($7,700 MID). With a low of 73 MB all year, Kelly has been solid without being spectacular. However, he's really lifted that output over the past three weeks, scoring 116, 81 and 121 MB and was particularly impressive in that last week as the highest-scoring Giant in a tough loss to Adelaide.  It's an awkward price and probably one for the double-ups until he pushes that ceiling even further, but keep him on your radar for further signs of a break-out.
TOP PICK:
I'm really liking Kurt Tippett ($7,900 FWD) and what he's capable of doing against weak Gold Coast RUC/DEF lines. See Exhibition A – the ruck scoring against the Gold Coast in recent weeks:
Round 7:    Gawn           142 MB
Round 8:   Mumford      111 MB
Round 9:   Jacobs           90 MB
Round 10: Lycett           123 MB
Are you brave enough to leave those numbers on the table and go against Tippett this week?
We haven't really talked about Brendon Goddard ($9,100 MID) this year because he's been the 3rd best midfielder for the Bombers and Merrett/Zaha have been copping all the headlines.
But BJ has smashed them all in the last few weeks, producing scores of 118, 126 and 130 MB. He won 30+ touches in each of those games, after failing to reach that mark in any of his previous games this season. Fremantle is easy prey and we all know that Goddard has that killer instinct.
In what is fast becoming a weekly exercise, we're still murky on how the Port ruck situation will look this weekend. Jackson Trengove ($4,500 DEF) is still the nominal ruck for now, but Dougal Howard ($3,700 RU) looms ominously on an extended interchange. As we know, Trengove's run of premium-esque scoring ended last week with a flat 50 thanks to Howard's presence, making Jackson an easy "no way" for me if that same structure persists against the Pies.
If you put a gun to my head and forced me to predict the future, I'd suggest that Port won't be too threatened by Brodie Grundy's ($8,000 RU) tapwork, and might opt to neutralise him with Trengove solo. Stay tuned to final Teamsheets for a clearer answer here.
Join the $6000 Sunday Funday Special here.
There's not a heap more to glean from Sunday's teams, but it is worth noting that historically proficient scorers in Andrew Gaff ($8,500 MID) and Elliot Yeo ($7,200 MID) return to the fray this week. Good news for West Coast, but most likely sad news for Tom Cole ($3,500 DEF) and bargain hunters everywhere, with last week's debutant a strong chance to drop out of the extended squad with the firepower returning.
AVOID:
Collingwood outlet man Brayden Maynard ($5,100 DEF) will have plenty of suitors after a big score last week (118 MB), but it's shaping up to be a classic case of chasing form here. I'm not too enthused with his previous two games which were shockers but anyone's standards (39, 27), so just make sure you value him accordingly.
SMOKEY:
The Jeremy Howe ($6,800 DEF) train keeps rolling on! His fantasy resume is jam-packed all of a sudden, headlined by scores of 109, 90, 109 and 119 in the past month while averaging 9.5 marks in that span. Howe's fast approaching must-pick status if he's pumping out those scores at sub-$7k as a defender.
At an identical price is Dylan Roberton ($6,800 DEF), who's the kind of player that can go big on his day. Despite the Farren Ray-like reputation, he was actually very serviceable for the Saints last season, averaging 83 AF as a defender. A freshly-shorn Roberton collected 29 touches for 104 MB last round and looms as a sneaky point of difference – provided that you think he can string together a few performances in a row.
TOP PICK:
Did you know that Scott Lycett ($7,500 RU) is the #1 ranked ruckman over the past 5 weeks – averaging 113 Moneyballers, with a healthy low of 89 in that time? If anyone can break the Bulldogs' ruck hoodoo, it's NicNat's back-up; the versatile big man who punches out numbers in almost every single statistical category on a weekly basis.