Jeppa's Juniors – Round 10
Jeppa is flying in all forms of the game and he gives his two cents (well, probably two bucks worth) on the rookies.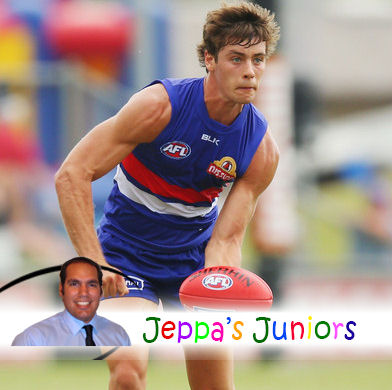 Round 10 was a much-needed morale boost for many Fantasy coaches. Plenty scored well over 2000 but no team is perfect. Remember to stay disciplined, continue to cash in where appropriate and upgrade to our keeper premiums. With the bye rounds around the corner, it's a question of survival. My advice is to plan carefully and note that the players you trade in from this moment onwards are for the long term. Who knows what suspensions and injuries are around the corner!
On to the rookies or lack thereof. Quality youngsters aren't falling from the sky but thankfully we're all in the same boat. Focusing on the newcomers, Mathieson and Collins should be at the top of your list for their job security and if you already own them then read ahead for some fresh meat. Don't discount under priced guns in Chad Wingard or Shane Biggs if you're looking to generate cash!
Three-Or-More Gamers
KEEPERS
What a return to senior footy by Josh Dunkley (Mid. $244,000, -18 be AF. $199,900, -51 be DT)! This son of a gun sent a clear message to his coaching hierarchy given that they've kept him out of the seniors since Round 2. Playing against Collingwood, Dunks was a match winner for the Dogs amassing 18 possessions, 10 marks, 5 tackles, 2 goals and a whopping 115 Fantasy points. Granted the Pies could have paid him a little more respect but credit where credit is due. For Fantasy, the cheaper options with great scoring potential are just not there at the minute so you really need to consider spending the extra on Dunkley. Don't expect three figure scores every week but 70-80 is likely. I've already got him in Dreamteam and I'll be jumping on for Fantasy now too. Show me the money!
Darcy Byrne-Jones (Def. $295,000, 38 be AF. $292,900, 19 be DT) or Superman!? DBJ was unlikely to play last week after suffering an ankle injury in Round 9 but clearly he's a tough nut. The dashing half back attacked the ball as good as anyone and won 23 possessions, took 8 marks, kicked a goal and scored 99 Fantasy points against the Dees. At nearly $300,000, the non DBJ owners have missed the boat unfortunately.
It's at this point that many of us wish we held Daniel Wells (Fwd/Mid. $397,000, 75 be AF. $386,000, 80 be DT). After two weeks off with an Achilles problem, Wells didn't miss a beat against the Swans racking up 19 touches, 5 marks, 7 tackles, 1 goal and 97 Fantasy points. The greatness will continue if he can stay fit.
That's two dominant games back to back from Connor Blakely (Mid. $254,000, -6 be AF. $276,100, -19 be DT). Playing on the ball, Blakely is getting the opportunities and now he's proven his worth/potential scoring an appealing 86 Fantasy points in Round 10. The kid is a future jet and even though it took him a while to get going, there's plenty to work with here.
Darcy Parish (Mid. $349,000, 57 be AF. $348,600, 55 be DT) 93, Hayden Crozier (Fwd. $306,000, 26 be AF. $327,500, 30 be DT) 88, Josh Smith (Mid. $298,000, 45 be AF. $278,700, 33 be DT) 80, Marcus Adams (Def/Fwd. $324,000, 58 be AF. $315,200, 42 be DT) 79, Anthony McDonald-Tipungwuti (Def/Fwd. $339,000, 42 be AF. $353,500, 36 be DT) 73 and Ryan Davis (Fwd/Mid. $257,000, 21 be AF. Mid. $255,500, -7 be DT) 72 round out the keepers for Round 10 due to their recent scoring run.
DON'T PANIC
Players with a high ceiling like Sam Kerridge (Fwd/Mid. $430,000, 75 be AF. $421,300, 71 be DT) and Christian Petracca (Fwd/Mid. $335,000, 51 be AF. $305,900, 29 be DT) need to be held. 65 and 40 Fantasy points isn't ideal from these two but they have the ability to ton up. Surely you've got bigger problems!
Other 'juniors' that are still steadily going up in value include Josh Wagner (Def. $322,000, 53 be AF. $329,000, 52 be DT) 70, Matt Dea (Def. $366,000, 40 be AF. $389,800, 33 be DT) 67, Dougal Howard (Fwd. $177,000, -2 be AF. $168,700, -17 be DT) 63, George Hewett (Mid/Fwd. $304,000, 44 be AF. Mid. $311,700, 34 be DT) 62, Corey Ellis (Fwd/Mid. $306,000, 39 be AF. $328,500, 47 be DT) 61, Jacob Hopper (Mid. $312,000, 40 be AF. $252,500, 12 be DT) 58, Ben Crocker (Fwd/Mid. $176,000, 9 be AF. $175,100, 13 be DT) 57, the popular Jackson Trengove (Def. $321,000, 39 be AF. $353,200, 67 be DT) 52 and Ben Keays (Mid. $250,000, 48 be AF. $224,700, 38 be DT) 41. Hold them if you own them.
Ciaran Byrne (Def. $274,000, 32 be AF. $282,100, 42 be DT) and Tom Ruggles (Def. $253,000, 30 be AF. $249,600, 26 be DT) are a good chance to return this week from injury. Keep an eye on team selection come Thursday night.
TRADE, TRADE, TRADE
Remember to start trading your rooks with the Round 13 bye. Mitch McGovern (Fwd. $287,000, 39 be AF. $300,200, 35 be DT) and Mason Cox (Ruc/Fwd. $247,000, 42 be AF. $251,000, 52 be DT) 40 fall into this category even if they've got a little bit of earnings left in them.
With Essendon lacking key defenders, keeping Mitch Brown (Def/Fwd. $343,000, 71 be AF. $342,900, 55 be DT) is a risk. Brown can do a job down back if Worsfold decides to go down that path meaning his scores will suffer significantly as a result. He's hit peak earnings anyway so play it safe and trade him as a priority.
If I haven't categorised a player from Round 10 under 'Keepers' or 'Don't Panic' then trade them out as soon as you can but when appropriate.
Two Gamers
Rhys Mathieson (Mid. $187,000, 6 be AF. $121,300, -46 be DT) goes hard but sometimes doesn't quite get the result. Playing the Hawks would have been intimidating for the second gamer but I still expected more than 14 possessions (57% disposal efficiency), 3 marks, 3 tackles and 56 Fantasy points. Mathieson's proven ball-winning ability as a junior and in the reserves this year suggests improvement is imminent. Trade him in, he's still worth it and our cheap options are very limited.
A few selected Jackson Paine (Fwd. $151,000, 8 be AF. $131,300, -17 be DT) last week but I did warn you! A mere 37 Fantasy points was his output for the game and he used the ball poorly. With the injured Harris Andrews only two weeks away from a return, Paine's spot in the Lions 22 is very much under threat. Uninspiring.
Plenty of us have a lot of hate for Trent West (Ruc/Fwd. $182,000, 17 be AF. $165,200, -5 be DT) at the minute. Not only is he killing Stefan Martin's ruck time and Fantasy scores, he's scoring poorly himself! The big fella had just 8 touches, 21 hitouts, 4 frees against and 39 Fantasy points in Round 10. Thankfully, Josh Walker kicked 5 goals in the NEAFL on the weekend but who knows if Justin Leppitsch will change his approach. Archie Smith is doing really well in the NEAFL too. All in all, you'd be mad to pick West.
Gold Coast's McKenzie Willis (Fwd/Mid. $138,000, 9 be AF. $121,300, -8 be DT) was a late inclusion for the ill Kade Kolodjashnij but he wasted his opportunity. Plenty of turnovers and 60% disposal efficiency will see him on the outta again. He scored just 45 Fantasy points. Avoid at all costs.
Job security issues rule out Trent Dumont (Mid. $265,000, 24 be AF. $263,800, 8 be DT) 67 and Daniel Gorringe (Ruc/Fwd. $211,000, 16 be AF. $211,000, 4 be DT) 66. It's too risky with the byes coming up and you would be giving up plenty of coin. Alex Neal-Bullen (Def/Mid. $238,000, 36 be AF. $241,400, 31 be DT) 51, Daniel McKenzie (Mid. $213,000, 31 be AF. $236,000, 38 be DT) 48 and Seb Tape (Def. $222,000, 34 be AF. $245,200, 40 be DT) 44 are other expensive options that should not be considered.
One Gamers
Sam Collins (Def. $158,000, 9 be AF. $121,300 DT) made his AFL debut against the Saints and performed pretty much as expected. The key defender had plenty of uncontested marks and kicks in the back half, did the one percenters and scored 58 Fantasy points for his owners that jumped on early. He's got excellent job security for a new comer and I highly recommend trading him to your defender bench. Freo have a nice draw coming up too.
After three and a bit years on Sydney's list, Harry Marsh (Def. $132,000, 13 be AF. $121,300 DT) finally made his debut for the bloods and he slotted in nicely. Waite, Petrie and Brown kept him busy but I thought he showed good composure and 42 Fantasy points isn't too bad on debut. Sydney have ruled out Ted Richards for the next two weeks as he recovers from concussion so lock in Marsh for the next couple of rounds only. Collins over Marsh!
Mark Jamar (Ruc. $230,000, 34 be AF. $312,600 DT) made a return to AFL ranks and he was far from disgraced. His stat line at the final siren read 7 touches, 3 marks, 19 hitouts, 2 tackles, 1 goal and 57 Fantasy points. As most of you know, Jamar is backup for the currently injured Matthew Leuenberger and with a cloud over Leuy's achilles problem, the big Russian could be playing a lot more senior footy than initially anticipated. Unfortunately for us, Jamar is too expensive for the likely mediocre scores he'll produce.
Brodie Murdoch (Fwd. $191,000, 12 be AF. $235,700 DT) was a handy contributor for the Saints, kicking a goal and scoring 68 Fantasy points. Unfortunately for us though, Murdoch is still a fringe player and you couldn't pick him with the bye rounds only two weeks away. Billie Smedts (Def. $204,000, 26 be AF. $252,200 DT) is in the same boat as Murdoch only he'll definitely be dropped this week for Daniel Menzel or fellow junior Lincoln McCarthy. 57 Fantasy points is nothing to get excited about anyway when the cost is over $200,000.
Tom Cole (Def/Mid. $172,000, 14 be AF. $121,300 DT) got a taste of AFL footy for West Coast scoring 56 Fantasy points against a team decimated by injury. Unfortunately for Cole, Gaff and Yeo will return this week so he'll have to make way. Pass.
Please note that if I haven't mentioned a rookie priced player above, it means I don't rate them. Remember rooks are classified as players under $250,000 in Fantasy and/or Dreamteam.
Keep Your Eye On
Lock in Aaron Francis (Def/Mid. $221,000, 43 be AF. $202,300 DT) to debut this week or next. With Hartley's recent injury, the Bombers are almost out of key defenders and Francis would be a good match up for Chris Mayne in my opinion. Last weekend in the VFL, Francis had a superb game amassing 14 kicks, 8 handballs, 11 marks, 2 tackles and 99 Fantasy points. The positive with picking Francis is his dual position defender/mid status but he comes at a price. If you want to spend that much, pick Dunkley this week and wait and see on Francis.
Another Bomber, Sam Michael (Ruc. $140,000, 27 be AF. $128,200 DT) could come into Fantasy calculations. The big fella can play in the ruck or down back and Worsfold flagged his potential debut in his post match press conference last Saturday night. If you want to throw away your R4 then consider him. Only if you're desperate!
A good month from Darcy Tucker (Def. $184,000, 16 be AF. $121,300 DT) will see him back in the Dockers 22 to face Essendon this weekend. Word out here in the West is that Tucker had to work hard on his defensive game before he would be welcomed back to AFL ranks. He's done that but I can't hold my hand on my heart and say that he wont be dropped again. Risky but those with Collins already may have no choice this week.
After Melbourne's poor showing in Alice Springs, Jack Trengove (Mid. $332,000, 64 be AF. $180,800 DT) should finally make his long awaited return to AFL footy. Unfortunately, Trengove's Fantasy price isn't where it needs to be but he's viable for Dreamteam.
Feel free to ask me a question below and don't forget to add me on Twitter @JeppaDT for all things Fantasy and more. Happy trading!