Calvin's Captains – Rd. 11
It's round 11 so you'll need another captain and you've come to the #1 place. The pirate has you covered once again so check it out.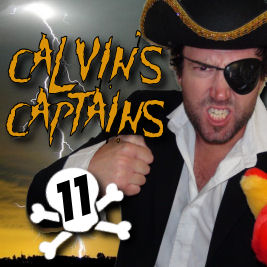 EASY TEAMS
Selecting a captain playing a team that bleeds points just make bloody good sense. As a part of my research each week, this certainly plays a huge part in constructing my top 5. The Giants are currently the hardest team to score against, averaging only 1460pts to their opposition each week. That's 281pts less than what the are Suns conceding, averaging out to an extra 13pts more for each player.
So who plays who this week and who will be cashing in?
Gold Coast
Giving up 1741  a game over the last 4 weeks… Play the Swans.
Firstly we must look at Tom Mitchell after his 163 last week. Last year against the Suns he clocked up 163 and 131 but the big question here is… "Will he tagged Ablett?"
Why won't he, he tagged Sam Mitchell when he only had 87pts and last week Gaz returned for 120 from 31 touches. Tom can do it all, he can score and dominate games and sadly, he can also tag.
Last year when he scored those massive scores, Ablett didn't play. In fact, he has never played against Ablett and although he'll score well, it does come with a huge 'risk factor' this week. But… as they say, no guts no glory right?
Luke Parker needs this game to find some form. He is only averaging 77 over the last 3 weeks and therefore the guy I like here is Dan Hannbery who had 125 last week and is now averaging 117 in his last 5 this year. He had 117, 133, 106 and 102 in his last 4 against the Suns and is a safe bet for round 11.
I'm also hearing that it might be bucketing down for this Saturday night game. If this is the case, then Tom goes up in my calculations this week. With that said, he's only averaging 1 tackle more a game than Hannebery so we'll have to wait and see. If I do update my top 5, it's done on Thursday night.
Essendon
Giving up 1698  a game over the last 4 weeks… Play the Dockers
Introducing… Lachie Neale who is currently #5 ranked on form. He had 131 on the Bombers last year and last week Dusty (123), Cotchin (120) and Deledio (108) all found plenty of it against Essendon. At home, he'll be massive this week and will have 35+ touches with ease.
Western Bulldogs giving up 1684 in the last 4 weeks… Play the Eagles
The Eagles play the Bulldogs this week, but the Dogs return back to Etihad and will be much tougher than what they have been over the last month. Therefore, there are no Eagles on my radar here in the captaincy department.
Brisbane
Giving up 1671  a game over the last 4 weeks…. Play the Blues
Bryce Gibbs has been outstanding this year and has averaged the second most over the last 3 weeks with scores of 137, 106 and 133. Hawthorn had 5×100+ scores on the Lions last week and Gibbs even clocked up a ton against them in 2015. But… will Mitch Robinson tag him? Red Bull Robbo spent a little time with Sam Mitchell (88) last week and therefore this could be slightly risky.
Fremantle
Giving up 1657 a game over the last 4 weeks… Play the Bombers
Brendon Goddard has been quietly getting the job done averaging 122 (4th best) over the last 3 weeks. I'm only speaking to the 1% of people who own him but he and 119 last year on the Dockers and last week, Armitage (158), Voldt (136), Steven (135) and Montagna (123) all went nuts on the Dockers.
Zach Merrett would be your best option though although he only had 86 on them last year. His game style allows for big points on his day and he should clock up a few here on Saturday night.

Click here to subscribe on iTunes. (Please leave a rating and review to help us move up the charts).
SOGGY CAPTAINS?
This Saturday at Metricon it is supposed to absolutely be pissing down. So that got me thinking… Hannebery or Tom Mitchell? Who will be better in the soggy condictions or do we just avoid them at all costs. So…thanks to old mate @aflratings from alfratings.com.au he has found some stats from wet games that have involved Sydney, hoping that it will paint a clear picture for us all.
Round 5, 2016 v West Coast (SCG)
Mitchell 24d, 7t = 92pts
Hannebery 28d, 6t = 102pts

Round 6, 2015 v Brisbane (GABBA)
Heavy rain first half
Mitchell 28d, 6t = 106pts
Hannebery 33d, 13t = 136pts

Round 1, 2015 v Bombers (ANZ)
Mitchell  – DNP
Hannebery 26d, 8t = 99pts

Round 5, 2015 v Bulldogs (SCG)
Mitchell 30d, 6t = 117pts
Hannebery 37d, 10t = 139pts
What amazing stats – well there you go. We need to stress, finding these stats were very tricky so all 'wet' games might not be accounted for but Pete has done a great done anyway.
VERDICT: Obvious to me. The picture is clearly painted.
WELCOME BACK!
Gary Ablett returned after his injury last week and reminded people of exactly what he can do. His 120pts from 31 touches was great in their massive loss to the Eagles and this week he meets the Swans at Metricon Stadium. He has scored 146, 84 and 157 in his last few against the Swans but will he be tagged as I previously mentioned.
My gut feel is that he won't be tagged by Tom Mitchell and he'll go head to head with the Swans midfield, but there is a small concern and a real chance I might be wrong.
Also returning this week is Tom Rockliff. He confirmed this when we spoke to him on Monday night in the podcast but he's against the Blues this week who are the 3rd hardest team to score against over the last 4 weeks. Plus, he also says he'll score 180!
He has scored 143, 95 and 153 on them in his last 3 games but he'll need to be slightly watchful for a tag from Ed Curnow who held Selwood last week to 86. Rich and even Zorko will probably be ahead of him on the list though.
ARE WE STILL SHAW?
Heath Shaw is always going to be a risky pick as captain for the obvious reason. It's Heath. I thought he'd still be fine last week, but I was wrong. I did have some concerns against Adelaide playing away and they proved to be correct.
This week against the Cats it will once again be a huge guessing game about what he can score. The Blues had 6×100+ scores on Geelong last week with defenders Simpson (100) and Docherty (102) but clocking up a ton each.
Shaw had only 67 when these teams met in round 2 and although he still sits as the #1 player in the league based on form, the risks here are obvious.
Interestingly in that game earlier this year, Coniglio tagged Danger (75) in what is shaping up as tough day out for the Cats again. The Giants are the hardest team to score against and even Sloane (81) and Scottie Thompson (76) struggled big time against them last week.
JUST QUICKLY…
Nick Riewoldt v Adelaide @ Adelaide Oval – The Giants last week only managed 3×100+ scores on the Crows but the thing that interests me is Scully, Kelly and Shiel all averaged 8 marks each. Voldt will find space, take his 12+ marks and might be solid enough to wear the 'C'. He scored 26 in the first quarter last year against them before getting injured and before that he had 48 and was well beaten by Tahlia, who should man him up again. I'm reluctantly passing on Voldt this week as the Crows are flying
and they'll be tough.
Jordan Lewis v Melbourne @ the MCG – Didn't play the Dees last year but had 144 in 2015 on them and 140 last week. He's heating up.
Dusty Martin v Kangaroos @ Blundstone Arena (Hobart) – Swans had 4×125+ scores on the Roos
last week, and Dusty had 62, 111, 101 and 123 in his last 4 against them.
Adam Treloar v Port Adelaide @ the MCG – Didn't play the Power last year and is ranked #3 on form averaging 122.
Max Gawn v Hawthorn @ the MCG – 142 last week and 111 on the Hawks last year.
Scott Pendlebury v Port Adelaide @ the MCG – 112 last year against Port. Consistent, but we need 120+ scores.
Sam Mitchell v Melbourne @ the MCG – averaging 72 in his last 3, he's struggling!
Todd Goldstein v Richmond @ Blundstone Arena (Hobart) – had 149 in Hobart earlier this year but looks injured. 94 and 71 on Tigers in his last two. Could be big but I'll be passing.
Leigh Montagna v Adelaide @ Adelaide Oval – Never played the Crows last year and only scored 89 and 65 on them back in 2014. We have much better options than old Mont this week.
Robbie Gray v Collingwood @ the MCG – 103 and 111 in his last two this year and last week, the Dogs had 5 players score over 115 on the Pies. He'll be cashing in for sure this week.
Lachie Hunter v West Coast @ Etihad Stadium – 92 and 103 on the Eagles in his last two and being back under the roof will only help him even more.
Jack Steven v Adelaide @ Adelaide Oval – Been in ripping form scoring 135 and 138 over the last two weeks but hasn't scored a ton on the Crows in his last four games. Will be tougher this week.
Steele Sidebottom v Port Adelaide @ the MCG – Averaging 112 in his last 3, Steele has scored 107, 142 and 107 on the Power in his last few runs. He averages 121 at the MCG this year and will be great again.