Roy's Trade Talk – Round 11
With cash hard to generate at the moment, the bargain bin can be a place to look, even if it just means getting in a 'good name'.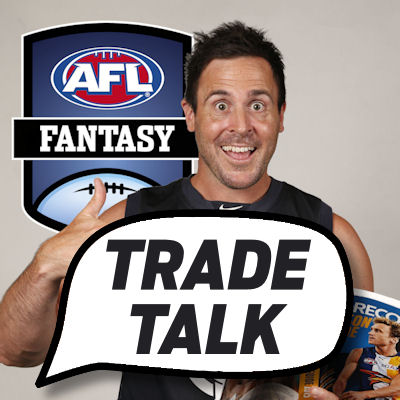 With cash hard to generate at the moment, the bargain bin can be a place to look, even if it just means getting in a 'good name'. However, I have had a look at the top 10 price drops from 2016 to find a few guys who are worthy of discussion given their potential.
Stef Martin (RUC, $442,000)
was the man last year, but unfortunately his form has escaped him, especially of late with a three game average of 61, including scores of 58 and 44 in the last two weeks while sharing the ruck duties with Trent West. Throughout the year he has shown he is still capable of good scores with four scores over 90 with a top of 129. An interesting fact is that he has averaged over 90 while playing with Rocky, who will be back this week. He has dropped $189K and has a BE of 130. This is a tough one, certainly not showing the form to bring him in, but worth keeping an eye on if West is dropped and Rocky is named.
*Thanks @Timmy_D11 for the numbers, Stef averages 98 with Rocky and 63 without his partner in crime this year.
Jarrad McVeigh (420,000) has been a little inconsistent with two tons and two sub 60 scores in the last month but he is a star and a great name to have in you back line. He has dropped $118K since the start of his injury interrupted season and a score 100 against the Roos is a good sign, especially leading into a game against the Suns who leak plenty of points. He has a break even of 84, so the time is right.

Click here to subscribe on iTunes. (Please leave a rating and review to help us move up the charts).
Jordan Lewis (MID, $491,000) is so under priced given his potential and form over the last month. He has dropped $122K, but his 17K rise this week shows he is moving back in the right direction with three tons in the last month including 140 on the weekend which gives him a break even of just 64. To get a player of this calibre for under 500K is a no brainer.
I flagged Chad Wingard (FWD, $372,000)
last week, but understandably, coaches wanted to see another good game given his slow start to the season by his lofty standards. Well, that's exactly what he did, backing up his 98 with an equal season high 116. He has a break even of 31 leading into his game against the Pies and is one of the biggest bargains going around.
David Armitage ($462,000) has tackled his way back into Fantasy relevance, increasing in price by 23K this week, but despite this is still available for 130K less than his original asking price. He has a low break even of 45 after two impressive score of 103 and a phenomenal 158 against the Dockers. If he can keep churning out 2 or 3 hundred per month, he is a great pick for that price.
Houston… We have a Rucking Problem
Top 5 Replacements for Stef… if you choose to go that way
Todd Goldstein (RUC, $548,000) Go straight to the top, he is a gun and averages 105 with a three game average of 115. Just make sure his knee pulled up ok.
Max Gawn (Ruc, $499,000) Huge ceiling, can go missing at times but is great to watch when flying.
Scott Lycett (Ruc, $483,000) In career best form! Amazing consistency and a huge three game average of 115 on the back of 136 and 115 in his last two.
Kurt Tippett (RUC, $486,000) Having a great year averaging 93. Don't be put off by his poor score of 64… that was against Goldstein.
Brodie Grundy (RUC, $462,000) Just quietly going about his business, averaging 91 with scores of 102, 106 and 95 in his last three.
Honourable mentions:
Nic Naitanui (RUC, $458,000) and Mark Blicavs (RUC/MID, $468,000) are both great options and remarkably consistent with both dropping under 80 on just two occasions each. Neither bloke is hitting triple figures as often as I would like.
Twitter time
@WarnieDT @RoyDT @CalvinDT #AFLFantasy hey boys, doc or howe in the backline? Can bank 100k with howe. Cheers!

— BrodieM8T (@BrodieM8T) May 30, 2016
Howe looks great floating back there, but long term Doc is a far superior player.
You guys cover TayTay in your podcast @RoyDT @WarnieDT @CalvinDT

— Brittany Marie (@HayesMaeve) May 30, 2016
Yeah we did, thinking trade at the moment… Maybe make some cash down to Lewis
@RoyDT @CalvinDT @WarnieDT @AFLFantasy lycett, tippett or grundy

— Inactive (@JakePizzuto) May 30, 2016
I would take the punt with Lycett
@WarnieDT @CalvinDT @RoyDT Wingard, another Fantasia

— Seb Birrell (@MrBarrellroll) May 30, 2016
Wingard is an All Australian
@RoyDT jack Steven BE-79 or Tom Mitchell BE-77 who to bring in.

— ben sowinski (@b3njamin96) May 30, 2016
Both great options, but Tich for me
Cheers guys, as always use the comments section to discuss your trades
@RoyDT