The Weekend Wash-Up – Round 10
What does a bloke who finished fifth for the week in RDT have to whinge about? Read your favourite Monday fantasy footy wrap up!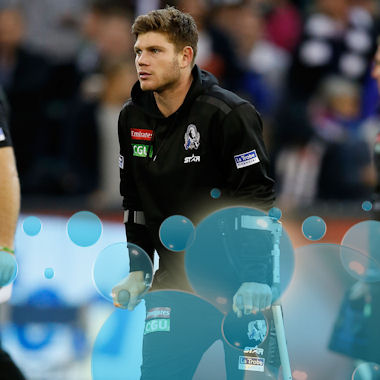 What a weekend! It's about time we saw some big scores from our popular players, and boy did they deliver. While there was some huge scores floating around the place, at the end of the day there is always a par score. Whether it be 1800 or 2100, if you're under it there's always some saltiness around. The one thing I've learnt writing this article is there's never a shortage of losers… It's that time on a Monday morning, let's wash-up Round 10!
Legends
There must be a record amount of legends this week… If you didn't score 110+, you didn't make the cut!
Mitchell (163) – Thanking you! If this season is teaching us anything, it's that patience can be a virtue. Titch had a rough few weeks, but there's no doubting his ball winning ability. After producing a fine tagging display last week, Longmire released Mitchell into the mids once again. And he went BANG! It was obvious that he gained in confidence as the game went on, amazingly Longmire trusted him in the final quarter! Mitchell seemed to be at almost every centre bounce towards the end of the game, possibly at Parker's expense. $532k is a bargain, but I don't need to tell you that… Legend.
JPK (129) – We know that Kennedy is a second half specialist every season. We know that $520k is a bargain. We also know he's capable of averaging 110+ and is owned by just 3.5%! Get on board.
Hannebery (125) – Hanners just keeps getting it done, reliable captains are absolute gold in this game. At this rate he looks capable of comfortably averaging 110-115, and I wouldn't be surprised to see him lift it closer to 120. He's expensive, but worth it!
Lewis (140) – Jordan Lewis' owners were rewarded for their faith with a monstrous 140, which considering he was $474k is pretty decent value for your $$$! His B.E of 64 means it's now or never, definitely a priority target this week if you think he can keep up the pace. I'm firmly in the yes he can boat!
Gawn (142) – Gawn owners must be terrified which player is going to rock up each week! Does he get a lookalike to fill in every few weeks? I don't have the answers to your questions, but let me tell you as a non-owner I'm petrified every time I face him as a unique! 138, 59, 47, 142. I guess it averages out close to 100!
Wingard (116) – After the Fantasia debacle I promised I wouldn't get sucked into the sub $400k bracket again, yet here I am tempted as all hell. Wingard averaged 90 last season, and is currently priced at approximately 70. Having scored 98 and 116 in the past 2 weeks he's clearly back in form, surely this is a no brainer? At this stage I've dropped Kerridge, taken the $50k and ran. I'll be back next week to let you know how it all went.
Armitage (158) – Wow. If Armitage has one thing, it's a high ceiling! The only problem is he isn't winning anywhere near as much ball as he was last season. This score is severely inflated by his 17 tackles. That's a great number to see, but I'm not sure he's worth the pick up. I guess @$462k with a B.E of 45 he could be worth a gamble if you've got no other pressing issues! Just be careful not to create more problems than you already have…
Riewoldt (136) – Money in the bank. My perma captain and clearly best trade of the season. L.E.G.E.N.D.

Click here to subscribe on iTunes. (Please leave a rating and review to help us move up the charts).
Steven (135) – Since pumping him up 2 weeks ago he's gone 138 and 135. Thank you very much! Sadly I couldn't fit him in my own squad but he's still a brilliant pick up for under $540k. Gun.
Montagna (123) – I couldn't be happier to own Monty in my forward line, the bloke knows how to find the footy. I'm still not as convinced about his half back role as I am a wing, but he seems to be enjoying himself! Another who presents as great value this week.
Goddard (134) – Goddard has certainly slipped under my radar, and judging by his 1.4% ownership I'm not the only one! We certainly don't want to overcommit to Essendon, but he now has a 3 round average of 122. He's worth a look at $534k, although I'd have Steven ahead of him.
Merrett (115) – I can't imagine what it's like for the 80% of the competition who don't own Merrett. He is averaging 113.5, just let that sink in. Incredible figures… LEGEND!
Kelly (110) – James Kelly just gets it done (Another entry into sh*t football clichés). You can't go wrong in selecting him! Once again be wary of owning too many Bombers…
Martin (123) – Dusty has well and truly turned the corner, the ship has left the $500k harbour way back in the distance. There are SO many gun forwards this season it's ridiculous. Load up your forward line ASAP.
Cotchin (120) – I mentioned Cotch had flown under the radar last week, and he continues to do so. I jumped the gun early in the season and said we would never see the 2012 Cotchin again, but maybe he's here right now! 6 tons in his last 7 games speaks volumes. Consider @$524k.
Gibbs (137) – I have to admit I was completely wrong here. Gibbs is well and truly in the mix for a top 8 mid spot, what a courageous performance this was. He lost his skipper Murphy early and had to play through the guts with just 1 bench rotation for most of the game. That didn't stop him posting his third score of 130+ and his sixth consecutive ton! His chunder behind Fox Footy's post-match interview said it all… Legend.
Dangerfield (122) – Another week, another cracking score by Dangerfield. You know he's a gun, there's little more to be added. Also a sixth consecutive ton! Freak show…
Bartel (113) – I don't want to talk about it!!! All pre-season I went on about Jimmy never averaging under 95, but bottled it completely. Since I traded Jimmy he has averaged 102. In those 6 weeks, McVeigh has just managed to pass 50 in that defensive spot for the second time. Fantasia was the other. Wow. Bartel -> Fantasia will live long in the memory.
Duncan (113) – Massive! Duncan is holding down his midfield spot with ease at the moment, he was a great pickup at sub $450k. Hopefully an easy hold until late in the season.
Pendlebury (124) – Mr Consistent is back! If you want one less headache every week, you can buy it for the simple price of $561,000. Again, legend!
Treloar (119) – Every. Damn. Week. I'm hoping he can have one-off day so I can afford him, but sometimes it's worth paying top dollar for this kind of consistency. What a jet.
Howe (117) – I missed the second half, could someone tell me why everyone was so excited about how? Is he a relevant option now? I can promise you this, I'm not going near him! Premiums from now on thanks.
Lycett (115) – Just thought I'd let you know that Lycett killed it again this week. What ruck problems?
Ablett (120) – He has a long way to go, but this was the perfect start for Gaz's redemption. That is why you don't trade bald jesus for $500k! Rookie error.
Western Bulldogs – Don't underestimate how important it is to own players from teams who play Fantasy friendly football. The Doggies killed it again this week, only this time they were away from Etihad! Where to begin. Macrae (139) is an absolute bargain pickup this week, anyone in the market for a midfielder should look no further. $520k is silly money for this dude, he can average 110 from here onwards. Dahlhaus (132) finally broke through for a massive score, having previously been solid if not spectacular. Hunter (122) did what he does best, to think we started him at just $430k. What a gift.  Liberatore (115) was great again for those who maintained the faith, he is looking like a nice stepping stone to a premium over the next few weeks. Lastly, the legend Dunkley (115). Remember that he started at a price of $162k and was only $200k heading into this round. He is still value this week, what a beast!!!
Losers
As I said, there will always be losers…
Tippett (64) – He has earned a day off, but this proves there is no such thing as a safe ruckman this season!
Parker (59) – This is a prime example as to why paying top dollar for a premo is dangerous. Parker tends to pull this off every season, start like a house on fire then collapse entirely. How did he only manage 59?! Importantly for us non-owners, he'll be back, and he'll be cheap! For his owners… Perhaps he can mirror Tom Mitchell's turnaround.
S.Martin (44) – The amount of expletives I want to throw at him Stefan are incomprehensible. I paid $630k for this sh*t. I don't want to hear the Trent West excuse. Sure that hasn't helped and may have reduced him from a 100 average player to a 85-90 average player. That doesn't mean you forget how to play football! He looked more clueless on the weekend than he did after being hit by Steven May. Seriously, he was dropping marks, not running, it was appalling. Sadly I'm tempted to hold as I couldn't live with myself if he bounced back, we all know he's capable… Let's see it Stef!
Keays (41) – We paid $176k for this? He looks to have almost maxed out at $250k, yikes! Unless a solid rookie comes through you need to hold him for the byes… Don't go trading in donuts.
Duryea (42) – Yeahhhhh… No thanks. If it looks like a turd and it smells like a turd, it probably is a turd.
Petracca (40) – *Wipes brow*. I was incredibly close to bringing him in this week, until I realised that was crazy $$$ to pay for a rookie. He's still a gun and will bounce back!
Kennedy (29) – Now that's why I traded Ben Kennedy. If you fielded him this week you're probably somewhere isolated right now, and I understand that. I've been there. Trading him will make you feel a whole lot better, trust me.
Viney (72) – We can tend to jump the gun on premium calls, and Viney may be a classic case. He is certainly capable of producing premium like scores, but a consistent ball winner? Not quite yet. He has been brilliant and now is the time to cash in!!! You can make money by trading him to Macrae… No brainer.
Wines (65) – What we've learnt so far is it wasn't a good week to be 'different'. Just like Viney, Wines proved he's not yet at an elite level. Unfortunately in this case Ollie hasn't produced numbers anything like what his owners may have hoped. Priority trade, you need reliable midfielders and there's plenty within $50k of Wines!
Trengrove (52) – I'd say I hate to say I told you so, but that would be a complete lie. I love saying it. A 3 week average of 77 is still great, but now you're left with a $320k defender sharing the ruck duties and a big chance to be falling in price before the byes. Another problem to deal with.
Walters (74) – It was worth a gamble I suppose, but looking at the quality available up forward there's no way you can afford to hold Walters now. Players will need to average 105+ to be a top 6 forward!!! Trade.
Hartley (8) – Sometimes life just sucks. Most of the time that is because Fantasy sucks. Hartley is a prime example. Hang on… I just checked to see when he was injured… Fourth quarter… Ok never mind he just sucks. Hey, if he was your emergency it's 8 points more than a zero! But probably 70 points less than your typical D8 Harwood. Not sure where I'm going with this, next player please.
Jacobs (66) – There's just no escaping the ruck carnage this year… I had Jacobs firmly in my sights 2 weeks ago, thankfully I held the trigger. I still think $460k is great value for Sauce and he should be strongly considered as a Stef replacement.
Selwood (86) – Someone forgot to send Curnow the memo that it isn't 2012 anymore. Why does Selwood attract the tags? Is it because teams think Dangerfield is unstoppable? Either way shutting down the captain must have some kind of effect, it has worked two weeks in a row! Surely GWS will go head to head, expect to see Joel bounce back this week.
Blicavs (53) – I really want to trust Blix, he could solve us so many ruck problems! Then he goes and dishes up a performance like this every 4 weeks… Blicavs seemed to be paying close attention to Patrick Cripps, expect to see him run freely next week against GWS. Still under consideration for me.
Murphy (15) – He'll certainly be cheap in Fantasy when he returns, but that doesn't ease the pain of this ankle injury utterly torching my draft team.
Kerridge (65) – Now we're at the crossroads. If Kerridge was a Round 15 bye this would be an easy hold, but his Round 13 bye isn't helping anyone. Robbie Gray is just $60k away. The trigger surely must be pulled on that trade! As I mentioned earlier Wingard could also save you $50k. Not a priority trade of course, but if you happen to have the luxury now may be the time for him to go. Do so at your own risk.
Adams (74) – NO! You're going to hear more about this later on… I don't want to talk about it.
Cox (40) – Yep cheers for that gig Coxy, you filled Leuey's shoes perfectly. Woeful. How does one spend 93% of time on the ground for 8 disposals and 8 hitouts?! The biggest concern was that his 2 marks came within 30 seconds of each other. I guess you can't expect much else, he's made us some handy cash!
Ruggles, Leuenberger, Byrne (-) – Lastly, the late outs. Many will have been burned with a donut this week. The Ruggles/Byrne combo did for many teams, how's that for a Sunday morning hangover present. What a joke. Sunday's continue to screw us, perhaps we could petition to just remove the day entirely? Leuenberger was also a late out for those dumb enough to think he could re-live his glory days. I'm speaking as though he isn't in the prime of his career, which he should be. Horrid!
Even though there was so many great scores I was tempted to just give it to my boy! I guess some others can share the spotlight… Here's your 5 nominees.
Mitchell – 41 disposals, 10 tackles, 8 marks, 163 points, 1 piglet. Freak!
Gibbs – 34 disposals, 7 tackles, 2 goals, 1 chunder. Solid day out!
Lewis – 42 disposals, 250 games, legend.
Riewoldt – 24 disposals, 11 marks, 6 tackles, 7 consecutive tons. 7% ownership. But that's none of my business.
Steven – 32 disposals, 9 tackles, 270 points! I mean 135 points… What a man!
Who gets your vote?
This Game Sh*ts Me
I was going to go nuts about the late outs, but something far more catastrophic happened on Sunday afternoon… Gather around people, I'm going to tell you the story of how I lost the weekly prize. "But I thought your teams were crap and just made you angry." In Fantasy, yes. For one reason and one reason only… ROOKIES! It is clearly the toughest challenge facing us with our 'luxurious' 42 trades. I took 3 minutes to complete my RDT trades this week. "Oh that Dunkley bloke is basement price, may as well get him in."
Anyway… Before we get to the devastating bit, you're about to find out how much luck you need to even be half a chance. I reluctantly benched Petracca (Also started at basement price FYI) with Wells coming back in (Started at $178k… You get the point), and I happened to not own any DPP links on my midfield bench. That meant that Dunkley got the nod on my ground! A quick shoutout to Clayton Oliver's quad for this one. Not only did I gain that 75 points thanks mostly to pure ass, my premiums had a f**king blinder. I'm not sure how else to put it. 14 tons. 8 scores over 120. Gawn chose to bring his brain cells. McVeigh remembered he was a ball winning defender. Patience has paid with Libba. Steven on debut as captain was huge.
Finally it got to the point at half time in the Bulldogs Pies game that I realised I must be a shout for the prize. Until… Until.. Until.
Adams pings his hamstring. Shame I thought, it was a good run while it lasted. So the Round ends and I finish on 2424… Yep. I get home to view the round rankings and I'm 5th. Sh*t the bed I was bloody fifth. Of course there was only 1 thing to do from that point, check if the other 4 blokes had Taylor Adams in their teams… Nope. Of course they didn't. End of the day, I fell 23 points short. 23 points he needed in that second half. May I remind you he was on 74 at HALF TIME!!! Gutting. Absolutely gutting. Quick mention goes to Stefan Martin for his useless 44 points, talk about 1 bloke letting the team down. Anyway, I'll never go that close again, there goes $500 on a hammy and the moral of the story is this game will do nothing but sh*t you.
Then again, it could be worse… Guess I'll take the 2400.
The Other Bits and Pieces
You could probably figure that my teams had a cracking week, I managed a more than solid 2256 in Fantasy. Considering I made a double downgrade, had Yeo out and Leuenberger was replaced by Cox (Basically the same scoring anyway) I'm stoked with that. Now into the top 1k (Fantasy), it's all looking on the up! May the high scoring trend continue… Ranked 200 in RDT for those wondering, I'm sure the 15 minutes I put into it this week will result in far better results than my Fantasy! Cheers guys.