The Friday Scramble: Round 10
Our guns are back (well most of them anyway) and we should be set for a big week. This week I go through a bit of Bye structure and have a bit of a chat about what the ins and outs mean. Jump on in and scramble!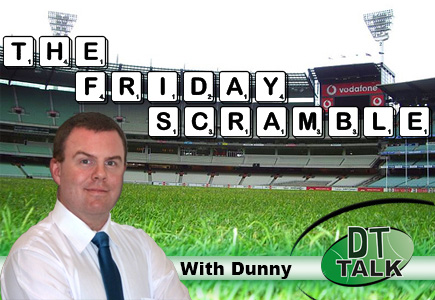 Hoorah!  Carnage is over….or is it?  Players are back, our teams are full and everyone is happy!  If only it were that easy.  We have a few players back, but not all the ones we wanted.  Not only that, we are only a few weeks out from the Bye rounds now, so you should really be starting to consider this!  Let's have a look at what is happening this week.
The Big Guns are Back!
Well the selection table was kind to us this week with the returns of Ablett, Hall, Wells, Boyd and Barlow.  The two names that were hoping for but didn't get were Laird and Rocky but hopefully we can get both of them back next week.  Just be slightly careful with Hall and Ablett as they are playing on Sunday, however, there are enough other players on the list that would be more likely to miss out before them.  Perhaps keep an eye on social media tomorrow to see if they board the plane.
Dougal Howard is the one that has come in for Jonas.  This is a concern to those that have brought in Trengove.  Howard will certainly take some of the ruck work whilst Trengove will be required to fill the hole left by Jonas down back.  I must say I thought that Clurey would be the one to come in.  So just temper your expectations of Trengove this week.  Oh, and I wouldn't be rushing Howard into your side.  I can't see him dominating in any way at all.
But what the Fantasy gods give with one hand, they taketh away with the other!  We lost Yeo to a quad injury, what is more worrying is that he is listed as TBC as a timeframe.  If you can I would hold until we have some better intel as to how long he is out for.  This is disappointing, as he tended to score well at home and up against a Gold Coast side that has an injury list that resembles a phone book and their two best players coming back from injury, Yeo was scheduled to go massive this week.
Were you one that took the punt on Dan Currie as your R2?  Well hopefully you have another option in there.  It is a Finger injury listed at 2-4 weeks.  Based on that and the fact he isn't a premium, cash him in and move him on.  Were you also relying on Connor Menadue?  Well Dimma has finally worked out what we all knew, he wasn't playing well, so he has been omitted.  For me, it is time for him to go.  He has been struggling to get to his BE for a number of weeks now and his omission should be the last straw!
And for those that brought in Kaiden Brand last week, he has also been omitted.  He has plenty of cash to make so you can afford to hold him for a bit longer.  Speaking of rookies, Clayton Oliver is out with a quad injury.  He is listed as a test so you can hold him.  However, his BE isn't as low as it once was so if you don't have anyone else to unload, then he could be the man for you.
One of the big plusses from the inclusion of Howard this week is for those that own Gawn.  He was set to dominate Trengove, now, he will completely own Howard.  If you have Gawn, you may even want to consider making him your captain!  (although I will leave the captain advice to Calvin). Nic Nat had a field day last week against Trengove, he would be pissed he didn't have Dougie as an opponent!
Don't miss the big articles of the week.
Bye Time!
This year I must say I paid less attention to the byes in my starting squad than ever before, mainly because they are later than normal this year by about 3-4 weeks.  But we can't stick our head in the sand and ignore them, you need to get onto it now and make sure that you are all sorted.  Every trade for the next few weeks should be done with bye planning in mind.
The plan that I run with is looking to be heavier in round 15 bye players to start with and then as we progress through the byes you trade out those guys and trade in the players that have had their bye.
Many players take the "Meatloaf Strategy" (thanks Footy Rhino and Fenn) that 2 out of 3 ain't bad.  i.e. if you can get two wins out of the three weeks then you can consider that a win.  Some people fully subscribe to this strategy and actually load up on players in one of the bye weeks.  I don't do this one, but it is certainly a valid option if you are going for league wins.
As you finish the bye rounds you should be planning to have a completed team with trades left (in SC and RDT).  My plan would be to try and come out of the bye's with a completed side and at least 6 trades left.  The number that I see as being ideal is 8 trades which would be on per week.
For those of you with assistant coach and its' equivalents in each of the competitions, you should be using it to see how your team is structured throughout the byes.  For those of you in AFL Fantasy, you may not actually be playing during the bye period, so if that is the case, don't simply give up on your side as you can jump a heap of places during this period.
Whilst your team may look solid when you put the bye microscope over it, but are some of the players you are looking at not actually going to play??  If you are carrying a rookie that looks like they aren't coming back in the near future you may want to expedite their upgrade/downgrade.  But, don't screw your whole season just to get 18 on the park during the byes.  So start planning now so that you can have enough fit guys on the park.
Things To Remember
Rookies are Random!  A few weeks ago we were all trading out some of the Essendon rookies as they were potentially topping out, then last week they dominated and scored well.
Go with your gut!  I made a mistake last week in SC after Danger failed as my VC, I was going to go Heater as my C in his place, but went Montagna as I overanalysed the situation.  Shoudla gone with my first instinct.
As always check out what Calvin and Jeppa had to say during the week.
Another week, and I am sure more heartache to come for our Fantasy sides.  Stick with it, even if your team is sucking, no one likes a Ghost Ship.  Particularly if you are in a Cash league!  You never know what can happen.  As always good luck (except if you are playing me of course) and I will catch you on the weekend via twitter @pkd73