Versus: Round 10
Tom returns for another week of putting players head-to-head in Versus.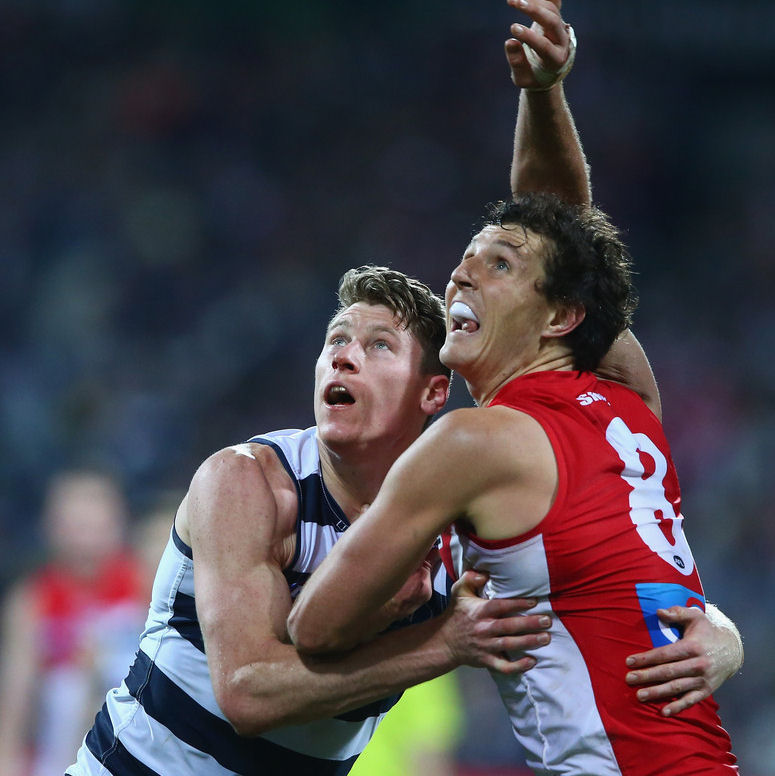 Tom returns for another week of putting players head-to-head in Versus.
Steele Sidebottom ($572,000) V Adam Treloar ($587,000)
Steele Sidebottom has been one of Collingwood's most consistent performers since debuting in 2009. His domination on the wing has led to some huge Fantasy scores over the years. 'Sidey' really 'broke out' onto the Fantasy scene in 2012 by averaging 104 points. At the conclusion of that season, Sidebottom's price had reached $460,000. But for the past three seasons, his price has been over the $500,000 mark, making him an out and out premium. A key to factor when selecting Sidebottom is his durability. At just 25 years old, he has managed 150 career games. In fact, last year was the first time in his career where a fairly major injury kept him sidelined. Sidebottom is also equipped with elite endurance, ferocious tackling, versatility, a knack of kicking important goals when it matters and being able to kick efficiently on both sides of the body. The Magpie announced himself as a future star of the competition with an outstanding performance in the 2010 Grand Final replay. Sidebottom was suspended for two matches after a hit on Swans tough nut Dan Hannebery. It's fair to say Hanners owners were pretty upset – especially those who captained him. The suspension was fire in the belly stuff for Sidey who returned with scores of 122 and 144. Two 90's and two 100's followed in rounds 6, 7, 8 and 9. As his price continues to rise up to $600,000, 'Sidey' is shaping as one of the leading midfielder's come the end of the year. It's clear he has the ceiling, consistency and durability and his upcoming fixtures also look fairly sweet. First they face the Bulldogs at the MCG this Sunday. The Dogs have conceded an average of 1.25 120's against over the past four games and I'd expect Sidey to go close to that mark. Port Adelaide and Melbourne are their opponents in rounds 11 and 12. Collingwood then play Fremantle and Carlton after the round 13 bye. Sidebottom is currently having a career best season and is a genuine chance to be the top midfielder by the end of the season.
What a season Adam Treloar is having. The fact that he is being compared to Patrick Dangerfield in the debate over who was the better signing, speaks volumes about his current form. It's extremely rare that a young, fresh faced player arrives on the AFL scene and has such an immediate impact. In his debut season, Treloar, who was playing for the Giants at the time, averaged 82 Fantasy points. A promising 2013 season resulted in an average of 88. But as was the case for many stars of the competition, Treloar's 'breakout season' came in his third year at the professional level, where he cracked the ton average. A pre-season move to the black and white of Collingwood has seen Treloar rise to even greater levels where he is now recognised as a true premium midfielder. The opportunity to grace the hallowed MCG turf in-front of some of the games most passionate fans was enough for the 23 year old to choose the 'Pies over their close neighbours and fierce rivals Richmond. Neither teams have had brilliant starts but Treloar has been a shining light. Like Sidebottom, Treloar's sublime skills and ability to creep forward have been invaluable to date. Looking at the Fantasy side of things, Treloar has managed six tons (all of which have been over 115 points), two 90's and an 85 but his ownership rate still sits at below 6% (at the time of writing). Clearly Adam has flown under the radar amongst coaches even though his move was one of the biggest of the most recent trade period. As mentioned before, Collingwood have a nice run coming up – including five consecutive games at the home of football. It's hard to think of a reason why more coaches don't jump on board the Treloar train but he could well prove the decisive factor as a POD in head-to-head leagues.
Verdict: When you think about it, Sidebottom and Treloar play a similar brand of footy. Both are damaging by foot, can kick goals and have the capability to play on the inside or on the outside. Remarkably, the pair are owned by less than 6% of coaches despite their scintillating form. Whilst Treloar boasts an average of 112.6 points, ranking him the fifth highest averaging player, Sidebottom is just 0.3 points behind. You can't go wrong with either but I like Treloar here.
Loading ...
Kurt Tippett ($489,000) V Mark Blicavs ($490,000)
Kurt Tippett is right up there amongst the most hated people in Adelaide for the drama he dumped on the Crows. After stating that he wished to return home to Queensland, Tippett casually joined the Swans. Kurt, did you pay attention in geography classes? Sydney is not in the state of Queensland! Just imagine Taylor Walker and Kurt Tippett wrecking havoc in the same team whilst Eddie Betts and Charlie Cameron feast on the ground balls. Nevertheless, if Tippett didn't leave, perhaps the emergence of Josh Jenkins would've been delayed a few more years. Now with my Kurt Tippett rant out of the way, lets get stuck into Tippo the player, who happens to be enduring an excellent season. Many Fantasy coaches including myself believed that the recruitment of Callum Sinclair would at-least restrict Tippett's ruck minutes, despite the retirement of Mike Pyke. He played predominately as a forward in his time at the Crows but that hasn't been the case so far in 2016. In-fact, he is averaging 32 hit-outs this year – compared to an overall career average of just 9. His tackles, disposals and Fantasy points have also been improved upon. Although he has spent a considerable amount of time in the ruck and around the ball, Tippett has also managed to kick 15 goals including a haul of 4 against Carlton in round 2. But the most impressive attribute Tippett has acquired this year has been some consistency when it comes to Fantasy scores. He has posted three tons, all of which have ended up exceeding 110 points – proving he has a high ceiling. Tippett has been one of the Swans best players to date and in doing so, announcing himself as a genuine trade-in option ahead of round 10. Looking ahead, the Swans face the still undefeated Kangaroos on Friday night before tackling the Suns, Giants and Demons in what looks like a mixed bag of fixtures. Thankfully, Tippett has shown that he can not only score well against the bottom teams but also perform well against a top team like the Hawks. An average of 96 points has seen Tippo's stocks rise $44,000 up to $489,000. A round 14 bye and break even of 64 are enough to warrant a trade in, but will ditching Stefan Martin for him be a good idea in the long run?
Has there ever been an 198cm player more versatile than Geelong's Mark Blicavs. Whether he's given a role as a key forward, wingman, ball winner or rebounding defender, Blicavs is a quality player. It has been well documented that Blicavs was a former steeplechaser destined for the tracks of Rio rather than the MCG's turf. An AFL career that was initially focused on development, has since evolved to a point where he is one of the Cats most valuable contributors. Thanks to his athletics days, Blicavs has excellent speed, a solid endurance and is now finding more of the footy. Interestingly, he is currently beating his career averages in disposals, marks, tackles, goals and Fantasy points, but is down on hit-outs. One would think this is a result of Zac Smith and Rhys Stanley sharing the majority of the ruck work – leaving Blicavs to assert his authority around the ground in less congested spaces. The mobile big man's sudden rise to the top level over the last two years has seen his Fantasy stocks considerably heightened. His 21 games in 2014 led to an average of 62 points, but an average of 97 last year was nothing short of incredible. It was all capped off beautifully by Blicavs taking out his first Carji Greeves Medal as Geelong's best and fairest – ruling out a Joel Selwood hatrick. By scoring four 100's and two 90's so far this year, Blicavs has proven he will not be a one-season-wonder. In pre-season, Blicavs ability to win plenty of the ball in the midfield saw many Fantasy coaches start with him at R1 or R2. The unfortunate demise of Stefan Martin will see his owners shaking their heads, wondering what put them off Geelong's jack of all trades. Perhaps this was a result of the possible lack of hit-outs? Well, as mentioned before, the hit-outs have been halted but almost every other key statistic has risen. Now priced at $490,000, Blicavs may not generate too much cash with a BE of 97, but is capable of hip and shouldering Stef off his throne. Blicavs is a smart pick, but is he better value than the likely number one ruck in Todd Goldstein?
Verdict: As a passionate Crows fan this was tricky to write given my lack of appreciation for the way Kurt left West Lakes. However, sometimes you just cant resist the added cash and that has to be respected. I've never really considered him as an option in Fantasy until now. He has really taken his game up a notch to a point where 90+ scores have become almost expected. However on this occasion, Blicavs' ability to play in the midfield sees him come out on top.
Loading ...