Jeppa's Juniors – Round 9
There aren't many new rookie options available at the minute but that doesn't mean Jeppa takes a backseat. Check out what he has to say on all the Round 9 action as well as his own trade strategy heading into Round 10.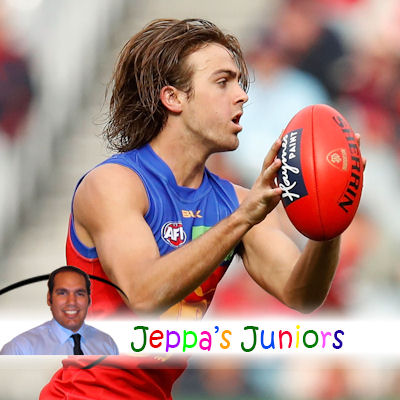 It was a reasonable week for many in Round 9 considering the injury problems we all had to endure and the fitness of such players remains our primary concern. To quote Rodney Eade on Monday night, Ablett will 'probably' play this weekend and Hall will have a fitness test come Thursday. Wells and Rocky are likely to miss again but thankfully defenders Matthew Boyd and Rory Laird will both return.
Looking ahead our rookie stocks are pretty thin which is not uncommon at this stage of the season. I remain hopeful that cheap 'juniors' like Dunkley, Marsh, Gore, Clarke, Broad and others playing well in the reserves get a gig soon.
Three-Or-More Gamers
KEEPERS
Matt Dea (Def. $347,000, 17 be AF. $363,700, 9 be DT) take a bow. The popular defender had a day out against the Saints, amassing an impressive 26 possessions, 15 marks, 2 tackles and 122 Fantasy points. Essendon switch the ball in the back half more than any other team I reckon and with some newfound confidence, Dea should continue to provide his owners with 70+ scores till the byes.
Like Dea, Anthony McDonald-Tipungwuti (Def/Fwd. $326,000, 37 be AF. $336,000, 33 be DT) was dominant on the field and he hit a new PB of 93 Fantasy points. Walla was named in the bests for the Bombers and there are no signs of him slowing down now. Teammate Mitch Brown (Def/Fwd. $343,000, 53 be AF. $358,100, 87 be DT) also had a big influence on the match playing as an active, marking forward and finishing with 4 goals and 83 Fantasy points. As good as he's been, I'm looking to cash in and trade Brown out of my Dreamteam but feel free to hold him if it suits. He is likely to do well against Richmond on Saturday night.
Christian Petracca (Fwd/Mid. $324,000, 9 be AF. $274,100, -30 be DT) and Sam Kerridge (Fwd/Mid. $430,000, 75 be AF. $427,400, 74 be DT) produced what is expected of them, scoring 106 and 104 respectively. Don't trade these two jets yet!
A classy performance by George Hewett (Mid/Fwd. $294,000, 35 be AF. Mid. $296,100, 27 be DT) has propelled him up the rookie rankings. His last quarter against the Hawks was simply awesome and he finished on a handy 82 Fantasy points. With McGlynn in the team, Hewett had plenty of midfield time and I suspect this will continue in the short term. Thankfully, Hewett has the Round 14 bye.
Wet weather footy suited inside midfielder, Connor Blakely (Mid. $214,000, -10 be AF. $227,500, -19 be DT). The 20 year old was amongst it at the stoppages and he racked up 22 possessions, 1 mark, 7 hitouts, 7 tackles and 91 Fantasy points by the final siren. As one of Freo's better players on the night, I suspect favorable midfield time will continue for Blakely. I'm starting him on my field again this week.
Jackson Trengove (Def. $304,000, 9 be AF. $334,900, 10 be DT) continued his role in the ruck, laying 11 tackles against West Coast and scoring 83 Fantasy points. Carlisle or Clurey will come in for the suspended Jonas so don't expect Trengove's ruck role to change. If you don't have the big fella now then you've missed the boat…he's too expensive. Fellow Fantasy defender, Ciaran Byrne (Def. $274,000, 31 be AF. $282,100, 40 be DT) played his best match to date. Filling the holes in defence and taking plenty of intercept marks, Byrne had 13 kicks, 10 handballs, 7 marks, 2 tackles and 87 Fantasy points at the final siren. Don't expect these sort of returns every week though, he's an ideal D7.
Peter Wright (Fwd. $251,000, 7 be AF. $251,700, -9 be DT) 89, Ryan Davis (Fwd/Mid. $236,000, 20 be AF. Mid. $223,900, 5 be DT) 81, Clayton Oliver (Mid. $334,000, 49 be AF. $343,000, 49 be DT) 79 and Aaron Mullet (Def. $231,000, 1 be AF. $249,000, 3 be DT) 76 round out the keepers this round.
DON'T PANIC
Although he's out injured (expected return Round 14), you can cover Daniel Currie (Ruc. $260,000, -19 be AF. $269,300, -29 be DT) on your ruck bench. The big fella still has attractive breakevens so the recommendation is to hold! Same goes for Daniel Wells (Fwd/Mid. $398,000, 92 be AF. $374,600, 68 be DT). It appears he'll miss another week but given his average of 81 and Round 13 bye, Wells could be invaluable through over the next month.
If you held Corey Ellis (Fwd/Mid. $294,000, 28 be AF. $316,500, 33 be DT) last week, good move! Touted as the halfback that replaces Houli, Ellis will score favorably for a while yet. His rest last week will freshen him up too!
Other 'juniors' that are still steadily going up in value include Hayden Crozier (Fwd. $285,000, 34 be AF. $299,100, 25 be DT) 69, Josh Wagner (Def. $316,000, 50 be AF. $330,700, 71 be DT) 66, Ben Kennedy (Fwd/Mid. $359,000, 53 be AF. $383,000, 64 be DT) 65, Tom Ruggles (Def. $253,000, 29 be AF. $249,600, 24 be DT) 58, Jed Bews (Def. $267,000, 33 be AF. $268,500, 28 be DT) 56, Mason Cox (Ruc/Fwd. $241,000, 22 be AF. $233,000, 0 be DT) 51, Liam Sumner (Mid/Fwd. $233,000, 37 be AF. $241,700, 28 be DT) 50, Ben Keays (Mid. $246,000, 29 be AF. $212,600, 14 be DT) 49, Josh Smith (Mid. $287,000, 49 be AF. $260,700, 40 be DT) 46, Kaiden Brand (Def. $165,000, 14 be AF. $156,000, 13 be DT) 37 and Ben Crocker (Fwd/Mid. $158,000, 13 be AF. $146,700, -5 be DT) 30. Hold them if you own them.
TRADE, TRADE, TRADE
With the byes not too far away it is time to trade your fattened rooks especially those with the Round 13 bye! Connor Menadue (Fwd/Mid. $238,000, 47 be AF. $244,900, 50 be DT) 42 and Mitch McGovern (Fwd. $278,000, 42 be AF. $282,300, 27 be DT) 69 should be at the top of your list.
Unfortunately, Darcy MacPherson (Mid. $205,000, 5 be AF. $166,100, -21 DT) 42 has injured the medial ligament in his knee and he'll be on the sidelines for an extended period. Owners have no choice but to trade him. Darcy Byrne-Jones (Def. $282,000, 65 be AF. $284,600, 79 be DT) 49 hurt his ankle during the game against West Coast but was able to return to the field. Given where DBJ's breakevens sit, you really should trade him out.
If I haven't categorised a player from Round 9 under 'Keepers' or 'Don't Panic' then trade them out as soon as you can but when appropriate.
Two Gamers
Jacob Hopper (Mid. $298,000, 21 be AF. $197,800, -60 be DT) started slow but picked up his work rate in the second half. With just 25 Fantasy points at the main break, owners may have been a little worried in what they invested in however, he displayed his ball wining ways and finished on a respectable 74. Hopper is getting plenty of opportunities on the ball and for that his scores should hover over 70. I'll be trading in the young champ this week for Dreamteam but I refuse to spend the extra for Fantasy.
The Bulldogs' Bailey Williams (Def/Mid. $167,000, 2 be AF. $121,300, -40 be DT) was reasonable but not amazing in his second game of AFL footy. Playing across half back he had 16 possessions, 4 marks (0 tackles!) and 53 Fantasy points. The problem with Williams isn't just his scoring potential but more his job security. Boyd, Suckling and Adams are all back this week so I doubt he'll survive selection this Thursday anyway. Pass.
Tim Mohr (Def. $134,000, 26 be AF. $168,100, 38 be DT) scored just 10 Fantasy points before succumbing to a hamstring injury. He'll be out for a few and with Phil Davis returning in a couple of weeks, you really to trade him.
Put a line through Jono Freeman (Fwd. $181,000, 24 be AF. $212,600, 39 be DT) 54, Oscar McDonald (Def. $205,000, 37 be AF. $217,100, 43 be DT) 48 and Billy Evans (Fwd/Mid. $211,000, 36 be AF. $253,900, 54 be DT) 40. They're not Fantasy/Dreamteam relevant.
One Gamers
Rhys Mathieson (Mid. $169,000, 11 be AF. $121,300 DT) is the pick of the one-gamers this week. Price versus scoring potential is looking great for coaches and his effort was superb on Sunday. 'Beast' played between the midfield and half forward and he finished with 11 kicks, 3 handballs, 3 marks, 2 tackles and 59 Fantasy points. He'll hold his spot even when Rocky comes back because Brisbane needs to develop their youth. Trade in Mathieson if you haven't already but use him preferably as your first emergency. A must have with the limited cheap options available.
In his new role down back, Jackson Paine (Fwd. $138,000, 4 be AF. $131,300 DT) looked shaky but battled manfully. He'll gain confidence and improve as the weeks go by however, Harris Andrews is due back in a couple of weeks so we really shouldn't pick him. I know he's cheap but be smart, the byes are near!
Trent West (Ruc/Fwd. $172,000, 12 be AF. $165,200 DT) in an intriguing option. Replacing Josh Walker in Brisbane's 22, West played the forward, ruck role reasonably well and scored a sound 60 Fantasy points. Tactically, you could get clever and trade McGovern, for example to West in your forward line with the notion of future trading a fattened Mason Cox and shifting West to R3/R4. Just an idea but remember West's job security isn't assured.
Kieran Collins (Def. $133,000, 28 be AF. $121,300 DT) was well below what's expected of him in the Fantasy forum. 'Dad' scored just 22 Fantasy points against the Giants but he did keep Patton goalless. Marcus Adams is likely to return to senior football and replace Collins in the process. Avoid.
If Trent Dumont (Mid. $249,000, 26 be AF. $263,800 DT) was assured a spot in North's 22 then I'd consider speeding the extra but like last year, he'll be in and out of the senior side. It's a shame cause 76 Fantasy points is exactly what we are after from our rooks. Alex Neal-Bullen (Def/Mid. $234,000, 37 be AF. $241,400 DT) 56, Seb Tape (Def. $218,000, 30 be AF. $245,200 DT) 56, Daniel Gorringe (Ruc/Fwd. $196,000, 29 be AF. $211,000 DT) 50 and Daniel McKenzie (Mid. $208,000, 33 be AF. $236,000 DT) 49 are other expensive options that shouldn't be considered.
Please note that if I haven't mentioned a rookie priced player above, it means I don't rate them. Remember rooks are classified as players under $250,000 in Fantasy and/or Dreamteam.
Keep Your Eye On
Freo's Sam Collins (Def. $146,000, 28 be AF. $121,300 DT) is a likely replacement for the injured Alex Pearce. The key defender has been playing well in the WAFL and I suspect he'll average just below 60 Fantasy points, making him worthy for one of your defender bench spots. Thankfully, Collins job security is healthy and that's why you should pick him.
Rookie listed Will Hams (Fwd. $155,000, 30 be AF. $137,200 DT) should suit up for the Bombers this weekend. He's been racking up big numbers in the VFL over the past month and on the weekend his stat line read 14 kicks, 21 handballs, 5 marks, 5 tackles and 127 Fantasy points! Cheap ball wining mids are few and far between at the minute therefore if he's named then you seriously need to consider him. Essendon have a spot on their senior list for Hams (Simpkin LTI).
Please don't pick fellow Essendon rookie, Jake Long (Fwd/Mid. $125,000, 24 be AF. $121,300 DT). His stats have been average in the VFL over the past month and he's still very raw.
The previously mentioned Josh Dunkley (Mid. $201,000, 11 be AF. $121,300, -53 be DT) and Jack Trengove (Mid. $332,000, 64 be AF. $180,800 DT) continue their hot VFL form and are a chance for senior action this week. Both Dunks and Trengove are Dreamteam relevant only due to price.
Jep's Round 10 Trades
AFL Fantasy
With a small nest egg of $48,000, I'm still looking to make an upgrade but to do so I have to give up some talent. Fattened cashcow, Josh Wagner who has been a valuable servant gets traded to Sam Collins. The relatively cheap, James Kelly is a guaranteed Top 6 defender in my opinion but to get him I'll need to give up George Hewett who still has some cash to earn but I'm chasing points! Next week my intention is to double downgrade a couple of my rooks with the Round 13 bye but quality rooks need to become available! Here's what my Fantasy team looks like after trades…
AFL Dreamteam
I can't make a decent upgrade this week therefore I'm cashing in with a double downgrade. I'll pull my receding hair out if I have to keep Connor Menadue any longer so he gets traded to cash cow Jacob Hopper who has the Round 15 bye. I don't want to lose any money on Mitch Brown (be 87) so I'm offloading him to Sam Collins. Collins sits at D8 and is another rook with the Round 15 bye. I know I'm jumping the gun on Collins but it's low risk considering Freo's injury problems. Assuming no disasters, next week I'll burn just one trade (only 14 left!), which is likely to be Josh Smith to Danger. Here's what my Dreamteam looks like after trades…
Feel free to ask me a question below and don't forget to add me on Twitter @JeppaDT for all things Fantasy and more. Happy trading!