Calvin's Captains – Rd. 10
Here we go. If you've lasted to round 10, well done! Join Calvin for the best Fantasy captain research in the land.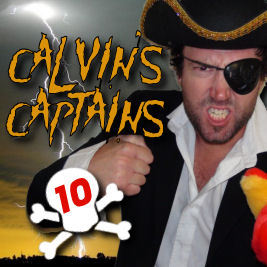 SAINTS IN GOOD NICK
In the St Kilda v Fremantle game I could have 4 players from this game in my top 5, but I don't.
Let's start with Leigh Montagna. He has been going great guns with scores of 101, 129 and 109 in his last 3 and even posted 155, 91, 189 and 117 on the Dockers in his last 4 games and that was when they were good.
Last week, Richmond midfielders had a field day at Domain Stadium against them with Cotchin (127), Grigg (117), Dusty (107) and Miles (104) all cracking the ton.
I can't load up my top 5 with everyone from this game and therefore, Jack Steven is the unlucky one who misses out.
He had a season best 138 last week, but his numbers prior to that (83, 58) are concerning. He's back though and will rack up again this Saturday arvo. He has scored 107, 148 and 93 in his last runs on the Dockers but if I was tossing up between Steven and Montagna… Montagna gets the nod from me this week.
Nick Riewoldt has averaged 119 in his last 3 games and has been sensational. He had 112 last week and at Etihad Stadium this year, he is now averaging 128 (5 games).
How will the Dockers stop him? The answer is – THEY WON'T!
He has scored 89, 164 and 120 on them in his last 3 and will be untouchable.
Another guy who is untouchable at the moment is Lachie Neale who is thriving without Fyfe. He had 149 last week and scored 112 on the Saints last year. Last week, 5 Bombers cracked the ton against the Saints and Neale even has a great record at Etihad (132, 106 this year).
JUST MISSING THE LIST
These guys just missed out on my top 5, and if you like them, I'm giving you the green light to back them in this week.
Firstly, Josh J. Kennedy will carve the Suns a new one this weekend and the Eagles will win this by 100. He kicked 7 (107pts) last week and when Tex Walker played the Suns last week, he bagged 5.2 (116pts) – make sure you have JJK looked in all your DFS teams and Match Day.
Daniel Hannebery has always copped the Ben Jacobs tagged against the Roos and only scored 65 and 93 on them last year as a result of this. With Jacobs out, how will he fair running free on Friday night at the SCG. I really think he can be huge however, he missed my list this week as the Roos are very tough to score on. Gibbs (106) was the best for the Blues against them last week, and therefore it is slightly risky.
Team mate Luke Parker posted 120 and 133 on the Kangas last year, as the Roos and Jacobs focused their attention on Hannas. Parker only has a highest score of 103 in his last 3 this year though and as I said, North can be very tough to score against on their day.
Both these guys will be great though as they WILL beat the Kangaroos for the first time this year.
Why? Cause the Roo's first nine wins were against Adelaide (@Eti), Brisbane, Melbourne, Fremantle, Gold Coast, Bulldogs (tough one), St Kilda, Essendon and Carlton. Finally, this week they'll play a real team (away) and therefore we might see a new trend in the scores they have been giving up.
Dayne Zorko had 91 last week but did have 122, 110 and 148 before that. He loves the GABBA and has scored 122, 148, 109 and 110 there this year. Hasn't scored over 100 against the Hawks in his last 3 though and that's why he misses my 5 this week.
Captain consistent, Scott Pendlebury has smashed the Dogs in the past with scores of 113, 114, 133 and 133. The Giants had 8 guys go 100+ last week against the Dogs but my issue here is Pendles' lack of big scores this year, only going over 120+ once.
Steele Sidebottom on the other had has scored 120+ in 3 of his last 6 games. He even had 130 on them last year and the thing about a top 5 is… you can only have 5 players in it. Tough luck Steele.
If you want something unique, then jump on Lachie Hunter against the Pies who leek points. He had 122 on them last year and in a loss last week, Duncan (122) and Danger (107) still scored solidly. Watch out for a tag from Greenwood though, he was great on Selwood last week, although I think he'll have his sights set on the inform Bont.
IT WAS JUST RUDE
Heath Shaw on the weekend was just plain rude.
His 176pts from 14 marks was out of this world. He is currently the #1 inform player in the league (obviously) and has cracked 130+ in four of his last five games.
Now, this is where it gets interesting. In his last game against the Crows he managed just 61. The Crows have some gun small forwards and running too far off isn't a good idea. However, the GWS have players to do these jobs and as we saw… Heath doesn't really care anyway once the ball is won.
Shaw hasn't scored over 100 against the Crows in his last 5 games and only posted 81 at Adelaide Oval when he played his first game there last year.
Malceski (96) topped scored for the Suns last week against the Crows which is a good sign and other defenders such as Enright (94), Henderson (91), Boyd (101) and even Easton Wood (90) have gone ok against the Crows in recent weeks.
Although history is against him here… and so is the ground, how can we turn our back on a guy who has taken rudeness to a whole new level.
You'll see why he doesn't get my #1 position, but his form is so good, how can he be stopped!
JUST QUICKLY…
Tom Mitchell v Kangaroos @ SCG – 67 on the Roos last year and now he's back tagging? I can't see it continuing but he and Horse can't be trusted.
Todd Goldstein v Sydney @ SCG – averaging 120 in his last 3 and has scored 87, 122, 72 and 80 in his last 4 against the Swans. Tippett is on fire at the moment. I'll pass on Goldy here.
Sam Mitchell v Brisbane @ the GABBA – scored 53, 74 and 66 in his last 3 games and might even cop another tag from 'Red Bull Robbo' this week. Dees had 6×100+ on Lions last week but even Sam Mitchell can't be trusted at the moment.
Max Gawn v Port Adelaide @ Traeger Park – 47 and 59 in his last two games makes you want to throw up. Lycett (136pts, 23 hit outs) and Nic Nat (109pts, 48 hit outs) topped scored for the Eagles against Port last week and surely we can see something better from Max this week. SURELY!
Zach Merrett v Richmond @ the MCG – Only two guys scored over 90 against the Tigers last week (Neale/Blakely) and Zach only had 80 on them last year. Pass.
Dusty Martin v Essendon @ the MCG – Should kill the Bombers but only managed 66 and 107 on them last year. Steven (138, 40d) and Ross (137, 37d) had their own ball on the Bombers last week and I'm expecting a solid 110+ from Dusty here.
Stephen Coniglio v Adelaide @ Adelaide Oval – #3 on form with an average of 122 in his last 3 with 136 last week. Bit scared of this game at Adelaide Oval, but he's just smoking it at the moment.
Patrick Dangerfield v Carlton @ Etihad – Kangaroos beat Carlton by 67pts last week and Dal Santo and Ziebell were the only midfielders to crack 100+ (108 and 107). He had 108 on them last year and carries a lowest score of only 107 in his last 5 games this year. Solid as they come.
Joel Selwood v Carlton @ Etihad – Only one score over 100 in his last four games against Carlton. We have better.
Adam Treloar v Bulldogs @ the MCG – Treloar has played the Dogs five times in his career and they still sit as the only team he hasn't scored a ton on. Hot form though with 116 and 131 in the last two weeks.
Matt Priddis v Gold Coast @ Domain Stadium – Scored 105 (10 tackles) last week, his equal best score in his last 5 games. He's been out of touch but will dominate this week against a team he has scored 106, 155, 103, 108, 100 and 138 on over his career. Suns suck and Priddis will fly.