Roy's Trade Talk – Round 10
The moral of the story is to stay true to the course… Hang in there team and trade for the long term.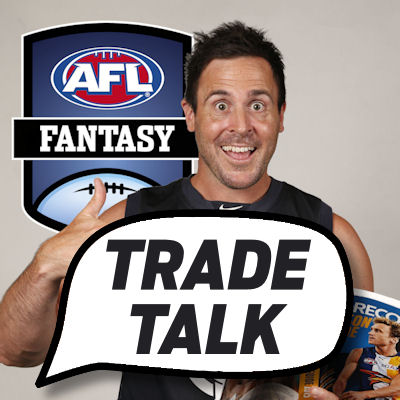 Some huge scores over the weekend, but unfortunately there were also a few 'premiums' who appear to be graduates of the Menadue University (majoring in sub 50 scores), resulting in coaches considering culling them before rookies! Good old fashioned rage trades are alive and well!
Most common rages:
Fantasia out- Fair call as well. Just because the guy has had a role change, doesn't mean the ball has changed shape. Can't get his hands on it as a forward, has to go.
Save change (And cry tears of happiness)
Stef Martin out- With cash so hard to come by and Currie scoring well on the pine, many are considering a downgrade here. Flirting with danger in my opinion, but does have merit if West is picked again.
Wait until Thurs
Max out- This is why I traded him out the first time! His good is outstanding, his bad makes me feel sick! No one fears the beard anymore… Except Trengove, who Max will absolutely demolish this week.
Reverse trade
Selwood– Another sub par score, and against the Pies of all teams?! Stick with him though.
Reverse Trade
Mitchell– Another bad game from Sammy, but let's face it, he has been scoring way overs up until then. I would think most teams have bigger concerns and he won't be tagged that well every week.
Reverse Trade
Mills– Quite a disappointment, only going up 82K, but at least he has been playing each week. Bled cash last week, seeya Cal
Save change
Cash generation is difficult at the moment, so here is a cheap name to look at… risky maybe, but its  a name that has scored ok in the past. I would prefer to look at a decent name and profile picture rather than the likes of Menadue and Fantasia for another week.
Chad Wingard (FWD, $350,000) Wow, I didn't see that one coming! The expectations of Wingard dropped as quickly as they did for the top 4 projected Power at the start of the season. After averaging 90 last season, with an incredible level of consistency , Chad has had a shocker, managing  just 66 (career second worse) causing a $145K price drop which is the 4th largest of any player.  On the weekend he scored 98 from 20 touches, 5 marks and 3 goals which was his second best of the season. He has a break even of 59 and is an interesting prospect, given he is a gun at his best. Huge risk, nice name but you would have to be desperate.
You Shaw it's too late?
Heath Shaw (DEF, $614,000) is the fourth most popular player in the competition and if you are one of the poor coaches that don't own him… I am not sure how you get to a price tag like that without doing silly things to your team. Although we all know the numbers, I will just rub them in. Shaw is averaging 137 in his last five games and is coming off a whopping 176 against the Giants. Old 'Headache Heath' is only a headache for non owners. He has a break-even of 65, so is only getting more expensive.
In Form:
As mentioned last week, Stephen Coniglio (MID, $570,000) and Bryce Gibbs (MID, $573,000) both got it done again with scores of 136 and 106 respectively, but today I am chasing form and draw with Lachie Neale (MID, $585,000). We all know he plays even better than usual without Nat Fyfe, as his five game average of 120 justifies, so when you consider he is coming off a season high 149, an upcoming draw of Saints, Bombers, Lions, Power and the Pies could possibly have him ranked number one over this period leading into the byes.

Click here to subscribe on iTunes. (Please leave a rating and review to help us move up the charts).
Left Field:
Scott Lycett (FWD/RUC, $456,000) is having a massive breakout year, averaging 105 after his last three and carrying a break even of just 45 on the back of a massive 136 against the Power. In the last six weeks he has dropped under 90 on just one occasion with 85 and if you like instant reward, he plays the Suns at Domain this week.
Overdue, not Menadue
Long overdue recognition for Seb Ross (MID,$532,000) after pumping out 137 on the weekend which was his 3rd score of 125+ in the last five weeks. If you are one of the 3% of coaches that own him, well done as he is now priced $138K above his initial asking price. He looks set to continue his good form with games against the Dockers, Crows and Blues.
Twitter Time:
the Bont? Really starting to fire

— shauncampbell (@dafoshowsc) May 23, 2016
Yep, lock it in! BE of 53, 3 tons on the run and a game against the Pies! Slight buyer beware is a possible Greenwood tag.
Zac Williams, yes or no? #roystradetalk

— Fraser (@fraser_s10) May 23, 2016
Looks good getting a run in the mids. Will likely move back once Griffen comes back in, but if you can upgrade a rookie to him, its worth the risk.
McPherson to??

— Sean (@commandos_elite) May 23, 2016
Beast Mode Mathieson
#roystradetalk Simpson or Docherty?

— Chris (@hedge59) May 23, 2016
Both great options, but Doc
Bartel or Vince down back?

— Andrew_C (@AndrewBC90) May 23, 2016
Vince is less likely for a 'late out' rest
Hall to Kelly? Or hold hall.

— Miles Rajander (@Miles_raj) May 23, 2016
I think he will play this week mate
@RoyDT is trading DBJ to docherty and wells to petracca a good move

— ayden wedge (@aydenwedge) May 23, 2016
Good trades
is lewis a good upgrade target? Has had a horror run but could average 100 from now under $500

— Isaac Smith (@isaacsmith_89) May 23, 2016
Certainly under-priced based on potential. More expensive, but also under-priced is Jack Steven and I wouldn't hesitate bringing him in.
https://twitter.com/AidanTheaker/status/734652684419117060
Jeppa is the Pro, but rook options are scarce at the moment and Paine should hang around for his 50s.
Cheers, Discuss your trade ideas in the comments!
@RoyDT