Ripe for the Picking – Everything is A-O-KK
Sparksy is back with a look at players who are ripe for the picking.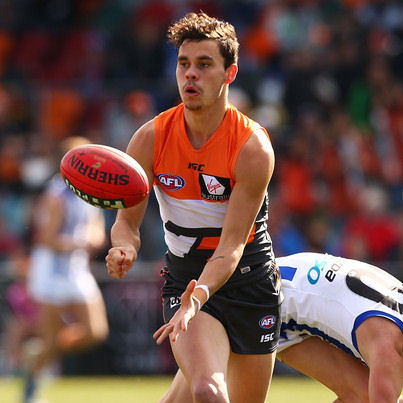 Honestly, the reason you didn't get this article early on Monday is because I had a huge dummy spit and didn't want to make this article a rant-filled, fact-less waste of your time. So I took the couple of days to calm down and now I will calmly explain why I took a couple of days off and then give you some juicy bargains to fit into your Fantasy squads for minimum $$$. So, I rolled out a 2024 this week which isn't horrible but not great either, so before you start with the "I got 1900 and have 1376 forced trades this week, stop your whinging" that's not the reason I spat it. The reasoning behind my tantrum is very simple: I can't pick a bloody captain. All week I had the "C" on Goldy and was so psyched I didn't even consider that he's prone to a dud week here and there. I then read Calvin's Captain as I do every week and noticed Zorko there. He's been super consistent all season and scored me a 122 the week I brought him in and I got caught up in the buzz and chucked the duty upon the most consistent forward in the competition. He got 91. Ninety One. Nine. One. Now, you're probably sitting there going "I had Joel Selwood as captain, what are you complaining about?" I haven't had a captain ton up since Round 3. That's right, the last captain I had that surpassed 100 was Gary Ablett Junior who's not even in my team anymore. It cost me my league game and cost me a score of 2100. My captains from Round 4 to Round 9 have averaged 151. That's doubled. They've averaged 75.5 crappy AFL Fantasy points and I'm not the slightest bit happy about it. I am cursed, and as a PSA I will tweet out who I'm captaining on Friday evening so you can all avoid it. But, enough of the despair and sorrow, here's who I think are the current premo's and stepping stones who are going to get it done for you at a cheap price.
Please Note: I am covering the large price bracket between $250,000 – $550,000.
Defenders:
Before I start, Sam Docherty ($507,000 BE 65), James Kelly ($503,000 BE 78), Bernie Vince ($507,000 BE 106) and Kade Simpson ($509,000 BE 88), are all must haves by the end of the season in that order and, while they fall into my price-range, not everybody has that much cash and people are reading this looking for value. If you can afford these guys, get them and forget them before any of these options except for maybe the first player on this list;
Jimmy Bartel ($481,000 BE 77) – The one that got away. I started with James at the beginning of the season and he burnt me like he did so many others. The man started the season with a below-par (for him) 5-Round average of 74 which made most of the competition trade him out at his bottom price of $423k. He then turned it around in the next four rounds with scores of 121, 111, 91 and 98 and is now up to $470k BUT he is still value. The only thing I dislike about getting Bartel is his draw, playing GWS, North Melbourne and the Bulldogs in 3 of his next 5 however I honestly don't think this will bother him. I watched the Cats train-wreck against Collingwood and Jimmy was honestly all class, floating back and picking up seven +6's (marks and kicks) which is always a nice boost. He's actually averaged 9 marks in his last four games and he doesn't look like slowing down anytime soon playing loosely across halfback, much like Heath Shaw (kind of). Unlike Heater, Bartel isn't making himself noticed by the whole world taking these grabs and so he won't be drawing any unwanted attention in coming weeks like Shaw will. If I can get the cash up, I'll be bringing James in this week, and I suggest you probably do too. Out of the previous four I mentioned, slot Jimmy in between Docherty and Kelly, possibly after Kelly depending on how much worse you think Essendon will get throughout the season.
Zachary Williams ($412,000 BE 43) – Now here's a boy who can get it done. For the past three seasons my good mate Liam (shoutout to @LiamEvans25 on Twitter) has preached this young man to me and I'm starting to understand why. If you want consistency and hate taking risks, just start reading the next paragraph now. If you want a huge ceiling, cheap defender with a low breakeven, read on. After finally deciding to research Zac heavily, I truly adore what I see. The only downside is that he's prone to an off game and there's really no way to pick it. Honestly I've looked at everything and he doesn't change roles, doesn't tag, doesn't spend more time off the ground or down back, just some games he doesn't find the ball as much as he usually does. Hopefully for buyers he doesn't have these games too often in the future, although I don't like his next three (Adelaide @Adelaide, Geelong @Geelong and Sydney @home followed by Essendon and Carlton). His heat maps are a strong positive though, playing purely midfield in some games and sometimes playing off half-back and into the midfield. With the Giants cruising to win after win and their midfield absolutely thriving, Zac has 118 and 113 in his last two and looks to be relishing a midfield role that shouldn't change like somebody else we know (thanks Orazio). My favourite stat is his ownership: 1.83%. That's right, less than 2700 teams have him and you could be one of them. If I can't get to Bartel I'll hopefully be bringing Williams or one other guy, who I will briefly mention later, in and I suggest you strongly consider it too!
Kade Kolodjashnij ($392,000 BE 86) – Do I like it? Maybe. I'm not saying he's the best option, but it's hard to deny Kolo when he's at his best. The problem is he's not at his best, just like everybody at Gold Coast. However, against Adelaide on Saturday, I think things began to look up and Steven May is due back this week (about three weeks earlier than he deserves personally) which should free up KK a bit more to back himself and wrack up some disposals and cheap +6's. I've had him since the start of the season and it has been a pretty disappointing ride for the past 4 rounds. However, with an 88 last round, an achievable breakeven and a price below $400k, it's pretty difficult to turn this guy down. He plays West Coast at Domain, so you could probably wait a week on him, maybe even two with Sydney after it, but I'm saying take the punt now because the real KK is back. The reason he's been down is purely due to effort, he's been just as slack as the rest of the Suns "reserves" team. He averaged 1 tackle and 3 marks between Rounds 6 – 8, on the weekend he had 5 tackles and 6 marks and it should just go up having a proper full-back there to help him out. If you want to wait a week, go for it, you shouldn't miss out on too much value and it's obviously less risk. It's just, this guy is a potential top 8 defender and he's only $1k more than James Gwilt. Value if ever I saw it.
Jackson Trengove ($304,000 BE 9) – The guy I mentioned I would briefly speak about in the Zac Williams paragraph. I've decided to give you an extra defender because of the Trengove hype. Is it real? In short, yes. Last three average of 91 since he moved into the ruck and he is genuinely playing only as a ruckman, even floating forward occasionally last game. The defender Trengove is gone until they decide to bring Dougal Howard back and, for those of you who traded him in during the last two weeks, let's hope this doesn't happen. You haven't missed out on all the value, he still has a breakeven of 9 which is achievable even if he moves down back next game, literally the only problem is that his role could change back at any time. Take the risks at your own peril but, if you want me to calculate it for you, it's a risk that lies heavily in the positive numbers. If you need to get rid of Fantasia this week, Jackson is good value. Wow, that's Déjà vu if ever I experienced it.
5 To Consider:
Daniel Rich ($422,000 BE 75)
Billy Stretch ($324,000 BE 16)
Jesse Lonergan ($365,000 BE 48)
Nick Malceski ($382,000 BE 74)
Taylor Duryea ($357,000 BE 36)
Midfielders:
In my last two articles I've mentioned Mitch Duncan ($491,000 BE 82) and he's still pretty good value. If you want to know why, go back and read the previous articles because I can't really write the same thing over and over again. I have the man and, if I didn't I would get him. He should be around the $530k – $550k mark come his Round 15 bye which makes him perfect to fatten up a little bit and then trade to a keeper like Treloar/Hannebery/Sidebottom/Pendles etc. who have all had their bye before Round 15. He's what I like to call a stepping stone and a low-risk one at that. Get him in.
Marcus Bontempelli ($459,000 BE 53) – The man everybody wishes would live up to his fantasy potential but he's just never really got there. Until now? Bont has been absolutely dominant in his previous 3 matches and hasn't been bad in his past five after a slow start (111 avg. past 3 and 98.6 avg. past 5). Playing through the guts, he's been racking up disposals averaging around 31 a game and generally adding a goal or two along the way. This is classic Bont, the one we wanted to see last season, and it doesn't matter whether the Bulldogs are winning or losing apparently (he still had 106 last week in a 25-point loss to GWS away from home). He has Collingwood this week who have found some vigour and play well at the 'G so it will be interesting to see if he can ton up again but he managed to do it against the extremely restrictive Giants so I'd say jump on board, I'm seriously considering it. Also, 3.97% ownership means he's a PoD who could potentially average around 105 for the rest of the season. Fairly low risk and very high reward, I think we've finally got the Bontempelli we've always wanted! P.S. If you're only looking at getting The Bont in because he's likely for Forward DPP, I wouldn't because he isn't. He hasn't been playing forward much at all, the fact he's getting goals is purely because he works hard in the midfield to get both forward and back of the ball, not because he's actually spending time sitting in the forward line. If he gets DPP I'll be as surprised and delighted as I was last year with David Mundy.
Sam Mitchell ($513,000 BE 164) and Jordan Lewis ($474,000 BE 92) – I've grouped these two together because they play for the same team and fall in the same category: They're both fallen premiums who definitely deserve a good look at the price they're at but they're both in shocking form and they have a good run coming up. The difference between the two is that Sammy has shown some consistent form throughout the year so far, he's just received a lot of attention in the past few weeks because he is the centrepiece of the Hawthorn midfield, he literally shoulders the whole load. The next 5 (for both players) are Brisbane, Melbourne, Essendon, North Melbourne and Gold Coast, all potential wins and against teams who generally let the opposition score freely excluding North Melbourne. The only problem is, while he should ton up this week and next week and the week after, he will still probably miss his breakeven by about 50 points so you might want to wait at least a week before bringing him in. Also note that if, by some miracle, Ben Jacobs is back for the clash against North (due back Round 20 source) or Coach Scott finds a new tagger, Mitch will definitely be the one tagged. You shouldn't have to worry about this with any of the other teams (excluding Melbourne depending on what approach Roosy goes with) as none of them tag and all of them aren't good enough to shut down SMitch. Jordy on the other hand is at the perfect price to pick him up, you've got to remember he averaged 110.7 last year and was worth $622k at one point this season. The big problem with Lewis is that he's had so many off games this year. He's hit the hundred four times so far this season and then he's also had three scores of 60 or below with a 73 last week sitting in the middle. What can you expect from him? The definition of a fallen premium, I like the option of bringing him in this week. He had 117 against Richmond three weeks ago and 107 against Fremantle two weeks ago, both coincided with him deciding to tackle and actually putting in some genuine effort. I think we can expect more of that Jordan for the rest of the season and less of the shadow version who doesn't have any impact on games. He'll make his breakeven this week easily and you're getting a proven premium for 27k less than Gary Ablett and he's actually still doing a better job fantasy wise, even out of form. Get Lewis in this week, Mitchell in next week, and hopefully you should be able to watch them ton up for the rest of the season.
Jack Steven ($527,000 BE 98) – Okay, so I'm a bit dirty on this bloke because he cost me my league game with his 138 being doubled as my opponents captain (breathe Sparksy, breathe), but boy can he find the pill. 40 touches and 138 Fantasy points against an Essendon side over-possessing the footy is just insane. Couple that with the fact Seb Ross ($532,000 BE 71) had 37 touches and 137 Fantasy Points and you can see why midfielders playing against Essendon look very appealing! Ideally you'd want to wait to bring Jack in as he has the Round 13 bye but you have to answer the value door whenever somebody knocks and Jack has decided to knock 3 weeks too early. Starting the year at $618k with an average of 111.7 last year, this guy is proven and has only gone below 100 three times this year (95, 83 and 58 when tagged by Ben Jacobs). He has a HUGE ceiling and should be priced at $600k again by the end of the season so it really is now (this week or next) or never for Stevo. If I can get to him this week, I will. My midfield upgrade will be down to how much cash I have to spend with Bont, Lewis, Steven and Cotch all in consideration. Honestly, if you have the money to bring Steven in, he's a perfect upgrade target and he'll be in the Top 10 mids by the end of the year. You can't really afford to pass him up at this price so, while I don't suggest moving heaven and earth to get him, I'd put serious consideration into changing your trade plans to get him.
Please Note: While I haven't mentioned him in this article, Andrew Gaff ($490,000 BE 132) should be almost perfectly placed to pick up after his Round 14 bye due to Tom Jonas' disgusting act. I'll try and get an article out at the end of Round 12 to help you with picking up the right premiums around the byes but take this bloke into consideration now.
5 To Consider:
Trent Cotchin ($519,000 BE 100)
Tom Mitchell ($517,000 BE 119)
Rory Atkins ($356,000 BE 56)
Marc Murphy ($458,000 BE 83)
Jacob Hopper ($298,000 BE 21)
Rucks:
There's really not much. Kurt Tippett ($489,000 BE 64) and Sauce Jacobs ($476,000 BE 90) are personally the only two considerations. In saying that, neither of them are bad options, I'd take Tippett before Sauce just and I'm actually considering trading Martin to one of them (wishful thinking I know!). I'm not even sure you can consider Stefan Martin ($473,000 BE 109) at the moment with how he's playing and the fact Brisbane have Trent West ($172,000 BE 12) in now doing the majority of the ruckwork. You could maybe consider Trent but you'd ideally have Goldstein and Blicavs as the two ruckman who have been fairly consistent throughout the year. If you want value, I guess you could get Dan Currie ($260,000 BE -19) on your field and spend the cash elsewhere, he's getting it done, but I'll let Jeppa chat about him. Scott Lycett ($456,000 BE 45) and Shane Mumford ($439,000 BE 62) aren't terrible value and Lycett has actually been killing it, I just think we've missed the boat on him as he is now almost $150k above starting price. He does have a low breakeven though and could potentially be a top 3 or 4 ruckman come the end of the year in all honesty. He's in form and you could do worse than bringing him in but I'm assuming most people have many things more important than worrying about their R2 position right now.
Forwards:
Please be aware that Dusty Martin ($520,000 BE 79) is worth every penny and should be your number one target in the forward line if you haven't already got him however 52.4% of teams have so I thought he was a bit vanilla to write a paragraph about. If you don't have him you can't afford to miss out at this price so definitely get on board ASAP, you really should have gotten him in last week or the week before.
Joshua J. Kennedy ($482,000 BE 90) – Could you do it? Could you pick up a key position player who doesn't push up the ground too much and feel safe doing so? Yes, yes you can. Now, I'm not saying he's perfect, like any key forwards he has his off days and he can kick a bag without getting a huge score (7 goals for 107 Fantasy Points last week and 5 goals for 96 Fantasy Points the week before). He is currently the 6th highest averaging forward in the competition and is sub-$500k. That is an absolute bargain. And if you can handle 2, maybe 3 scores of 60-70 from him for the rest of the season, cash in now. He has a huge ceiling of 180 already this season, he has a great draw for the rest of the season with lots of home games and away games against average opposition that he will feast on and he can't actually be stopped by anyone. He has kicked at least a goal in every game this season and has never gone below 4 marks in a game. I have him in Elite and I love it so much that he will be in my Classic side by next week, injuries and cash permitting. 15.6% of the competition have already worked out how trustworthy JJK is and that number is only going to grow with the immense value he provides. But to fully convince you, I'm going to give you a scenario. Picture this: It's Round 23 and you have made it to the Grand Final of your league against one of your mates who's been talking himself up all year. The rivalry is strong, as always is with leagues that have your friends in them, full of banter and trash talking no matter which way you look. You feel like you have a stronger team, building up your Defense and Forward line with Midfield DPP's that always score 100, week in, week out. You're looking at this "moron's" forward line and laughing to yourself, the idiot has Josh Kennedy up there. A key position player, what a rookie mistake! It comes around to Sunday and the AFL have positioned West Coast's game against Adelaide to be on Sunday afternoon and you're basically home, 160 points up and the only player left to play is Josh Kennedy for your opposition. You already have one hand on the trophy and don't bother watching the last game of the season as you know key position players pump out scores of 40 for a living. You get home from your Sunday Evening social sport and go to check the league bracket to see your name in the winners section, only to find out Josh Kennedy actually kicked 10 goals and scored 190 Fantasy Points and cost you the game. You cry and curse your unluckiness. But really, you should have just gotten Kennedy in your team in Round 10. It's entirely your fault. Do you want this to be you? No. So get on board.
Chad Wingard ($350,000 BE 59) – At the start of the year I made an outrageous bet with a couple of my mates. I said that my man "Chaddles" would average 120+. After Round 1 I was ecstatic with his 116, only 4 points off, he will make that up easily by the end of the year, just a warm up! He followed that with a 32, DNP, 61, 34, DNP, 68 and 51. So, while my bet is screwed, it's all the best for you guys as you can now pick up a bloke I thought would average at least 105 for the price of a bloke averaging around 65. Chad picked it up last round with a 98 and actually looked like he might have some impact on the game at some stages and, now Port is lifting a bit hopefully Wingard lifts with them. He has Melbourne, Collingwood and Western Bulldogs in his next 3 and should be able to produce about the same against the first two as he did last week against West Coast. He started the season at $495k and averaged almost 90 last year and, while he should average that for the rest of this year (hopefully), his terrible form has brought him down to a price that's almost too good to refuse. High risk but could gain you $150k in the coming weeks and be that stepping stone you need to get to a Top 6 forward. Or he could continue pumping out 30's and be priced at $150k by the end of the season. Who knows? Worth the risk I think.
Robbie Gray ($497,000 BE 120) – He's back! The Gray of old has finally shown himself! He had a great game Saturday night after coming back from injury and ended up with 111 Fantasy Points including 10 tackles! He's hungry and probably a little bit embarrassed by Port's form so far this year and wants to turn the season into something respectable and we are going to benefit from it. Keep in mind, his 111 was without any goals and he's generally good for at least one major a game so that could be boosted by a couple of 6-pointers here and there. His breakeven is probably about on par for this week but you won't miss out on any value, so if you need to wait until next week to bring him in that shouldn't be a problem at all! I'm sorry, I'm just so excited to have him back and at 4.48% ownership too! Next week my friends, bring him in and leave him there for the rest of the season.
5 To Consider:
Craig Bird ($388,000 BE 58)
Jarryd Lyons ($346,000 BE 34)
Mitch Robinson ($462,000 BE 80)
Brett Deledio ($493,000 BE 98)
Jack Watts ($385,000 BE 52)
So, that's it for decent mid-price options this week Fantasy players. I'll be back before the bye rounds to take a look at which fallen premiums you should think about during the byes but until then take these lads into account when you make your weekly trades. My twitter handle is @Sparksy361 so chuck me a tweet if you have any questions (or just follow me so you can find out which captain to avoid this week).
Happy trading!