Inside the Fantasy Numbers – Round 9
Pete from aflratings.com.au shares the numbers that matter.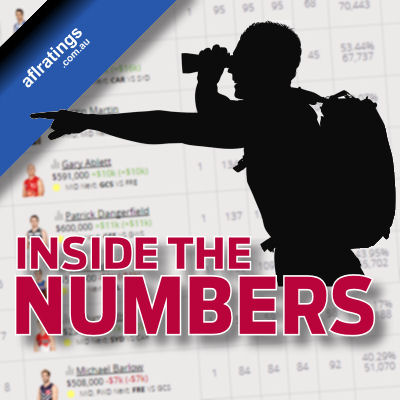 Pete from aflratings.com.au shares the numbers that matter.
Giant Killers
Make no mistake about it the Giants are heavily impacting Fantasy scores both positively & negatively, yes Heath Shaw & Stephen Coniglio have lit it up this year along with Tom Scully in the early part of the season but overall as a team their numbers are in the elite category.
GWS are currently Ranked No.2 scoring 1690.2 Team Points FOR this season, in the last 3 weeks they are Ranked No.1 scoring 1773.3pts per game. In the Giants current 6 game win streak they are averaging 401.8 Disposals per game which is Ranked No.2 behind the Bulldogs (420.7) over the same period, in Round 9 the Doggies had their 400+ Disposal streak snapped by the Giants at Spotless Stadium.
Defensively the Giants have been stellar in terms of Fantasy, they are currently Ranked No.1 with 1425.0 Team Points AGA and over the last 4 weeks that number drops to 1366.5. The Giants have conceded only 5 100pt games to opposition players in the last 4 weeks (Ave 1.25), in the short term at least it would be wise not to set a Captain against GWS.
Cancel that snow trip  in 2016
Last year Melbourne averaged 339.7 Disposals per game which was Ranked 17th in the AFL, in 2016 the Demons are averaging 382.8 Disposals per game and are currently Ranked 6th. The rise is clearly evident under Paul Roos as Melbourne were Ranked 17th for Team Fantasy Points FOR (Ave 1473.9) in 2014 and 16th in 2015 (Ave 1469.2), the Demons have increased scoring by 114.2pts compared to last year and are currently Ranked 11th (Ave 1583.4).
Over the last 3 weeks Melbourne are Ranked 2nd scoring 1686.0pts per game, it has been a combined team improvement as the Demons have just 1 player that is averaging over 100pts in 2016 (Jack Viney 103.9).
Best Ave Fantasy Team Points FOR Last 3 Weeks
GWS Giants 1773.3
Melbourne 1686.0
Western Bulldogs 1656.0
Worst Ave Fantasy Team Points FOR Last 3 Weeks
Brisbane 1332.0
Gold Coast 1409.7
Fremantle 1451.3
Best Ave Fantasy Team Points AGA Last 3 Weeks
GWS Giants 1412.3
Richmond 1440.3
Carlton 1453.0
Worst Ave Fantasy Team Points AGA Last 3 Weeks
Gold Coast 1788.0
Essendon 1700.0
St Kilda 1664.3
Who Am I
I am a Defender
I was priced under $400K prior to Round 1
I Averaged 64.8pts in my first 4 games this year
In my last 3 games I have averaged 91.7pts after a role change in the team
My Coach said in the press conference post Round 9 that my role would stay the same for the "Foreseeable future"
Answer Below

Click here to subscribe on iTunes. (Please leave a rating and review to help us move up the charts).
Sam Mitchell
Round 9 vs Swans: 53pts
Last 3 Games Ave: 64.3
2016 Season Ave: 101.4
The last 3 games for Mitchell have been very poor with an average of just 64.3, it does seem so long ago that he averaged 123.6 in the first 5 games this season. Opposition teams may well be sold on the idea tagging Sam Mitchell after Tom Mitchell was so effective in Round 9, don't forget Luke Hodge has not played in the last 2 games in which Sam Mitchell has played which could provide a turnaround in Fantasy points upon Hodge's return.
Steele Sidebottom
Round 9 vs Cats: 131pts
Last 3 Games Ave: 112.3
2016 Season Ave: 112.3
It is still staggering that the current ownership for Sidebottom lurks around 5%, in the last 6 weeks he has averaged 116.5pts with 3 scores eclipsing 120pts or more. In the 150 games that Sidebottom has played he has scored 120pts or more in 13 of those games, which at a rate of 8.7% is quite decent.
Taylor Walker
Round 9 vs Suns: 116pts
Last 3 Games Ave: 76.7
2016 Season Ave: 69.0
Finally Tex delivered with 116pts against Gold Coast for those who had been waiting all season for some type of return, considering the Crows have been high scoring in 2016 it is a bit of a surprise he has not been amongst the points but a leg injury has impeded his output somewhat. It might be wise to monitor Walker's progress in the short term because if he can return to a lead up the ground type forward there may be some value in selecting him, in each game when Tex has scored 100pts or more over his career he has averaged 10.3 Marks per game (Walker had 9 marks against the Suns in Round 9).
Aaron Young
Round 9 vs Eagles: 124pts
Last 3 Games Ave: 87.0
2016 Season Ave: 74.0
Another forward to monitor is Young, in his first career game scoring 100pts or more he kicked 4 goals against the Eagles in Round 9. Even more interesting is the increased Disposal numbers for Young, in the last 3 weeks he has averaged 18.7 Disposals which has equated to an average AFL Fantasy score of 87.0pts similar to his first 2 games of the season when he averaged 19.5 Disposals and 89.5 AFL Fantasy points.
Todd Goldstein
Round 9 vs Blues: 138pts
Last 3 Games Ave: 120.0
2016 Season Ave: 106.0
Goldstein registered his 18th game of 120pts or more against the Blues in Round 9 finishing with 138pts, the signs for Goldy were poor early but once he got started the points started ticking over quite frequently. Round 10 will be interesting for Goldstein, he has failed to reach 90pts in 3 of his last 4 games against Sydney (122pts the other game in Round 11, 2015).
Lachie Neale
Round 9 vs Tigers: 149pts (3rd Career Highest Score)
Last 3 Games Ave: 118.7
2016 Season Ave: 112.9
Trade or no trade at the end of this year Lachie Neale is destroying it for his owners in Fantasy, he is averaging 112.6pts per game this year including 122.2pts in his last 6 games. Can you believe that there are more owners still of Nat Fyfe as there are for Lachie Neale, believe it or not Ripley!
Christian Petracca
Round 9 vs Lions: 106pts
Last 3 Games Ave: 90.0
2016 Season Ave: 82
If you have Petracca slotted in to your Forward line then take comfort that besides a potential rest game here or there he will be a regular starter for Melbourne the rest of the way this year, Petracca has averaged 20.3 Disposals to begin his career with an average of 82.0 AFL Fantasy points.
Heath Shaw
Round 9 vs Bulldogs: 176pts
Last 3 Games Ave: 139.0
2016 Season Ave: 117.4
There has been a little bit written about Heath Shaw over the last couple of days, here are some more words. The 176pts scored against the Bulldogs was a career high (You just know he quickly checked his score post game and opened up Twitter instantly to taken in all the appreciation), it was the 70th career game in which Shaw has scored 100pts or more and 21st career game in which he scored 120pts or more.  Apologies to non-Heath Shaw owners for that review, it must be painful.
Sebastian Ross
Round 9 vs Bombers: 137pts (5th 100pt+ game in 2016)
Last 3 Games Ave: 114.7
2016 Season Ave: 106.4
What a start to the season for Ross, his 106.4pts is now Ranked 2nd for AFL Fantasy average at the Saints after Round 9. Ross has scored 100pts or more in 5 games this year and doesn't look set to slow down anytime soon. St Kilda has a reasonable run of games in the 2nd half of the season, he has a BE of 71.0pts this week and is currently owned by just over 3% of coaches.
Who Am I Answer: Jeremy Howe (2016 Season Ave 76.3)
Good Luck for Round 10