The Friday Scramble: Round 9
We were all worried when we knew that Houli and Ablett were going to be out and were worried about Wells. Who knew the carnage that would hit at the selection table! I am just scrambling to avoid all these donuts being thrown at me!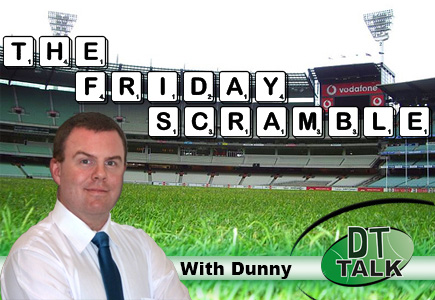 Ok, so who upset the Fantasy Gods? We all thought this season was going poorly but things just keep going from bad to worse for us.  We have more injuries this week, a key suspension and on top of that players still out injured who we hoped would be back by now.  All we can do is make the best of the bad situation.  So let's have a look at some of the issues and what options we have.
Donut City!
Ouch, bloody ouch!  So… looking at the teams this week there is just carnage in every direction.  So, rather than tell you who to bring in as many will have heaps of issues to deal with, here are some random thoughts from me on each of the ins and  outs.  If you aren't eating a donut this week, you have certainly done very well!!
Down the backline this week we will be missing… Boyd, Houli, Howe (omitted), Ruggles (omitted).  This means that we are going to have to rely on guys like Dea, Tippa and Brown again.  On top of this still no sign of Adams or Laird back.  This may mean that we need to trade our way to a full backline this week.  If you are in this situation, my recommendation would be to trade out Adams.  He has a BE of 74 in AF and 60 in RDT.  So even if he does go up, it won't be much more.  He is also priced well such that if you have some cash in the bank or make a downgrade you can go up to almost anyone.  The next person that I would look at moving would be Brown as his BE is also high.  If you can hold Ruggles do so as he still has a very low BE.  Just in the nick of time, Weitering returns for those that held him all this time.  That will certainly help!  Another backman Sheridan also returned this week.
As for Midfield both the Crouch brothers are out.  More worrying is that Brad is out omitted whilst Matt has suffered from a general visit.  For me, this is a great excuse to kill off the Brad Crouch experiment.  He hasn't done what we thought he would and taken over the vacancy left by Danger.  His price is not as high as we would like and you will need cash to get him to a premium.  However, don't get caught in the trap of trading him to another mid pricer as that simply means you need to use another trade to upgrade him later on.
Don't miss the big articles of the week.
As suspected, Ablett is also out with concussion.  Papley will miss with a shin injury and with his BE at 53 in RDT then this means I would be looking at moving him on.  Brendon Ah Chee will miss for Port as he has been omitted.  The other one that we all knew about was Dayne Beams who is out for the long term so you can move him on.
One positive for the Blues midfielders like Gibbs and Murphy is that Ben Jacobs is out for the rest of the season with a foot injury.  So, this takes out the Kangaroos best tagger.  The Gibbs and Murphy owners can rejoice.  He won't cause them any discomfort this week.  He has taken a couple of scalps recently which was a concern.  Thankfully we don't need to worry about that for the rest of the year!!
Whilst we have some outs, thankfully we have some ins.  Robbie Gray comes back, if you don't have him though, it would be wise to wait a week as he has a BE of 167 in RDT and 150 in AF.  He is priced at just over $510k in both games and hence should drop below $500k this week.  That would be a good time to strike.
Good to see Josh P Kennedy back for the Swans this week, that will help some teams replace some of the issues in the midfield!  Cotchin returns also for the Tigers.  This may have some impact on the points that Deledio got last week, but shouldn't be a big issue.  The other name that has come back is Toby Greene and his rollercoaster scoring.  Hopefully for his owners the ups and downs are over and he can be a steady good scorer.
Up forward, we are still lacking Michael Barlow.  Ross is just taking the piss now, the guy had 39 touches in the WAFL when he was played in his correct spot, the midfield, and he still can't get back in yet old mate Dawson got back in??  I am still going to hold Barlow, he has to come back in soon, hopefully another big game in the WAFL will get him over the line.  The other guy that we haven't got back yet is Wells, but we hear it is an achillies injury which is what kept him out previously, but it was the other leg.  Still doesn't instill confidence even though the injury list showed him as a test (clearly one he failed).
The big out that will hurt us is Aaron Hall who is out with a shoulder which should be only the one week.  The one consolation with Hall is that he is owned by big proportions of all the competitions which means that most will be in the same boat.
So that is a huge list of ins and outs this week!  Not much we can do about it except suck it up and deal with it!
#AskDunny
million dollar question: bring in Simpson, Docherty or Vince?

— jacob danias (@danias2000) May 18, 2016
So do I get the $1m if I get it right?  For me I bring in Vince.  The guy is a midfielder by nature and is more likely to rack up the points in my opinion.  Simpson has had 5 100's and two 90's in there which I like.  He does face North and Geelong in the next two.  His scoring profile is very similar to Bernie who faces Brisbane, Port and Collingwood in three of his next 4 games.  Docherty simply hasn't had the volume of big scores the other two have.
trade Gaz or Houli first? Trading Gaz can get me a mid. Trading Houli can get me a def/fwd (dpp)

— Inactive (@JakePizzuto) May 18, 2016
For me this is a very easy answer.  Houli is out for 12 weeks, Gaz will be back next week.  So quite simply, you don't have to trade Gaz but you do have to trade Houli.  So, no brainer, Houli.
who's more important to trade out… Expensive players missing 1-2 weeks, or mid priced players missing 3+ weeks?

— Cathryn McDonald (@CathrynMc1870) May 18, 2016
For me, I don't trade out premiums that are out for less than three weeks.  Mainly because it can often be hard to get them back in as we don't know what other carnage will hit in future weeks.  Mid pricers have to be traded out at some stage anyway, so if they are out for over 2 weeks, then they are gone!
Besides a balanced Bye structure what is ur No.1 Priority/Strategy for Rounds 13-15?@pkd73 #AskDunny #AFLFantasy

— aflratings.com.au (@aflratings) May 18, 2016
This is a great question.  Normally I am ultra prepared for the bye rounds and have a plan from day one.  However, this year I haven't been as diligent on this because the bye rounds are much later than previous season.  My plans for the byes are generally to ensure I have enough players on field and usually one more.  I lean towards having more in the later bye rounds so that as guys have finished their bye in the first round they are traded in for those guys in the later two rounds.  Once I get the the byes, I normally like to have my team pretty much completed by the end of them.  I trade hard in the byes.
in my elite this week, so far I've lost Wells, Beams & Houli. On a scale of 1-Fev at the Brownlow, how f****d am I? #AskDunny

— Maria Hughes (@Nicholas_J12) May 18, 2016
Mate you are Fev at the brownlow as well as having him pop into Club 23 afterwards!  Hope none of the other carnage has hit you as well!
in long forms would you go McPherson this week or Hopper next week as a downgrade target?

— Chris Avis (@jackavis1) May 18, 2016
This is a tough question, simply because McPherson is on the bubble this week (I am assuming you are referring to RDT or SC) and Hopper next week.  If you take the risk and wait for Hopper next week, we don't know what he will score in his second game and he could get injured.  Whereas you go McPherson this week as we know he will rise but then Hopper could go huge again.  For me, I am probably going to do both to be honest.  If I only wanted to do one downgrade?  I think I go Hopper.  McPherson is good, but in a Suns lineup that is struggling, you just never know what will happen.  Hopper is in a good side, but was a high draft pick who is highly regarded and as we saw, has plenty of talent.
Things to Remember
Don't sell the farm to cover a donut this week.  This is a long game and we are 8 weeks into a 23 week marathon.
Check out Calvin's Captains, in a week where carnage has abounded, your captain choice may be crucial.
In AF, you may want to check out Brisbane's ins, they have three brand new guys in this week.  As we know, in that game we have to get in on the ground floor.
So, there is an end to the carnage somewhere, and hopefully you can still put a full squad on the park, if you have a donut, don't panic, so you lose this week or have a poor score, by trading for the sake of it you may simply ruin your structure and your squad.  Look towards your end game.
Best of luck and I hope you have a good weekend of scoring!  Cheers @pkd73