Versus: Round 9
Tom returns for another week of putting players head-to-head in Versus.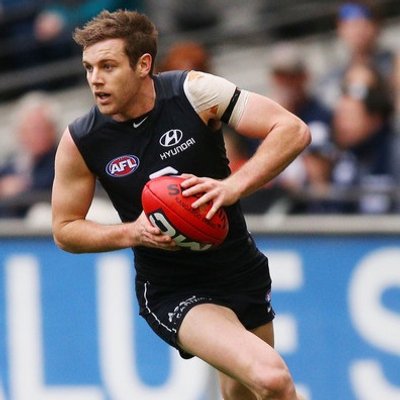 Tom returns for another week of putting players head-to-head in Versus.
Sam Docherty ($490,000) V Kade Simpson ($503,000)
A beneficiary of Carlton's improved form, Sam Docherty is one of the most consistent defenders in the AFL. Initially drafted by Brisbane, Docherty was traded to the Blues ahead of the 2014 season. As durable as they come, 'Doc' is one of Carlton's leaders despite being just 22 years old. Last season was no-doubt Sam's best. He lead the Blues for rebound 50's with an average of 4.21 per game and also ranked third for total kicks (13.6 per game). A fantastic season was capped off by being selected in the AFL's 22-under-22 team. It's fair to say the Blues love the ball in the Doc's hand, especially when transitioning from defence. But last week was possibly Dochery's best game to date. He registered a career-high 33 disposals (28 effective), 13 marks, 4 tackles and a huge 140 Fantasy points (also a career-high). After scoring three 100's in 2015, Docherty has already managed to reach that feat just eight games in. However Docherty is more known for his consistent 85-95 scores – still above average for a defender. The only blip so far this season for Docherty came against Fremantle at Patterson's Stadium where he was restricted to under 20 touches for the only time this year, resulting in just 62 points. Looking ahead, the up and about Blues face a tough two weeks. First they play the still undefeated Roos at Etihad Stadium – where he is averaging 111 Fantasy points. However North have been ultra-restrictive so far, only conceding an average of 2.3 100's and 0.6 120's. Carlton then play Geelong who are ranked 2nd for points against, 3rd for 100's against and 5th for 120's against. Relief will come when they take on Brisbane and St.Kilda in rounds 11 and 12. Don't expect many more big scores from Docherty, but his ceiling along with numerous other key stats has improved in the off-season and should see him placed around the top 6 defenders by the seasons end.
Meanwhile, Docherty's Blues team-mate Kade Simpson is also tearing it up. Although Docherty has consistent 90's, this man has been pumping out Heath-Shaw like figures. He started with 31 disposals and 118 Fantasy points in the narrow loss to Richmond, then backed it up with a solid 96 the following week. Like Docherty, Simpson's worst game of the season so far came against the Gold Coast who limited Simmo to just 2 marks – well down on his season average. Back to back ton's was enough to restore faith in his owners. By now, Fantasy coaches, even those who had be burned by Simmo in the past, had to take notice of his scintillating form after another solid performance (25 disposals, 9 marks and 99 points against Essendon). An additional set of back-to-back ton's followed in rounds 7 and 8. It doesn't take a rocket scientist to work out Simpson's playing style, just by watching him for a quarter. The Blues often use him on the wing where his tireless gut running and impressive tank have seen him rack up an average of 8 marks per game in 2016 – a career high. But that's not the only career-high statistic reached so far. Simmo is also ahead in kicks, handballs, disposals and Fantasy points. Simpson is courageous and an excellent leader of the young and relatively inexperienced Carlton set up. His signature run and dash from half-back is great to watch, but even better if you own him. Although he's not a big tackler by any means, Simpson does manage to take a lot of un-contested marks. Carlton love to get the sherrin into the capable hands of Simpson so that he can run and break the lines – a reason why he ranked third last season for running bounces. At $503,000, Simpson won't rise in price too much more but will definitely be around the top defenders mark by round 23. An upgrade to Simpson from the out of form Fantasia or injury stricken Marcus Adams could be the right way to go this week. Lock him in for reliable 90+ scores.
Verdict: The two rebounding defenders from the Blues are experiencing fantastic seasons. They are providing great dash from the backline, have been linking defence to attack well and are hard to separate when it comes to Fantasy. The positives for Simpson include his relatively high ceiling, durability and recent history of being amongst the top defenders. He is 32 years-old though and the old man calves may come into effect in the future. Docherty is super consistent, is in career best form and is significantly younger than Simpson. This may be slightly controversial, but I'd go with Simpson as he has the runs on the board.
Loading ...
Jacob Hopper ($275,000) V Christian Petracca ($288,000)
Has anyone had a better debut game than GWS midfielder Jacob Hopper? His effort against a lacklustre Gold Coast outfit included 31 disposals, 5 marks, 2 tackles and 97 Fantasy points and would certainly be up there. A member of the Giants academy and the North Ballarat Rebels, Hopper was taken with the seventh pick of the 2015 draft. He was the stand out player and captain of NSW/ACT's Under-18 Championship team and earned All-Australian honours after averaging 26 disposals in three games. Hopper won the opportunity to make his mark at the elite level after seriously racking up the touches for the Giants NEAFL team. At some stage, his statistics had to warrant an AFL berth. Against Gold Coast's reserves team (in round 4 of the NEAFL), Hopper was arguably the best player on the field, collecting another haul of 30 disposals whilst also contributing 8 marks, 6 tackles and a goal. A big reason why he was rated so highly in the draft was because of his physical stats. At 186cm and 85kg, Hopper was one of the bigger midfielder's at the national championships and didn't have to spend his pre-season bulking up. Besides his physical presence, Hopper also posses a fantastic work-rate, the ability to play a role as either an inside or outside midfielder, good skills on either side of the body and good football smarts. Perhaps the most telling moment of the Giants big win was when Hopper caught champion Gary Ablett holding the ball. This action not only showed how good Hopper will become, but also made the footy world sit up and really acknowledge the 'Gazza' is struggling both mentally and physically. I doubt whether the great man would've been caught holding the ball many other times throughout his illustrious career! Hopper started the season as one of the highest priced rookie midfielder's at $255,000. However his price has risen to $275,000 thanks to a stand-out debut game. Just like his team-mate Jack Steele, Hopper burst onto the scene a little later than many other 'rooks' but could prove well worth the slightly hefty price tag. If he can continue to rack up his fair share of disposals, job-security doesn't seem to be too much of an issue. I must admit to having a bit of a man-crush on Jacob Hopper and am personally considering him in my Fantasy team.
From one top draftee to another one in Christian Petracca, although the Demon product was forced to wait over a season to make his senior debut. It was a harsh blow to the Demons when Petracca injured his knee in the rather innocuous fashion. The clubs had pencilled him and fellow top draftee Angus Brayshaw into their round 1 2015 team yet only one of those players actually played a game that season. Petracca is in many ways the prototype midfielder for the modern day. He's one of the bigger bodies in any midfield at 186cm. He also weighs 94kg after spending a lot of rehab-time bulking up. This size not only allows Christian to impose midfield contests but sees him play across half-forward as well. After being given the all clear from club officials to go ahead and spend some time in the VFL, it was just a matter of when he'll debut. Thankfully for Fantasy coaches, that debut came in round 6 against St.Kilda. Here, Petracca had moments of brilliance in his 16 disposals, 1 mark and 5 tackles, showing glimpses as to why Melbourne took him so highly in the 2014 Draft. It was an encouraging sign for Fantasy coaches and Demons fans alike, to see Petracca spend 77% TOG – a statistic that will no doubt improve when full confidence in his knee is restored. The round 7 clash with Gold Coast is his best game to date in terms of Fantasy points. He tallied 24 disposals, 2 marks, 4 tackles, 2 goals and 86 points. Last weekend was another step forward for the midfielder, gathering 20 disposals, 4 marks, 2 tackles, a goal and 78 points. Across these three weeks, Petracca has been one of the main trade in targets alongside MacPherson, Keays, Trengrove and now Hopper. Petracca comes with the added flexibility of being available as a forward/midfielder. With Sam Gray and Michael Barlow have been banished back to the reserves in recent times, downgrading one to Petracca should make you a fair chunk of cash whilst possibly producing similar scores. Whether it's up forward or in the middle, Melbourne has got an absolute star on their hands. A future All-Australian if he can remain fit, Petracca will not only be a star in for the 'Dees', but also for our own teams.
Verdict: These two kids are serious players. I have no-doubt they'll turn into All-Australian, 200 gamers for their respective clubs. Both dominated under age competitions with their stature playing a big part. Hopper and Petracca were both Under-18 Championship All-Australians in their respective draft years. It pains me to say it given my love for Hopper, but in terms of Fantasy, Petracca just wins out. A general rule is to always go with the DPP option and Petracca's forward/midfield status could prove very handy as the likes of Wells and Kerridge start to top out in price. Both are excellent options though.
Loading ...
Quick-Fire Comparisons
Rhys Mathieson ($158,000) V Darcy MacPerson ($180,000)
Verdict: Perhaps the biggest positive heading into round 9 is the declaration that Brisbane young gun Rhys Mathieson will make his senior debut. A dual All-Australian for Victoria Country in the Under-18 Competition, Mathieson is as hard as nails. He's also an excellent size at 185cm and if it wasn't for a fractured cheekbone sustained in pre-season, Mathieson certainly would've been in contention for a spot in the Lions round 1 team. Whilst key midfielder's Tom Rockliff and Dayne Beams remain sidelined, Rhys' job-security looks solid. Connections can be made between Mathieson and Gold Coast's Darcy MacPherson. MacPherson has made an impressive start to his career with hauls of 73 and 72 in his two games. Darcy, like Mathieson, is a tough inside midfielder who loves to tackle (he has accumulated 15 tackles so far). Both MacPherson and Mathieson are priced under the $200k mark and are good downgrade options. If I was to choose one, it would be MacPherson given he has made such as positive impact. His coach Rodney Eade is also a big fan, but Mathieson is also a great choice.
Loading ...
Jack Leslie ($136,000) V Tim Mohr ($134,000)
Verdict: Gold Coast defender Jack Leslie certainly saw a lot of the ball against the Giants. Only downside was that the ball he saw plenty of was generally headed straight through the big sticks. With that being said, the 198cm key defender wasn't the Suns worst on the day, collecting 15 disposals, 4 marks, 1 tackle and 46 Fantasy points. He spent the majority of last year at NEAFL level, bulked up and was rarely beaten when matched up on opposition forwards. Unfortunately for the Suns, first choice key defenders Rory Thompson and Steven May were rubbed out for numerous weeks with reinforcement needed. Henry Schade was the first name to be given a chance, however Leslie was brought in last week to help out. He won't be a big scorer and JS probably isn't on his side, but he'll make a few coins as a downgrade option just like the Giants Tim Mohr. Mohr, also a key defender, has had his fair share of injury setbacks. Two knee reconstructions have limited the Tasmanian to just 44 AFL games. Possessing a physic (198cm and 105kg) matched only by team-mate Shane Mumford, Mohr is a good one-on-one player but has also shown he can find the ball, albeit in the NEAFL. That battle of the heartbeat defenders here but I would favour Mohr.
Loading ...