Jeppa's Juniors – Round 8
It wasn't a great output from the rooks in Round 8 so which 'juniors' are amongst the next wave of must haves? Don't miss what Jeppa has to say about those that matter ahead of another all-important week of trading.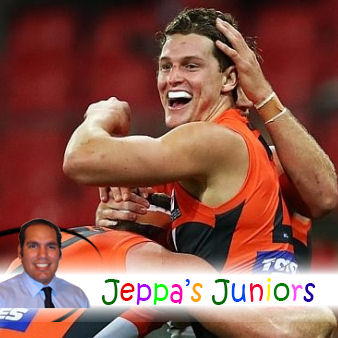 It was only a matter of time before crisis hit the realms of AFL Fantasy. Boyd is suspended, Ablett is likely to miss, Laird, Rocky and Houli are all injured and there are no reliable cheapies available…yet. I hold hope that a young cashcow like Mathieson gets named this week to ease the pain and stress of this game.
Three-Or-More Gamers
KEEPERS
Some coaches with deep pockets picked up Jackson Trengove (Def. $270,000, 1 be AF. $280,300, -33 be DT) last week and the punt paid off after he scored a healthy 95 playing his new ruck role. Most of his points are coming from tackles and possessions not necessarily hitouts so don't worry too much when he comes up against Nic Nat this week. In saying that, it's only a matter of time before he produces a sub 70 score hence why I'd rather bank the cash and put it towards a premo like Montagna, Zorko, Simpson, etc.

Christian Petracca (Fwd/Mid. $288,000, 18 be AF. $199,400, -52 be DT) is building nicely. Against the Dogs, he was one of the Dees better performers after amassing 20 possessions, 4 marks, 2 tackles, 1 goal and 78 Fantasy points. Confidence is a beautiful thing and I'm forecasting great returns from Petracca for a while yet. A week off has done Darcy Parish (Mid. $355,000, 70 be AF. $338,100, 62 be DT) a world of good. Playing on the ball, Parish played his role and scored 80 Fantasy points in the process. His high ceiling for a rookie currently outweighs his high breakevens but it may only be for one more week.
Yoyo scorers Daniel Menzel (Fwd. $398,000, 56 be AF. $410,200, 80 be DT) 89 and Ben Kennedy (Fwd/Mid. $350,000, 39 be AF. $364,600, 25 be DT) 86 are currently on the up and scores in the high 80's are incredibly handy, just ask Tom Mitchell owners. You'd be silly to offload these two this week given how dominant they were in Round 8. Mason Cox (Ruc/Fwd. $222,000, 3 be AF. $208,500, -1 be DT) gets a plug after his best game to date. 4 goals and 80 Fantasy points is a dream come true for a back up ruckman.
Corey Ellis (Fwd/Mid. $294,000, 27 be AF. $316,500, 32 be DT) 79, Jed Lamb (Fwd. $284,000, 25 be AF. $306,500, 17 be DT) 75, Hayden Crozier (Fwd. $271,000, 32 be AF. $283,100, 34 be DT) 74 and Matt Dea (Def. $316,000, 46 be AF. $314,500, 17 be DT) 74 round out the keepers this week.
DON'T PANIC
Most of us will have bigger problems than Sam Kerridge (Fwd/Mid. $423,000, 83 be AF. $418,000, 83 be DT). The dynamic Carlton midfielder scored just 62 Fantasy points versus Port and has high breakevens this week as a result. Given Kerridge's average is 85, why would you trade him ahead of a rook with an average in the 60's? FYI Daniel Wells (Fwd/Mid. $398,000, 91 be AF. $374,600, 68 be DT) is likely to return to the Kangaroos side after a week off with a niggling leg injury.
I'd be inclined to give Tom Papley (Fwd. $310,000, 50 be AF. $319,100, 53 be DT) 36, Darcy Byrne-Jones (Def. $286,000, 55 be AF. $291,800, 63 be DT) 32 and Mitch Brown (Def/Fwd. $333,000, 54 be AF. $348,600, 62 be DT) 31 one more chance. They performed poorly in Round 8 but all three can comfortably score 70 plus. The only risk is losing a few dollars.
Other 'juniors' that are still steadily going up in value include Lachie Weller (Mid. $294,000, 41 be AF. $317,800, 49 be DT) 66, Ryan Harwood (Def. $262,000, 34 be AF. $284,100, 35 be DT) 66, Clayton Oliver (Mid. $321,000, 45 be AF. $324,900, 40 be DT) 65, Anthony McDonald-Tipungwuti (Def/Fwd. $309,000, 50 be AF. $305,700, 28 be DT) 63, Mitch McGovern (Fwd. $270,000, 47 be AF. $274,400, 51 be DT) 63, Josh Smith (Mid. $276,000, 17 be AF. $246,800, 16 be DT) 61, Bailey Dale (Fwd/Mid. $226,000, 20 be AF. $229,800, 1 be DT) 61, Ryan Crowley (Mid. $317,000, 37 be AF. Mid. $359,800, 51 be DT) 59, George Hewett (Mid/Fwd. $277,000, 39 be AF. Mid. $275,200, 37 be DT) 58, Liam Sumner (Mid/Fwd. $219,000, 15 be AF. $222,900, 10 be DT) 58, Tom Ruggles (Def. $240,000, 24 be AF. $221,500, -2 be DT) 58, Ben Keays (Mid. $232,000, 12 be AF. $178,200, -24 be DT) 57, Connor Blakely (Mid. $178,000, 6 be AF. $185,600, 2 be DT) 56, Josh Wagner (Def. $308,000, 42 be AF. $315,300, 32 be DT) 49, Michael Hartley (Def. $243,000, 41 be AF. $244,800, 47 be DT) 44, Jayden Short (Fwd/Mid. $194,000, 15 be AF. $191,600, 13 be DT) 42, Jayden Hunt (Fwd. $208,000, 18 be AF. $208,700, -3 be DT) 38 and Ciaran Byrne (Def. $258,000, 47 be AF. $265,700, 52 be DT) 32. Hold them if you own them.
TRADE, TRADE, TRADE
If I haven't categorised a player from Round 8 under 'Keepers' or 'Don't Panic' then trade them out as soon as you can but when appropriate.
Two Gamers
Darcy MacPherson (Mid. $180,000, -19 be AF. $105,800, -86 DT) is hot property! Playing a midfield role for the Suns minus a few stars means the opportunities will be there for our new cashcow so get excited. His stat line at the final siren against GWS read 10 kicks, 8 handballs, 2 marks, 6 tackles and 72 Fantasy points. With a Fantasy breakeven of -19, it's definitely not too late to trade him in and he's my number one downgrade target in Dreamteam this week before his first price rise. Feel free to start him on your ground too…he's shown plenty!
Aaron Mullet (Def. $200,000, 2 be AF. $207,200, -13 be DT) probably did enough to stay in the Kanga's senior side but it's a week-by-week proposition. 19 possessions had him middle pack for his team and my personal view is that he offers more for North than Luke McDonald who plays a similar role. Nothing is guaranteed with Mullett at this stage and with suspensions and injuries hard enough to manage, I just can't pick him. Those that opt to trade him in need to have suitable bench cover.
Ben Crocker (Fwd/Mid. $146,000, 0 be AF. $121,300, -24 DT) enjoyed embarrassing the Lions and he kicked three goals in the process but registered just 57 Fantasy points. When a player kicks three goals, one would expect 70 plus! Pass. Even though Jed Bews (Def. $255,000, 25 be AF. $244,600, 5 be DT) had 67 Fantasy points on the weekend, his job security issues don't make him a viable pick.
Whether it's because of price or scoring potential, you don't need to be a genius to figure out that Nathan Grima (Def. $234,000, 34 be AF. $241,800, 30 be DT) 54, Mason Redman (Fwd/Mid. $181,000, 22 be AF. $121,300, -22 be DT) 38, Kaiden Brand (Def. $153,000, 6 be AF. $128,200, -22 be DT) 38 and Keegan Brooksby (Ruc/Fwd. $207,000, 64 be AF. $239,400, 94 be DT) 32 are not Fantasy relevant. Avoid, avoid, avoid.
One Gamers
What a debut by Jacob Hopper (Mid. $275,000, 18 be AF. $197,800 DT)! The GWS academy product was one of the best players for his side after racking up 32 possessions, 5 marks, 2 tackles and 97 Fantasy points. He led all players on the field for contested possessions (17) and clearances (9), which is a huge effort. Winning his own football sits well with me as far as scoring potential goes but his price stings. A realistic average for Hopper from this point forward is between 70 and 75 so are you better off picking say Mathieson (if named) for more than $100,000 less and a likely average of around 65? Indeed you are. Hopper's price in Dreamteam is feasible (just) but wait the extra week before trading him in.
The common question this week has been Tim Mohr (Def. $134,000, 8 be AF. $168,100 DT) or Jack Leslie (Def. $136,000, 10 be AF. $168,100 DT)? Job security propels Leslie as the better pick. Big Jack had a sound 15 touches, 1 tackle and 46 Fantasy points on debut but it was his 9 one-percenters that saw him named in the bests for the Suns. Overall, I reckon Leslie will score better than Mohr quite easily too. It must be said that Big Timmy had an easy day out versus the Suns for 47 Fantasy points and I suspect he'll be breathing heavier when he faces the Bulldogs this week. Leslie is suitable for your defender bench only!
Nothing against the kid but how Bailey Williams (Def/Mid. $148,000, 7 be AF. $121,300 DT) gets named ahead of Josh Dunkley after one good VFL game is beyond me and I think his job security will be an issue as a result. Playing predominately at half back, Williams had 14 touches, 2 marks, 4 tackles and 55 Fantasy points. Let's see what he does this weekend before picking him.
Jack Hiscox (Fwd/Mid. $128,000, 17 be AF. $168,100 DT) came in for the injured JPK but had a pretty quiet debut. Other than his pace, there wasn't too much to get excited about given he registered just 7 touches and 33 Fantasy points. Not for me especially with Kennedy set to return this week!
Please note that if I haven't mentioned a rookie priced player above, it means I don't rate them. Remember rooks are classified as players under $250,000 in Fantasy and/or Dreamteam.
Keep Your Eye On
It would be sensational timing if Nathan Broad (Def. $125,000, 24 be AF. $121,300 DT) suited up for Richmond this week. The defender had a great NAB Challenge campaign but unfortunately wasn't in favour for Round 1. It must be said that aside from the past two rounds, Broad's VFL form has been average. Last weekend however, he managed 10 kicks, 8 handballs. 7 marks, 2 tackles and 72 Fantasy points playing between the wing and half back. Pray to the Fantasy gods that he plays because he's a decent cheap option.
Former forward Jackson Paine (Fwd. $125,000, 24 be AF. $131,300 DT) has found a new niche in defence. With a strong body and good footy brain, playing full back has suited him well and he's been named in the bests for the Lions reserves 4 out of 6 games. Paine was elevated to the senior list yesterday and it looks like he'll play this weekend. He's going to average in the 50's but his price is what appeals. May suit a few.
After Brisbane's poor showing at home against the Pies, Rhys Mathieson (Mid. $158,000, 30 be AF. $121,300 DT) should make his debut on Sunday against the Dees. He was named as an emergency for Round 8 and with Beams injured and Rocky still out, the Lions need to add another midfielder. I'm a big fan and if Mathieson is named then I'll be trading him into Fantasy straight away.
No Boyd could finally give Josh Dunkley (Mid. $201,000, 10 be AF. $121,300 DT) another go at senior level. Dunks has been killing it in the VFL and selection is warranted. He's been my M10 in Dreamteam for a while now!
Feel free to ask me a question below and don't forget to add me on Twitter @JeppaDT for all things Fantasy and more. Happy trading!