Roy's Trade Talk – Round 9
Another week where I am grateful for two trades. Looks like more carnage ahead, so lets use them wisely!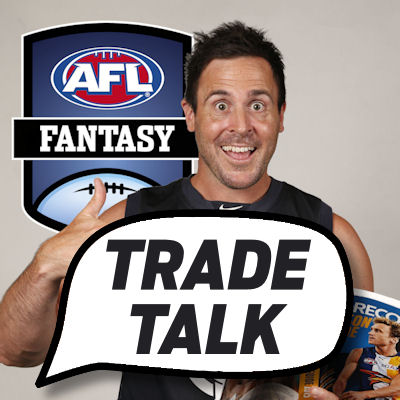 Another tough week after what has been one of the hardest starts to a year in Fantasy history! If players aren't getting dropped, they are getting injured and don't get me started on the new 'par' score for rookies dropping by about 20 points on previous years expectations.
With many coaches losing faith in both job security and scoring potential of basement priced rookies, I have received a lot of questions as to whether it's worth paying a few extra bucks for some increased expectation in both. The main candidates are Jackson Trengove, Christian Petracca and Jacob Hopper and although I am traditionally against this type of trade… I can see its merit at the moment, and was even guilty of bringing CP in last week. Let's take a closer look at each of them, always keeping in mind, the inflated prices can significantly affect your buying power if it is part of a traditional downgrade/upgrade trade.
Mid-Price Value?
Jackson Trengove (DEF, $270,000) is an interesting prospect given his well documented move into the ruck. Although he has limited ability in the hit out department, winning less than 30% of contests attended, the fact he is around the ball as opposed to holding down a key position in defence obviously makes his role more Fantasy friendly, especially given his knack for clearances once the ball is to ground. His back to back scores of 95 are easily his highest of the season and leave him with a break even of just 1. Although the hit outs are just a bonus 10 or so points, the clearance success he has enjoyed the past fortnight might be tough to match with NicNat and Gawn hitting it down their midfielders throats over the next two weeks. The fact he is also coming up against two heavy weights will likely see the inclusion of Howard on Thursday night, costing Trengove some time in the middle. By all means, he has some growth and better scoring potential than most of the current rookies, just don't select him expecting an 80+ keeper.
With scores of 86 and 78 in his last two games, Christian Petracca (FWD/MID, $288,000) has a break even of 18 leading into his game against the Lions this week in what looks to be a tasty match-up where he might push triple figures for the first time in his career at the MCG. In his 5 games leading up to the bye, he also faces the Power and Pies in what should be solid returns. It looks like we can expect a 75+ average, which would be solid enough at F8 until an upgrade is possible. If you are looking at him in the mids, I would chase the cash and go with Darcy Macpherson (MID, $180,000) who has pumped out back to back 70s.
Jacob Hopper (MID, $275,000) burst on to the scene, and although none of us were surprised at what he did against the Suns with 32 touches and 5 marks and 97 points, credit where credit is due. Seven Giants scored a ton, so it was pretty easy going but given many of my rookies haven't collected 30 possessions in the last three weeks combined, I was impressed. The inflated price tag for a guy going into his second game is hard to justify, especially given his tough draw of the Dogs, Crows, Cats at Skilled, and Swans in the next month. Having said that, he has a break even of 18 and if you are holding Ablett or Rockliff, it would be nice knowing a guy who has the potential to touch it 30 times is filling in.
Back to his best:
Marcus Bontempalli (MID, $435,000) has overcome a slow start to the year (largely caused by playing predominately forward) to hit top form over the last two weeks with scores of 122 and 105 from 30 and 33 possessions respectively. Tough week against the Giants ahead, but with a BE of 44 and a chance to gain DPP in a few weeks, he is well worth a look.
Red Hot:
With under performing defenders everywhere we look, Sam Docherty (DEF, $490,000) is getting it done with a three game average of 112 on the back of last weeks 140 from 33 possessions and a whopping 13 marks. It was the 5th time this year he has taken 8 or more marks and he has dropped under 90 on only three occasions. He has a break even of 57 leading into a tough game against the Roos. Looks a great pick regardless.
He What?
It can't be ignored any longer, Michael Walters (FWD, $489,000) is ripping it up week after week! He has a three game average of 122 on the back of 141, 101 and 125 which gives him a BE of just 45. It is rare a player in this sort of form is available for under 500K and given his upcoming games against the Tigers (DS), Saints, Bombers (DS), Lions, Power (DS) and the Pies… he could be pushing 600K for the bye.
Good luck this week and use the comments to throw you trade ideas off each other!
@RoyDT