Inside the Fantasy Numbers – Round 8
Pete looks inside the numbers that matter for Fantasy coaches.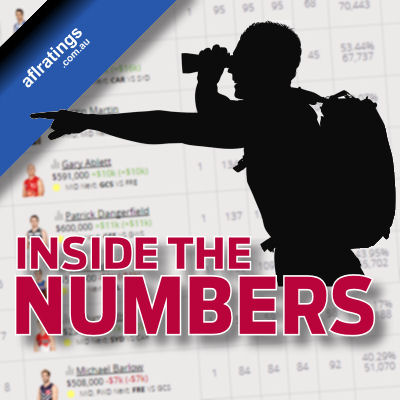 Trying to solve the puzzle continues for another week of AFL Fantasy, the challenges thrown at each coach are part of the game and those that can adapt to change can be heavily rewarded. Hopefully the numbers below can help you find the right path to success this year, here is a look inside the AFL Fantasy numbers for Round 8.
No longer the bad Blues
The last 3 weeks for Carlton has been solid, they averaged 1677.0 team points FOR (Rank 4) whilst restricting opponents to just 1408.7pts per game. The Blues are denying opposition teams the ball giving up just 344.8 Disposals in the last 4 weeks (Rank 3) compared to 360.0 Disposals per game Rounds 1-4, in the last 4 weeks Carlton has averaged 5.5 players to score 100pts or more.
The Sun is up for Fantasy Coaches
Whilst Gold Coast is enduring another season of disastrous injuries fantasy coaches are being rewarded with some generous numbers, the Suns have conceded 431.7 Disposals in the last 3 weeks (Rank 18). The last 4 weeks have also been rewarding for Ruckman playing against Currie or Nicholls, each week over the same period the opposition Ruckman have scored 100pts or more. Adelaide get an opportunity this week against Gold Coast to fill-up on Fantasy points, the worst top score in the last 3 weeks against Gold Coast was 132pts in Round 8 (Heath Shaw).
Business as usual for Bulldogs
Yet another week and yet another 400 Disposal game for the Bulldogs, that makes 8 consecutive games to open the season in which they have had 400+ Team Disposals or more. The GWS Giants have not conceded 400 Team Disposals in a game this year, it will be interesting to see how the numbers play out on Sunday afternoon. The Bulldogs will be without Matthew Boyd, he is averaging 27.4 Disposals in 2016.
Round 9 Fantasy Team Match-up
Giants Rank 1 Points AGA (1418.8)
vs
Bulldogs Rank 1 Points FOR (1763.1)
Adelaide Ave Disposals
Rounds 1-6: 388.2
Round 7-8: 334.0
GWS Giants v Gold Coast Fantasy Team Points Differential
Giants +554
Carlton v Port Adelaide Fantasy Team Points Differential
Blues +485
Richmond v Sydney Fantasy Team Points Differential
Tigers +407
Best Fantasy Team Points FOR Last 3 Weeks
Geelong 1802.0
GWS Giants 1740.3
W.Bulldogs 1707.0
Worst Fantasy Team Points FOR Last 3 Weeks
Gold Coast 1325.0
Brisbane 1380.3
Fremantle 1516.7
Best Fantasy Team Points AGA Last 3 Weeks (Bad for Fantasy)
GWS Giants 1330.3
Geelong 1406.3
Carlton 1408.7
Worst Fantasy Team Points AGA Last 3 Weeks (Good for Fantasy)
Gold Coast 1867.7
Essendon 1702.7
Fremantle 1676.3
Who Am I
Before this year I had played less than 50 games
I was priced less than 400K (MID)to begin the season
I had only 1 career 100pt game prior to 2016
I have scored 100pts or more in 4 games already this year
I am currently owned by less than 3% of Coaches
Probably ranks highly on most Coaches 'should have done it' list
Answer below
Rory Sloane
Round 8: 147pts vs Cats (3rd Career Highest score)
Last 3 Weeks Ave: 118.7
2016 Season Ave: 99.8
Alarm bells were ringing and debates raging in most fantasy forums over summer on just how Rory Sloane would perform without Patrick Dangerfield, the anti-Sloane camp were smirking after a slow start averaging 78.0pts Rounds 1-3 but all is quiet now as he has averaged 112.8pts Round 4-8. Sloane has averaged 25.6 Disposals & 8 Tackles in his last 5 games, he plays the Suns this week.
Zach Merrett
Round 8: 143pts vs Kangaroos (Career Highest score)
Last 3 Weeks Ave: 118.0
2016 Season Ave: 116.3
Spare a though for Calvin's Captains, declared Zach Merrett a good Captain choice for ANZAC Day against fantasy friendly Collingwood resulting in 66pts which is still his worst score for the year. Without the Collingwood game, Merrett is averaging 123.4pts per game and just belted out a career high 143pts in Round 8. Poor Cal!
Michael Walters
Round 8: 125pts vs Hawks (2nd Career Highest score, Top 2 career Highest scores have been in last 3 weeks)
Last 3 Weeks Ave: 122.3
2016 Season Ave: 94.0
For those of you just watching Michael Walters scores pop up each week recently there has to be questions raised whether or not he can sustain such numbers, for those of you watching Fremantle games there is a lot less doubt as Fremantle enter a new phase trying to build a midfield and Walters should benefit greatly. Considering Freo will be without Fyfe for the year, Hill for the next few weeks and Barlow seemingly on the Ross Lyon scrap heap additionally don't forget the potential trade of Lachie Neale at the end of the season the Dockers need to find players that can impact in the middle of the ground. We know Lyon likes players that have pace and can spread all over the ground, Michael Walters fits in to this category averaging 25.7 Disposals (122.3 AFL Fantasy) in the last 3 weeks compared to 14.8 Disposals (77.0 AFL Fantasy) Rounds 1-5.
Dayne Zorko
Round 8: 122pts vs Magpies (This represented 9.8% of Lions Total Team 1241 Fantasy Points)
Last 3 Weeks Ave: 126.7
2016 Season Ave: 113.6
The Lions have become a Fantasy wasteland for all but a few players, one of those players Dayne Zorko has been outstanding in 2016 averaging 113.6pts. Zorko has scored fewer than 100pts in only 1 game this year, he has a decent ceiling of points and is a player to be considered if you don't own him already.
Tom Mitchell
16 Disposals vs Tigers
Lowest Disposals since Round 17, 2015 (10 vs West Coast – Subbed out at 3QT)
Bounced back the next week with 37 Disposals vs Adelaide (132pts)
The Tigers targeted Tom Mitchell for the 2nd consecutive game on Saturday night resulting in just 61pts, if the sub vest was still around he would have been a prime candidate to receive it from Longmire as he did at the SCG last year when the Tigers also knocked off the Swans.
Who Am I Answer: Seb Ross (Current 102.6 Ave in 2016)
Good Luck in Round 9