The Friday Scramble: Round 8
A tough week with injuries and selection dramas all whilst we are trying to bring in the rookies and upgrade our players. I don't know about you, but I am certainly scrambling this week!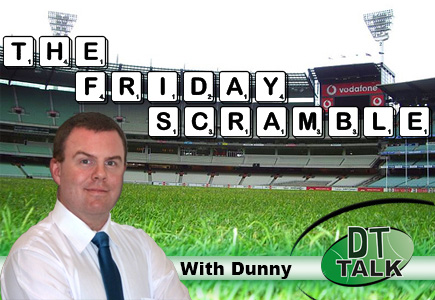 Ok, so how much stuff did I get wrong last week?  Plenty by the look of it, but hey, that is exactly why we love playing this game.  You just never know what will happen!  So, instead of getting down about it, let's get even!  There is plenty to discuss this week and hence, let's jump right on into it!
Rocky
This poor guy just can't stay on the park.  So, if you brought him in last week you need to work out exactly what you are going to do.  In AFL Fantasy, for me the decision is simple.  With two trades a week you need to move him on.  There is no point keeping him as it is too much cash to stash on the bench.  However, as we always say, in the limited trade forms of the game, if the injury is two weeks or less then you should hold them.  Also, if you started with him, traded him out and then  brought him back in you don't want to be using another trade on him!  So I have him in RDT and I will be holding him.
The Rookie Cull
So last week I told you all to move some of the rookies on as they were cooked.  How wrong was I!  Seriously, how do I keep my job!!  Anyway, this is what makes fantasy footy fun.  We all had the option of keeping some of them, and I am sure that out of necessity some of you did.
This week?  Well this week we do need to look at getting at least Petracca in and if you want to double down then Ben Keays would be the other option I would consider.
However, after my poor advice in this area, I will leave this to the expert, Jeppa!  Check out what he had to say on Wednesday.
#AskDunny
@pkd73 Being a Port Man, any news on Sam Gray returning? Still holding him in RDT.

— Grish9 (@GrishmB) May 11, 2016
Look, I think he did struggle this year, he goes better when we are winning.  He has now been named on the extended bench, but I am not expecting him to come in this week, he could return in a week or two at worst.  If you have held this long, you may as well hold and deal with other issues first.
https://twitter.com/jordanhollitt/status/730353333253218304
For me, I upgrade the forwards first before I upgrade the backs.  You tend to find that the forwards are often Fwd/Mids and hence they tend to score a lot better than the defenders.  So for me I upgrade Mids, Forwards then the Backs (I tend to go set and forget in the rucks).
Should coaches be building a little war chest for premium acquisitions over the Bye weeks?#AskDunny #AFLFantasy @pkd73 @DTTALK

— aflratings.com.au (@aflratings) May 11, 2016
The byes are still a fair way away at the moment.  However, my theory on building a war chest is that I look to bring in the rookies as and when they demand selection, if that means a double down then so be it.  I do like to have some cash in the bank heading in to the byes so that I can do as much upgrading as I want.  Just beware of stashing too much cash in the bench as that is simply points that you won't be gaining.
Now I got a few questions about Trengove, here are just a couple
@pkd73 @DTTALK trengove role change will it lift his ave and how long do you expect role change??

— Jimmy the Cat (@harneyjay) May 11, 2016
@pkd73 Dunny, as a dedicated Port fan. Do you see Jackson Trengrove playing the same ruck role for in the forceable future?#askdunny

— BJ Clark (@BJCMMA) May 11, 2016
Last week I told you all that Dougal Howard was safe for a few weeks.  Clearly I had no idea (not the first time),   Will they keep playing him in the ruck?  Well given his performance against Stefan Martin I won't be surprised.  Will his scoring leap?  Well it will improve from what he normally gets as he is generally a lock down defender.  Should you pick him up?  I won't be.  I just am not sure of how long his role will stay like this.
Selection Issues
Bloody hell!  Carnage!! We all knew that Michael Barlow wasn't having the best start to the year but for him to now be dropped is just ridiculous!  What are you doing Ross?  Fyfe is gone and you drop a premium midfielder!  I swear mate, I think I have had just about enough of you!!  So what to do with him, to be honest I say hold.  I expect this is just a one week thing and he should return next week.
We all kind of knew that Daniel Wells would miss this week with the Kangas playing Essendon and he was injured last week.  So once again, I expect that he should return next week and as a result of that I think we should be holding him as he hasn't finished making us money yet.
Toby Greene is out with the General… Soreness!  Seriously?  Perhaps Leon Cameron had him in his team and had enough of his up and down scores.  Well, clearly hold.
Sam Gray has been named this week, but is second last on the extended bench…. beware.
Adams and Mitchell are both back this week.  That might help offset some of the pain!
Oh, and Zac Dawson has been dropped.  So  make sure you move him to your bench….  ha ha.. no seriously, trade him out… NOW… you should never have had him.  (Only mentioned this because I know a guy that started with him, but he has dropped him now).
Things to Remember
Just beware of holding someone to trade next week, you never know what sort of carnage will happen next week.
Rookies that will play don't come along every week.  When they do you should try and get them in.
Don't stash too much cash in the bank, dollars in the bank don't score points.
I don't need to wish anyone playing me this week as I will struggle as my teams have been decimated due to injury and Ross Lyon!  We are over one third of the way through the season now, hard to believe, but you should be well on your way to building your team.  Catch you all next week!  @pkd73