Calvin's Captains – Rd 8
Arrrr… it has been a tough week for the pirate nailing his top five this week but he has made it happen! Read on!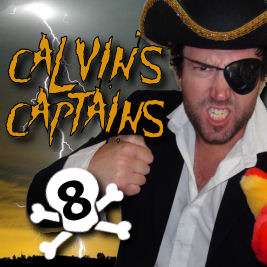 HIGH

VOLDT

-AGE
Let's just get a picture as to what Nick Riewoldt is doing this year.
Last year his best results were… a season high 13 marks in round 17 and then a season high 22 disposals in round 21.
Over his last four games this year, he has blitzed that, averaging 24 touches and 13 marks. His role is something that other teams can't match.
Last year against the Eagles he only managed 68 and prior to that 72, 84 and 89. But things are now VERY different. Voldt had has 16, 14 and 11 marks in his last three games averaging 120 in the last five. He is the #1 player in the competition and if he was a midfielder with these numbers, we'd be saying… 'perma captain'… 'set and forget'… 'pig'.
He is averaging 11 points more than any other player over the last three weeks (136pts).
Last week, Geelong scored 8×100+ scores against the Eagles and if you are a lucky owner, things are once again looking fantastic for you with Voldt sitting in the forward line.
So he sits at #4 on my list. "Too low" many might say, but he averages 83 (3 games) in away games and 132 (4 games) when he plays at Etihad. This did scare me, but he's still top 5 for sure.
Also kicking around in this game is Jack Steven who had a very uncharacteristic 58 last week. He had 89 and 166 on the Eagles last year and if you wanna roll the dice hoping for that 166 again, you're a brave coach… but then again we all know what this man can do on his day.
RETURN OF THE SAM
Sam Mitchell was a late withdrawal last week and surely he will be back this week when the Hawks play the Dockers in Launceston. Sam has already scored 130 at Aurora Stadium this year, a ground he had 142, 108 and 120 on in 2015.
Mitchell loves playing the Dockers, who are not only one of his favourite teams to score against, but they are currently giving up the second most Fantasy points this year.
Last year he posted 117 and 142 against them and 105 and 121 prior to that.
The 'late out' scares me a little as the details of the reason are a little shakey as I heard it was 'calf cork', and he only had 66 the week before … With all that said, I'm tipping Sam to be awesome this week. If he doesn't play, my top 5 will just be adjusted (again). But I think he's had his rest.
Last year after coming off 'rests/injuries' he scored 120 and 115, and will dominate in Tassie. The forecast currently has it at an 80% chance of rain, he'll have 25 handballs in his final tally of 38 and hopefully drag down a few tackles as well.
Jordan Lewis is now back on the radar after his 117 last week, but let's not get too excited just yet. Sam missed that game and before that he had 58 and 59. Bizarre, and you just couldn't do it (yet).
Finally, Lachie Neale has averaged 111 in his last 5 this year, despite dropping under 100 last week. He has a shocking record on the Hawks and has failed to crack a ton his career 7 games against them.
STRANGER DANGER
No stranger to Adelaide Oval, but how will Dangerfield cope with the emotion of playing his old team at his old home ground under the microscope of Friday night footy? It will go either way but he has averaged 119 in his last 3 games this year and plays the Crows who have given up 4×100+ scores to each of their opponents over the last 3 rounds.
Danger will be great, but Joel Selwood will be better. He'll fly under the radar in this game and will smash his favourite team to score against. That's right… his favourite team.
He had 140 (@ SS) on them last year and 132 (@ SS), 133, 113 (@ SS) and 106 before that. He has already been to the A-Oval this year and walked away with 134 under his belt against Port. The small concern is he has never played the Crows there and all his massive scores against them are at the Cattery… it doesn't matter. He has scored 103, 126 and 134 in his last three games and ticks the boxes this week. However, you will see that he misses my top 5 this week. I hate Friday night captains and like to enjoy one night over the weekend before my team ruins it all for me.
With that said… I'm expecting 115+.
HOW SHAW ARE WE?
Are we Shaw enough about this? Are we Shaw that we will give Heath the big 'C'?
Currently ranked as the #2 player on form over the last three weeks with an average of 125, Shaw has been amazing. Back at his home track where he had his biggest score for the year (135), expect something special again from the man against the Suns, a team that has bleed points over the last two weeks giving up 16×100+ to their opposition. In fact, they have easily given up the most out of everyone!
Heath had 125 and 74 on the Suns last year, but can we really trust a man to carry the big 'C' after he carried the nickname of 'Head-ache Heath' a few years ago?
On the same topic of 'trust', can we trust Todd Goldstein who is up against Essendon at Etihad Stadium? In this game last year, Goldy had a monster 175 but that was against McKernan. Berger will be his direct opponent this week and old Berger has been going ok. Sinclair (94) and Tippett (92) were amongst the points against the Bombers last week, but they needed 3.5 goals between them to boost their scores in their tag-teaming effort.
The Swans had 5×110+ against the Bombers and although Goldy won't make my top 5 based on his up and down form (113, 64 and 102) I am expecting him to be great again.
QUICK FIRE
Aaron Hall V GWS @ SPO – The Giants give up very little points and Hall only managed 57 and 57 on them last year.
Stephen Coniglio V Gold Coast @ SPO – Ranked #3 on form (avg. 124) he is on fire after 129 last week. 96 and 103 on the Suns last year, he'll be even better than that.
Stef Martin V Collingwood @ the GABBA – 129 last week is more like it Stef! He had 87 on the Pies last year and should be good at home.
Dayne Beams V Collingwood @ the GABBA – Has only played his old team once for 83, but Collingwood are still giving up the most points in the game. 106 last week was a nice warm up for him heading into this, but he'll have to do it now without Rocky beside him.
Dayne Zorko V Collingwood @ the GABBA – Ranked #6 on form averaging 122, Zorko has been nothing short of awesome. 104 and 130 are his last two efforts on the Pies and he won't be slowing down this week. A huge smokie captain.
Steele Sidebottom V Brisbane @ the GABBA – 88 and 94 are his last two scores on the Lions.
Scott Pendlebury V Brisbane @ the GABBA – Averaging 110 in his last three games, expect Pendles to be around that mark this week. Carries a lowest score of 94 against the Lions in his last 7 games and last week, Port had 6×100+ scores against them, with 3 players clocking 30+ disposals.
Adam Treloar V Brisbane @ the GABBA – 120 and 115 were his scores against the Lions last year (as a Giant), and he's averaging 114 in his last three. Should be great based on these stats.
Dusty Martin V Sydney @ the MCG – 69 on the Swans last year… pass.
Dan Hannebery V Richmond @ the MCG – Richmond gave up 5×100+ scores to the Hawks last week and Hanna has been in great form with 106 and 136 in his last two games. 96 and 143 are his last two on the Tigers and posted 119 and 74 at the MCG last year.
Tom Mitchell V Richmond @ the MCG – 130 last week and has a great record on the Tigers. 48 (vested), 138 and 112 should see Titch firing again on a ground he has had good numbers on before.
Luke Parker V Richmond @ the MCG – His score of 95 last week was his worst effort for the year. In his last three against Richmond he has scored 112, 116 and 102, add to that the 116 and 120 he had at the MCG last year and it all adds up to something special in round 8.
Bryce Gibbs V Port Adelaide @ Etihad Stadium – Plays the fourth easiest team to score on and carries an average of 124 in his last 3.
Lachie Hunter V Melbourne @ the MCG – 73 last week and has never scored a ton on the Dees in his career six attempts.
Max Gawn V Bulldogs @ the MCG – The last two ruckman to go against the Dogs haven't had their own way. Jacobs (82) and Goldy (64) and weren't great and because of this I'll be passing on the gun despite his 138 last week that finds himself at #5 ranked on form.