Roy's Trade Talk – Round 8
Unfortunately, Rocky is once again the focus this week… for all the wrong reasons.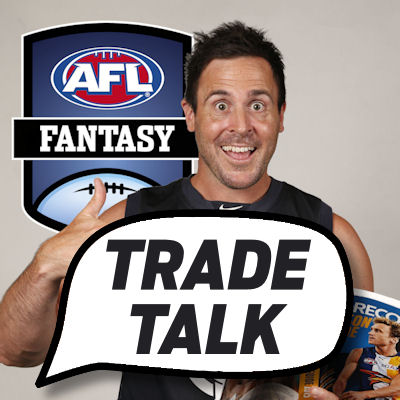 Pig hunting season is over, and if you were one of the thousands of coaches that traded in the under-priced Tom Rockliff last week, you are once again shopping for a replacement. I am going to throw some names around that are worth considering.
Number 1:
My pick of the bunch is Joel Selwood  (MID, $551,000), who is in sensational form with a three game average of 121 and five round average of 114 with a lowest score of 97 in that time. He had an interrupted pre season which cause a slow start to the season and it is the only reason he is not over 600K. He has an ownership of under 8% and a break even of 84 leading into his game against the Crows who he has recent scores of 106, 113, 133, 132 and 140 against. Lock and load.
In Form/ Unique Upgrades:
Stephen Coniglio (MID, 537,000) has taken his game to a whole new level this year and is in red hot form, averaging 124 in his last three games. He looks set to instantly reward coaches with a game against the Suns this week, likely doubling his break-even of 60. He is owned by just 1% of the competition.
As we thought in the off season, Bryce Gibbs (MID, $525,000) is relishing playing under Brendon Bolton, which is reflected by his 75K price rise and three game average of 124. His good form should continue this week at home against the Power, smashing his break-even of 55. My only concern with Gibbs is that the Blues are on an unlikely three game winning streak, and it will be more difficult to match his impressive recent form.
Safe guy:
Dan Hannebery (MID, $577,000) has overcome an injury interrupted beginning to the season and has now done enough to suggest he is back to his best with a three game average of 115. He has dropped 36K since the start of the year and with a break even of 96 against the Tigers, he will continue to get back toward his original price.
Bargain:
After dropping 129K since the start of the year, Jordan Lewis (MID, $484,000) has to be considered an absolute steal despite his inconsistent form to start the season. We have seen traditional Lewis in four games, scoring over 110 in each of them, highlighted by 134 in round one, but we have also seen an uncharacteristic three games under 60 which is why he is so affordable. This week he plays the Dockers at Aurora,  a ground he has scored over 100 in his last 9 games and the Dockers are a rabble.
Piglet (Downgrade Option):
Just as we thought, Darcy MacPherson (MID, $146,000) tackled his way to a respectable score, with 9 cuddles and a goal on his way to 73. He should have good job security, given the Suns struggles and with a break even of -8, he will be a popular downgrade target.
Who? What? Where?
Jackson Trengove (DEF, $240,000) has dropped 19K since the start of the season and averages just 50. So, why am I even talking about him? Because he had a significant role change on the weekend where he played 98% of his time on ground in the ruck department, and he flourished with 25 possessions, 14 hit (13 clearances)outs and 6 tackles. He goes into this week's game against the Blues with a break even of just 22 and with two trades per week, he may be worth the risk given the lack of form from more expensive defenders. High risk…high reward?
Here is what Chad Wingard had to say:
"It really started with 'Jacko' in the ruck," Wingard said.
"Games can be won and lost in the ruck and he really stood up, and the midfield really played well."
Port's ability to compete over the next three months without a recognised ruckman will be a talking point, but Wingard believes Trengove can continue to give the Power the contest it will need.
"We know he's got a massive jump and he's happy to play whatever role he needs to for the team," Wingard said.
"He did more than what he needed to do today and if he keeps playing like that we won't want to take him out of the ruck."
Twitter Time:
@RoyDT @DTTALK rocky/Adams to dusty/Simpson?

— Scott Jeffrey (@the_bucketmen) May 9, 2016
I like it!
@RoyDT Will Nick riewoldt get rest?? and should i grab him for marcus Adams (via dpp)??

— cooper beecken (@fantasyrockie) May 9, 2016
I wouldn't miss him based on that, do it.
@RoyDT James Kelly still a decent upgrade option in the backline? (Already have Shaw and Simpson)

— Matthew Russo (@MatthewRusso98) May 9, 2016
Yep, three of the best right there.
https://twitter.com/chrisbobbyjones/status/729614408809209856
Keeps getting it done, deserves consideration.
https://twitter.com/chrisbobbyjones/status/729614229402099713
That trade is fine… Can't wait to see the back of Menadue.
@RoyDT @DTTALK Currently looking at Rocky & Wells to McVeigh & Gunston. Is there value in the Bont though around $400k finding form atm?

— Nathan Deans (@d3ansy) May 9, 2016
Bont has to be in the mix for forward status which would be a nice bonus in round 12.
@RoyDT @DTTALK best sideways trade for wells, <500k?

— Matthew Russo (@MatthewRusso98) May 9, 2016
Dusty looks ripe for less than 500
Use the comments to discuss your trades, hopefully we have a bit more luck this week!
@RoyDT