Inside the Fantasy Numbers – Round 7
Pete looks inside the numbers that matter for Fantasy coaches.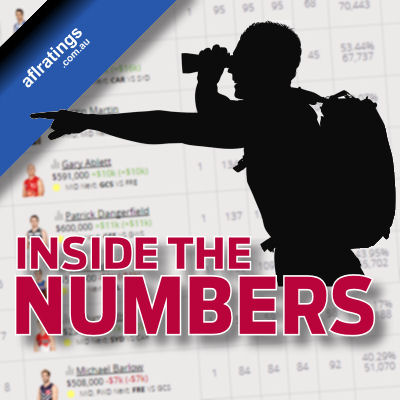 Guiding a Fantasy team through a minefield of injuries and poor form can be very tricky and sometimes just plain lucky, it is difficult to go about a set plan when forced trades won't allow moves to be made to increase growth in a team. Taking emotion out of the equation can really help with any decisions made now and for the remainder of the year, hopefully there are some good numbers for you to help guide your team in a direction of success for the rest of the season.
Geelong at Geelong
The Cats have averaged 9.0 players to score 100pts or more in 3 games at Simonds Stadium this year, all other venues they have averaged just 1.5 players to score 100pts or more. Geelong play 5 more games at their home ground, this includes a Round 23 clash against Melbourne (AFL Fantasy Grand Final).
Bulldogs streak continues
The Western Bulldogs have now started the season recording 400+ Disposals in each of their 7 games, they are Ranked No.1 averaging 446.7 Disposals per game and also Ranked No.1 restricting their opponents to just 341.1 Disposals per game. The Bulldogs step outside the comforts of Etihad Stadium for the first time in Round 8, it will be interesting to see if any numbers are greatly impacted by a change in venue.
Gold Coast form hurts Fantasy Coaches
The last 4 weeks for the Suns have negatively impacted fantasy coaches that were riding a high wave early in the season, after 6 players scored 100pts or more in Round 1 against the Bombers only 1 player was able to achieve that mark in Round 7. From Rounds 1-3 Gold Coast averaged 4.0 players to score 100pts or more, Rounds 4-7 that average is at 2.0 players to score 100pts or more.
Best Ave Team Points FOR Last 3 Weeks 
1. Geelong 1808.0
2. GWS Giants 1718.3
3. Sydney 1704.0
Worst Ave Team Points FOR Last 3 Weeks
18. Gold Coast 1379.3
17. Richmond 1429.3
16. Brisbane 1452.3
Who Am I?
I have played only 13 out of a possible last 36 games
Over this period I have averaged 97.5pts and scored 100pts or more in just 5 of those played games
My Career high is 186pts vs Collingwood in Round 10, 2012
My Average Career Disposals is currently at 25.0
I have averaged 127.6pts (Last 5 Games) against the Team I play this week
Answer below
Individual players of note
Bryce Gibbs
Round 7 vs Collingwood: 136
Last 3 Weeks Ave: 123.7
2016 Season Ave: 107.0
The 136pts against Collingwood was Bryce Gibbs' 11th highest career score, his top 8 career scores ranging from 139pts to 166pts all came prior to 2013 (Prior to Mick Malthouse).
Bachar Houli
Round 7 vs Hawthorn: 55
Last 3 Weeks Ave: 77.0
2016 Season Ave: 90.9
Houli has teased coaches this year with 3 games scoring 119pts or more and 3 games scoring fewer than 69pts, it would emotionally draining owning him in 2016 but he still averaging a career high thus far.
Steven Motlop
Round 7 vs West Coast: 115
Last 3 Weeks Ave: 96.0
2016 Season Ave: 88.9
Motlop has enjoyed the home ground advantage in 2016, he has averaged 109.7pts at Simonds Stadium and just 73.3pts at all other grounds.
Lance Franklin
Round 7 vs Essendon: 110
Last 3 Weeks Ave: 101.3
2016 Season Ave: 97.4
Franklin has enjoyed a consistent start to the 2016 season, his lowest score has been 86pts and his highest 110pts. Franklin does have a pretty healthy ceiling of points, interestingly he has averaged over 100.0pts only once in his career.
Josh Wagner
Round 7 vs Gold Coast: 95
Last 4 games Ave: 78.3
2016 Season Ave: 73.8
Wagner has been a solid cash generating player since Round 4, with many expensive backlines struggling for consistency he has been a nice addition for many coaches.
Tom Campbell
Round 7 vs Adelaide: 86
Last 4 games Ave: 87.3
2016 Season Ave: 87.3
Campbell has averaged the most Hitouts of any Bulldogs player since coming in to the team at Round 5, he has averaged 14.7 Disposals and is yet to concede a free kick in his 3 games this year.
Michael Walters
Round 7 vs GWS Giants: 101
Last 3 Games Ave: 113.0
2016 Season Ave: 89.6
Walters has averaged 2.0 Goals this year and more importantly 17.9 Disposals, he has a season career high average of 80.1pts back in 2013. Walters could benefit in a year which Fremantle has written-off, however it would take a brave coach to invest in his services this week especially against the Hawks in Launceston.
Stephen Coniglio
Round 7 vs Fremantle: 129
Last 3 Games Ave: 123.7
2016 Season Ave: 106.0
For the 3rd straight week Coniglio gets a mention in this article, he is averaging 32.0 Disposals & 6.0 Tackles in his last 4 games for GWS. It is nice to get some reward for the 1.33% of coaches that own Coniglio, Round 8 offers up more hope of another good score against the Suns at Spotless Stadium.
Nick Riewoldt
Round 7 vs Kangaroos: 144
Last 3 Games Ave: 135.7
2016 Season Ave: 110.7
The numbers for Riewoldt have been outstanding this year, he is averaging 11.3 marks and kicked 18 Goals in a team that has won only 2 games. The Saints should see further improvement this year and Riewoldt should be able to at least maintain his current average of 110.7pts, unfortunately his match-up this week could hinder another big score as he has not scored more than 90pts in his last 4 attempts against the Eagles.
Jackson Trengove
Round 7 vs Lions: 95
Last 3 Games Ave: 55.0
2016 Season Ave: 50.0
A change in roles for Trengove may present an opportunity for coaches willing to take a calculated risk, Defenders have been pretty underwhelming this year and at 240K with a BE of just 22 Trengove could provide reward for those willing to take the plunge. Continued Ruck time for Trengove may even present a DPP opportunity at the next upgrade.
Who Am I Answer: Gary Ablett
Good Luck for Round 8