The Weekend Wash-Up – Round 7
Better late than never. The therapeutic Wash Up from Matt is here.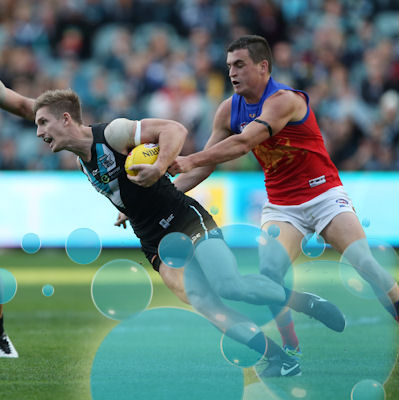 This weekend could be ROCK bottom for many coaches. When you're afraid to look at your team and inspect the damage, you know it's been a bad week. In fact I still haven't looked as I'm writing this article, that's all you need to know. This is going to be like a post tsunami clean-up for many, let's wash-up the weekend shall we…
Legends
Gibbs (136) – Bryce Gibbs is currently the second most in-form player in the comp, another we missed thanks to pre-season! I'll admit I was well and truly amongst the doubters but he has proven us all wrong. Not sure he's worth picking up now but a gun nonetheless.
Pendlebury (118) – I thought I was in for another afternoon of pain when I couldn't spot Pendlebury in the middle for the first 10 minutes of the game. There are still question marks over his fitness but if he can keep pumping out 120's I won't complain! Hopefully this is the return of Mr. Reliable.
Dangerfield (113) – It's this kind of consistency we need from Danger for him to go to the elite level of Fantasy midfielders. He certainly didn't dominate, but he did more than enough to get the job done! Still value at around $565k.
Bartel (111) – ****. I started Jimmy based on the fact that he hasn't average under 95 (Vests not included), but his first month was horrid. Little did I realise he was just warming up to the season, he's definitely still value in defence while he's around $460k! A reliable 90-95 average defender, they're hard to come by…
Mitchell (130) – You simply must stick by your premiums once selected, they'll always come good! Titch still isn't quite getting enough midfield time to be the 120+ average player he will become, but he's still a top 8 mid in my books. Huge value at $555k.
McVeigh (113) – Speaking of value, McVeigh looks ripe for the picking! Now priced at just $460k, I have been watching Jarrad closely as I wanted to even start with him at his premium price! He still has great footy left in him at 31, I'm all aboard this week!
Zaharakis (122) – Keeps. Getting. It. Done. There was a thought in the back of my mind last week that he was tiring and cashing in could be wise, not a chance! He's good for an average of around 105, laughable really when you consider he started at $415k! Legend.
Merrett (117) – Aside from the ANZAC day fiasco, Merrett is still posting ridiculous scores. Many are jumping on Zorko and rightly so, but don't write Merrett off. He still looks set for an average of 105+ which should put him in the top 3 forwards. Gun!
Gawn (138) – Fair play to those who backed in Gawn at the start of the season, as a non-owner it's killing me! Best pure ruckman in the comp currently, although I think he's now priced around what he will average. Don't rush him in, but if you're already an owner enjoy the ride.
Coniglio (129) – Do we trust this form line? Here's my concern. He has done this before! Last season he posted 125, 127 and 103 in Rounds 2-4. He then backed it up with 3 consecutive 90's. Afterwards? 3 scores below 60 and only 2 more tons! He should average around 100, but I feel as though there's better options elsewhere…
Shaw (109) – Lock him in Eddie. If you're after a defensive upgrade look no further, however it may be wise to wait a few weeks for a poor game. This should get you a slight discount! He's top dollar currently, and paying it rarely turns out well…
Riewoldt (144) – Thanking you! You'd think the above numbers are the Fantasy scores of a pig! Debatably they could be… Hang on, why is there a 71 there? What if I told you it was from 34% game time… Nick Riewoldt is posting scores of over 120 for fun at the moment, so why do only 3% of us own him?! There is a clear injury risk, highlighted by that 71 and the fact that he went down into the rooms 2 weeks ago after KICKING A BALL and landing awkwardly. However considering I got him in for Sam Gray and many of us still carry spuds like that, perhaps we're being silly… L.E.G.E.N.D.
S.Martin (129) – If you don't already own Stef, this is the week to make him priority number 1. $485k for the best Fantasy ruckman in the game, say no more. That's a $150k discount on last season!!!
Wines (118) – Oli continues to pump out solid scores (4 tons, lowest score of 84), rewarding those owners who punted on him at a slightly awkward price in Round 1. He's still priced at just $524k, keep him in mind if you're a desperate Rockliff owner…
Zorko (110) – Another week, another Zorko ton. It's hardly surprising. He's currently the third most traded in player, that's a brave call at over $550k. I love him, but something still churns in my gut after he has burned me so many times. That's a lot of $$$! I guess we're desperate for good scorers, and I can't blame you.

Click here to subscribe on iTunes.
Losers
Do you have a spare hour? Grab your deckchair, I have never seen so many horrid scores in a single Round of football. 
Houli (55) – God no. Come rain, hail or shine I will not be owning Bachar this season. Woeful.
Cox (38) – Perhaps we should thinking about cashing in the big American sooner rather than later, he might start bleeding cash! Perhaps a run in the 2's would be ideal for now…
Aish (36) – Does anyone know what Collingwood saw in James Aish? From what I've seen this season he isn't that good at football. 40% disposal efficiency from a bloke who had 10 touches, only 3 being contested. Yikes.
Oxley (45) – Not Fantasy relevant in the slightest, but those playing Ultimate footy will know he's available to draft as a defender. Perhaps this is why. Not great…
Grundy (54) – Kreuzer and Grundy went head to head in a battle for who could win the least possessions and hitouts. Kruze set the bar pretty high with 13 disposals and 20 hitouts, but Grundy bettered him gaining just 6 touches!!! This would have been a battle for the ages in many draft leagues (Requiring 2 starting rucks I'd hope).
Greenwood (58) – Another option that was floated around during pre-season and another name you won't hear for the rest of the season. Dodged this bullet.
De Goey (59) – Seeing the Magpie trend here? De Goey had actually put a few solid weeks together, however it's time for him to go as well. 4 frees against didn't help his case! Keep tally of the scores under 60 here…
McCarthy (14) – Linc the sink did a stink! Doesn't mind an injury does this kid, it's unfortunately as it's clear he's hugely talented! Should really have been on our benches but I'm sure there were a few who copped this score. Trade time.
Z.Smith (38) – Remember this bloke during pre-season? If you do, try to wipe that memory. Geelong are running with a full quartet of ruckman and safe to say it doesn't make for great Fantasy scoring.
Menzel (60) – Menzel has made some quick fire cash, but this is more what I'd expect from him. He's closing in on his used by date, injuries will buy him 1 more week for many teams. Still a gun!
Yeo (38) – Sigh. Cheers for this one Simmo, drop our one of our most dangerous forward/midfielders and put him in defence. And you wonder why we struggle at the start of games away from home. To be fair Yeo's last half was complete crap, luckily he'll bounce back with a ton next week!
Jetta (29) – Ugh. I really want to believe that Lewis Jetta has great footy in him, but I can't see it. He's lazy, his disposal isn't all that it's made out to be and there's no point having pace if you don't run. Looking like a complete flop.
*Intermission 1* 
LeCras (55) – Oh, want another score under 60? Sure thing said Round 7.
Mills (44) – Another one. Millsy has these weeks, as do most defensive rookies. I still believe he's a safe 60-65 average defender and can sit there for a while yet. A rest could be around the corner though, keep an eye on that…
Leuenberger (56) – I honestly thought Leuey had turned the corner in the past month, posting consistent 70+ scores. The 82 point differential between him and Gawn is hard to make up, trust me… I'm strongly considering dropping him to a rookie and playing Currie this week, it can't get much worse! (Definitely going to regret saying that…)
Fantasia (50) – Go on, "Can't believe people were sucked into Fantasia". Fair enough too, I've done the Taylor Hunt/Orazio Fantasia double! However there was some actual logic behind getting him. I watched him against Geelong and he was freakin incredible. He played a pure wing role and dominated. Of course after we all jumped on board he went where no Fantasy coach wants a trooper to be sent… Into the Essendon forward line. And that was the end of that. Get rid ASAP.
Simpkin (34) – Simpkin was back and looking fit as a fiddle in the first quarter! Until he popped his hamstring. Now he looks less so… A definite downgrade option later on, this could be a blessing in disguise! Oh yeah, bad luck Simp…
Rosa (18) – The crap scores continue!!! Another injury and another 15% of coaches into the shed with $34k lighter pockets. Hands up if you owned the Rockliff/Rosa double? No? Get onto missing persons ASAP… They're out there.
*Elevator music*
J.Martin (31) – Standard Jack Martin, standard Gold Coast. All the talent in the world but yet to put it to good use. This is his third score under 43 in the past month, that's ugly…
Kolodjashnij (53) – While Round 7 was at it, why not have the most consistent players in the comp spudding as well! Kolo's price is plummeting at the moment but I think you have to stick with him, it worked out well last season…
Ablett (82) – Different week, same story. There is no chance that I'm going to be trading Ablett out with the other issues in my squad, you'd have to be in an awesome position to trade the GOAT. He'll come good!
Biggs (38) – Biggs promise, little result. I think we were all sold a dream here, we're talking about Shane Biggs at the end of the day. Stick with your tried and tested premos when upgrading!
Hunter (73) – Hunter hit the brick wall for the first time this season at half time, managing just 14 points in the second half. We now have a decision to make. Now priced at $530k, you could make cash by downgrading Hunter to a fallen premo, Jordan Lewis for example. It would be a bold and luxurious move, but one that could pay off big time. Of course I'm not saying you need to trade him! He'll be a solid M7/8 all season.
McGovern (39) – The scores have voted. It's time to go, Mitch McGovern! Yeah that what lame, but you get the point. I lost track after the 20th loser.
B.Crouch (56) – Keep an eye out for a cheap Brad Crouch once he reaches peak fitness, we could have a bargain on our hands!
Sloane (74) – Perhaps Rory won't ever become a fully fledged Fantasy Premium. Way too many scores like these! Stick with him in draft league's but I wouldn't back him in Fantasy…
*Intermission 2*
Blakely (46) – One mans trash is another mans treasure they say. Unfortunately he's hardly making enough coin at this stage to even be labelled a cash cow. Could be dropped this week.
Sheridan (52) – This is the last time I'm mentioning this bloke ever. EVER. Cya.
Barlow (59) – I was SO close to bringing Barlow back in this week, but couldn't bring myself to do it. Thank the holy lord for that, a role change isn't the only factor in a players fortunes. Ability still tends to play a part…
Robinson (67) –  Yes, there's more! Robbo saved his score in the second half, mainly thanks to Rockliff's injury. I think this is a sign of things to come with Beams back, drop him ASAP.
Hanley (57) – More rubbish. Is it too much to ask for just a little consistency? 144 followed by a 57, that's 2016 in a nutshell. Shocking!
Rockliff (33) – At last we reach the end of the road. Scroll down to a particular section where you can find what you're looking for. There's not much I can say to heal the pain of a thirty-three, especially if it was doubled. Nor can I stop him from bleeding cash. I can't really offer you an alternative at that price, but I'd be going Jordan Lewis myself… Can someone give the Pig a break!!!!!
Nominations time…
Gibbs – Averaging 30 disposals, 6 tackles and 124 points per game over the past 3 weeks, Gibbs was a bargain selection for your Round 1 squad!
Gawn – Big Max does it all! He gets plenty of the footy, he wins 50 hitouts per game, he tackles like a machine and he even bags sausage rolls! Well worth your votes.
Riewoldt – I'm going to keep nominating him until Roo wins it, a shoe in for my vote every week! He's averaging a lazy 13 marks per week at the moment, do the maths… Gun.
S.Martin – Get in! 22 disposals and a monster 51 hitouts helped Stef to his first ton of the year, expect many more to come. A worthy nominee for those that stuck with him!
Zaharakis – Zaha just keeps getting it done, another 33 disposals and 2 goals in a losing team. Get around him!
Who gets your vote?
This Game Sh*ts Me
Sometimes life just isn't fair. Every serious coach in the game would have wanted to get Rockliff into their teams last week (Don't lie), just some of us had bigger fish to fry. I was in that boat, I had Clayton Oliver on my bench I thought it a waste to upgrade another midfield spot. Thank you Melbourne and thank you Josh Smith. Let's be honest, if you didn't get Rockliff it was complete ass. Most of the time this game is complete ass. Now half the competition if left with a $468k problem to fix, and if you captained him… *Shudders*. This game SHITS me.
The Other Bits and Pieces
2022. For once Sunday was good to me, but I'm not proud as to why. On Saturday night I had a distinctly average score, mainly thanks to the service of my beloved Yeo and my Dons. Yesterday Riewoldt more than quadrupled Rockliff's score, propelling me back into the top 2k. When you're left with guys like Fantasia and Leuenberger, you need all the luxury trades you can find! I'm sure many failed to dodge the big bullet like I did, so give me your tales of woe and how you reversed trades to Rockliff in the 11th hour. I'll be waiting!