Ripe for the Picking – The Rocky Trade
It's time to get the Rocky trade chatter going!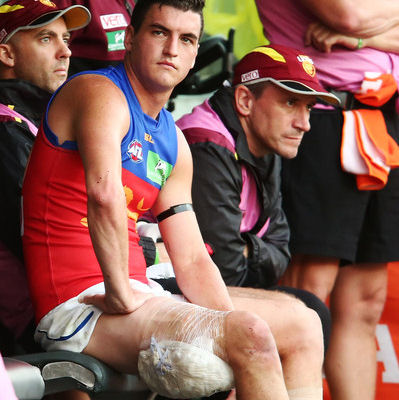 For 18.53% of teams it is a sad Monday. The GOAT has gone down again with another injury. That's right, for those of you living under a rock, Tom Rockliff ($462,000 BE 122) is out again with another injury and while Leppitsch says it will only be for a week or two (source), the main man has to go, especially as he has a high(ish) breakeven and just can't seem to get a good run at it. I was only going to do this article every four weeks as not a lot changes for mid-pricers weekly but I felt this disasterous week deserved an article to put you all at ease.
Please note: While this article is about Rocky it can be used for all midfielders, just none of them are as big of a deal as piggy 2.0.
I have sorted the following into two categories: Upgrade and Sideways. I've done this because Rocky is in a very difficult price bracket considering he has such huge scoring potential but such a low price, so I figured you would be chasing:
A replacement to score similarly to what Rocky can.
A replacement at a similar price because you don't have the cash.
Please remember I cover the $250,000 – $550,000 price range.
So, without further ado.
Upgrades:
Just quickly, while he falls slightly outside the range, Tom Mitchell ($555,000 BE 102) is worth serious consideration. You can lock the gun in for the rest of the season and he just accumulates week in, week out. Seriously consider.
Bryce Gibbs ($525,000 BE 55) – My number one upgrade option, just. Gibbs has a last 3 of 123.7, a low score of 80 and a next 5 of Port Adelaide, North Melbourne, Geelong, Brisbane and St. Kilda before having the Round 13 bye. It's his next run that gets him just over the line of the next option, hence the "just" in the first sentence. I started with Gibbs and then trading him out to have enough money for Toby Greene before Round 1 lockout. Yes, I'm an idiot, it has cost me and I've regretted it ever since. Gibbs has been a bit sporadic over the years with his average, so there's a chance it could go downhill, especially as his last 3 tonnes have come against sub-par teams in wins. If you've got the cash, go to Titch, if you don't quite have that much, Gibbs is a cheap set and forget option provided he doesn't lose his touch.
Stephen Coniglio ($537,000 BE 60) – So, here you go, somebody who hasn't been spoken about since his rookie year. Coniglio has actually been pretty incredible this season and has flown way under everybody's radar except for me, I managed to get him in my Ultimate Footy keepers league this season and he just continues to amaze. His last four scores are 129, 119, 123 and 113 making an average of 121 and he has the Round 15 Bye! The only negative I have about Coniglio is that he is unproven making him a bit of a risk but, as far as I can see, it's definitely worth it. The only reason he is behind Gibbs is the 12k extra you have to pay, the risk factor and his next 5 are slightly more difficult than Gibbs'. It's very slight and, if you think Stephen is a better option I don't blame you in the slightest.
Leigh Montagna ($540,000 BE 130) – DPP. That's all I have to say. Okay, well not really, but DPP helps Joey's case a huge amount. He may be getting on a bit in age but Montagna still finds the pill just as much as he used to. He does have four scores below 100 but two of them were 98 and 99 so you may as well count them as tonnes too. A last 3 of 84.3 has his breakeven fairly high so it's probably worth waiting a week on him but we don't have a week so this week may have to do. I've been thinking about getting Montagna for a while now but there's been too much carnage in my team to even consider it, but a potential Top 6 forward at 7.46% ownership is probably worth it.
5 To Consider:
Tom Scully ($521,000 BE 101)
Bernie Vince ($515,000 BE 101)
David Zaharakis ($532,000 BE 92)
Josh P Kennedy ($517,000 BE 93)
Jack Viney ($525,000 BE 76)
Sideways:
Jordan Lewis ($484,000 BE 103) – The fallen superstar has just gone from bad to worse over the past few weeks, until the Hawks started playing proper footy again, albeit against Richmond. I'm not sure if Mitchell being out appealed to Jordan or what really happened but he actually seemed like himself, tearing the opposition apart with his trusty left foot and racking up 28 disposals for 117 AF points. The bit that impressed me though was his 7 tackles. When you can't find the ball you can still smash the person who does have it and it seems that Lewi has worked that out. I'm hoping it's not a one-off but he does have a favourable draw coming up with Fremantle, Sydney, Brisbane, Melbourne and Essendon. I'm just not really sure what got into Lewis though. Was it the fact Mitchell was out and he felt he needed to step up? Did somebody speak to him during the week? Or maybe he just worked out how to get fantasy points again? Either way, Jordy is my in for Rocky, he's a proven premo who has been out of form and is now cheap as chips, get on board I say.
Mitch Duncan ($485,000 BE 65) – Value, value, value. If you don't have him, why not? If you remove the 16 from Shane Mumford flattening him, Mitch is averaging 106.5 this season and only has 8.15% ownership and I have no idea why. He's much less of a risk than Lewis as you can pretty much guarantee 100 from him every week whereas I'm really not sure you can do that with Jordan at the moment. Geelong have Adelaide, Collingwood and Carlton in their next 3 so his run shouldn't be a problem and, by the time they play GWS in four weeks I wouldn't be surprised if he was priced at around $550k. I already wrote a paragraph about this guy in my last article but he is seriously so much value you need to consider him. Definitely the least risky option to replace Rocky.
Seb Ross ($497,000 BE 90) – POD alert! 2.52% ownership, 99.4 average, high score of 127, low score of 70, there are a lot worse options out there! Definitely unproven but how long do we wait before we consider a player proven? He's not a premo by any means but he's a good stepping stone and, depending on consistency, you could do worse than keeping him! After next weeks away game against West Coast his draw looks great with Essendon, Fremantle, Adelaide and Carlton all before his Round 13 bye. While Jordan Lewis was my Monday rage trade I'm sure I will switch between Seb and him countless times before lockout (I already have Duncan). They're both risks but they're different types of risks, an out-of-form premo or a pre-premo taking big steps towards becoming a premo? The choice is yours.
5 To Consider:
Marc Murphy ($451,000 BE 79)
Jarrad McVeigh ($460,000 BE 87)
Jimmy Bartel ($457,000 BE 55)
Dale Thomas ($432,000 BE 47)
Matthew Wright ($430,000 BE 70)
So there you go. At the moment my trades are Rocky/Wells – Lewis/MacPherson which pockets me a HUGE amount of cash and sets me up until bye rounds. I wouldn't recommend it in the slightest but I wouldn't blame anybody for trading Rocky down to MacPherson after the week we've just had.
I hope the article helps with your Rocky trading. Any questions, hit me up on Twitter @Sparksy361. Hope your week is better than last round!
Happy premo picking!