The Friday Scramble: Round 7
Just as we are trying to get some of our players upgraded we have the problem of injuries! What are we going to do? Well first things first. Let's scramble!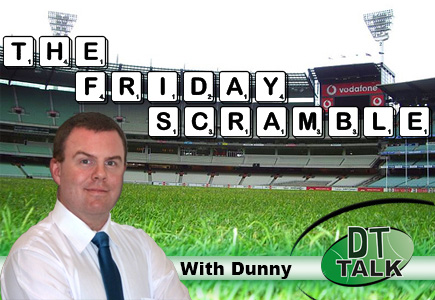 Rookies, Carnage and returning Premo's!  What a bloody week we have ahead of us!  There are so many things that we need to consider this week that I am sure we won't all get to do everything we need to do done.  So, we simply need to prioritise what we do with our teams.  So, let's have a look at things as we Scramble!
Injury City!
Just when we thought things were going ok and we have had a few injuries and then we cop a heap more of them!  Rory Laird is now out for 2-3 weeks with a fractured toe.  In AF you can certainly trade him out, however, if you have rookies that are going to start leaking cash and adequate bench cover you could hold him still.  But in SC and RDT I will be holding Laird.  Limited trades and it being only 2-3 it isn't worth using a trade on him.
Down back we also have the issue of Jacob Weitering who is also out for 2-3 with a shoulder injury.  In regards to him, I would be trading him out in all forms of the game.
Luke Hodge has also been announced as out for 4-6 weeks so he is a must trade in all forms of the game as you simply can't carry that sort of value on the bench for that long.  Speaking of out for a long time, Matthew Lobbe is out for at least 12 weeks with a knee injury he copped in the SANFL on the weekend.  He also must be traded out (he wasn't performing anyway so this is a handy excuse to trade him), this does give Dougal Howard a bit better job security.  Speaking of the Power, Robbie Gray is also out for another couple of weeks.  In AF he can be traded out, but in the other forms you can probably keep him if you think it will just be the two.
Rookie Upgrade Time!
Whilst we have some injuries there are other issues afoot, we need to still trade out some rookies before they start losing some cash.  As you would have seen on Wednesday Jeppa gave us some great advice in regards to our rookies.  There are some that must go.  And to be honest I completely agree with his assessment.  Below is some of Jeppa's details with my take on the guys he talked about.
Weitering must go first.  He is injured as mentioned above.
Menadue (Fwd/Mid. $245,000, 56 be AF. $246,300, 53 be DT) has been struggling and must go.  The Tigers have Hawthorn then Sydney.  A tough run.
Dea (Def. $300,000, 64 be AF. $299,400, 81 be DT) Dea is struggling to keep up any form of scoring and will start losing money now.
McDonald-Tipungwuti (Def/Fwd. $290,000, 48 be AF. $284,300, 52 be DT) isn't the worst rookie at the moment, but if you have none of the issues above then he should be on your list.
Parish (Mid. $359,000, 84 be AF. $331,100, 65 be DT) is an interesting case.  He has now been listed as "rested" so the key here is that he won't drop in value this week.  So if you have multiple issues you can afford to hold him.  If you have adequate cover for him, you can consider holding him.  However, this doesn't also come without risk.  If you do decide to wait until next week, we don't know what will happen.  You may have two injuries to key premos which would mean you are stuck with Parish.  This is a tough call if you are keen on unloading him.  If I had nothing else to do this week I would trade him out.
Go back and have a detailed read of Jeppa's Juniors to get all the details, including who to bring in.  Let me just say that the name Smith should be at the highest point of your list of people to bring in.
Click here to subscribe on iTunes.
Selection Table
Ruggles is back!  So if you kept him, he will finally start making some more cash for you.
After some tonsillitis last week that caused him to be a late out, Yeo is back in this week.
Not surprisingly Ryan Davis has been omitted by the Suns.
Clayton Oliver gets himself another game.  I know a few people have held him with his BE of 32 in AF and 7 in RDT.  He should be able to beat those, but may need to be traded out in AF next week, conveniently his teammate Petracca will be looking for a spot in your side then!
Brad Crouch finally returns for the Crows.  Many have had to hold him due to a number of other issues with their sides.  It will be a tough week for him against the Dogs at Etihad.
Taylor Adams is set to miss another week.
And leaving the biggest name to last… Dayne Beams is back for the Lions.  The big question that remains to be answered is what impact will his return have on Rocky and Zorko. 
#AskDunny
@pkd73 @DTTALK Being a Port man, what is Dougal Howard's job security now that Lobbe is out??

— Alex (@AlexGough09) May 5, 2016
Now that Lobbe has gone down for around 12 weeks Howard is likely to keep his job.  However, I won't be surprised to see him get a rest after 4-5 games in a row.  I don't see him as being a huge scorer, but should be a consistent scorer.
@pkd73 DBJ's job security? Named on extended bench

— Ariel Zelwer (@AZelwer) May 5, 2016
Was pretty much Port's best the week before and was very handy last week.  He should be fine.
@pkd73 @DTTALK trade in hanners and 1k or rocky and 72k?

— jacob danias (@danias2000) May 5, 2016
Hmm… tough call this one.  The only thing that stops me picking Rocky here is that I am concerned about his status with his injuries.  Last year we all traded him back in only to see him go out again.  If you are confident about Rocky's fitness then I would go that option.  However, there is nothing wrong with Hanners.  The leftover cash with the Rocky trade is also very attractive.
https://twitter.com/darcylecornu/status/728172863555969024
Not sure which Crouch you are referring to there.  Brad is back this week, so if it is him that may change your mind.  However, despite that I am a bigger fan of your second trading option there.  It gets you in a premo and a gun rookie who should skyrocket in price.
Things to Remember
Only two Sunday games this week due to Mothers Day, so those playing SC with its rolling lockout remember there are two twilight Saturday games this week.
Now that we are in the midst of upgrade trading, start to (if you haven't already) have an eye on the bye rounds and what that means as a part of your trading.
There has been plenty going on in the footy world this week.  Make sure that you have got your teams set and are ready to go for another huge weekend.  Keep an eye out for any late changes tomorrow.  Best of luck and catch you all again next Friday!  @pkd73