Versus: Round 7
Tom returns for another week of putting players head-to-head in Versus.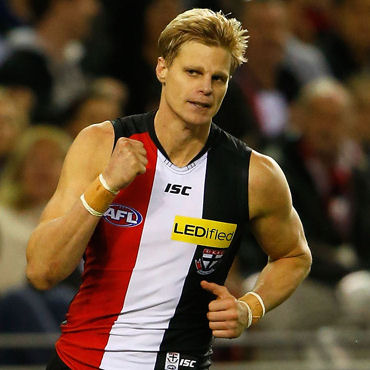 Tom returns for another week of putting players head-to-head in Versus.
Dayne Zorko ($542,000) V Nick Riewoldt ($541,000) V Jarrad Waite ($523,000)
Arguably the form forward of the competition so far, Brisbane's Dayne Zorko is shaping as an excellent Fantasy option. After missing the first round through suspension, Zorko hasn't missed a beat in his five games, averaging 112 points including a massive 148 against the Swans on Sunday. 'Zork' as labelled by team-mates, is a lightning quick midfielder or small forward but is full of determination and courage. Despite being the Queensland under-18 skipper, Zorko was overlooked in the 2007 draft, but dominated the QAFL the following season, winning four best-and-fairest awards with the Broadbeach Cats. Unfortunately this was still not enough to catch the eyes of AFL recruiters. This could be put down to Zorko's physical side. At just 174cm and 76kg, the 27 year-old was thought to have simply been too small for the elite level. In a true show of his distinct courage and determination, Zorko tore it up in the NEAFL (at times a deceiving statement) and was rewarded with the Football Record Player Of The Year accolade. He also won the Zane Taylor Medal (the best player for his team in interstate matches) and came in the top ten of the Grogan Medal (QAFL Best And Fairest) three times. Finally, Gold Coast recruiters took notice and snapped him up with a priority pick which was then traded to the Lions. Since then, 'Zork' has gone from strength to strength. He cemented his name amongst the games top young players in his debut season, averaging a flashy 94 Fantasy points if you don't mind! He backed his breakout season up with averages of 73, 87 and 90 in the next three years. Although Zorko has never averaged over 100 points before, his current form hints a change in script. In many ways, Zorko is a complete player, having averaged 25 disposals, 4 marks, 6 tackles and a goal so far this year. He doesn't have to rely on a certain statistic to be able to score well – an excellent sign for Fantasy coaches. Whilst the likes of Martin, Barlow and Gray have endured up and down seasons, Zorko has emerged as a consistent point scorer, who won't be tagged (especially with Beams returning from injury) and has a reasonably high ceiling as well. The Lions face Port Adelaide (A), Collingwood (H) and Melbourne (A) in coming weeks so expect more scores of 100+. Currently owned by under 5% of coaches, Zorko has all the attributes, but will his stocks drop given the added expectation from Fantasy coaches?
What a champion Nick Riewoldt is. His six best and fairest awards, five All-Australian selections, and the 2002 Rising Star award says it all. Also St.Kilda's leading goalkicker four times, 'Roo' has been a leader at the Saints for numerous years. At 193cm and 96kg, Riewoldt has excelled playing as a key forward for the vast majority of his illustrious career. However Riewoldt's best and most useful strength is his elite endurance. Being able to outrun even the quickest of defenders has enabled him to push up onto the wing and at times, into defence. The number one pick from 2000 is also full of courage and his marks running back with the flight of the ball have become a signature, although it has resulted in a series of injuries. His career best individual statistics of 31 disposals, 18 marks, 7 tackles, 9 goals and 164 Fantasy points are unheard of amongst key forwards. In round one of the current season, Riewoldt was restricted to just 55 Fantasy points against the Power. As true champions do, Roo bounced back the following week where he tallied 23 disposals, 14 marks, 1 tackle, 2 goals and 119 Fantasy points. Unfortunately, Riewoldt suffered yet another concussion in the round three clash with Collingwood. Despite playing just 39% of the match, he was still able to collect 11 disposals, 9 marks, 1 tackle, 2 goals and 71 points. In true Nick Riewoldt fashion, the concussion wasn't enough to keep him at bay the next game though. Playing 98% of the match (his highest for the season so far), the Saint scored 123 points in a narrow loss to Hawthorn. Riewoldt's current highest score for the season came against the in-form Giants where he was simply brilliant, gathering 25 disposals, 11 marks, 3 tackles, 4 goals and 137 points. By now, Fantasy coaches simply had to take notice of the seasoned veterans scintillating form. Those who did were rewarded with a third consecutive score of 120+. Is there any key forward who gets more of the ball than Riewoldt on a consistent basis? At this stage, Roo is ranked the top key forward when it comes to average disposals per match but also contributes regular hauls of 10+ marks. In fact, 29% of his total points in 2016 have come from marks. With a BE of just 61 and current ownership rate of below 3%, why wouldn't you trade in Riewoldt?
In pre-season, numerous coaches took it upon themselves to try and map out who the top players in each line would be. It's safe to say Jarrad Waite did not feature in these lists. But the former Blue turned Kangaroo has, so far, silenced all the critics (of which there were many). At times, Waite showed glimpses of brilliance but was never far away from injury, suspension… or being dropped. At 194cm, Waite has spent most of his career in the forward line, with occasional stints down back purely as an experiment. Since joining North, Waitey is on track to produce his second successive career best season, fantasy wise. When comparing this seasons statistics to those of his entire career, the results are very impressive. Waite is currently +3.3 in disposals, +1.5 for marks, +1.8 in tackles, +2.2 for goals kicked and +34.1 on his career fantasy point average. Even more amazing is that he is the 4th highest averaging forward (the highest key forward), the 6th priciest forward and has risen a whopping $113,000 in price. Now priced at $523,000, Waite is coming off his sixth score of above 90 – not a statistic generally associated with Waitey or any key forward for that mater. Yet despite this amazing form, his ownership currently sits at under 4%. I get a sense that coaches are reluctant to bring in Jarrad Waite simply because it is Jarrad Waite we are talking about. He's just as likely to 'spud' it up for the next month as he is to continue this rich vein of form. Up next, the undefeated Kangaroos face St.Kilda, Essendon and Carlton all at Etihad Stadium. On average, the Saints have leaked 1624 points against (ranked 14th), 3.8 100's against (ranked 12th) and 1.1 120's against (ranked 11th). Last weekend, St.Kilda allowed Jesse Hogan to kick 7 goals on his way to 118 Fantasy points, so there should be some points on offer for one of the leagues in-form forwards. It requires a lot of guts to trade him in given his recent history, however Waite is scoring like a midfielder at the moment. Top 6 forward, maybe, but I'd think he'd be move likely to feature in the top 10.
Verdict: Two seasoned veterans who are proving age is just a number or Zorko who is thriving after a long road to the big time. The three have some aspects in common though. All are averaging over 100 at this early stage, are priced over $500,000 and have an ownership rate of below 5% – making them unique picks. Like Adelaide's Scott Thompson, Riewoldt is perhaps unfairly underrated in Fantasy, despite his incredible record. He also has the best form of any player from the past three weeks. Zorko, plays the more Fantasy friendly role, pushing through the midfield, and his scores have reflected this whilst Waite is the riskiest option of the three but does have some favourable fixtures coming up. All are decent options but in order I'd go Zorko just ahead of Riewoldt then Waite.
Loading ...
Josh Smith ($203,000) V Ben Keays ($188,000)
When the teams for ANZAC Day were released, its fair to say Mason Cox stole the headlines. The lanky Yank was hyped up before hand and performed well on the big stage, however 21 year-old midfielder Josh Smith flew under the radar on debut. An elite endurance, allowed Smith to play mostly on the wing where he collected 23 disposals, 3 marks, 4 tackles, 1 goal and 89 Fantasy points from 76% TOG. Although some coaches in need of a playing midfield rookie jumped on Smith for this round, it was still considered a risk to bring him in as his job-security was still relatively unstable. However, owners would've been extremely happy with his performance which saw his price rise $28,000. Despite his encouraging debut game, waiting another week to prove he is a worthy option, was a sensible choice. In round 6, the Magpies were comfortably beaten, but Smith again was one of their best players – announcing himself as a leading downgrade option. For a bloke playing just his second game of senior footy, Smith showed excellent signs, managing 29 disposals, 4 marks, 2 tackles and 97 Fantasy points. Now, after two excellent games, Smith will have to absorb the pressure of having over 14% of Fantasy coaches urging him to replicate these scores. Those 14% of coaches, of whom most will have Smith on-field, should not expect scores of 85+ but rather consistent 70's, with the odd 90 maybe. Smith plays a role where on a good day, a big score beckons, however it could also lead to a poor return. In saying that, for the time being, it may be worth playing him at M8 for a few weeks given Collingwood's promising upcoming fixtures and the fact that consistent rookies are about as hard to come by as water in the Sahara desert. The famous black and white outfit next face arch rival Carlton at the MCG – a venue where they play six of their next seven at. Carlton have been fairly restrictive so far, allowing an average of 1598 points against (ranked 9th), 2.8 100's against (ranked 7th) and 1.1 120's against (ranked 10th). Brisbane at the Gabba, followed by Geelong at, you guessed it, the MCG could see a fluctuation of scores. Whilst Brisbane have been easy to score against, Geelong are one of the top ranked teams when it comes to points conceded. So will Smith become the latest rookie to top out earlier than expected, or will his price continue to climb thanks to solid scores and a round 7 BE of -39? We'll soon find out but for now, stick him on your field with reasonable confidence.
Brisbane midfielder Ben Keays was called up for his debut last weekend after impressing for the Lions reserves in the NEAFL. A member of the Brisbane Academy, Keays is a ball magnet who plays predominately as an inside midfielder but also has the ability to push forward. The 18 year-old was selected by Brisbane with pick 24 after the Bulldogs originally placed a bid on him. Keays captained Queensland's under 18 team and averaged 29 disposals throughout the tournament. At 185cm and 82kg, Keays, unlike many recent draftees, is well built and able to match up against men. Club legend Simon Black was full of praise for Keays in pre-season, stating that he had adapted well to the AFL lifestyle. Against the Swans on debut, Keays spent the majority of the game across half-forward, collecting 11 disposals, 8 tackles (which made up 50% of his overall score) and 1 goal from 78% TOG. A slight concern was the fact that he didn't take a mark, however it was a wet day where his 8 tackles proved crucial. His 64 Fantasy points was enough for a price rise of $12,000. Starting as a higher priced rookie, many expected Keays to break into the senior team earlier in the season – especially with fellow draftee Rhys Mathieson rubbed out for multiple weeks with a broken cheekbone. As mentioned earlier, Brisbane face Port Adelaide (A), Collingwood (H) and Melbourne (A) in coming weeks. For what's it worth, Richmond's main midfielders Shaun Grigg (133), Brandon Ellis (115), Dustin Martin (114), Brett Deledio (91), Anthony Miles (73) and Trent Cotchin (57) combined for an average of 97.1 Fantasy points against the Power, so perhaps an improved score of 75 is within reach for Keays this week. Also worth noting is that there is currently a 90% chance of rain forecast for Adelaide on Sunday (when the two teams are set to compete). Although, it's probably a bit too early to judge his job-security, one would think its reasonably strong as Brisbane's depth looks shaky at best and they traditionally like to get all-important game time into their youngsters. Keays is a future gun and, In my opinion, a solid option for the mid bench.
Verdict: Keays and Smith are arguably the top two midfield downgrade options this week. However, Smith surely has to be the top priority thanks to an excellent entry to the national competition. He in particular looks like a great accumulator of the ball, a trait which is needed in Fantasy. By now, many coaches will only have one or maybe two rookies occupying the M7/8 positions. I'd be confident with Smith if your after a rookie to play on-field for a few weeks until an upgrade becomes available. Keays on-field may become a liability but he's still a good option. Smith for me.
Loading ...