Calvin's Captains – Rd. 7
BANG – Finally the pirate has nailed some top picks for us and he's up and about. A NEW UPDATED TOP 5! READ NOW!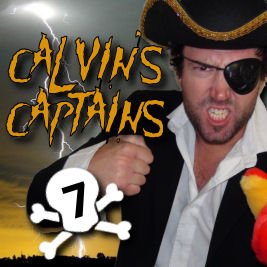 I CAN SMELL BACON
This is the week that many Fantasy coaches will cooking up some bacon on Sunday afternoon, to watch our beloved pig, Tom Rockliff fire up once again. He had 132 last week and looked back to his best and at his price he is a MUST have this round, especially as he plays the Power.
In his last two games against Port he has scored 90 and 133 but it's what other teams have been doing to Port that gets me going here. Check out the damage over the last two weeks
Vs Richmond (and they lost) – Grigg 133, Houil120, Ellis 115, Martin 114
Vs Geelong – Selwood 134, Dangerfield 115, Duncan 110, Blicavs 106
Most of those players are premium midfielders, so fire up that frying pan on Sunday arvo and smell that sizzling bacon.
If you can't wait that long, how about you cook up a feast for Lachie Hunter against the Crows on Saturday night. At Etihad (again) he will be amazing after his 44 touches and 133pts last week. He has averaged 114 in his last 3 games and even had 104 on the Crows last year. Last week, Neale (40 touches) 115pts dominated the Crows along with Walters (141) and Barlow (124).
The big issue here though is… how is Lachie feeling? He went to hospital after his game, with delayed concussion. Keep an eye on it, but I think he'll be ok and I'll rank him accordingly.
No doubt he is a piglet, but can Lachie Hunter keep up this very high standard to be the 3rd pig added to the pen?
CAT ATTACK
The boys have been on fire and Joel Selwood has led the way with 126 and 134 in his last two games. He fronts the Eagles this week and he'll be great and so will Patrick Dangerfield.
Selwood has scored 61, 125 and 135 on the Eagles in his last three and should keep his run going again this week.
Dangerfield scored 91 and 142 on West Coast last year and will also dominate again. He has scored 129 and 115 in his last two runs this year and my only concern here is… I think West Coast can win and last week, they made it tough for some of the Pie mid fielders.
However, form is form and both these guys will be awesome.
SORE AND TRADED?
Is it time for Gary Ablett to go? Many question why Gaz has never been given pig status, it's because he gets close and then goes on one of these 'runs' of injury and/or poor form.
He's averaged just 88 in his last three games and many have run out of patience and will use him to get in Rocky this week. I advise against such a move, but we're here to talk captains, not trades, that's Roy's turf and we don't like standing on each other's ground.
So should you make him captain? Based on form… no. But he does play Melbourne at home, a team that gave the Saints 5×100+ scores last week.
A better option though is Aaron Hall. He has a great record at Metricon Stadium and is coming off scores of 107, 94 and 114. Geelong we're tough for Hally last week so expect him to thrive back at home against easier opposition.
FORM – TOP FIVE
#1 – Nick Riewoldt v Kangaroos @ Etihad Stadium
Averaging 129 in his last three games
Too old! Too injured! – YEAH RIGHT!
Voldt has scored 126, 137 and 123 in his last 3 games and is the #1 ranked played in the game based on form. His best score against the Roos in his last four is just 103 but he has form to cover any doubt you might have if you were thinking of giving him the big 'C'.
The Kangaroos though are on fire and are one of the hardest team to score Fantasy points against, so based on this alone, I will steer clear of Voldt and Jack Steven, who hasn't scored over 100 against the Roos in his last 4. Steven even had 70 on them last year… his worst score of 2015. Add to this, a potential tag from the dangerous Ben Jacobs.
You can't touch Toddy Goldstein either. So up and down like all rucks at the moment, he can't be trusted. 64 last week and although he's only up against Tom Hickey, Gawn (88) and Mumford (64) haven't gone as well as you'd expect against him over the last two weeks.
#2 – Lachie Neale v GWS @ Domain Stadium

Averaging 126 in his last three games
In his last four games when Fyfe has missed, Neale has found the ball 40, 38, 39 and 34 times.
He had 115 last week (40 touches) and even had 147 against the Giants last year. He would have made my top 5, but… GWS are the hardest team to score Fantasy points against and this alone gets my alarm bells ringing. Yes… he's on fire, but the Giants beat the Hawks, they are full of confidence and are holding teams to nothing.
On the flip side, Freo are the 2nd easiest to score against and a few Giants are running hot as well. Steven Coniglio ranks #9 on form averaging 118, Toby Greene #10 and Heath Shaw #12. Shaw had 147 on the Dockers last year and is an awesome smokey captain option this week if you have the guts to do it.
#3 – Adam Treloar v Carlton @ the MCG
Averaging 124 in his last three games
If I had a top 6, Treloar would have scraped in. He scored 123 and 133 on the Blues last year at the Giants. Carlton are his favourite team to score against and he will tear them to bits this week.
Steele Sidebottom racked up 96 last week and is still averaging 121 in his last 3 games. He only has one 'captain worthy' score in his last 4 against the Blues.
After 85 last week, Scott Pendlebury looks shakey but has a very impressive record against Carlton, as he does with most clubs. 123, 135 and 128 are his most recent against them and owners like Warnie, will be much happier this week.
#4 – Dan Hannebery v Essendon @ the SCG

Averaging 123 in his last three games
136 last week is about what we can expect again in round seven. He scored 99 on the Bombers last year, but let's face it… he'll easily beat that. Carlton onballers Thomas (131), Gibbs (125), Graham (108), Curnow (102) and Marc (101) all racked up and so will the Swan's midfielders.
Tom Mitchell loves playing at the SCG with previous scores of 132, 111 and 92 there this year. Hanna's get the nod over Mitchell again for this reason… In their last 4 games, Mitchell hasn't had over 30+ touches, whereas Hanna has done it three times.
#5 – Dayne Zorko v Port Adelaide @ Adelaide Oval
Averaging 121 in his last three games
Wowzers. What a trade in if you did it, but only the brave would make him captain. 79, 80 and 77 are his most recent scores on Port but he'll be good again based on what he's been doing.
Stefan Martin should smash Dougal Howard (who is being assisted by Dixon/Westhoff). Hampson went against young Dougal last week and had 39 hit outs for 63pts with only 7 touches. If Stef can find the ball 20+ times, a huge score is on the cards.
CHANGES:
Parker has been too good to be ignored and has scored 111, 114 and 119 in his last games against the Bombers and 114, 121 and 135 at the SCG this year. He had 141 last week and is one of the most inform players in the league. I still have Tom Mitchell ahead of him as Tom can possibly go 150 here and my top 2 picks are locked in stone.
Lachie Hunter gets the boot after his concussion scare last week. Selecting someone coming off 44 touches is a good call, but guys coming off big knocks can sometimes be shakey and hesitant.