Roy's Trade Talk – Round 7
It's time to go shopping with cash cows fattening and premiums bottoming out… including some juicy pork at an unprecedented price.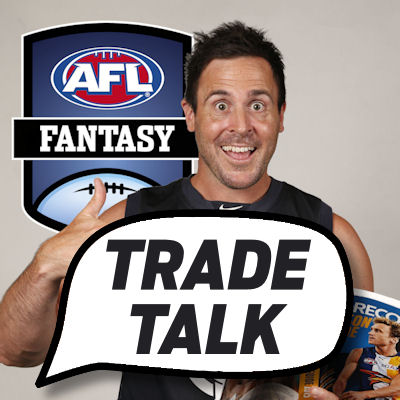 It's time to go shopping with cash cows fattening and premiums bottoming out… including some juicy pork at an unprecedented price.
It's Pig O'clock
To think that Rocky (MID, $498,000) is available for under 500K is hard to believe, but due to injury, we have
been presented with a gift from the Fantasy Gods. If there were any concerns about his calf being 100%, he quickly put those to rest after gathering 32 possessions, taking five marks and laying a whopping 10 tackles against the Swans. He is currently only in 12% of teams and has a break even of 94, which is like a break even of about 40 for most people. He has form against every team at every ground for the remainder of the season, that's why he is a pig.
Other locks to consider:
Joel Selwood (MID, $537,000) Coming off 126 and 134, he is a bargain with a break even of 63 heading for another game at the Cattery this week where he might as well wear a cape.
Luke Parker (MID, $586,000) Going under the radar despite a low score of 96 and big totals of 121, 135 and 141 so far. Has a break even of 89 and a smorgasbord awaits with games against the Bombers at home, before taking on the Tigers and Hawks.

Back Streets Back
The backs are a bloody mess, unreliable, injury prone etc. So the last person I thought would be the answer to this problem was Heath Shaw (DEF, $540,000), but it is official… He is a must have. 38% of coaches are already on top of this, but I am receiving a lot of questions as to whether we bring him in (these are people Heater has burnt hard in the past most likely). This year he is making a mockery of the competition, doing what he likes, taking uncontested possessions galore, as we saw against the Hawks with 11, to go with 32 possessions (including 29 kicks). He scored 135 which gives him a break even of just 63 going into a game against the lowly Dockers.
Top 4 Alternatives:
Bernie Vince (DEF/MID, $517,000) Has been a mark of consistency while averaging 101 in his last three. A stress free set and forget.
Kade Simpson (DEF, $484,000) is averaging 101 in his last three and looks set for a big game against the Pies who are leaking plenty.
Matthew Boyd (DEF, $526,000) Averaging 106 in the last three rounds and Dogs don't have the luxury of resting him unless there is injury concerns.
Shane Biggs (DEF, $464,000) A headache to watch because he goes missing and scores less than 10 in a quarter once to twice a game. Has a huge quarter ceiling where he can heat up for 50 or 60 in that time. If you have a weak heart, avoid, otherwise enjoy the show and hope that one day he puts 4 quarters together.
Piglet
It's like throwing darts at the moment, but Josh Smith (MID, $203,000) looks like he was the bulls-eye. Although only 9% of the competition were smart enough to grab him before rising 78K, the question is… Is it too late now? This is a tough question to answer, and the correct response would vary from team to team, but as far as scoring ability and looking up to the speed of AFL standard, the extra cash is justifiable. Especially if you need him on the ground. He had another great game on the weekend, scoring 97 against the Eagles which gives him a break even of -39 going into his game against the Blues. If he fits your structure, lock him, he will make a heap of cash compared to his rivals.
Is the time right?
Dustin Martin (FWD/MID, $498,000) looked to be back to his old self with the return of his old mate Lids
coming back into the side. Last week he managed to score an equal season high 114 against the Power with 31 touches and a goal. This week he takes on the Hawks, who are giving up a heap of points and Dusty will embrace the opportunity and ton up in back to back games for the first time this year. He has a break even of 96 and I doubt he will be available for this low again during the year.
Twitter Time:
@RoyDT Trading Oliver for Petracca but not sure on getting in Rockliff this week or next week

— Victor Yong (@BigVic_AFL) May 2, 2016
No reason not to get him this week if you have the luxury
@CalvinDT @pkd73 @WarnieDT @RoyDT @JeppaDT should i go blakely despite his score

— cooper beecken (@fantasyrockie) May 2, 2016
He will probably be dropped, who knows
@WarnieDT @RoyDT @CalvinDT @AFLFantasy Next trade, Menadue Tippa or McCarthy to Mason Cox or someone else? Thinking he will make some cash?

— Graeme Marshall (@gmarshall88) May 2, 2016
I think we will have a few young blokes to look at this week as a few teams are likely to 'shake things up'
Ok, good luck! Use the comments section to discuss your trade ideas.
@RoyDT
| CLUB | PTS FOR | >100 FOR | >120 FOR | PTS AG | >100 AG | >120 AG |
| --- | --- | --- | --- | --- | --- | --- |
| ADE | 1630.17 | 2.5 | 0.67 | 1545.5 | 3 | 1.5 |
| BL | 1418.83 | 2.67 | 0.67 | 1630 | 4.33 | 1.17 |
| CAR | 1509.5 | 3.5 | 0.67 | 1598.33 | 2.83 | 1.17 |
| COLL | 1544.67 | 2.83 | 0.33 | 1721.67 | 4.5 | 1.83 |
| ESS | 1668.83 | 4.67 | 1.5 | 1592.17 | 2.67 | 0.83 |
| FRE | 1489.5 | 2.5 | 1.33 | 1693.83 | 5.17 | 1 |
| GC | 1513.83 | 3.167 | 1.17 | 1605.5 | 4.5 | 1.33 |
| GEE | 1646 | 4.167 | 1.5 | 1430.33 | 2.5 | 0.83 |
| GWS | 1646 | 4 | 1.17 | 1429.83 | 2 | 0.5 |
| HAW | 1560.67 | 3.167 | 0.83 | 1612.83 | 2.83 | 1.33 |
| MELB | 1528 | 2.5 | 0.5 | 1610.5 | 4.5 | 1.33 |
| NM | 1583.33 | 3.167 | 1 | 1455.5 | 2.33 | 0.5 |
| PA | 1504.67 | 2.33 | 0.67 | 1672.33 | 4.33 | 1.33 |
| RICH | 1502.5 | 3.5 | 1 | 1601.83 | 2.5 | 0.83 |
| STK | 1661.67 | 3.83 | 1.83 | 1624.67 | 3.83 | 1.17 |
| SYD | 1625.67 | 4 | 1.33 | 1523.33 | 3 | 0.5 |
| WB | 1766.17 | 4.67 | 1 | 1513.33 | 2.17 | 0 |
| WC | 1593.5 | 3 | 0.83 | 1546 | 3.17 | 0.67 |