Inside the Fantasy Numbers – Round 6
Pete looks inside the numbers that matter for Fantasy coaches.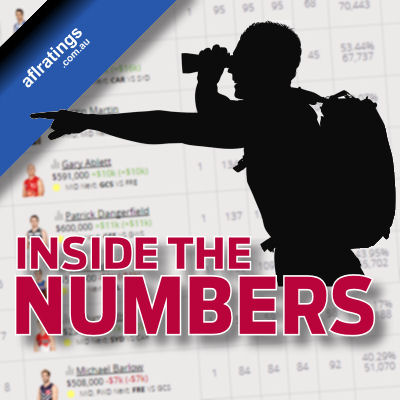 Pete looks inside the numbers that matter for Fantasy coaches.
Just add water
Conditions were ideal at the GABBA for Brisbane & Sydney players that loved to tackle in wet conditions, it was a scoring fest as 11 players eclipsed 100pts or more (6 Players 120+) in amongst the combined 355 Contested Possessions & 197 Tackles.
Who wants a 100pt game?
A whopping 12 Geelong players scored 100pts or more against Gold Coast on Saturday Night, Tom Hawkins enjoyed little resistance from a Suns defence kicking 4 goals and scoring a game high 150pts. Spare a thought for Cam Guthrie, he finished on 99pts.
Hawks easy to score against, believe it or not Ripley
Hawthorn have given up 400+ Disposals in each of the last 4 games, additionally the have conceded an average of 1704.5pts over the same period (Ranked 17th).  The Hawks were Ranked 2nd last year conceding just 1495.9pts during the Home & Away season.
Hot Dogs
Despite losing on Friday Night to Nth Melbourne the Western Bulldogs continued their season long consecutive streak recording 400+ Disposals in each game, the Bulldogs are currently averaging 450.8 Disposals per game.
The Bulldogs scored 1628 team AFL Fantasy points a full  81pts more than Nth Melbourne, considering the Kangaroos were ranked No.1 for AFL Fantasy points conceded heading in to Round 6 this bodes well for the remainder of the season for the Bulldogs continuing their scoring ability.
Average Team Scores – Win: 1674.5
Average Team Scores – Lose: 1486.4
Team Scoring Trends
We are starting to get a full picture of what team scoring will look like at the end of the year, this will make decisions that little bit easier fading players on low scoring teams or taking a POD on a high scoring team.
Highest scoring Fantasy Teams Last 3 weeks
Geelong 1748.7
GWS Giants 1744.0
Collingwood 1698.0
Lowest scoring Fantasy Teams Last 3 weeks
Gold Coast 1353.0
Richmond 1424.3
Port Adelaide 1452.7
Individual Players of Note
Lachie Hunter
Round 6: 44 Disposals & 133pts (Both Career Highs)
Season Ave 111.2
Season Ave Disposals 33.0
Nick Riewoldt
Round 6: 126pts
Rounds 2-6 Ave: 115.2
Season Ave: 105.2
Marks Rounds 2-6 Ave: 11.6
Season Ave: 10.5
Michael Barlow
Last 2 weeks Ave: 131.0
Season: 96.5
Michael Barlow Ave 2015-Current
Without Nat Fyfe: 113.4
With Nat Fyfe: 88.7
Stephen Conigilio
Round 6: 119pts
Last 3 Weeks Ave: 118.3
Season Ave: 101.4
Dayne Zorko
Round 6: 148pts
Last 3 Weeks Ave: 121.3
Season Ave: 112.6
Bryce Gibbs
Round 6: 125pts
Last 2 weeks Ave: 117.5
Season Ave: 102.7
Scott Pendlebury
The 12 game streak for Pendlebury scoring 100pts or more vs Eagles came to an end on Sunday, the streak began in the drawn/extra time Semi Final back in 2007
Good Luck in Round 7