The Weekend Wash-Up – Round 6
Go on everyone, celebrate the return of high scoring. Now that that's out of the way, can we take a moment of silence for our fallen Sunday comrades, yes that includes me.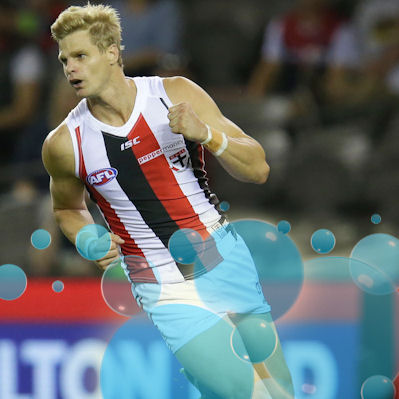 Go on everyone, celebrate the return of high scoring. Now that that's out of the way, can we take a moment of silence for our fallen Sunday comrades, yes that includes me. It was a real case of the Essendon Blues and it has added that much needed spice to what was going to be a light hearted review. Yeah right. It's time for the weekend wash-up!
Legends
Hunter (133) – 44 disposals, Thanks for coming. Perhaps I was conservative with my Deck prediction, but his role is exactly what we expected. He racks up possessions for fun on a wing, and even dropped back to the half back flank this week. I can't deny his +6's in the Dogs defensive 50 gave me a semi, he's not going anywhere from my team! Huge.
Boyd (118) – Boydy should continue to rack up without the Doggies main backman in play, get on board! Safe as houses in defence.
Macrae (114) – Macrae was another who seemed to benefit from the Dogs injury woes. He isn't attending centre bounces like last season, but collected plenty of cheap ball on the wing. I'd like to see him in the guts as I think he's under-rated in contested situations, but he's certainly value at $__k.
Riewoldt (126) – ROOOOOOO! There was a stage where I thought my captain was going to blast through the 150 barrier, but I'll settle with a 120+! He's a freak, if you like +6's then get him in ASAP. He's almost out of reach already… Talk about a differential.
Acres (126) – Blake Acres was a popular choice for Round 1 amongst the more serious Fantasy communities, this must hurt! For some reason he hasn't been able to nail down a spot in the side, this performance should do the trick. Cash train incoming.
Viney (116) – Viney and Hogan seriously carried the Dees this week, Jack is producing the type of scores he promised during pre-season! Unfortunately there's a few shockers to deal with in-between, ride the wave until Viney peaks in value, then set him free.
Sloane (135) – I tossed up trading in Rory this week but feel he relies too much on his tackling. He didn't disappoint his owners, smashing out a monster score that makes a mockery of his price tag. 23 uncontested disposals is a change for him, I'm not sure whether that trend will continue. Gun.
Barlow (124) – It's confirmed, the real Barlow is back! The Fyfe injury is a crippling blow to my side, not only did I lose him but everyone gained Micky B after I'd traded him! He should look to average 105 from here on, he'll be a top 6 forward but don't do anything silly to get him in.
Neale (115) – Say what you like about his disposal, Lachie Neale knows how to find the footy. It's not the first time he has racked up 40 disposals and it won't be the last, a Fantasy gun for the next decade!
Shaw (135) – Crazily, many coaches are still on the fence as to whether Heath Shaw is a good option in defence. Hello?! He's averaging 107! If you don't own Heater you're doing Fantasy wrong, simple as. There were SO many GWS players that could have made the legends category, unfortunately I don't have all year to cover them. I'd like to see some consistent scoring first but boy they looked good!
Houli (120) – I didn't see the game but judging by the scoreline I'm guessing this was more classic Houli junk? I don't know if I could go through the highs and lows of owning him, it's a lot of volatility for an average of around 90! Still, you take it.
Geelong – How am I supposed to list off these winners without writing a novel?! 2020 DT points (Average of 92) is the 10th highest team haul of all time. 12 players cracked the ton, an equal record. Damn you Guthrie (99). Here are the notables… Hawkins (150), if only they played the Gold Coast every week. Dangerfield (129), we all know he's capable of such destructive performances, unfortunately there's some questionable ones in-between. Selwood (126) is looking fantastic, but I still have my reservations. I can't see him ever breaking through the 105 average barrier, perhaps I'm being stupid! Menzel (122) was awesome AGAIN, this ton taking his 3 round average to 99. What a selection he was @260k! Jet. Where was that kind of junk in Round 1 Bartel (121)? The fact that he only filled 3 stat lines tells you all you need to know, he's just not getting involved enough to be relevant. Lastly Duncan (109) was awesome for his new (and old) owners this week, he loves a +6. I'm not convinced he can average much more than 100, but he'll be a more than handy stepping stone to a fallen premo.
Parker (141) – Parker was missing for most of the first half, so to finish my game and see him on 141 had me re-checking my phone screen. I saw someone call him fools gold in the first quarter which was crazy talk, but I didn't see that coming… What a jet.
Hannebery (136) – Screw you byes! I had Hannebery locked and loaded as captain on debut for me when I thought it best to check my bye structure… What had started at 10-10-10 in Round 1 had become 10-15-5… Yikes. I couldn't afford another Round 14 midfielder, but maybe they're the only ones with ability… Gun.
Zorko (148) – WOW. Zorko has been fantastic all season, but this game took things to a whole new level. 33 disposals (25 kicks) and 7 tackles, what a machine. I'm not complaining with my Riewoldt choice, but Zorko has been just as good. Sadly my forward line is the only reliable scoring source for my team, he's a great pickup if you can squeeze him in.
Rockliff (132) – The king is back! Rockliff is ripe for the picking this week, you're doing Fantasy wrong if you don't make him a priority. Hanley was awesome for Brisbane as well, but not seeing his second half and based on him being a sole midfielder, I'd pass.
Gibbs (125) – I didn't see any of this game and I'm seriously glad that's the case. I can't comment on any of these scores though, I'm guessing Gibbs and Thomas were everywhere? Shame they don't play Essendon every week.
Losers
Adams (53) – Thanks for your service Marcus but it's time to go. He made some noticeable clangers and wasn't clean with the ball at all. This is his third consecutive score of 50, he's given us great service but move him on!
Liberatore (59) – Many will be thanking that final NAB challenge game, a sick part of me wishes that 40% of the comp had started him!!! No good.
Goldstein (64) – Goldstein really channeled his inner Shaun Hampson this game. It's been hard to watch Goldy going huge, but there's no doubt ruckman are having a tougher time of it this season. Gawn and Goldy have proved we'll have to just ride the rollercoaster! Make it your final upgrade position, that is unless we get the Big Man as a bargain!
Kent (43) – K*nt.
Frost (29) – It was fun while it lasted, albeit 5 quarters. After scoring 6 points in the final 3 quarters it's hard to see him making more cash, but somehow Frost maintains his spot in Melbourne's side. You only need to ask Sam to understand how important 'team balance' is, it's making him a living!
Blakely (45) – This was a wake up call for those double downgrading! Sure a few rookies have starred on our fields, but you're playing Russian Roulette everytime you gamble on a new youngster. I'm confident he'll offer us better than this score in the weeks to come, but this wasn't a great start.
Tucker (43) – This was… Bad. I really don't know what to tell you here, Fremantle are just dead average and their youngsters will have a tough time of it.
Sheridan (42) – This was worse. Let's be honest, I love to say I told you so when I actually get something right, so I'll do so here. Round 1 was a fallacy, and I can't believe the amount of times I've heard about his great pre-season. He scored 70's and 80's?! Get rid.
Dawson (22) – I'm going to start offering a reward for the person who can find out what Zac Dawson is holding against Ross Lyon. That has to be the case surely? He can't play football?! Confusing.
Crouch (65) – For the first time this season Matt Crouch is set to lose money. He just hasn't made the step up we all thought he might, it's time for him to go.
Menadue (50) – He may as well not be playing anymore, Menadue's time is well and truly up. Cya later.
Cotchin (57) – I'd have a go at his score but what's the point? Yes he was injured and yes the sh*tness score may have been magnified, but that doesn't change the fact that we'll never see 2012 Cotchin again. R.I.P.
Ablett (90) – Damn Gary, back at it again with the 90's. I thought he showed signs that he is physically OK, it's just a form slump he's in. Sure he's not quite living up to standards, but do you really want to trade him and chase points? I think we all have bigger priorities, plus Gaz will bounce back soon enough.
Wright (22) – 7 foot (Already sick of 2 metre) Peter didn't quite deliver this week, in fairness Gold Coast didn't enter inside 50 that often. I'm going to hope no one fell into this trap, I guess he might make a few more $$$.
Davis (42) – Unfortunately Ryan Davis won't be making any more $$$. Thank you and goodbye.
Martin (33) – Jack Martin can be symptomatic of the Suns. Incredibly talented and brilliant on a good day, but horridly inconsistent and open to dropping his head. Not good enough.
Hawthorn – My god. Supposedly the best Fantasy scoring side in the comp, the Hawks averaged a woeful 56 points per player and there was some seriously poor displays amongst them. Lewis (58), is he being serious? Three scores of under 60 in the past 4 weeks… Not sure if he's a fallen premo or a former premo. Isaac Smith (39), how can a midfielder score so horrifically? I was honestly considering him for a second last week, the only reason you'd know I didn't do it is because I'm here right now writing. I'd be gone. Duryea (51) has been woeful, whilst Hodge (63) is doing exactly what I thought he might last year. Only this year I took him in every Draft available… Finally, who knew. You tag Mitchell (66), you hurt Hawthorn. Which genius thought of that idea? Horrid performance, let's hope they bounce back and provide some value!
Harwood (42) – Sadly I don't have unlimited trades to fix up every mistake, so Harwood got a reprieve. This was his week to stand up with Yeo out, and here's some breaking news… He's still sh*te.
Dea (38) – Can someone check if there's a pulse? No? Oh well, time to get the shovel.
Tipungwuti (41) – Again, I didn't see this game and in some ways it was a blessing, but I'm in no position to say what to do with these players… What happened? Walla's BE is low enough to buy him one more week, but his time is up.
Fantasia (53) – Sigh. Fantasia has looked awesome for 3 weeks running, but once again I'm left asking… WHAT THE HELL HAPPENED? I've got no choice but to stick with him for now, thank god for McVeigh's plummeting price or we'd be stuck with him.
Weitering (28) – This is rough luck. I was hearing rumours that he had a shoulder problem pre-game and was in doubt. If he didn't have a problem beforehand then he certainly does now! Expected to miss 2 weeks, must trade.
Yeo (-) – I'm not going to have a go at the Yo-yo for getting tonsillitis, but he owes us big time next week… Please get up. If not for anything else then at least my sanity.
Pendlebury (85) – Having been at the game live this was going to be an almighty spray. That was until Bucks decided to let us know AFTER the game that he was struggling during the week. Couldn't have shared that piece of news a little earlier? Sure he did well to get up and play, but I'd have preferred him not travel at all so I could take Hannebery! Hindsight sucks…
Here are this weeks Golden Stubby nominations…
Hunter – Yes, yes, yes! 23 kicks, 21 handballs, 3 votes in my squad and my vote in the Stubby.
Zorko – Bang! Take the gamble on Zork? Surely he gets your vote then…
Parker – If you started with this bloke at $538k you're laughing… Still my Brownlow favourite.
Hannebery – If he doesn't kill you with disposals he'll do it with tackles, this week he laid 13 of them! Awesome captaincy choice.
Shaw – Selecting Heater came with its risks, so to see it pay off this handsomely is awesome! A worthy winner if he gets the Stubby.
Who gets your vote?
This Game Sh*ts Me
ONCE AGAIN I sat down after Saturday's games and attempted to write this article, but it was only positives. Ha. You know what sh*ts me, Sunday's. What are they good for? Hangovers? The realisation that another sh*t week is just around the corner? I was sitting on 1045 after 9 players on Saturday night. Guess what was to come, Essendon. Christ almighty I have screwed my team beyond recognition thanks to those Bombers. That wasn't it though. I was tossing up between Hannebery and Pendles, obviously siding with the Collingwood skipper as he's the most consistent performer in the game! Of course we now know he was sore, thanks for letting me in on that little secret Pies. While I'm really getting the salt out of my system, some of the tackles awarded to Hannebery… My god. CONTENTIOUS. Looking at bringing him in solely for that reason. Oh yeah, then Yeo was a late out. Perfect, why wouldn't I want Harwood to fill in and be my FIFTH defender not to score above 53 points… Fifty-Three. Sh*t game.
The Other Bits and Pieces
1978. My Sunday players combined for 933 points at an average of 71 points without a SINGLE player cracking the ton. That's 1600 form. A third of my team failed to score 60… I'm taking the week off. Sadly when I come back I'll still have 6 or 7 rookies to get rid of and only 2 trades to do so, not to mention injuries. But hey, this format is easy! Says the people who get to wait 2 weeks and trade in the best rookies… Please.
Well, that was saucy. Help me out in the comments as to why you hate this game, I'll be listening!