The Friday Scramble: Round 6
Big names out injured and some just out! If you don't have any forced trades to do this week it must be a miracle! If yo don't then start making money from those fat cash cows!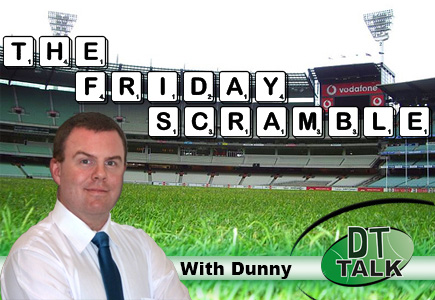 I think we say it every year, but this year seems to be one of the hardest we have come across.  We had a bit of carnage this week with some big injuries and a suspension.  On top of that we have players whose scores are exceptionally inconsistent.  What are we to do!  Well all we can do is simply scramble our way through the season!  So let's do it!
Fyfe is no longer Lyfe!
Sadly Nathan Fyfe has re-fractured his leg which has required more surgery.  The talk is 8 weeks but that doesn't really matter, anything over 2 weeks means he must be traded no matter what the form of the game you are playing (not draft though).  So… who do you trade to?  Well I will look at the pro's and con's of some of the more common names I am hearing around the place.
Rocky has been mentioned a lot.  However, I personally would stay clear of him for another week.  His BE's are AF 136, RDT 194 and SC 164.  What they tell me is that he is going to drop further in price this week.  So based on that I wouldn't be doing this trade.  I would be waiting and upgrading a mid pricer to him next week.
Parker is one player that I will be seriously considering.  He has had a great start to the season and doesn't look to be slowing down.    He is averaging 114 in AF/RDT and 125 in SC.  I think he is my top pick to trade in.
Calvin's mate Hannebery is a close second to Parker.  He is a bit underpriced given his concussion earlier in the year which means that he had some lower scores.   His last few games have yielded 100, 132 and 102.  Given his value at this point, that is why I would be seriously considering him. His BE in RDT is 99, AF 93 and SC 120.  In the first two games he will definitely go up whereas in SC he may hold his price for one more week.
Danger and Selwood are both also playing well at the moment and Selwood has lifted after a limited pre-season.  Either of these guys would be a solid selection for you.
Sidebottom and Pendles would be the other two that you should look at.  Collingwood aren't going as well as the teams of the guys above which can limit scoring so I would go one of the Sydney or Geelong boys first.
Rookie Time
It is that time of the season once again where we need to start culling our rookies.  This is one of the most of the important weeks to read Jeppa's Juniors.  Make sure that you have read it and considered all of your options before you finalise your trades this week.
#AskDunny
@pkd73 bring in petracca this week or would ya hold off for least a week #AskDunny

— jonny mazzone (@jonny_mazz1) April 27, 2016
@pkd73 @DTTALK should we be bringing Petracca in first week?

— Cathryn McDonald (@CathrynMc1870) April 27, 2016
I think you get the message, I got a heap about Petracca this week.  Ok, so in AF we know that his price will change after one game.  His BE is 45 in AF and I think that he should score more than that.  So in this game, most definitely bring him in this week.  However, in RDT and SC I will be holding off.  We get two weeks to look at him in those games and I would certainly be using it.
@pkd73 @DTTALK are you keeping the faith with Ben Ken? #AskDunny

— Adam (@simboer88) April 27, 2016
As some of you may know I have been a fan of Ben Kennedy since he was at Collingwood where he got a lot of vests.  I have had him from the start this year but with his BE very close to his average in all forms of the game it is just about time to unload him.  The only reason I would keep him in my teams this week is if I have bigger fish to fry.  He has served his purpose and it is time to go.
@pkd73 @DTTALK Sam gray to petracca ??? He can't do any worse surely then turn Sheridan in to Mitch Duncan ?

— Steve Fowler (@stevefowler1979) April 27, 2016
I like this.  Sam Gray is not performing as we had hoped.  He plays well in Power wins but when they lose he doesn't score.  I would love to tell you he will score well given the Power will start winning regularly, however, that looks unlikely. I think this is a great downgrade/upgrade.  It is time for S Gray and Sheridan to go.
@pkd73 @DTTALK what does Rockys B/E need to be before we get him in? Thinking next week regardless…

— Isaac Smith (@isaacsmith_89) April 27, 2016
Anything under 100 would be a certainty.  If he gets to between 100 and 120 I would seriously consider it.  I would suggest waiting one more week at least though.  I wouldn't jump on him yet.
Selection Table
WOW!  What a week of carnage.  Here are the highlights with some comments from me….
Mundy is back in.  Don't go picking him up just yet, but in a draft league get him back on the field.
Tom Lee was targetted by a heap of people this week as a downgrade target!  How is our luck, he gets omitted!
Daniel Howe returns.  If you don't have him, I wouldn't be jumping on.
Deledio finally returns to our sides. I wouldn't be bringing him in just yet, but in draft leagues get him on the ground.
Robbie Gray is out with a Hamstring injury.  As someone that watches the Power this makes sense as he certainly didn't look right last week.  Reports are that he will miss up to three weeks.
Wingard is out with the effects of concussion, he will be back next week so hold him.
Lobbe finally pays the price for his form and has been dropped.
Dougal Howard comes in for the Power but I wouldn't be picking him up.
Ruggles is being "managed". This isn't what we wanted to see.  However, given that they listed managed means we can reasonably expect him back next week.
Ben Keays comes in for his first game.  He has been highly touted and should be looked at as a downgrade in AF.
Things to Remember
It's time to start trading rookies.  When their BE is close to or higher than their average you must consider getting rid of them.
Don't panic trade someone after just one poor game. Anything can happen on a given day.
On the same track, don't jump off your premiums.  You got them for a reason.  Barlow proved why we selected him this week.
Let's hope that we can avoid any major injuries this week and all score well finally!  With the exit of Fyfe we will see some more diversity creep into the games.  It will be interesting to see who the guys traded in will be.  Catch you all again next Friday.  As always, help each other out in the comments below with your questions.  That is one thing that I like seeing, everyone helping each other.  Cheers Dunny (@pkd73)