Fantasy Stock Market – Round 6
More underpriced premiums and a fresh batch of DPP additions means that playing the stock market through team value and smart trading is now more important than ever.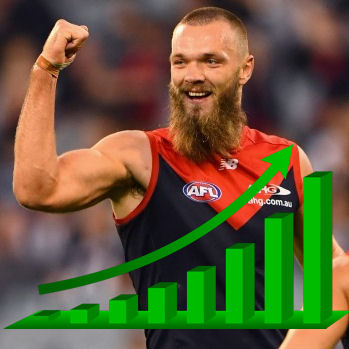 Another week where 1900 was a par score. But there were enough promising signs from a few of our premiums to suggest that our sides will be pumping out scores of 2000 and beyond in the coming weeks. More underpriced premiums and a fresh batch of DPP additions means that playing the stock market through team value and smart trading is now more important than ever. Money makes the Fantasy world go around, so let's get cracking with the Round 6 edition of the Fantasy Stock Market.
Stocks Rising
Dean Kent (FWD) $285 000 – BE: -10 | AVG: 70
Many thought that his cash generation and maybe even his spot in the Dees' best 22 was done after his score of 10 in his side's R2 loss to the Bombers. But, I have to say well done to those who stood by him. Owned by just 5% of the competition, Kent's two round average of 98 indicates that he could be one of the cash cows of the season. Probably too late to jump on now, but with a BE of -10 and a favourable upcoming draw, he doesn't look like slowing down any time soon.
Next 3 Opponents: St. Kilda (ES), Gold Coast (MS), Bulldogs (MCG)
Peter Wright (FWD) $179 000 – BE: -24 | AVG: 105
2 Metre Peter! After showing very little promise of being of any Fantasy relevance from his three games in 2015, Wright has now burst on to the scene as a genuine rookie downgrade option. Wright's eyecatching performance included 17 disposals, 8 marks and 3 goals on his way to 105. Obviously, as a key position forward we cannot expect these sort of scores every week, but it certainly won't do his cash generation capacity any harm for the immediate future.
Next 3 Opponents: Geelong (SS), Melbourne (MS), Giants (SPO)
Josh Smith (MID) $153 000 – BE: -20 | AVG: 89
From a statistical sense, Josh Smith's debut was a very solid one; 23 disposals, 3 marks, 4 tackles and a goal on his way to 89 Fantasy points. Having said that with the way the Bombers played on Monday afternoon, I'd have fancied my chances to rack up a lazy 20 with a couple of goals. With a few returning Pies, his job security will be a week by week proposition, but to say the midfield rookie cupboard is bare would be an understatement, so probably is worth considering on that alone. I'd be more inclined to pass however.
Next 3 Opponents: West Coast (DS), Carlton (MCG), Brisbane (G)
Josh Wagner, Darcy Byrne-Jones, Tom Lee and Ciaran Byrne all have negative break-evens and provided they can hold their spot in their respective lineups, appear to be decent options of immediate cash generation, but as always, Jeppa is your man when it comes to rookies.
Topping Out
Ben Kennedy (FWD/MID) $316 000 – BE: 55 | AVG: 69
Kennedy has made his owners a handy $95k but a 49 against the struggling Tigers in the ANZAC Day eve clash brought his three game average to just 59. Kennedy was non-existent in parts of the weekend's game registering just 5 Fantasy points in Q2 and Q3 combined. Before this season, Kennedy had only once strung together more than two consecutive games at the top-level, and it looks like the rigours of AFL football might be starting to take a toll on his output. Given Roos' history of player management, I wouldn't be surprised to see him earn a rest in the not too far distant future.
Next 3 Opponents: St. Kilda (ES), Gold Coast (MS), Bulldogs (MCG)
Clay Cameron (DEF/FWD) $263 000 – BE: 35 | AVG: 63
Would hopefully only be featuring on your bench at this point in time, and while a BE of 35 means that owners do not need to panic, his cash generation for future weeks is probably limited. Just 54 and 34 in the past fortnight means that you could do far worse than to offload him to one of the many cash cows coming through at the moment at either end of the ground thanks to his new DEF/FWD eligibility. Has made $138k and as an owner it is about $100k more than what I expected at the start of the season. More than happy to take that profit to the bank now.
Next 3 Opponents: Geelong (SS), Melbourne (MS), Giants (SPO)
Connor Menadue (FWD/MID) $243 000 – BE: 41 | AVG: 55
Going in to the season, Menadue's tank was always going to be a huge concern. While he looks to have earned a place in the Tigers' side moving forward, a three round average of 48 and a season high score of 67 does little to suggest that there is much cash left in him. BE this week is still only 41, so he might be able to nudge his way close to the $250k mark, but will need to be milked sooner rather than later.
Next 3 Opponents: Port Adelaide (MCG), Hawthorn (MCG), Sydney (MCG)
The Watch List
Tom Rockliff $504 000 – BE: 136 | AVG: 73
Arguably the best Fantasy player in the competition is going to be available for under $500k for the second time in as many years. As a result, it becomes a matter of when rather than if to pick him up. With a lofty BE going in to this week, most would be looking to wait at least one more week before grabbing him, but if you are a Fyfe owner you could do a lot worse than jumping on a week or two early. Make sure you have a plan to get him in or risk being stuck without him the week he explodes.
Next 3 Opponents: Sydney (G), Port Adelaide (AO), Collingwood (G)
Stefan Martin $494 000 – BE: 120 | AVG: 81
Courtesy of some indifferent form and 'that' bump from Steven May, we now find ourselves with the #1 averaging player of 2015 priced well under $500k. For those smart/lucky enough to have not started with Stef, then depending on your ruck setup, I'm not sure you can go past him. Massively underpriced for what we know he can produce and has shown enough over the last two weeks to suggest that he will hit his straps sooner rather than later.
Next 3 Opponents: Sydney (G), Port Adelaide (AO), Collingwood (G)
Joel Selwood $515 000 – BE: 66 | AVG: 99
Before news broke of his injury ravaged preseason, many were talking up Joel Selwood as a genuine candidate for a spot among the top 8 midfielders in the competition. After featuring in no NAB Challenge matches, it was always likely he would start the season slowly. However the past three weeks have seen Selwood return to his best with scores of 111, 97 and 134. In the next three weeks, Selwood faces matches against both Adelaide and Gold Coast – his two favourite teams to play against, posting career averages against them of 115.5 and 111.2 respectively. Like I said with Roo last week, if you want to jump on, then this week is the time!
Next 3 Opponents: Gold Coast (MS), West Coast (SS), Adelaide (AO)
Feels like being a kid in a candy shop with the amount of top drawer premiums who are at a discounted price. I said it last week, but remember planning is key here. How are we going to fit all of Daniel Hannebery, Dustin Martin, Tom Rockliff, Tom Mitchell, Jordan Lewis, Luke Hodge, Matthew Boyd and Robbie Gray in to our squads in the coming weeks? Would love to hear your thoughts!
The Ca$h Grab
Max Gawn (RUC) $507 000 – BE: 57 | AVG: 101
A player over $500k as a cash grab?! Have I gone crazy? Well, probably, but hear me out. After an average first two rounds, Gawn is now hitting career best form posting three tons in as many games at an average of 122. As a result, he now has a very low BE this week (for what he is capable of), but is still reasonably priced. In his next three, Gawn comes up against Hickey, Currie/Nicholls and Roughead. If Gawn can continue to produce these numbers, there is every chance that in a month's time, a straight swap to Goldstein is a very realistic possibility.
Next 3 Opponents: St. Kilda (ES), Gold Coast (MS), Bulldogs (MCG)
Rory Atkins (MID) $284 000 – BE: 22 | AVG: 63
Much like fellow cash grab canditate and Crows team mate, Jarryd Lyons, Rory Atkins struggled to cement a regular spot in the Crows' best 22 last year, but after playing all five matches so far, his job security looks to be solid for the foreseeable future. Atkins has scored 94 and 84 in his last two outings, both which have come against competition heavy weights in Sydney and Hawthorn respectively. Averaging 26 touches and 6 marks in the past fortnight, Atkins looks to be playing in a role conducive to Fantasy points and still finds himself at a rather tempting price tag.
Next 3 Opponents: Fremantle (AO), Bulldogs (ES), Geelong (AO)
The POD Radar
Marc Murphy (MID) $464 000 – BE: 112 | AVG: 83
The Carlton captain is currently owned by just 5% of the Fantasy population, but I feel as though that number is set to skyrocket in the next fortnight. A combination of an interrupted preseason, poor form and an injury affected score now sees Murphy priced at just over $450k and dropping. Another one of those guys who just has to be considered at such a discounted price. Not going to be a top 10 midfielder but with two trades per week, Fantasy now allows punts like these more willingly. A source of points and cash generation that should be closely watched.
Next 3 Opponents: Essendon (MCG), Collingwood (MCG), Port Adelaide (ES)
Chad Wingard (FWD) $410 000 – BE: 131 | AVG: 61
Ok, so I don't really know why, but I don't really like the Chad. But anyway, I will try to keep this as unbiased as possible. The potential of Chad Wingard being priced at a tick over $350k means that he has to be considered when he bottoms out. A return of 116 points in R1 was what many expected from Wingard, after his solid 2015 season, which he finished on the cusp of the top 10 forwards in the competition. Since then, he has missed a week with injury and averaged just 43. Definitely one to monitor once he regains form.
Next 3 Opponents: Richmond (MCG), Brisbane (AO), Carlton (ES)
Weekly Wrap
Another incredibly even distribution of points among DT Talk's Regular Posters League saw 15 of the league's 16 side separated by just 100 points. The outlier here was Broo's side, Danger's Disciples who pumped out a 2080 to jump in to the top 8 (and top 4 on overall points). Despite giving the captaincy to the now maligned figure of Zach Merrett, Broo's unique selections of Max Gawn and Jack Viney gave him a very nice boost in the rankings. Elsewhere ZaydB's Money Trees cracked 2000, while cricketmad787 (1997), FevsBingles (1990), Shags (1987) and Callum (1987) all produced above par scores to secure head to head victories. Looking forward to the Round 6 fixtures, we see the top two placed sides do battle in what promises to be a weekend filled with banter and inevitable 30s from our unique players. Also just a quick shout out to DT Talk user, Dwayne Johnson, whose side has ghost shipped its way through the past few weeks. I understand we all live busy lives, but I speak on behalf of all the lads when I say it would be much appreciated to have you back on board.
As we start to enter the most crucial phase of our Fantasy season, it is important that we continue to play the stock market and especially not get caught up in the hype of the new DPP additions. As good as some of them look, I think it could be dangerous to upgrade to one of them rather than pick up one of the plethora of underpriced A-graders available at the moment. The coming weeks will be very intriguing. But, that's all from me this week. Hope you got something out of it and make sure to leave any feedback for future articles or trade dilemmas in the comments and I'll try to get around to them. Good luck for the weekend and here's to a few scores over 2000!