Roy's Trade Talk – Round 6
The first DPP's have rolled out and Roy takes a look at the pick of them!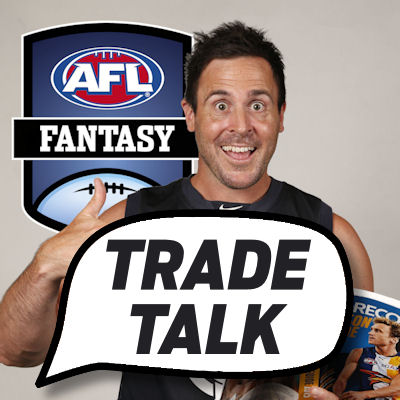 Everyone knows I get carried away with DPP action, so what could be a better focus for me this week than to review the new DPPs and break down whether they are viable options.
Backline Saviours:
Before the DPP rollout, there were two defenders averaging triple figures and one of those is Bob Murphy. Enter these boys, the two most relevant targets in the new crop.
My number one man feels like a gift from the Fantasy Gods given the inconsistency of defenders over the first five
weeks. Bernie Vince (DEF/MID, $516,000) is having a career year to date and looks to be thriving in the all improved Dees lineup. He ticks all the boxes, dropping below 100 on only one occasion across his first four games for 85, while averaging 105 in his last three. He is very unique, with a current ownership of .63% and has a reachable BE of 86, especially given his good record against the Saints. Following this weeks game, he faces the Suns, Dogs, Lions and Power so shouldn't be slowing down anytime soon.
The age comparison and fact the Bombers are going to find it tougher by the week is the only thing keeping James Kelly (DEF/MID, $508,000) from my number one. The 'top up' or should I say, top three in the B&F is having an amazing season to date, racking up huge numbers across half back that has resulted in scores of 118, 91, 101, 99 and 111 for a phenomenal average of 104. Games vs Carlton, Sydney and the Roos is not quite as favourable as Bernie, but wow, he looks good and hasn't relied on kicking goals to date, unlike Vince who has four for the year to Kelly's one.
Robbie Gray (FWD/MID, $517,000) started the year like a house on fire with scores of 125 and 127,but he is currently on a slide of 64 and 58 which leaves him with a whopping BE of 144. Having a player of Gray's stature in the forward line is a mouth watering prospect, and one I will definitely take up at some stage this year, however waiting until he has bottomed out in price is the best bet.
The Price is right
A player of the calibre of Scott Pendlebury  (MID, $562,000) will not be available for as low as this again this
season after dropping 53K due to his failed experiment across half back to start the year. He has a break even of 91 but given he holds a three game average of 113 heading into his game against the Eagles, it poses no threat. He is back in the midfield, consistent, safe and a good captain option when faced with a favourable matchup.
Joel Selwood (MID, $515,000) used the first two games of the season as his pre season, and now he is raring to go with a three game average of 114. He is relishing in the fact he has support in the midfield, helping to avoid a tag and helping to overcome a tag. He has a break even of just 66, making him one of the most under priced premiums available this week, especially given his upcoming draw with two home games against the Suns and Eagles, followed by the Fantasy friendly Crows and Pies. All class, easy pick.
Twitter Time:
@RoyDT Do we keep Sam Gray with upcoming Draw or have we seen enough? #Roystradetalk

— Brandon (@BrandonMcKay6) April 26, 2016
The only reason we could possibly consider keeping Gray is if we have more pressing issues. We can however, take some comfort in what appears to be a soft draw with the Tigers and Lions in the next two weeks. Surely he can show a glimpse?!
@RoyDT Should we go double downgrade this week and save some cash for when fallen premiums like Rocky, Lewis and Titch? #RoysTradeTalk

— Jamie Campbell (@semi_naked_chef) April 26, 2016
I am not a huge fan of the double downgrade, but it is a good time to do it given some very under-priced youngsters who are getting it done!
@RoyDT priority of using cash and upgrading Dea to Bernie Vince or Sam Gray to a premium fwd #RoysTradeTalk

— James Hollis (@Hoolai23) April 26, 2016
At this very moment, I am looking at offloading Dea first in the hope that Gray can show some sign of life/potential. AKA, Gray has the higher ceiling and I need a big overall score.
What's your BE point to start trading rookies? #RoysTradeTalk @RoyDT

— Jordan Jamieson (@chewy8891) April 26, 2016
It all depends, but all going perfectly I like to trade when their BE is the same as their last three average.
@RoyDT Is Dusty worth keeping? #roystradetalk

— Karissa (@thunder_67au) April 26, 2016
Tough one, I would hold but I can understand the frustration
https://twitter.com/JakeTaylor97_/status/724909923738501120
Dependlbury
https://twitter.com/RoyWetard/status/724909376855773184
DBJ is my pick of them.
@RoyDT your thoughts on Sheridan to J.Smith via mills, S.gray to sidebottom but have to play Smith and menadue or put menadue to Duncan?

— Liam Turner (@tur19526083) April 26, 2016
I am a fan of option 1… Surely you have a better guy on the pine to play than Menadue? Can't play Menadue.
Ok guys, cheers and good luck!
@RoyDT
| Name | Club | Price | Ave | Add | Pos |
| --- | --- | --- | --- | --- | --- |
| Clay Cameron | GC | $263000 | 62.8 | FWD | DEF/FWD |
| Ryan Davis | GC | $212000 | 52.5 | FWD | MID/FWD |
| Nick Graham | CAR | $373000 | 71.5 | FWD | MID/FWD |
| Robbie Gray | PA | $517000 | 93.4 | FWD | MID/FWD |
| George Hewett | SYD | $243000 | 65.5 | FWD | MID/FWD |
| James Kelly | ESS | $508000 | 104 | DEF | MID/DEF |
| Will Langford | HAW | $414000 | 77.8 | FWD | MID/FWD |
| Jamie Macmillan | NM | $376000 | 66.8 | MID | DEF/MID |
| Kamdyn McIntosh | RICH | $378000 | 72.8 | DEF | MID/DEF |
| Callum Mills | SYD | $298000 | 66.4 | DEF | MID/DEF |
| Bernie Vince | MELB | $516000 | 100 | DEF | MID/DEF |
| Aaron Young | PA | $311000 | 66 | FWD | MID/FWD |