Calvin's Captains – Rd. 6
What is a pirate to do? He's a sad man this week after Zach's 66 but just like a true pirate, he's still fighting on.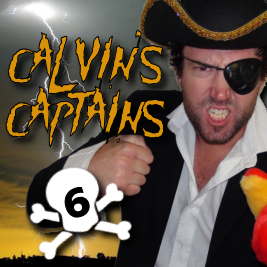 MR. #1 FORM
Based on form, Max Gawn is currently the #1 man with an average of 122 in his last three games after a huge 143 last week. Mumford struggled against the Saints last week though with 64 and based on this reason alone, I'll pass on the beard this week.
Jack Ziebell sits at #2 (scores of 101, 126 & 137) and Aaron Hall still ranks high at #3 despite his 94 last week. He's against the Cats this week in a game that will certainly separate the men from the boys. In the same game will be the mighty Ablett who looks very sore. He had 91 last week but has a great record on his former team (137 and 140) and thrives against them… that's if he plays.
JACOBS WILL TAG…
Ben Jacobs will tag… Lachie Hunter? The Bont? Matty Boyd? You tell me.
Hunter had 124 on the Roos last year, but right now the Roos are just too good and no one can score against them. Hall (94) and Ablett (91) tried their hearts out last week and still couldn't manage 100+. Then we have Ben Jacobs, one of the only real taggers in the game who dedicates his footy to wrecking the footy of others. So who will he run with? He doesn't know how to play any other way… Everyone in this game comes with too much of a risk but if you want to pick someone here, then maybe it's Todd Goldstein. He had 107 on the Bulldogs last year but only managed 102 against Dan Currie last week. Pass, pass, pass.
THE TOP FIVE
#1 – Dan Hannebery v Brisbane Lions @ the GABBA
After 102 last week, Hannebery is an interesting #1 selection by yours truly this week, so let me explain.
Firstly I can't hit sh*t with a shovel, so why not just have a wild stab? Ha ha… But seriously, Hannebery has a great record on the Lions with scores of 120 and 127 in his last two games. His record at the
GABBA is also very impressive. The Lions give up the 5th most Fantasy points in the game and last week, Koby Stevens (34 touches – 117pts), Wallis (33), Hunter (32) and Boyd (31) all clocked up plenty of touches with 7 players scoring over 95+… you'd think that if Hannas is in a good mood he'll do the same with 35 touches and a nice 130.
Tom Mitchell was in my calculations for the same reasons but only had 109 on the Lions last year. He had just 92 last week so I'll reluctantly pass.
An interesting one for you is old mate Luke Parker. The Lions are the only team he hasn't scored 100 against in his career four games against them. He had 114 last week but it's too risky against his worst team to play.
Finally, Tom Rockliff! Rocky is about to explode and warmed up with a nice little 88 last week but is back on his home track this week, against a team he scored 128 and 141 against in his last two runs. Rocky is in the mix people and no one will bag you out for rolling the dice with him this week by giving him the big C.
#2 – Patrick Dangerfield v Gold Coast @ the Cattery
Dangerfield had a huge 138 on the Suns last year and after his 115 on the weekend, he'll be out to crave it up again. Most likely to go head to head with Ablett… we might see a Danger v Fyfe game that we saw last year.
Ranked at #7 based on form over the last three weeks is Joel Selwood averaging 114 after 134 last week. He had 137 on the Suns last year and is ripe for the picking right now.
#3 – Andrew Gaff v Collingwood @ Domain Stadium
Gaff is as consistent as they come and is a lock to score between 105 and 115. He had 114, 116 and 105 in his last three against the Pies and is coming off 103 last week. He'll smash it out of the park this week and if you are a lucky owner… enjoy.
#4 – Steele Sidebottom v West Coast @ Domain Stadium
Steele is on fire! He's currently ranked at #5 on form over the last three games and has scored 128, 101, 115, 105 and 101 in his last 5 games on the Eagles.
His team mate Scott Pendlebury goes one better though with a record on the Eagles that has to be seen to be believed. 102, 107, 119, 129, 119, 129, 138, 131, 124, 139 and 103 are his last scores and he still can't squeeze a spot in my 5, I think I've lost the plot. But at the end of the day… I can only have 5 can't I.
#5 – Zach Merrett v Carlton @ the MCG
Yep, he's back. After just 66 last week, I am willing to back Zach in for one more run in my top 5. He has been in great form and we can't write a guy off just based on one disgracefully horrid game. Carlton give up the 2nd most 120+ scores in the game and last week, Neale (130) and Barlow (138) cashed in. Zach is still averaging 107 in his last 3 and will be back to his best this week.
David Zaharakis only carries a top score of 88 in his last three against the Blues and he too struggled with just 82 last week. Out of these two, Zach gets the votes for me.
Oh and finally… no Sam Mitchell this week. His record against the Giants isn't great (low 100+ in last 3) and the fact the game is away means that it's a great week for me to give him as miss. GWS are tough to score on and it's just easier to say 'no'