The Weekend Wash-Up – Round 5
That was a strange weekend. I sat down after Saturday's games thinking I had nothing to write about. It wasn't spectacularly good, but it wasn't spectacularly bad either. Now I can imagine what it's like to support St Kilda.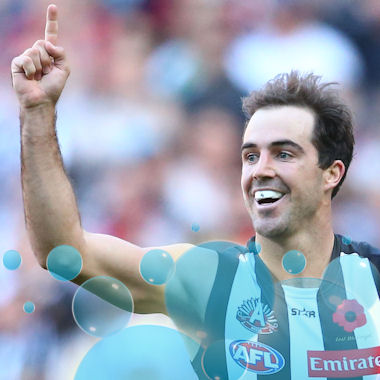 That was a strange weekend. I sat down after Saturday's games thinking I had nothing to write about. It wasn't spectacularly good, but it wasn't spectacularly bad either. Now I can imagine what it's like to support St Kilda. We were just waiting for something to happen, and it sure did. Climax for some, disaster for others. One thing is for sure, there's plenty to wash-up after the ANZAC day weekend!
Legends
Thompson (126) – Is this season the return of our favoured sons? Scott Thompson is another former Dream Team star reliving his glory days. I'd just stick with him in draft leagues, but who am I to stop you getting him in Fantasy! Gun.
Parker (114) – Parker is likely to be amongst the votes again and must now be considered a strong brownlow contender. He's definitely looking like a top 8 mid!
Papley (107) – Did anyone keep him? Don't worry about having him on the bench, this will create some vital extra cash flow for those that did. He was fantastic!
P.Wright (105) – 2 metre Peter!!! He's basement price in Fantasy and after that debut performance you'd have to consider bringing him in this week. He can take a mark…
Boyd (108) – How dare Boydy not score 92… Disgraceful. He looks to have bottomed out in price at $520k and must be a trade option in defence. Usually rotation would be a concern, but with half of the Doggies defence missing they need him!
Zorko (107) – I have my reservations with Zork having been burnt more times than I can remember, but he looks to be thriving in midfield this season. Even with Rocky returning I'd expect his form to continue. Get on.
S.Martin (92) – Big ups to Stef for getting up and playing this week. Having Currie's score would've hurt!!! He's a bargain for those that didn't start with him, but he'll be on the up soon enough.
Dahlhaus (104) – If you're a fan of consistency then welcome to Dahls' house. If you're like me then you prefer the pain of gambling on impersonators like Merrett.
Selwood (134) – Boom! Selwood looks a perfect midfield upgrade/sideways move this week. The problem is that Joel might be just as likely to pump out a 60 next weekend and be back on the slide. I miss the consistent Selwood.
Dangerfield (115) – It took a few whacks to the body for Danger to wake up, is that the way it's going to be? Either get fired up by a big crowd or a dirty hit, or don't rock up at all. He is cheap but may come with a few headaches along the way. I'm not quite convinced.
Duncan (110) – This is far more convincing. Duncan is clearly value at under $450k and proved it again this week. He's averaging 106 if you bypass that day against GWS, he comes with risk attached but no good things ever come as freebies. I'm getting on board.
Neale (130) – I suppose from a Fantasy point of view he's a legend, but Neale had an absolute horror show on Sunday afternoon, as did his whole team. His tactic of missing a target so badly that he had to go and tackle them was handy for his score, but can't have impressed Ross Lyon too much. He topped it all off by handing Liam Jones (……) a chance to kick the winning goal. Impressive stuff.
Viney (134) – Legend. 37 disposals (9 tackles), 23 contested, 9 clearances. 3 Brownlow votes. +3 from his owners. Sensational.
Barlow (138) – Fyfe's injury was a curse to many coaches, but it also acted as a blessing for those who held Barlow. He was moved into a permanent midfield role after he went down and boy did he thrive. 14 tackles helped Barlow on his way to this monster score and once again he looks like value. As sad as it is I'm strongly considering bringing him back now, Lyon has no choice but to throw him in the guts.
Greene (141) – WOW. That is comfortably Toby Greene's best ever game in a GWS shirt (He's only ever played for GWS not sure why I wrote this). Sadly this performance still didn't include a single centre bounce attendance, meaning another score of 50 is probably around the corner. He's learning to play the half forward role and will make you solid cash, but don't push your luck too far.
Shaw (131) – Thanks for coming. I was reading comments asking why people even had Heath Shaw in their teams, well that backfired massively. He was probably second to Toby for BOG but gave a massive F U to those coaches refusing to pay the big bucks in defence. Or those who traded him to Houli or Johannisen… Ouch.
Ross (127) – Seb Ross has flown under the radar and to be honest we've missed the boat entirely, but he at least deserves a mention! Well done if you took the gamble on him, I'm guessing you're all Saints fans!
Riewoldt (137) – EDIT: I went on a massive rant about how bullsh*t this game was after Riewoldt went down into the rooms injured, only for him to come back on and score another 22 points. He's now my hero.  If only Fyfe had shown the same guts!!! That's a joke… Anyway, I'm going to have my heart in my mouth every week and yes there's risk attached, but he's posting huge scores on a wing. Roo is set to average 110+ at this rate, absolute gun.
Sidebottom (144) – How is Sidey owned by just 1.5% of coaches? He's priced at an average of around 100 but is clearly a top 8 midfield contender! Many will get on board this week and rightly so. Legend.
Treloar (129) – Treloar tends to slide under the radar, but he's now averaging 110! He's another differential to strongly consider picking up in midfield, the Pies aren't short on them. Gun.
Pendlebury (127) – What is this revolutionary tactic of playing Pendles in the guts? What a genius coaching move! I will say no more, he's at the top of my shopping list this week. Next week he plays West Coast who never tag, expect another huge score!
Gawn (142) – Maxy you beautiful bastard. Many were jumping off him after his first couple of weeks but I liked his value at $480k. Unfortunately I'm here stuck with Leuey while most of you guys enjoyed this monsterous score! I honestly had to stop watching the Melbourne game as this was hurting me so badly. I was already suffering from a hemorrhage earlier that day… More to follow.
Losers
Fyfe (59) – F**k it. Fyfe was probably my trade of the season, purely because it was so against the trend when I picked him up for Rockliff. It's never good to see a champ go down and last year's Brownlow medallist looks set for an extended spell on the sidelines (Now confirmed for surgery and set to miss the season). This just left me with an empty feeling in my stomach all weekend. Who do bad things happen to good people? I'm talking about myself of course, I suppose Nat too. Sickening.
Kennedy (49) – MATE. Any danger of finding the footy? His second and third quarters were enough to have me throwing up in my mouth to the extent that I had to stop watching and pretend it wasn't real. Get out of my team. I'll hold Fyfe with a broken leg before Kennedy gets another run on my ground.
Ablett (90) – I usually let players off with a 90, but Ablett has become a serial offender lately. It seems as though he's hobbling more often than he isn't, apparently suffering from another corky on the weekend. He's still averaging 105, but this is becoming an all too familiar story for our once favourite son.
Lewis (59) – Sorry what? I've got Lewis in my Draft league and this is killing me. It's not like he's scoring 90's, consecutive scores around 60?! Pathetic. He'll be damn cheap once he's bottomed out in Fantasy, but I've got to deal with these scores in the meantime!
McVeigh (57) – Same story. This is fantastic for those eyeing him off later in the season as a fallen premo, but my draft squad is being slaughtered! Can we have 70's at least?!
Currie (45) –  2 years in the making for that. Dan was hardly our saviour, but I guess he might make us $5k this week? Not sure he'll hold his spot based on that performance…
Lonergan (70) – Sadly it's just not enough. He has to be made a priority trade this week, at the moment you're just treading water. Fantasia did OK!
Suckling (15) – When Suckling went down clutching his knee you feared for the worst. Thankfully it's only a minor injury and not the ACL, but he'll still miss a couple of weeks. The Bulldogs might just survive down back but he can't hang around your Fantasy teams. Get rid.
Christensen (18) – Unlikely to be relevant in Fantasy but could be a cheap cash grab down the line. If you feel screwed over in your Draft, just remember I own Fyfe and Johannisen.
M.Adams (57) – The Marcus Adams bullet train has left the station and already arrived at the other end. Opposition teams are putting slightly more attention into him and these are the scores you can expect more often. Adams made us a heap of cash but don't let him overstay his welcome. He'll be up on the trading block sooner rather than later.
S.Gray (67) – How can a player go from looking SO good in Round 1 to SO bad by Round 5? Just ask Freo I guess. He's a long way from the player who racked up 37 disposals against the Saints, it's time to say goodbye. Amazingly you might be trading him back to Barlow!
Westhoff (35) – More draft rubbish. Really starting to hate this format…
Wingard (34) – Even more draft rubbish. Hate this format.
Ruggles (43) – 2 weeks ago Ruggles looked a must buy, now Byrne-Jones and Wagner have made us a laughing stock. There's not much more cash to be gained here, a sideways swap could be on the cards if you have the luxury. Unfortunately I have a casualty ward to deal with.
C.Ellis (30) – Another rookie who has reached his peak. Trade.
B.Ellis (71) – Richmond are even rubbish at playing junk footy now! By that I mean racking up Fantasy points Richmond fans… I know things are tense. It's going to be a hard rollercoaster to deal with but I think you have to stick with it, they'll turn it around.
Houli (56) – Same deal, although those who traded Houli in as a 'safe' option 2 weeks ago might be thinking differently! He has played 2 of the worst games you'll see and looks a shadow of the player he was in Round 3. Once again I think you have to grind it out.
Menadue (35) – More Richmond scrap. Nothing to say really, you'd think you could at least scratch your way to 50… Trade!
Montagna (68) – Another stringer. This Round was a leveler for the competition, because heroes from the first few rounds went down like flies. Montagna was another victim, pulling his hammy in the final term. This might be yet another forced trade unfortunately, what a sh*t week.
Essendon – Typical. Once Fyfe had gone down Monday could only go one way for me, and downhill it went. We all feared this could happen to the Dons, but that didn't make it any less painful. I've put a lot of my eggs in their basket and it had worked so far, but wow did it come undone this week. Merrett (66). Jesus, what's happening to players we give the big C. These aren't just average captaincy scores just under 100, they're absolute howlers. I'd have been just as successful captaining Tipungwuti (66). That's when you know it's bad. Zaharakis (82) was brave, Fantasia (93) was a success story. Leuenberger (88) still looked disabled on occasions but was surprisingly effective. The rest, what do I say about the rest… Dea (48) might as well have not been there, he could be great trade bait to switch Mills into defence when he gets DPP. Other than that it was ugly stuff… Let's just pray next week is back to business. Sadly I get a feeling it might not be that easy.
Nominations time, and they're all from Sunday/Monday's action.
Sidebottom – 33 disposals, 7 marks, 4 goals. How good is this guy! He loves ANZAC day and made this one count. He's owned by 1.5% of coaches, ridiculous…
Gawn – Maximus! He tackles, he takes pack marks, he kicks goals, he records hitouts for fun… What's not to love? Get voting!
Riewoldt – What a champ Roo is. Owned by just 2% of the competition, he has averaged a crazy 10 marks per game in the last month! One of those games he went off in the 2nd term… A gimme for my vote.
Shaw – Heater repaid the faith of those owners willing to pay top dollar at the start of the season. He's now averaging over 100 and is well worthy of your votes, he took 14 marks on the weekend!
Barlow – This is a contentious decision given how poor he has been, however this score was so huge he had to be nominated. 14 tackles is a massive effort so kudos to Mr Dream Team, hopefully this is the return!
Who gets your vote?
This Game Sh*ts Me
*Does it get me $25k*
It's not just the bad luck that kills us. Well, it is… However what truly kicks us in the guts is the hope. The hope that our teams might not be the shambles they seem, only for a reality check to hit us square in the face. For me this happened on Sunday afternoon. Let me elaborate. Sunday morning, Shaw and my new acquisition Riewoldt tore it up. Sure I was briefly emitted to hospital with a stroke after Roo went down, but he bounced back better than me. Then came Fremantle vs Carlton. Half time arrives and Fyfe has a knock on his calf, but he'll be right! On track for another 100+, things were looking good. Nope, broken leg. Cheers, I'd like to thank lady luck for hanging around with me for 24 hours. From then onwards things went from bad to worse. Freo cost me and just about every punter around the Country our multis. Gawn and Kennedy added the salt and pepper to my wounds. Zach Merrett then torched my trust and made sure I'm sitting here on a Monday arvo bitter as anything typing up why the game I spend hours on pointlessly researching, screws me like it does every week. *Deep breath* But I'll get up and do it all again. And that's why this game sh*ts me.
The Other Bits and Pieces 
1921. Sigh. It could have been worse I suppose, but there's fallout to a lot of this weeks scores. The contrast between Fyfe owners and Barlow owners is huge. I can see Micky surging whilst 30% of us are forced into a trade. That forced trade means that a rookie issue can't be fixed and I'll be missing out on Byrne-Jones, Tucker and Wagner. It hurts but you just have to cop it, I'm still sitting inside the top 2k. People are worse off than me! That includes you in the comments, let me hear all about it. I want all the Fyfe captainers to come with me to Fantasy Addicts anonymous this week. We'll let our frustration out there… If anyone is out there listening, just please make next week a little better. I want to start improving my team!