The Friday Scramble: Round 5
Join me for an brief scramble before we jump into the Anzac Day long weekend of footy. There is one big issue this week and that is Johannisen's hammy, other than that there are a few selection issues. So, let's Scramble.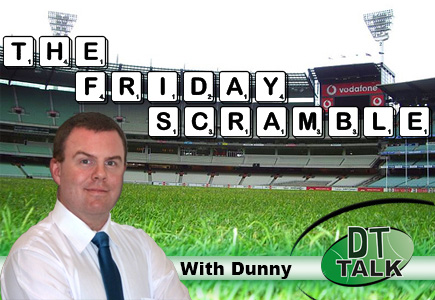 Hi All!  Round 5 already??  Well hopefully your season is off to a good start (unlike mine!).  Firstly apologies everyone, this will be a little more brief than normal as I am a bit pressed for time this week.  However, I will hit on the big topics and give my views on what I think we should be looking to do.
If your team happens to be in disarray like mine, don't panic.  We are only 4 weeks down and a heap of them to go, and in your leagues we are only a couple of games in, plenty of time to get back on track.
Johannisen's Hammy
At this stage the injury report lists him as being out for 10 weeks, so it is a no brainer that you need to trade him out.  The interesting thing about him is his price.  In RDT he is priced at $467,100 and in AF he is $469,000.  So he isn't the most expensive player in either format as a defender but it isn't far from him to the guys that are averaging the most.  For example in RDT Gibson is averaging 113 and is only $60k more, or Houli who is $80k more.  Similarly Laird is about the same value as Gibbo.  So my first preference would be, if I had the cash, to upgrade him to one of these guys.  A little riskier would be to go to someone a bit cheaper and of roughly equal price which would include Biggs who is widely thought to be the main beneficiary in terms of possessions with Johannisen out.  For the truly adventurous you could be looking at someone like Fantasia who is averaging 97 from his three games and is $100k cheaper.  Now obviously the prices for guys in AF are different, but not drastically so the theory is about the same.
Your other option would be to downgrade him to one of the rookies on the bubble this week which would include Josh Wagner, Darcy Byrne-Jones, Tom Ruggles or Ciaran Byrne.  This would leave you with a heap of cash that you could use to upgrade someone else like Kennedy or Menadue.  I won't be taking this path myself as I have a bit of cash at the moment and will be looking to upgrade him.  The main reason that I would be looking to upgrade rather than downgrade is that if I downgrade it means that I am trading a premium player down to a rookie on the field.  So unless you are super confident in your rookie's output, you could be losing in the order of 60 points by downgrading.
Stef's Head
I, for one, was pleased to see him named this week.  Am I 100% confident that he will play, probably not, but I won't be trading him out.  To be honest in the limited trade forms of the game I was probably going to hold him anyway since it would have just been one week out.  In my case I would have had to take a donut as I don't have a playing bench ruck, this is where this tactic can bite you.  So sit tight and hope that he does actually play.
Quickfire Selection Thougths
Howe – Omitted.  This is a concern.  He has only played two games and is averaging 45.  His BE is 58 in RDT.  I think it is time for him to go.
Milera – Out with a Quad injury and a timeframe of TBC.  This is a concern, once again his BE in RDT is slightly higher than has average, so he could go too.
Hewett – He's back, if you held him you could get a bit more cash out of him.  So well done, I would be concerned about putting him on the field though.
Davis – He has been "rested".  It think this is Rocket's way of being nice to the kid and not saying Dropped!
Nicholls – Dropped!  This is probably of more interest in draft leagues.
Currie – He's IN!  Wow, I think most of us never thought he would ever get a game!
Polec – Seems he paid the price for the Power's failure last week.  Back to the SANFL.
McCarthy – The Cat is back.  Good to see and he can now continue making us some cash.
Rocky – The big man is back!  Great to see Rocky back in.  I think most people would have traded him, but those in draft leagues will be stoked to see him.
Hopper – On the extended bench again.
Clayton Oliver – Rested!!  This doesn't help us at all!!  Hopefully it is just a rest and he is back to make cash next week.  The unfortunate thing is that he has been on field for a lot of teams.
Petracca – And not before time too. He should be on the bubble about the time we need to downgrade some rookies.  Perfect timing.
Things to Remember!
It's a marathon not a sprint. – Like I said, don't panic if your team isn't performing yet, most teams are having trouble.
Check out Calvin's article for Captains and Jeppas for Rookies.
Enjoy the long weekend of footy!  There are some good matchups this weekend, don't forget to just enjoy the footy.
Sorry that I didn't have #AskDunny this week, as I said, life got in the way this week.  Hopefully back to normal next week.  Good luck to your teams this week.  Lastly, if you are able to I would highly recommend that you all get along to your local Anzac Day dawn service, it is a moving experience and well worth the early morning.
Lest We Forget