Versus: Round 5
Tom returns for another week of putting players head-to-head in Versus.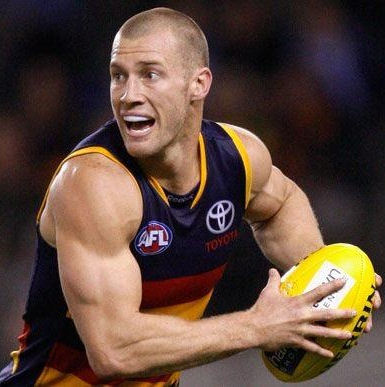 Tom returns for another week of putting players head-to-head in Versus.
Shane Biggs ($459,000) V Sam Docherty ($477,000)
A trade to the Western Bulldogs ahead of the 2015 season after just four games for the Swans could be the best move of Shane Biggs' life. The 187cm rebounding defender has started the new season of fire, averaging 27 disposals, 7 marks, 1 tackle and 99.3 Fantasy points. After being recruited as a midfielder, Biggs has since relished a role across the Bulldogs ultra efficient half-back line. But with defensive quarterbacks Robert Murphy and more recently Jason Johannisen set for long stints on the sidelines through injury, there will be heavier expectation slumped on the back of the likes of Biggs, Boyd and Suckling. Biggs' form, impressive if somewhat surprising, has been crucial to the Bulldogs promising entrance to the 2016 season.
With elite endurance, a penetrating kick and a work rate second-to-none, Biggs averaged 21 disposals and 73 Fantasy points in nine matches last year. Despite coming home strongly, Biggs boasted an ownership rate of under 4% ahead of the opening round of 2016. Biggs and Johannisen led the way against Fremantle with the former posting a career best 35 disposals (82% efficiency), 6 marks, 2 tackles and 120 Fantasy point performance. Interestingly, the Bulldogs highest three point scorers were rebounding half-backs who all ended with an above 80% efficiency. The following week Biggs was again in terrific form, amassing 21 disposals (79% efficiency), 10 marks, 1 tackle and 94 Fantasy points. Again, defenders Matt Suckling, Matthew Boyd, Jason Johanissen, Robert Murphy, Marcus Adams and Biggs all finished with scores of above 90. They also combined for 48 marks; making up 39% of the Bulldogs total tally. In the Western Bulldogs only loss of 2016 to date, Biggs scored 71 Fantasy points but still managed to take 5 marks and kick 2 goals. In his most recent match, Biggs had 32 disposals, 7 marks, 1 tackles and 112 points. Although he is scoring extremely well, Biggs seems to be heavily relying on disposals and marks. This is fine, but with only 4 tackles so far, if Biggs was to struggle to find the ball, his scoring output would probably drop considerably. For the time being, however, Biggs is well worth his $459,000 price tag and will rise even more with a round 5 BE of 63.
Carlton defender Sam Docherty has endured a solid start to season 2016. Initially recruited by the Brisbane Lions, Docherty worked his way to the Bluebaggers via a trade deal involving Tom Cutler. A good user of the football, Docherty lead Carlton for rebound 50's last year and finished fourth for total kicks, further underlining his value to the struggling club. To start off the year, a 29 disposal, 6 mark and 2 tackle showing against Richmond was enough to produce a solid score of 99. The following week, Docherty pumped out 81 Fantasy points thanks to 21 disposals, 8 marks and 2 tackles. Despite being defeated by Gold Coast, Docherty pumped out a career high tackle count of 5 along with 22 disposals, 8 marks and 94 Fantasy points. But his best game of the season came last weekend as he tallied 25 disposals, a whopping 10 marks, 4 tackles and 113 points in a display which will see many coaches jump on board in the search for a reliable, premium defender.
As the Blues main rebounder and defensive general, Docherty will see a fair bit of the ball as his team mates look to him when transitioning from defence. Not only is he durable, but Docherty is also a fairly consistent performer – compared to numerous other defenders (I am looking at you Elliot Yeo). Although Docherty could only muster up three tonnes last year, he only went under 60 three times with seven scores in the 70's and managed an average of 82.2 Fantasy points. This Sunday, the two win-less teams will turn into one as the Blues take on Fremantle over in the West. For a team that is renowned for it's defence, Fremantle have conceded an average of 1731 points (ranked 17th), 5.25 100's against (ranked 18th) and 1.25 120+'s against (ranked 15th). No-doubt a solid score will be expected from Docherty. In rounds 6 and 7, Carlton face two arch-enemies; Essendon who have been surprisingly restrictive in terms of Fantasy points and Collingwood (ranked 18th for average points against). Docherty is good choice if you are after a quality, lower-priced premium defender.
Verdict: The two rebounding defenders have started the season well, both having scored over 110+ already, but there still remains question marks. With Murphy and Johanissen out, will Biggs' scoring drop off or pick up? Will opposition teams start to pay more attention to Docherty? Both are within reach of the $500,000 mark if they can string together more of the same. Biggs' form is excellent and is well worth the price tag so I'd go him. Don't underestimate Docherty's potential output though as he faces some easier opponents in the coming weeks.
Loading ...
Scott Thompson ($555,000) V Steele Sidebottom ($553,000)
What a fantastic career tough midfielder Scott Thompson has had. At the age of 33, Thompson, much like Hawthorn's Sam Mitchell, is showing no signs of slowing down. Instead, the pair are currently experiencing excellent seasons, riddled with consistency. Thompson or rather 'Thommo' as he is more frequently called, currently posses an average of 110 Fantasy points. A star inside midfielder, Thompson started the season with a 30 disposal, 3 mark, 2 tackle and 89 Fantasy point showing against the undefeated Kangaroos at Etihad Stadium. He then starred in the Crows impressive victory over Port Adelaide, collecting 29 disposals, 3 marks, 10 tackles and 119 points. The following week he also managed 119 points, this time against the struggling Tigers. Despite recording his lowest disposal count of the season (27), perhaps Thommo's best game of 2016 came against the Swans where he again laid 10 tackles to go with 113 points, his third consecutive 110+ score. But this season hasn't exactly come out of the blue. Thompson has averaged above 85 Fantasy points since 2006. What is so impressive about the Crow is that he always finds the ball, managing just one game under 20 disposals last year.
Thompson's career-best individual statistics are incredible and a sign that he is very much an all-round player. Some key career-high statistics include 51 disposals, 12 marks, 14 tackles, 6 goals and 153 Fantasy points. Already with two games of double figure tackles, Thompson is massively underrated, but certainly not by the Crows. Owned by just over 1% of Fantasy coaches, although he is priced at $555,000, Thompson has still risen $17,000. So why is Thompson so underrated? His statistics are up there with the best, he is consistent, never tagged by the opposition, doesn't have to rely on a single statistic to score well and is continuing to pump out big returns. It is well documented that Adelaide have a tough month ahead, with Hawthorn, Fremantle, the Western Bulldogs and Geelong awaiting them. But last year Thompson proved he could score well against the best sides in the home and away rounds with scores of 97 against Hawthorn, 116 versus Fremantle, 125 against the Bulldogs as well as 91 when opposed to Geelong. It is rare that a player with 150 Brownlow votes and 289 games is still underrated. So if your looking for a POD in the midfield, Scotty is as solid as they get.
The Magpies struck gold when they picked up Steele Sidebottom with the 11th pick ahead of the 2009 season. Before last year, Sidebottom had not been troubled by any major injury throughout his entire AFL career; a difficult feat to achieve. After debuting in 2009, Sidebottom quickly rose to stardom, with multiple 20+ disposal games at the highest level. Despite his durability, in round 1 earlier this year, Sidebottom was handed a two match suspention for a hit on Sydney midfielder Dan Hannebery. But after serving his allocated sentence, Sidebottom returned in style, collecting 25 disposals, 6 marks, 7 tackles, 2 goals and 122 Fantasy points in the 'Pies humiliating loss to Melbourne. Clearly Sidebottom's absence effected the Magpies who struggled in the time where he was suspended. One of the fittest players at the famous club, Sidebottom has a fantastic engine and is a good distributor on both side of the body, making him an obvious choice for a wing position. However that does not mean Sidebottom simply picks up cheap possessions. He is also an aggressive tackler; the type of player coaches love.
With the introduction of Adam Treloar to a midfield full of depth and stacked with talent, some coaches queried whether Sidebottom's Fantasy output would remain viable despite the possibility of a role change. So far, 'Sidey' is playing the same role in which he has excelled in over recent years. The Magpies play the Bombers in the traditional ANZAC Day clash. In years gone by, the black and white outfit have started as favourites however with the Bombers exceeding expectations so far and the Magpies down on confidence, a close match is imminent. Essendon have been surprisingly restrictive in 2016, averaging 1549 Fantasy points against, 2.25 100's against and just 0.75 scores of 120+. Then, from rounds 6-8, Collingwood play West Coast (A), Carlton (H) and Brisbane (A) in a slightly harder strip of matchup's. After finishing 4th, 3rd, 2nd and 5th in the Magpies best and fairest award, could this be the year that Sidebottom brakes through and really turns into the uber-premium Fantasy player which he can become.
Verdict: As a Hannebery owner, I may never forgive 'Sidey' for his bump which sent Hanners and my team head-first into the turf. Being a Crows fan, I am a huge fan of Thompson. However with the head-over-heart theory in place, it has to be Steele. 'Thommo' and 'Sidey' are currently POD's (both just over 1% ownership) who are capable of averaging 105+ this year. Sidebottom still has room to improve whilst Thompson's career is well and truly surging into its later stages which is why the 'Pie just wins out.
Loading ...
Brodie Grundy ($497,000) V Nic Naitanui ($502,000)
Brodie Grundy has become one of the games premier ruckman since being selected with pick 18 in the 2012 National Draft. The Magpie endured his finest season to date in 2015, producing averages such as 15 disposals, 3 marks, 4 tackles, 24 hit-outs and 91 Fantasy points. Grundy regularly impacts games with his big frame, is excellent with his tap work around stoppages, has a will to improve and a big leap. The retirement of Darren Jolly led to Grundy being more-or-less forced into the number 1 ruck role at Collingwood. Thankfully for 'Pies fans, Grundy has risen to the challenge. But he was surprisingly not included for round 1, leaving fellow big man Jarred Witts to handle Sydney's Callum Sinclair and Kurt Tippett. An 80 point defeat was enough for Grundy to rightly be called upon ahead of their round 2 clash with Richmond, aided by a hand injury to Witts. Against the Tigers Grundy was influential, recording 16 hit-outs to go with 17 disposals, 3 marks, 4 tackles, 2 goals and 91 Fantasy points. One of his goals proved to be the match-winner.
It was a similar performance against St.Kilda the following week where Grundy came up against Tom Hickey. Although Hickey had the better of Grundy in the hit-outs department 30-25, the Magpie was the better player around the grounds. He had 16 disposals, 2 marks, 4 tackles and again 91 points. In the latest round, Brodie faced the Demons and in-particular Max Gawn. Overall, this contest was quite evenly split despite Grundy being undersized by 8cm. Gawn and his illustrious beard won 15 disposals, 6 marks, 5 tackles, 1 goal and more importantly 37 hit-outs on his way to scoring 107 Fantasy points. Grundy, on the other hand, managed 23 disposals, 4 marks, 5 tackles and 105 points. Looking ahead, Grundy is set to face Matthew Leuenberger, the dangerous pairing of Nic Naitanui and Scott Lycett as well as and Matthew Kreuzer in the next three weeks. Leuenberger has conceded scores of 68, 61, 70 and 56 against the oppositions main big men. He was able to restrict Gawn, one of the leagues best ruckman, to his lowest score yet. With some coaches taking the cautious route and trading out Stefan Martin, perhaps it may be wise to wait a week or so on Grundy as he has a hard run of opponents coming up. With that being said, Grundy will no-doubt be one of the better options in the ruck by the end of the season.
Nic Naitanui has been a cult hero at the Eagles ever since his debut in 2009. However he hasn't always been a reliable Fantasy player. Before last year, Naitanui had only recorded one season average of above 80, a statistic which will surprise many, considering the impact he has on games. Without a doubt the most flashy, smooth moving and freakish big man in the league, Naitanui played a big part in the Eagles making the Grand Final. He is often regarded amongst the best hit-out to advantage ruckmen, often giving West Coast's on-ball brigade first use. In multiple ways, Naitanui is enduring a career-best season at the prime age of 25. He is currently +3.3 up on his career disposal count, +1.4 for marks, +15.3 on hit-outs and +21.7 on his Fantasy average. The increase in marks is particularly significant. Marks has contributed 10% of Naitanui's total Fantasy score. In 2015, just 5% of his total score (1977) came from marks.
So far, Naitanui has tallied disposal counts of 22, 9, 15 and 16 for an average of 15.5. A slight downside to these hauls is the fact that he has handballed more than he has kicked in every game. However numerous ruckmen also share this trait. A point which may be due to the Eagles playing two ruckmen is that Naitanui has a TOG average of 69% in 2016. Even his partner in crime Scott Lycett has a higher TOG average, at 71%. Geelong's two main big men, Zac Smith and Rhys Stanley have TOG averages of 72% and 79% respectively. It will be fascinating to see how his TOG stacks up with Lycett missing this week through suspension. But I'm not complaining as long as Naitanui's current form extends for the entirety of the season! Naitanui will likely go head-to-head with Callum Sinclair and Kurt Tippett this weekend. They have been able to restrict their opponents big men to scores of 64, 64 and 84. If Naitanui is good enough, a 100+ is not out of the question but it won't be easy. Nic Naitanui is certainly a good option but I'd prefer a safer player such as Goldstein at R1.
Verdict: Both Naitanui and Grundy were unveiled as successors to Darren Jolly and Dean Cox respectively and, with it came great responsibility. So far, they have done excellent jobs of maintaining the glorified 'number 1 ruckman' role. I feel Grundy may be marginality more consistent but Naitanui seems to have the higher ceiling. It really is a hard decision and one that many will disagree with, but I'd take Grundy.
Loading ...