Fantasy Stock Market – Round 5
Buy low, sell high. The stock market has been revived by mbrucie. Read on before making your trades.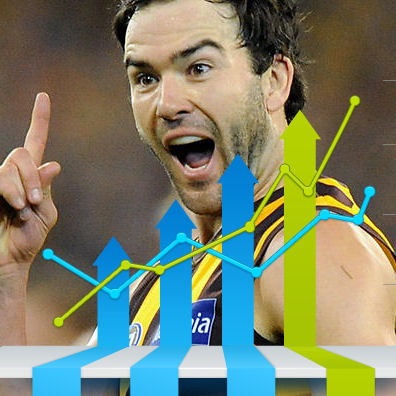 Another standard week of AFL Fantasy – omissions, concussions, underperforming premiums, rookies doing rookie things, the list goes on! As frustrating as it is, it is these sorts of rounds which make the game so enjoyable. Not only does it make us appreciate the good weeks, but also brings forth a plethora of strategies on how to best deal with your injured and underperforming players. With so many of our premium players faltering, it means that there will be a lot of underpriced options in the coming weeks, and cash generation will be vital. What better way to help than your weekly dose of the Fantasy Stock Market.
Stocks Rising
These guys are the backbone to every Fantasy team. Getting the right ones at the right time is vital to success.
Darcy Byrne-Jones (DEF) $169 000 – BE: -20 | AVG: 66
Has shown composure in his first two matches on the big stage, and was one of the few Power players who could hold their heads high after his side's embarassing showing on the weekend. Against a restrictive Giants team in Canberra, DBJ collected 21 disposals, 5 marks, 3 tackles and a goal on his way to 84 Fantasy points. A solid downgrade option for our sides.
Next 3 Opponents: Geelong (AO), Richmond (MCG), Brisbane (AO)
Josh Wagner (DEF) $166 000 – BE: -26 | AVG: 67 
Probably the best downgrade option this week. Coming off a monster score of 98 against the Pies, courtesy of 13 kicks, 11 handballs, 6 marks, 5 tackles. His 36 in Round 3 raises concerns over his consistency, but with the lowest BE in the competition, I think he is a very solid trade in target this week.
Next 3 Opponents: Richmond (MCG), St. Kilda (ES), Gold Coast (MS)
Tom Lee (DEF) $152 000 – BE: -16 | AVG: 85
Certainly no shortage of rookie options in our defence! Playing his first senior game since 2014, Lee racked up 23 disposals and 9 marks on his way to an impressive score of 85. As Jeppa mentioned in his article, his ball use let him down at times and hence puts question marks over his job security.
Next 3 Opponents: Giants (ES), Melbourne (ES), North Melbourne (ES)
Tom Ruggles, Ciaran Byrne, Lincoln McCarthy (if named), Dean Kent and Sam Frost all have negative break-evens and provided they can hold their spot in their respective lineups, appear to be decent options of immediate cash generation, but as always, Jeppa is your man when it comes to rookies.
Topping Out
Getting the right rookies and mid-pricers in is crucial; getting them out at the right time might just be even more important. The old adage states that a player should be traded out when a) their BE approaches their seasonal average or b) they are dropped from their side's best 22.
Wayne Milera (FWD) $231 000 – BE: 43 | AVG: 47
The kid is a jet, but unfortunately hasn't been able to translate his undeniable talent in to consistent Fantasy numbers, scoring over 41 just once from his four outings so far. Milera has now been ruled out this week with a quad injury and with Charlie Cameron now regaining full fitness and showing strong form in the reserves, Milera may find it tough to break back in to the Crows' lineup in the coming weeks. Sadly for his owners who forked out a premium price for him, he may now need to be moved on.
Next 3 Opponents: Hawthorn (MCG), Fremantle (AO), Western Bulldogs (ES);
Tom Papley (FWD) $229 000 – BE: 34 | AVG: 56
It's very difficult to predict the scoring output of any rookie in AFL Fantasy, but when that rookie is a small forward, it is near on impossible. After pumping out two very respectable scores of 79 and 74 in the first fortnight, Papley has struggled to recapture that form in the way of Fantasy numbers. Strictly from a football sense, he has been incredible so far, so I'm unsure on the current state of his job security, but will always be a worry with the depth of the Swans outfit. An average of 36 in his last two has brought his cash generation to a grinding halt.
Next 3 Opponents: West Coast (SCG), Brisbane (G), Essendon (SCG)
Jesse Lonergan (DEF/MID) $358 000 – BE: 73 | AVG: 69 / Tom Sheridan (DEF) $387 000 – BE: 81 | AVG: 76
While I am not suggesting that these guys need to be traded out immediately (most would have bigger issues), Lonergan and Sheridan's cash generation in the short term future appears to have all but halted. Both now have breakevens higher than their seasonal average and have been quite poor in recent weeks. Excluding their R1 performances, both have averaged just 62 Fantasy points per game. These guys were picked as mid-pricers and with signs suggesting that they won't produce the premium-like numbers we wished, they might need to be moved on sooner rather than later.
Next 3 Opponents: North Melbourne (MS), Geelong (SS), Melbourne (MS) / Carlton (DS), Adelaide (AO), Giants (DS)
The Watch List
"The Watch List" monitors premiums who are under-priced for a variety of reasons and could prove to be valuable options when their price bottoms out.
Jordan Lewis (MID) $578 000 – BE: 127 | AVG: 104
Lewis burst out of the blocks, ala 2015, with 134 and 110 in the first two rounds, but failed to overcome his Etihad hoodoo to post a very average score of 60 in Round 3. While this would have been incredibly frustrating for his owners, it presents the rest of the competition with an opportunity to snatch up what I think will be a top eight midfielder, for a discounted price. Despite averaging over 110 for the past two years, Lewis is owned by only 4% of the competition, making him an extremely enticing option for those wanting a point of difference in the midfield. Hop on in a week or two!
Next 3 Opponents: Adelaide (MCG), Giants (SPO), Richmond (MCG)
Dustin Martin (FWD/MID) $521 000 – BE: 116 | AVG: 89
Dusty is a very interesting proposition. Widely tipped to be the #1 averaging forward for the season, Martin hasn't been able to hit those heights just yet, but surely it is only a matter of time before he begins to produce the output which has seen him average 103, 98 and 97 in the past three years. Despite plummetting $52k from his inital price, Martin is still averaging 26 touches a match and with a BE of 116, he promises to be ripe for the picking in a week or two. Not sure you can say no at that price.
Next 3 Opponents: Melbourne (MCG), Port Adelaide (MCG), Hawthorn (MCG)
Nick Riewoldt (FWD) $489 000 – BE: 73 | AVG: 92
How does this guy continue to fly under the radar? Roo's last three matches read; 119, 71 (from 39% TOG), 123. Yet, he is priced at $489k and owned by a mere 2% of the competition! All the hype is around Zach Merrett right now (and rightfully so he has been amazing), but I think we have to question whether there is more risk in picking up an in form player at a high price tag than a fallen premium at a discounted price. I mentioned Riewoldt's consistency in the preaseason and I still believe he is a great chance of being in the top handful of forwards come season's end. Could the $100k saved from grabbing Roo instead of Merrett be spent better elsewhere? Did I mention that the Saints play their next four matches at Etihad, a ground which Roo averages 105 at in his last 26 outings. This may be "the watch list", but if you want to jump on Riewoldt the time is now!
Next 3 Opponents: Giants (ES), Melbourne (ES), North Melbourne (ES)
Fallen premiums galore! Add these players to the likes of Daniel Hannebery and Matthew Boyd who are almost bottomed out and throw Tom Rockliff, Tom Mitchell, Luke Hodge and Stefan Martin among others in to the mix and we see that planning and cash generation is going to be crucial in the coming weeks. Always risky to plan too far in advance, but remember to think further ahead than this week's trades.
DPP Watch
With a noticeable dearth of genuine "cash grab" options this week (bar Orazio Fantasia and to a lesser extent, Caleb Daniel, who were both mentioned last week), and the first batch of DPP additions to be released in the coming week, I thought a quick glance at some potential candidates might be more appropriate this week.
Brandon Ellis (MID) $544 000 – BE: 100 | AVG: 99 (Add DEF)
Has played a fair bit in defence in the early rounds of the season (mostly in R1), but Ellis' natural game sees him collect a lot of disposals in the defensive half, given his role as the link man. This, combined with the Tigers struggling to get it forward of centre, means that his heat map is potentially a little misleading. While I am very sceptical as to whether he will gain DPP, (given AF's likely conservative approach) if he is granted DEF eligibility, it is going to be very tough to go past him. Plays 5 of his next 6 at the MCG, a ground where he averages over 106 in his last 21 outings. Would have to be considered in the top handful of defenders.
Next 3 Opponents: Melbourne (MCG), Port Adelaide (MCG), Hawthorn (MCG)
James Kelly (MID) $497 000 – BE: 78 | AVG: 102 (Add DEF)
One that could potentially slip under the radar, but just gets the job done every week. Hasn't gone under 90 this year, and with the Bombers' Fantasy friendly game style, he doesn't look like slowing down any time soon. Like Ellis, if the DEF eligibility does eventuate, he must be considered in the conversation for the top few defenders come the end of the season.
Next 3 Opponents: Collingwood (MCG), Carlton (MCG), Sydney (MCG)
Josh Kelly (MID) $419 000 – BE: 63 | AVG: 83 (Add DEF)
As an owner of this kid in AFL Fantasy, this is one I am very excited about. Since Round 2, Kelly has spent a lot of time off the half back flank, particularly in the second half of games, and therefore is in a with a good chance of picking up DEF eligibility. Like a lot of his team mates, Kelly oozes class. Priced at just $419k, he has to be considered if his positional allocation transpires, certainly has the potential to average over 90 for the season. Owned by just 0.96% of the competition, he would also be a serious point of difference.
Next 3 Opponents: St. Kilda (ES), Hawthorn (SPO), Fremantle (DS)
On the rookie front, Callum Mills (DEF/MID), Ryan Davis (MID/FWD) and Clay Cameron (DEF/FWD) all appear decent chances of picking up DPP, which could add a little more longevity to their Fantasy relevance. Will be very interesting to see how AF allocate the first batch of DPP additions after a few controversial ones last year.
The POD Radar
The "POD Radar" looks at a couple of blokes who you would be laughed at for even considering, for example, maybe a Shane Biggs in the preseason. By no means am I suggesting that these players should be brought in now, but instead closely monitored in the coming weeks.
Dion Prestia (MID) $475 000 – BE: 125 | AVG: 70
Another awkwardly priced midfielder. Another kid who could be anything. From his 50 games in 2013-2015, Prestia averaged 98, dropping below 80 on just seven occasions, pretty incredible consistency from a player who was only entering his third year in the system in 2013. A couple of mediocre scores, followed by a 49 in his side's shock QClash defeat now sees Prestia re-entering the mid-price bracket and is set to become even cheaper. Not one for the faint-hearted, but a risk which could pay enormous dividends if he recaptures his best form.
Next 3 Opponents: North Melbourne (MS), Geelong (SS), Melbourne (MS)
Devon Smith (FWD) $427 000 – BE: 108 | AVG: 65
Big disclaimer on this one, with regards to his knee injury which caused him to miss last week and hampered him through the NAB Challenge. Honestly have no idea on the severity of this injury. I'm thinking that he might have been limited in his ability to push up the ground throughout the first three rounds, which saw him produce a paltry average of 65. But, this is a guy who in his 41 games prior to this season averaged over 90, going over 108 in  34% of those matches. Depending on his recovery, he could soon be available for around $400k and therefore, must be considered.
Next 3 Opponents: St. Kilda (ES), Hawthorn (SPO), Fremantle (DS)
Jamie MacMillan (DEF) $377 000 – BE: 67 | AVG: 66
After being largely irrelevant in Fantasy circles for the first five and half years of his career, MacMillan caught the attention of coaches in the back half of last year, where he went at 93 for his last six full games of the 2015 home and away season. Following a trio of scores in the mid 50s to kick off the season, MacMillan collected 26 disposals on his way to 96 Fantasy points against the Dockers. After his indifferent early form, he now finds himself at quite an enticing price for those who are partial to a good punt.
Next 3 Opponents: Gold Coast (MS), Western Bulldogs (ES), St. Kilda (ES)
Weekly Wrap
Another big week of fixtures in the DT Talk Regular Posters League witnessed a bit of a shakeup at the top of the table. Round 4 saw the two inform teams of the competition – Callum and PowerAde – lock horns in what proved to be an epic encounter, decided by less than a couple of kicks, with PowerAde's side eventually running out five-point victors (1887-1882), knocking Callum off his perch at the top of the table. Callum's falter granted The Sylvia Lining, coached by yours truly, an opportunity to claim top spot, one which I took with both hands, somehow navigating the carnage to muster a respectable score of 1974. Blues13's side, Paps had its best week to date, knocking up a very solid score of 1924, to move him in to the top 4. At the other end of the table, DT Talk writers, Benjo and cricketmad787 both experienced a change of fortunes this week, racking up 1861 and 1857 respectively to run out comfortable victors in their head to head fixtures. Benjo's victory meant that 100% of the league's Biggs owners posted wins on the weekend. The numbers don't lie!
Hope you enjoyed this week's edition of the Fantasy Stock Market. Any trade questions or queries, or feedback for future articles, leave it in the comments, and I'll do my best to get back to you. Good luck to all for the weekend!