Possible round six DPP additions
The first round of DPPs will be announced next week and in play before the round six lockout. Who do you think should be considered?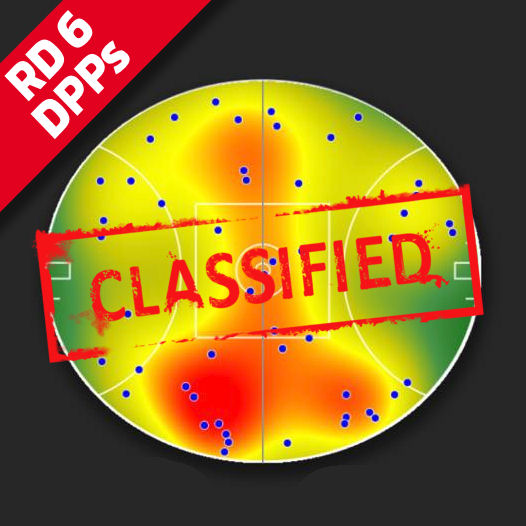 This is the third year that DPPs will be awarded during the season in AFL Fantasy and will go across the three formats, Classic, Elite and Match Day.
These happen at round six, 12 and 18 (that is, in play for those rounds). So we will see these rolling out next week. I am unsure of exactly what day at the moment due to the Anzac Day on Monday. Hopefully we will be able to announce them on next week's podcast, but maybe they won't be finalised until the Tuesday. Watch this space… but I assume they'll be in the system mid-week to give everyone plenty of time to get organises with their teams.
For those new to this, the team at Champion Data, together with some at Fantasy HQ (which includes us) add dual position eligibility to players who hold one position and have proven enough that they are playing in an alternate position. The ones Fantasy coaches love are the midfielders who gain either FWD or DEF status. This can be even more beneficial in Elite and even those who add MID status can help with your weekly moves – especially come the byes and when those injuries/suspensions strike.
HOW PLAYERS ADD A POSITION
There are a range of factors that go into making the decision to upgrade a player. The major ones being;
Where players get their possessions. This can be highlighted by heat maps (which the regular Joe punter can find via the 'coach' section of the AFL Live app if you have purchased the season pass) which show hot spots for disposals and also the percentages in forward and defensive halves. Darker areas on heatmaps show more traffic for possessions.
Which zones they get their touches. Like the above dot point, these are broken down into forward 50, defensive 50, midfield zone, forward half, defensive half, attacking midfield and defensive midfield adding more than what the heat maps show.
Where players line up. Where players are situated for bounces and stoppages have a factor on DPP additions. The biggest one for this that have been found this year is that a lot of wingers are getting a lot of ball in the back half, despite not playing as a defender. More on that later.
It is a mix of the above and looking into other stats that can help finalise decisions such as centre bounce attendances, game play for different teams, among others.
The DPP additions has been a new an exciting aspect for Fantasy coaches and the way it is implemented has developed over the last two seasons with a lot learned. I'm sure these will be spot on this year – with a very conservative approach taken in the first round of changes. The changing nature of the game with the limited rotations and the sub vest going means we're learning a bit more about how teams are using their midfielders. The round 12 changes might be more telling.
ULTIMATE FOOTY ADDITIONS
Last week Ultimate Footy added their first round of DPPs, and due to only three games of data there were only six additions. The conservative approach will be where AFL Fantasy will be heading, with only five rounds to make their first lot of calls.
Lachie Henderson – Geelong – add DEF (now FWD/DEF)
Jackson Merrett – Essendon – add MID (now FWD/MID)
Ryan Davis – Gold Coast – add FWD (now FWD/MID)
George Hewett – Sydney Swans – add FWD (now FWD/MID)
Shaun Burgoyne – Hawthorn – add MID (now DEF/MID)
Kamydn McIntosh – Richmond – add DEF – (now DEF/MID)
All pretty safe here. I would suggest that AFL Fantasy will follow suit with these. I'm not sure on Hewett as if he isn't recalled this week, would only have three of five games and may not quite be enough data. I'm not sure on that though – it was evident that he is a FWD in the Swans' side, so he could end up with it regardless. Same goes for Jackson Merrett.
WHAT TO EXPECT NEXT WEEK
Apparently discussions will open up this week, although as you have probably noticed over Twitter, we have been tweeting out heatmaps and chucking out two cents in. Please note that despite a heatmap being tweeted out, it doesn't mean that a) I or anyone else think they will get DPP or b) that it means anything other than it being interesting.
Here are four players that I think (not necessarily the thoughts of CD) will get DPP. #AFLFantasy pic.twitter.com/X350LwfcpS

— Adam 'Warnie' Child (@WarnieDT) April 16, 2016
Callum Mills is a lock for DEF status in my opinion. He has been lining up on the back flank and is playing his footy there. I'm interested in seeing all of Champion Data's numbers around that, but from heatmaps – and watching him – I think he's done enough to get it in this first round.
Joining him is likely to be top up Bomber James Kelly. He has lined up on the wing at times, but 76% of disposals in the defensive half together with the way he plays the game, I think he gets it. His heatmap paints a picture that has DEF/MID all over it.
Another rookie to get DPP could be Clay Cameron. He could add FWD to his DEF.
Cameron Guthrie is interesting. He could gain DEF, but I'm not entirely sold. 64% in back half and lining up on HBF. Maybe the conservative approach will mean that he won't get it.
Port Adelaide have thrown up a few interesting ones. Did you know that Travis Boak kicked his side's first goal in the first three rounds? His season heatmap, prior this this week, was looking very forward and watching him in games, he was always up there. They got pumped by the Giants which saw him get 61% of disposals in the back half, taking his numbers to 40% back half, 60% forward half for the season. He's a midfielder. Brad Ebert is in a similar position.
Robbie Gray has been a FWD/MID his whole career. Plenty of score involvements and a lot of things that point to him being that status again (62% forward half disposals), but he is a midfielder. I'm sure his centre bounce attendances will be up there for the Power.
Now for the ones people are excited about… well, the bubble is about to be burst.
Scott Pendlebury won't be getting DPP this time. Not on my watch anyway. Haha. Although he definitely played the first three rounds as a rebounding defender without many centre bounce involvements (the Richmond game was a telling one), last weekend he was a midfielder. End of story. He could be in line for it in round 12, but not for this one.
Kiss your Pendles DEF status goodbye. #AFLFantasy pic.twitter.com/0Xj83QzscY

— Adam 'Warnie' Child (@WarnieDT) April 17, 2016
Looking at Brandon Ellis' heatmap, you would think he is a lock for DEF status. If he played (and lined up) like he did in round one for the last three weeks, then boom, he'd get it. But the numbers of where he was playing – predominantly wing – doesn't fit for DPP upgrade.
There are plenty of names being considered and there will be plenty of numbers crunched. Stay tuned next week (and over the weekend on social media) for more on the DPPs ahead of round six.
Post any suggestions you have for players who should be looked at in the comments.
Has to be some chance! @jimbobholder #AFLFantasy pic.twitter.com/jlUFB6RVDy

— Adam 'Warnie' Child (@WarnieDT) April 17, 2016
Brandon Ellis' heatmap from tonight and his season long one. #AFLFantasy pic.twitter.com/kz1wbtzzuE

— Adam 'Warnie' Child (@WarnieDT) April 15, 2016
@dc_whitey @RoyDT @CalvinDT Looks HBF… will monitor. pic.twitter.com/UbjxWOq7gR

— Adam 'Warnie' Child (@WarnieDT) April 12, 2016
@damoisonboard Probably more about Melbourne than adding DEF. pic.twitter.com/rgzIKpAq22

— Adam 'Warnie' Child (@WarnieDT) April 11, 2016
Liam Picken started as straight DEF last year, added MID… does he add FWD this season? #AFLFantasy pic.twitter.com/dFxqp9a2ui

— Adam 'Warnie' Child (@WarnieDT) April 11, 2016