Inside the Fantasy Numbers – Round 4
Pete from aflratings.com.au takes a look inside the AFL Fantasy Numbers each week.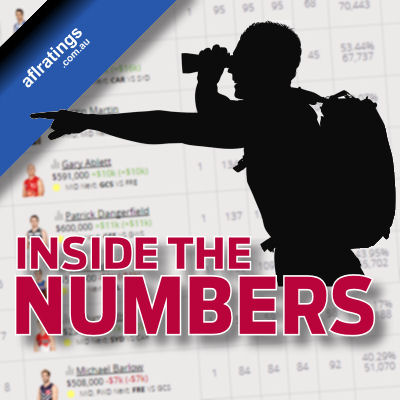 Pete from aflratings.com.au takes a look inside the AFL Fantasy Numbers each week.
That winning feeling vs that losing feeling
Teams have scored an average of 174.9pts more in Wins compared to losses in 2016, West Coast has scored an average of 380.3pts more in their 3 wins compared to the 1 loss vs Hawthorn in Round 2. After recording a win in Round 4 Brisbane has the 2nd best differential between their 1 win and 3 losses, the Lions were 346.0pts better off this past week than in previous games.
A sign of poor form shows up in 2 Teams that have a losing record so far in 2016, both Richmond & Collingwood are the only teams to have a negative points differential from their 1 win compared to average losing games. The Tigers scored just 1408pts in Round 1 vs Carlton whilst they have averaged 1569pts in their 3 losses, the Magpies scored 1496pts in their Round 2 win vs Richmond whilst they have averaged 1524.7 in their 3 losses.
Of the 36 total wins over 4 rounds of AFL on 5 occasions a team has failed to score 1500pts in a winning game, Nth Melbourne has achieved this twice in Round 2 vs Brisbane & Round 3 vs Melbourne. Teams have failed to score 1500 total team points in 23 of 36 games when that team loses.
Of the 16 Teams to have recorded at least 1 win, the average points conceded per winning team is 1484.7pts compared to 1664.5pts in a losing team. Richmond & Hawthorn have a small positive point differential conceding less points in a loss compared to a win, they are the only 2 teams to have a positive differential in this area.
Of the 36 total losses over 4 rounds of AFL on 10 occasions a team has conceded 1800pts or more in a game, Fremantle & Collingwood have both conceded 1800pts twice in 2016.
Best AFL Fantasy Average Team Points FOR (Winning Teams)
1. St Kilda 1876.0
2. Essendon 1874.0
2. Western Bulldogs 1843.3
Worst AFL Fantasy Average Team Points FOR (Winning Teams)
18. Richmond 1408.0
17. Collingwood 1496.0
16. Geelong 1595.7
Bulldogs getting it done with more than just a few
The Western Bulldogs are Ranked No.1 scoring an average of 1806.8 Team points per game, it might surprise you however that only 2 players are averaging 100pts or more. Lachie Hunter is the only active player throwing up a considerable average of 109.8pts, the second player is Robert Murphy who averaged 102.0pts in his first 3 games but is unavailable after injuring his knee at the end of Round 3.
What won't surprise you is that there are 9 players that are averaging 90pts or more and to think Tom Liberatore, Marcus Bontempelli, Liam Picken & Koby Stevens are not in the group of 9 is a little surprising.
Bulldogs Players to Average 90pts or more by Position
DEF
102.0 Robert Murphy
99.3 Shane Biggs
92.8 Jason Johannisen
92.0 Matthew Boyd
91.3 Matthew Suckling*
MID
109.8 Lachie Hunter
93.8 Jack Macrae
FWD
97.8 Caleb Daniel
93.3 Luke Dahlhaus*
*DPP
For a replacement for Jason Johannisen, the players to be most aware of at the Bulldogs are likely to be Shane Biggs & Matthew Boyd. Biggs scored 112pts in the 1 week without Robert Murphy whilst Matthew Boyd has been ultra-consistent scoring 92pts in each of his 4 games this year.
2016 Venue scoring
It is still early days in the 2016 AFL Season but taking a peak at venue scores might provide a little bit more information for the remainder of the year, the form of Gold Coast has meant Metricon Stadium is tracking well whilst Port Adelaide at the Adelaide Oval has delivered a couple of high scoring games.
Eithad Stadium has 3241.4 average game points in 2016, the 1 game with the roof open produced 3363pts in Round 1 Western Bulldogs vs Fremantle
2016 Highest Scoring Venues (Ave Total Games Points)
1. Metricon Stadium 3271.0
2. Adelaide Oval 3247.8
3. Aurora Stadium 3266.0
2016 Lowest Scoring Venues (Ave Total Games Points)
11. GABBA 2831.0
10. Simonds Stadium 2973.0
9. Blundstone Arena 2959.0
The Disposal Count
Western Bulldogs are the only team to record 400+ Disposals in all 4 games this year
Ave 456.0 per game
St Kilda has recorded 400+ Disposals in 3 of 4 games this year
Ave 410.0 per game
Collingwood & Carlton are the only 2 Teams to conceded 400+ Disposals in 3 of 4 games this year
Magpies are giving up 425.3 per game
Blues are giving up 394.8 per game (415.7 in the last 3 weeks)
Best Team Points FOR (Scoring the most Points)
1.Western Bulldogs 1806.8
2. St Kilda 1688.8
3. Essendon 1679.3
Worst Team Points AGA (Giving up the most Points)
18. Collingwood 1748.8
17. Fremantle 1732.5
16. Port Adelaide 1705.5
CLUB
PTS
FOR
>100
FOR
>120
FOR
PTS
AG
>100
AG
>120
AG
ADE
1599.75
2.5
0.5
1529.5
2.5
1.75
BL
1378.5
2
0.25
1585.75
4
1
CAR
1474.75
2.5
0.5
1623.75
3.25
1.25
COLL
1515.5
3.5
0.5
1748.5
4.75
1.75
ESS
1677.25
5.25
1.5
1549
2.25
0.75
FRE
1446.25
2
1
1731
5.25
1.25
GC
1597.25
3.75
1.75
1511.5
3
0.5
GEE
1541.75
2.25
0.5
1514.75
3
1.25
GWS
1579
3.25
0.25
1459.25
2
0.25
HAW
1636.5
3.75
1.25
1564.75
2.25
1
MELB
1513.5
2
0.25
1648.25
4.75
1.5
NM
1596.5
3.25
1.5
1418
1.75
0.5
PA
1525.5
3
1
1703
4.5
1.25
RICH
1528
3.5
1
1551.75
2.25
0.75
STK
1688.75
3.5
1.75
1652.75
4.25
1
SYD
1610.25
3.75
1.25
1500.75
2.75
0
WB
1804
4.5
1.25
1519.75
2
0
WC
1607.5
3.75
1
1529.5
3.5
1