Benjo's PODs – Round Five
Biggs, Docherty, Gaff, Merrett and Montagna! These were some players that Benjo recommend last week. But now, he is back for me success. Join in and read a different on the game of DT!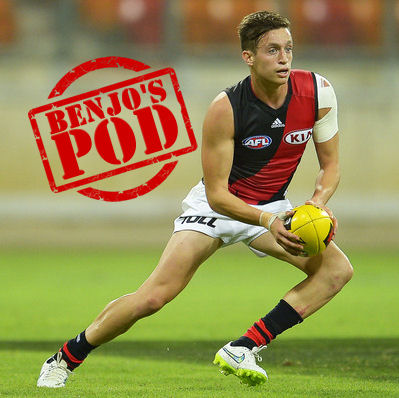 Wow, what a weekend! To be honest, I actually like these carnage weeks. They can really boost your ranking up, or can significantly push your ranking down (haha). Let's review the crazy round which is now (thankfully) behind us.
There were only four scores over 130. They belonged to Nat Fyfe ($560,000), Lachie Neale ($544,000), Dan Hannebery – about time ($555,000) and Sam Mitchell ($629,000). In fact of the top ten highest scorers of the weekend, only two had over 10% in ownership!
However, the good news stops here. Tom Mitchell ($607,000) scored a poor 60 points, which rubbed salt into the wound for those who captained him. Gary Ablett ($585,000) didn't have his best game, unfortunately copping the Robinson tag. He was also a popular captaincy option. Sam Gray ($437,000) had an absolutely shocking game, scoring 55 points! Midprice options in Tom Sheridan ($387,000) and Jesse Lonergan ($358,000) certainly did not have their best games.
Popular trade out option Callum Mills ($274,000) rewarded the coaches who kept the faith in him, scoring 92 points, thanks to some last quarter junk. He should be good for another $100k price rise.
The winner of the round of carnage was THEGC, who scored 2206. You could probably say that this team got lucky, having Bugg (121), Rance (105), Dal Santo (101), Nicholls (117) and Sam Frost (86). This team got very lucky, but nonetheless, it's a great achievement to win the weekly prize!
Now it's time to review last week's PODs:
Shane Biggs ($459,000):
Wow, just wow. 112 DT from Biggsy! I watched the game and he's right at home in the Bulldogs backline. Considering how much they chip the ball around in their backline, he's a jet. But Jason Johanissen pinged his hamstring! Who is going to replace him? Biggs has Brisbane next week at Etihad. Nothing to see here, move on.
Sam Docherty ($477,000):
This was one of the more controversial picks. He was obviously not bothered, scoring 113 as well! Still a decent trade-in option and JJ replacement.
Andrew Gaff ($558,000):
Gaffy looked awesome against a poor Tigers outfit. Managed a solid 108, and could still be a decent option. DPP chance?
Jack Steven ($610,000):
95 isn't a bad effort against Hawthorn at Aurora. One of the most consistent options to trade-in. Bring him in, and you should find yourself with an easy captain choice week in, week out.
Jordan Roughead ($374,000):
Scored 72. Had an injury scare and was off the ground for around 15 minutes. Very consistent, and would have been a great draft league slider.
Zach Merrett ($590,000)
He cannot be stopped! 127 DT in a 30 point loss. Will be a top six forward option, no doubt about it. My advice is to get him now, before his price becomes out of reach. If you are questioning this, he has Collingwood and Carlton in his next two matches…
Leigh Montagna ($610,000)
Once again scored a solid 99 against the Hawks. I'd wait a few weeks.
So… Overall my seven PODs of last week averaged 104!
Now, let's gut stuck into this week's PODs!
DEFENCE
Orazio Fantasia
376k – 26 BE – 97 AVG
This guy has literally come out of nowhere. He missed the first game of the season, but I think he is locked in Essendon's best 22 after a couple of solid performances.
Fantasia is priced at 376k, yet he has scores of 71, 100 and 120 this year.
Has a BE of 26. I think he can average a minimum of 80 in a period of five weeks, causing his price to rise by around 100k?
Surprisingly this year Essendon have a very fantasy relevant game to them. They love to share the ball around.
Essendon face Collingwood and Carlton in their next two matches. They are destined to score many points!
A sideways trade from Sheridan would get you points, save you cash, and would (hopefully) increase your team value.
As shown by his heatmap, he is a winger, listed as a defender! What more could you want?
Verdict:
I think this is the year that our side could be full of midpricers and still out score the competition. I'm suggesting that Fantasia could be a fantastic midpricer stepping stone, to Brandon Ellis/Bachar Houli in a few weeks time.
*There aren't many relevant PODs in the backline that you'd actually look to include in your side. Not including Biggs, Docherty, Boyd, Kolodjashnij, etc…
MIDFIELD
Jack Macrae
531k – 110 BE – 94 AVG
Fallen premiums are flooding into the scene. Macrae seems to be one of the best options, pending that he can go a run of good scores.
Macrae is at a fallen premium price now. He has scored 107, 89, 78 and 101. The Hawthorn match was a high intensity match, and there were minimal amounts of uncontested marks available, unlike the other Bulldogs' matches.
In the space of round 9 to round 23 last year, Macrae's lowest score was 87. In this period, he averaged 110. In 60% of these matches, he scored over the hundred mark.
As shown above by the previous stat, Macrae is extremely consistent, whilst also having a big ceiling. He scored over the 110 mark, seven times last season.
With two seasons in a row averaging 104, I can see Macrae turning up the heat this season, pushing his average up to the 110 mark.
Macrae plays three games in a row at Etihad, where he averages 104.
Macrae is relatively cheap and should be considered.
Owned by only 1% of the competition!
Verdict:
Despite Macrae's slow start to the season, I am predicting him to bounce back against the Lions this weekend. He's nicely priced as well.
*I won't be covering any PODs in the ruck just because I don't think they are worthy of being selected in our sides. We want the big guns!
FORWARD
*Ok, so as I covered Montagna and Merrett last week, I was kind of scraping the barrel for legitimate options this week (that aren't KPPs). Instead, I'll give you my top trade-in options for the forward line.
Zach Merrett
590k – 128 AVG
I've got a massive dilemma here. Do I upgrade now to Merrett, or wait for his price to drop then jump on? Well I considered this question, until I looked at Essendon's fixture… They face Collingwood and Carlton in their next two! He could average anywhere between 125-150 in these two fixtures. He also provides us with a very good looking captaincy option. (I wrote about him last week, so go check out that post).
Dustin Martin
521k – 89 AVG
This is a controversial one. Dusty isn't in his best form right now, but he's cheap! 521k for Dustin Martin is a bargain. Let's not forget that this guy averaged 103 last year. I still think he'll be in the top six forwards at season's end. I'm seriously considering.
Leigh Montagna
610k – 117 AVG
Yes, he is pricey, but he will be guaranteed to be a top six forward. You need to have him by season's end, he's that good.
The Weekly Roast + Toast
ROAST
Ryan Davis, oh Ryan Davis… All I needed from you was a solid 60, but you barely scraped 30 points?! I also sacrificed Mills on the bench (in both formats) which was really frustrating.
Steven May you dirty dog. Took out Rockliff last year, and now Stefan Martin?
Bartel makes me cry. Sam Gray is not much better.
TOAST
Hannebery finally repays the faith! 132 big ones!
But… The man, the myth, the DT God… SHANE BIGGS! 60 point second quarter, thank you very much.
Aaron Hall and Lachie Hunter get it done week in, week out. Love their work.
Around The Grounds
I scored 1862 in Fantasy, which seemed to be around par. My RDT team scored 1854. Luckily I've avoided most of the injury carnage, so in RDT I'm looking to trade Barlow up to Merrett.
Hopefully our teams will fare better this week.
I hope you guys enjoyed this week's edition of Benjo's PODs!
Comment down below your trade ideas down below and I'll try and get to as many as possible. My Twitter handle is @BenjoDT, so don't be afraid to ask me any questions on there.