The Friday Scramble: Round 4
Round 4 and we have some big ins but also a few big outs! This is what we expected to face sooner or later…. some scrambling!!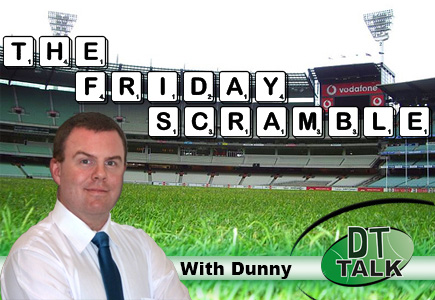 Just when we thought that the end of the subs vest meant we could trust our players to be out there doing their thing for us on a weekend, we forgot about one big issue… the Late Withdrawal.  Now we had two major ones on the with Brad Crouch and Daniel Rich.  Thankfully Adelaide helped us out by naming Crouch out on Friday allowing most of us to move him to the bench or trade him.  But unless you are a Supercoacher you would have been stung if you had Rich on the field.  Hopefully you had good backup (and that is the thing about this time of year, most of us should have two bench players actually playing).
So what has that got to do with round 4 you ask?  Well not much.  But it just serves as a reminder that you should always keep an eye out on Friday's to see if anything has happened so that you can make those last minute changes to your side.
Hold or Trade?
There are a couple of very popular picks this week that we need to look at here and to be honest, the answer is very clear cut from my point of view.  First… the easy one.  Aaron Sandilands is now out for what has been listed on the AFL site as being out for 6 weeks.  Clearly you must trade him.  Who to go to?  Well ideally you should be getting in Goldy if you don't have him and can rustle up the cash.  But if not, then you could have a good hard look at guys like Nic Nat and Max Gawn who are both less than $10k more than Sandi.  For a bit more I would look at Mumford.  For those looking to save some cash and trade down then Kurt Tippett might be one to go with.  He is about 35k cheaper than Aaron but I would be wary selecting him.  So far they have played Collingwood, Carlton and GWS.  His score was boosted by the Carlton game with the other two being in the 80's.
The other one where people may be tempted to hold is Brad Crouch.  He is listed as being 2-3 weeks away and that would be on top of the one week he has already missed.  Given his injury history I would suspect that Adelaide will try and err on the side of caution, particularly given they are winning games well and can afford to give him the extra time.  For that reason I would be looking to trade him out this week.  There are three ways you can go with this trade and there is one that I would advise against.  Firstly I would be looking at upgrading him to a full premium if you have the cash.  Secondly you could downgrade him to a rookie in his second or third game and use the cash to upgrade another mid pricer and lastly, and the thing I wouldn't be doing, is straight swapping to another mid pricer.  I don't advise that as I don't think you will get the same value for your dollars.  I won't go into players to look at as there are so many variables in the midfield, but just look for the best value for your team and its structure.
Team Selection
Well the General has visited the Cattery, well sort of.  Corey Enright is being "managed" as the Cats play Essendon, but a bigger concern from that game is that Lincoln McCarthy has been omitted!  Daniel Howe finds himself back in but at the expense of Josh Gibson who has some hamstring soreness.  Daniel Rich comes back in and in that game we see Matera omitted, that will hurt some draft teams.  Probably the one that will have the biggest impact is George Hewett is out!  Chad Wingard is back as is Jack Steele.  We also see Jacob Hopper on the extended bench.
The two biggest ones though are Luke Hodge and Steele Sidebottom are back in for their respective sides.  I see a lot of draft players rejoicing!
Now, don't panic but Michael Barlow is the last name on the extended bench.  This doesn't mean anything, we have seen it before.  BUT, make sure you are hot on the final teams late this afternoon.
#AskDunny
@pkd73 is it too early to trade out Mills & Hewett in AF? Thinking double downgrade to Ruggles & Byrne to generate heap of cash.

— Punchy (@MpPunchy) April 13, 2016
I don't mind that in AF.  But only in AF.  Obviously with Hewett out then he must be traded in AF.    But, in the other forms of the game, you should wait a week before picking these guys up.  You may as well see a second game from them before jumping on them.
Currently Daniel Wells is owned by 57% of teams, with premium upgrades beginning should he be the 1st to go @pkd73?#AFLFantasy

— aflratings.com.au (@aflratings) April 13, 2016
Great question.  Given the injury to Brad Crouch I would say that he should go before Wells at this stage, however, obviously he hasn't made the cash we wanted from him.  In RDT Wells has a BE of -24 but in AF his BE is 34.  So what this means for me is that he is definitely staying in RDT at this stage, he has heaps more money to make.  But in AF, I would probably give him one more week at least before he gets upgraded.  To answer your question, he will probably be the first as he will help you get to an ultra premium easily, but don't trade him yet.
@pkd73 Hey mate, is Scully the real deal or just a pash in the flan? #askdunny #pashintheflan

— Mike Penhall (@lostlarrikin) April 13, 2016
@pkd73 Upgrade Hewett to Scully? Blistering start but will be remain at top 8 mid?

— George Hartley (@gthartley) April 13, 2016
Must say I didn't think I would ever get two questions about Scully in the one week.  But hey, he probably deserves it.  He has always been touted but never delivered.  Well this time he is delivering with scores of 100, 138 and 119 with the last two v Sydney and Geelong. He does have a few tough games coming up (in fact quite a few).  He faces Port, Hawthorn, Freo, Gold Coast, Bulldogs, Geelong and Sydney all in the next 9 weeks.  The only other team in there that is 'easier' but it is away is St Kilda.  So, having said all of that, there is no reason why he can't continue.  He seems to have picked up the points that Treloar has left behind.  To answer your question I just don't know that he will finish as a top 8 mid.
@pkd73 #askdunny worth burning a trade in RDT to ditch mitch robinson? Only played 2 gonna lose cash. Could get Dahlhaus or Buddy in?

— Sam Jeremic (@SamMFJ) April 13, 2016
No.  No and just incase you missed it No.  He is playing, he is named on the ball.  Yes his scores aren't what you wanted at 65 and 85.  But, I wouldn't be sideswapping a player of his potential scoring in a limited trade form of the game.  Now if you were playing AF and you had no other issues in your team I could say yes.  In RDT save your trades as you will need them later on in the season.
Things to Remember
If you are going to trade this week be very sure of what you are doing. It is only round 4 and in RDT and SC with those limited trades you don't want to blow them all early.  In AF you should trade each week to try and improve your side!
Don't trade out on the back of one bad game, Fyfe wasn't the best in round 1 but has bounced back. Similarly Barlow was serviceable with 99 last week and for that reason would have been a waste of a trade last week.
Conversely don't trade in based on a good game. Can I mention one of our writers here at DTT and his lovechild?  Yes I am talking about Crutton who has a serious amount of love for Toby Greene.  He had a poor R1 then a blinder in R2. But showed that he can stink it up still in R3.  Look at long term trends, not just one good game.
Speaking of long term trends, I am still staying away from Jarrad Waite. I am not convinced he will keep this scoring up, nor am I convinced he won't belt someone and miss some games through suspension.
Best of luck this weekend everyone and hopefully we all do better than I did last week (had a shocker).  As always stay glued to twitter this afternoon for final teams and any late outs.  Catch you all next Friday!  @pkd73