Versus: Round 4
Tom returns for another week of putting players head-to-head in Versus.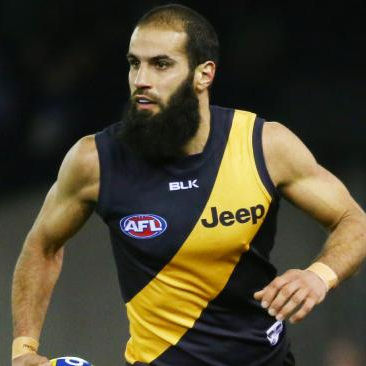 Tom returns for another week of putting players head-to-head in Versus.
GET THEM IN
Ciaran Byrne ($145,000) V Tom Ruggles ($148,000)
Originating from the distant lands of Ireland, dashing defender Ciaran Byrne struggled with injury in 2015 which led to him playing just one AFL game. However the 21 year-old showed plenty of promise for Carlton's VFL affiliate side, the Northern Blues. Byrne has explosive pace and brings an competitive, attacking approach. Carlton are showing signs of improvement but still find themselves without a win, so giving their younger players match experience will be a high priority this year. Whilst this is an excellent sign for Fantasy coaches who will look to jump on rookie priced players, it may also mean their job-security isn't so high. Nevertheless, Byrne seemed to improve his job-security against Gold Coast on the weekend. He collected an impressive 20 disposals, 5 marks and 1 tackle in 78% TOG. On multiple occasions throughout the night, Byrne took on his opponents after receiving a handball. His encouraging score of 69 Fantasy points resulted in a price rise to $145,000, an increase of $20,000. A low break-even of -7 should see the Irishman's price again rise a considerable amount. After a discouraging loss to the high-flying Suns, Carlton return to action on Saturday night against the Western Bulldogs minus their captain Robert Murphy. With a hefty loss looming, there's no doubt Byrne will see plenty of the opportunities back in defence. The Bulldogs are yet to leak a 120+ score, a streak which has a good chance of continuing. A little further into the distance sees the Blues face Fremantle (A), Essendon (H) and Collingwood (A). No-doubt an upgrade to a premium defender such as Houli, Laird or Shaw should be in your plans sometime soon, but a downgrade to a lower priced defender could well and truly bring Byrne into the frame. At this stage, with the likes of Marcus Adams, Matt Dea and Anthony McDonald-Tipungwuti producing solid scores, playing Byrne on-field is a little too risky as his scoring output will not always exceed 50 points. In saying this, Byrne is still a more than justifiable option at D7/8.
In just his first AFL match, Tom Ruggles managed an admirable performance. Last year Ruggles shone for his VFL club the Geelong Falcons, before being picked up by the Cats in the most recent rookie draft. Last year, Ruggles epitomized consistency, whilst his poise, excellent kicking skills and toughness has seemingly been carried over into the elite level. It didn't take long for Ruggles' name to become a fan favourite down at the cattery. After surprising many by not debuting in the opening rounds, Ruggles proved to selectors what they missed out on, collecting 17 disposals, 9 marks and 76 Fantasy points despite not recording a tackle. It's rare for a first gamer to make an immediate impact by taking the most marks for the entire match, but perhaps even rarer that they record the second best disposal efficiency. But that's exactly what Ruggles did, amassing an 88.2% efficiency. With first choice rebounding defender Jackson Thurlow succumbing to a significant knee injury during a NAB Challenge match, it was expected that one of either Josh Cowan or Tom Ruggles would fill the void. However Geelong elected not to play Cowan or Ruggles for the first two matches. Therefore it's a good sign that Ruggles was the first of the pair to get a run in the senior team. But a common result with rookie priced defenders in previous years has been their lack of job-security. There will inevitably be times across the duration of the season where a late out brings your D7 into the game. This situation, although not ideal, will greatly benefit those who have quality rookies like Byrne or Ruggles inhabiting the bench. Geelong play Essendon at the MCG this Saturday before clashing with Port Adelaide (A), Gold Coast (H) and West Coast (H) who are mostly attacking teams, consequently providing Ruggles with a host of opportunities. If last weekend's showing is anything to go by, Ruggles looks set to spend a lengthy stint at the highest level and is an obvious downgrade option.
Verdict: This comparison is perhaps the most popular ahead of round 4. Ciaran Byrne and Tom Ruggles are shaping as the two best defensive downgrade options. They are available for below $150,000 but that will not be the case come next week, thanks to extremely low break-evens. It's not easy to tell who has the better job-security but I'd say Ruggles' is marginally stronger. Carlton is a weaker team than Geelong, therefore the Byrne should, in theory, be seeing more of the ball in the back-line than Ruggles. The Cat managed 76 points without even laying a tackle which suggests he has the better scoring potential although he won't take 9 marks every week. Extremely close call, but I'd prefer Ruggles.
Loading ...
Zach Merrett ($565,000) V Brandon Ellis ($548,000)
What an amazing start to the season Zach Merrett has produced. Merrett, along with team-mate David Zaharakis, have lead from the front in an extremely difficult time for the Bombers. Without key midfielder's Brent Stanton, Jobe Watson and Dyson Heppell, Essendon required a younger player to come into the midfield, and that's exactly what Merrett has done. At only 180cm, some thought he would be out-bodied when marking bigger players, however he has used his penetrating left-foot kick, constant pressure, good speed and plenty of creative flair to not only match but beat his direct opponents so far in 2016. Against the Suns in the opening round, Merrett was easily one of the Bombers best, collecting 31 disposals (80.6% efficiency), 10 marks, 3 tackles and 119 Fantasy points. The following week, Essendon notched up its first win of the season and Zach Merrett was again on-fire. His career-high disposal tally recorded in round 1 only lasted a single week as he ran riot against the hapless Blues, gathering 32 disposals, 3 marks, 8 tackles, 2 goals and 136 points. In the most recent clash against the Power at Adelaide Oval, Merrett's scintillating form continued as he picked up 128 points. These Ablett-like disposal counts are largely due to a dramatic increase in midfield time. So good is Merrett's form that I'd expect he'll acquire a couple of Brownlow votes from the early rounds. Currently, the young Bomber has the fourth highest average of any player in the league, but remarkably is only owned by just over 7% of coaches. Those who elected to trade in Merrett for the injured Mitch Robinson after round 1, were rewarded with back-to-back 120+ scores and a bulky price elevation. Surely he has done enough to make coaches take notice? Priced at $565,000 with a more than manageable BE of 61, this week should be the last week coaches can trade in the small midfielder/forward as his price is fast approaching the 600,000 mark. Up next, Essendon plays Geelong who have only averaged 1467 points against (ranked 2nd), leaked 2.3 100's against (ranked 6th) and conceded a total of three 120+ scores (ranked 8th). The Cats have been fairly tight as of yet, so don't expect an awfully big score from Merrett. I personally prefer Merrett for a forward spot as there are a wealth of top class midfielder's available at discount prices, however he is scoring like a uber premium at the moment and capable of being a top six forward. Get him in now or watch the boat sail off.
Richmond midfielder Brandon Ellis has endured an up and down start to his fifth AFL campaign. Despite having 121 and 96 on Carlton last year, Ellis struggled, ending the night with 21 disposals, 3 marks, 2 tackles and just 70 Fantasy points. But perhaps the main talking point from Ellis' game was that amount of time he spent in the defensive half of the MCG. Ellis and Bachar Houli's run off half-back proved invaluable. Although Richmond praised his game, the same can't be said for Fantasy coaches who expected nothing less than a ton against a young Blues team. This performance came out of the blue as Ellis' lowest score of the 2015 home and away season was 69. This also happened to be his only score below 80, barring finals matches. But Ellis returned to his productive, damaging best in Richmond's narrow loss by collecting 30 disposals, 7 marks, 1 tackle and 105 points. Some saw Ellis' celling as an issue in pre-season, especially seeing he tallied twelve scores between 90-110 in 2015. Those critics were left to admit defeat as Ellis racked up a career high 39 disposals at Etihad Stadium on Saturday. He also added 11 marks and 2 tackles on his way to scoring an impressive 144 Fantasy points. Ellis ranked number one at Richmond for marks and un-contested possessions, playing in a role which benefited his Fantasy returns. Without doubt an area of his game which could use some improvements is the tackling. On numerous occasions across 2015, Ellis played as a 'seagull', sitting at the back of packs waiting for a quick release handball; after all, that is his job within the team. That's okay, as long as Richmond still look to utilise Ellis' running power going forward. A new role may slightly alter Ellis' Fantasy output however it also has the potential to lead towards an early DPP addition. If this is the case, then Ellis would have to be close to a lock and a good chance of finishing the season as the number one defender, although smarter coaches may want to wait for his price to drop before swooping on the 22 year-old. A tough trip West of the country to face West Coast this Friday night will give us a good indication as to where Ellis is played. The Eagles have given up an average of 1584 points so far however they will be difficult to beat at Domain Stadium. After that the Tigers clash with Melbourne, Port Adelaide and Hawthorn in a sequence of tricky matches. I believe Ellis will pick up DPP status so it may not be a bad idea to get ahead of the eight ball and trade him in, despite some aggressive fixtures looming.
Verdict: It's a battle between of two of the games best up and coming midfielder's. Do you go for the excellent form of Merrett or the consistency of DPP candidate Brandon Ellis. Both players could end up being the highest averaging forward (Merrett) and defender (Ellis), so at some stage, trading in these guys should be a top priority. Although he faces a tough opponent this weekend, Merrett's form is too good to miss out on.
Loading ...
QUICK FIRE COMPARISONS
Bachar Houli ($510,000) V Josh Gibson ($520,000)
Verdict: Houli and Gibson are the two highest averaging defenders in the competition. Unlike most other defenders, they have recorded some big Fantasy scores already. The Hawks Josh Gibson had a mammoth 157 points against the Eagles in round 6 whilst Houli scored 140 last weekend. But what separates them from the rest of the pack is their consistency (both players are yet to score under 75 points). Gibson plays as a defensive general or quarterback, often collecting plenty of un-contested marks, whereas Houli is the Tigers number one rebounder from defensive 50. Houli's role is better suited to Fantasy and I feel Gibson may be forced to play more of a lock-down role if Hawthorn looses a key backman. Both good picks, but I'd prefer Houli.
Loading ...
David Zaharakis ($503,000) V Tom Scully ($525,000)
Verdict: It's a clash of two in-form midfielders here. Zaharakis has averaged an amazing 121 points in the first three rounds and has an enviable lowest score of 112. Some coaches believed that Zaharakis would be tagged, but so far they have been proven wrong. What makes Zaharakis even more appealing is his affordable price. Without having to fork out top dollar, for $503,000 you get a player who could end up averaging 105+. If you want to trade him in, do so as soon as possible as his price will only rise. Often the subject of criticism over the course of his career, GWS midfielder Tom Scully has been used in numerous different roles during his time at the Giants, but appears to be holding down a Fantasy friendly job at the moment. Scores of 138, 119 and 100 have resulted in an average of 119 points per game for Scully. With an ownership rate of just over 2.2%, Scully could be the POD which wins you a tight head-to-head contest. That being said, he has never averaged over 85 in a season. Has to be Zaharakis in my opinion.
Loading ...
GET THEM OUT
Callum Mills ($253,000) V George Hewett ($218,000)
Callum Mills is a star. Taken with pick 3 last season, Mills has plenty of class about him. At 186cm and 80kg, Mills is a good height but will be looking to bulk up throughout his first season. The Swans believe that Mills is firmly etched inside their 'best 22'; a rarity for any fresh draftee. Although the club sees him playing a staring role in the midfield in years to come, with the likes of Josh P. Kennedy, Kieren Jack, Daniel Hannebery, Tom Mitchell and Luke Parker already patrolling the centre, Mills was thrust into a job in defence where his class and poise is on show. Encouraging scores across the NAB Challenge led to Mills being the most hyped up rookie midfielder. The draftee from North Shore was considered a 'must-have'. Unfortunately, he hasn't quite lived up to the excitement on the Fantasy side of things. In round 1, Mills had 18 disposals (72% efficiency), 2 marks, 2 tackles and 59 points. That was enough to hold his spot for the clash against Carlton where he racked up 19 disposals, 5 marks, 1 tackle and 69 Fantasy points. However in the recent derby against the Giants, Mills took two courageous contested marks and showed poise beyond his years but only touched the sherrin nine times for just 31 Fantasy points. So far Mills seems to be the type who would play a fantastic game which gets the critics pumping him up, yet only scores 60 Fantasy points. What he does do is excellent, he's just not quite doing enough to warrant a starting spot in our teams. Adding to the concerns is his rising BE, now at 40. Mills has only risen a mere $26,000, simply not enough for a rookie midfielder who coaches rely on to generate cash. Sydney face an Adelaide team full of confidence this weekend, yet the Crows have averaged two 120+ scores against them. If Mills is to continue to play a role in defence, perhaps he may spend time on the in-form Tom Lynch or a midfielder resting forward like Richard Douglas. The red and white outfit then faces West Coast in round 5 before playing Brisbane at the Gabba. With Jarred McVeigh set to return soon, could this alter Mills' role? In summary, I don't think Mills will make too much more cash and should be on the chopping block although some may hold him with the hope that he picks up defender status. If there are no more pressing issues, I'd look to trade Mills out.
Thursday night team reveals threw up a surprising inclusion with the Swans naming midfielder George Hewett. Drafted from North Adelaide with pick 32 in 2013, Hewett excelled in the NEAFL last year where he averaged 26 disposals and made the team of the year. This good form was almost enough for a senior call up in the latter part of 2015. After a long pre-season, Hewett was more than ready to match it with the best at the top level…and he certainly did that on debut. He collected 15 disposals, 7 marks, 7 tackles, 1 goal and 95 Fantasy points, prompting many coaches to not only trade him in, but start him on-field the following weekend. Hewett further improved his Fantasy status by scoring 68 against the Blues. But it all came crashing down against the cross town rivals, GWS. He scored a mere 23 points from just 3 disposals and 4 tackles and in doing so, frustrating those who played him on-field. On the flip side, his tackling pressure so far has been outstanding, with 30% of his total points coming from tackles. With that being said, unless you have no playing bench cover, it's simply to risky to be fielding Hewett, especially as his job-security is unstable at best. As mentioned above, the likely return of experienced utility Jarred McVeigh may see Hewett dropped back to the reserves. McVeigh can play in the middle, up forward or in defence, not disimilar to Hewett. The other possible candidates for an axing seem to be prized draftee Callum Mills or elevated rookie Tom Papley. Small forward Papley has kicked six goals so far and would consider himself hard done by if he was to be dropped after stringing together three respectable games, whilst Callum Mills has done enough to maintain his position. Hewett looms as the unlucky one on this occasion. Priced at $218,000, Hewett is $35,000 less than Mills, which may be the eventual deciding factor for a number of coaches. Although unlikely, If Hewett was to hold his spot, would he make enough cash, even with a round 4 BE of 18? If he can maintain his tackling and up his disposal counts, I believe he has the capacity to make another $75k-100k; but is it worth holding onto him in hope?
Verdict: A lot of coaches will find themselves debating over whether to trade out Mills or Hewett. Maybe some might even hold onto them until their price fattens up even more. Mills has shown glimpses of his undoubted potential at times but is yet to excite Fantasy coaches with big hauls of points. On the other hand, Hewett has registered a 90+ score as well as a sub-par 23 point game. Come Thursday night, the decision may well become obvious, yet for now it remains a close comparison. I'd look to trade out Hewett ahead of Mills.
Loading ...
QUICK FIRE COMPARISONS
Sam Jacobs ($487,000) V Max Gawn ($475,000)
Verdict: If you start the season with two premium ruckman, otherwise known as the 'set and forget' strategy, you expect nothing less than 90+ scores. Unfortunately, two popular big men Sam Jacobs and Max Gawn have been underwhelming to date, barring the latters recent 116 point haul. The Adelaide Crows sole ruckman Sam Jacobs is yet to crack the ton this season and is stuck with a disappointing average of 79. Coming off back-to-back 95+ season averages, Jacobs price has already plummeted $46,000. Likewise, 208cm giant Max Gawn has also found the going tough. After returns of 78 and 61, Gawn, much to the joy of his owners, pulled out a stellar 63 hit-out, 116 point performance against the game's best ruckman, reinforcing why he was such a favourable option at R2. Gawn has a higher ceiling than Jacobs but I feel will be more inconsistent. If you're looking to trade one out, go for Jacobs and try to get Goldstein in as he is about to go on a streak of favourable matches.
Loading ...
Tom Cutler ($312,000) V Jesse Lonergan ($364,000)
Verdict: Almost everyone started the season with at least one mid-priced defender; some went with three whilst others filled their entire backlines with them. So far, players such as Tom Sheridan and Brodie Smith have made plenty of cash and rewarded their owner's bravery but Jesse Lonergan and Tom Cutler have done the opposite. Instead they have been disappointing. After hearing the news that David Swallow was to miss a significant chunk of the season, Fantasy coaches jumped on the Lonergan bandwagon in the hope that a role in the midfield would increase his output. He scored 88 against the Bombers but followed it up with two consecutive 65's. All Tom Cutler owners wanted was a decent price rise and a steady 75+ average. But he too has failed to deliver, with scores of 53, 57 and 69 leading to an overall decrease in price by $5k. It really is time to move these guys on and sooner rather than later, with an abundance of rookie priced defenders available. Both should go but I'd ditch Cutler before Lonergan.
Loading ...