Roy's Trade Talk – Round 4
Big week of trades ahead, so make the most of the biggest trade forum in town and discuss your ideas in the comments.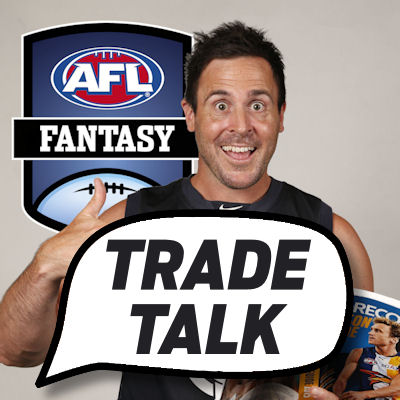 I am getting a lot of questions about rookies this week, mainly regarding whether it is too early to cull a youngster like Callum Mills (MID, $253,000), or who to take between Ruggles and Byrne. I am far from a rookie expert, in fact, I am a contender for Australia's worst coach when it comes to picking which youngsters to play on the ground… but I'm on point in regard to trading them.
In an ideal world we hold Mills. He is a young star, in the Swan best 22 and far from fattening to his full potential. Also in his favour is the fact he will likely gain DPP in round 6. However, in the world of two trades per week, I think it is ok to trade him early if there is a great downgrade coming through, or the trade helps you reach a star.
Cash Cows
Tom Ruggles (DEF, $148,000) was outstanding on debut for the Cats and looks set to hang around for the long haul. The Cats liked having the ball in his hands, taking 9 marks to go with his 17 possessions on his way to an impressive score of 76, causing a 23K price rise. He has a break even of -11 going into this weeks game against the Bombers.
Ciaran Byrne (DEF, $145,000) played his first game of the season on the weekend and was very impressive, collecting 20 possessions and 5 marks against the Suns for a score of 69. As long as he is playing at that standard, his spot will be safe and he is carrying a break even of -7 going into this weeks game against the Dogs.
Roy, which one mate?
I think both are great options, but I will go for Ruggles, he is in the better team with greater stability and has a great draw over the next month.
Under-priced Premos
It can be hard to upgrade to the elite premiums at this time of year, so we need to search for some under priced players who are within reach. After the junior Swan mids killed us in the midfield on the weekend, that is where I am hunting for some bargains to fix the mess.
After being knocked out on 16 in round 2, Mitch Duncan (MID, $425,000) showed no ill effects against the Lions with a game high 123 from 29 touches, 8 marks and 5 tackles. He has dropped 17K due to the KO and has a break-even of 71 leading into this weeks game against the Bombers.
David Zaharakis (MID, $503,000) is off to a flyer in what looks set to be a career year, and the Bombers are defying the odds and scoring at a rate which looks set to support his play. He is averaging 121 over the first three weeks after a season low 112 on the weekend. Despite rising 88K so far this season, he is still great value, as his break-even of 45 suggests.
Tom Scully (MID, $525,000) is living up to the hype at the beginning of his career, which many have justifiably given up on. He is averaging 119 to start the season and dare I say it… it hasn't looked like a fluke and what is most impressive is that his two most recent games were against quality opposition in the Cats and Swans for scores of 119 and 138. He has a break even of 54 and has games against the Power and Saints coming up and both of those teams give up plenty of points.
Roy, which one mate?
All three are great options, but I will eliminate Scully first, purely because its Scully… Harsh and unjustified based on how good he is looking. I think Zaharakis will average more than Duncan over the remainder of the season but purely for the value, my number on value pick is Duncan, who has the added bonus of a favourable draw over the next month.
Discuss your trade ideas in the comments
@RoyDT