Inside the Fantasy Numbers – Round 3
Pete from aflratings.com.au takes a look inside the AFL Fantasy Numbers each week.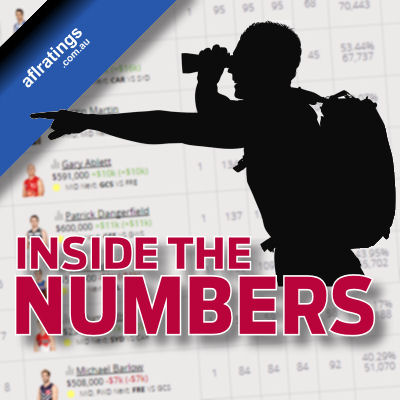 Pete from aflratings.com.au takes a look inside the AFL Fantasy Numbers each week.
The good type of streak
Scott Thompson now has a 10 game streak in which he has scored 100pts or more vs Richmond, the streak dates back to Round 11 2008. Early signs were not good for Thompson against the Tigers in Round 3 as he was sitting on -7 midway through the 1st Qtr, but from that point onwards he accumulated Disposals with ease finishing with 28 and an AFL Fantasy score of 119pts.
The numbers are overwhelming
If you don't have Aaron Hall in your team it is almost the last call to grab him, he is priced at $525K with a Break Even of just 25. Hall is averaging 134.0pts through 3 games in 2016, he now has scored 100pts or more in 8 of his last 9 games with 4 of those games exceeding 120pts or more including 3 straight to open the season.
What is the role/Job Security for George Hewett?
Just under 30% of AFL Fantasy coaches own George Hewett, after turning in just 23pts against GWS the alarm bells have started to ring on his job security.  Hewett played only 51% of game time vs GWS Giants in Round 3, against Carlton in Round 2 he played 70% of game time and against Collingwood in Round 1 he played 71% of game time. Hewett had somewhat of a different role in Round 3 spending periods of the game in a negating role on Heath Shaw which virtually limited his Fantasy output, if he plays this week keep in mind his potential to take on further roles limiting defensive players on opposition teams.
Will Aurora Stadium remain No.1 in 2016?
Is it a coincidence that the No.1 scoring venue in 2015 Aurora Stadium located in Launceston is just around the corner from where Calvin, Roy & Warnie all live? In all seriousness this ground provided huge numbers in 2015 with the No.1 scoring Hawks competing against teams that gave up plenty of points, in Round 4 Hawthorn play St Kilda at Aurora Stadium and again the numbers should be big.
Prior to last week St Kilda had conceded the most AFL Fantasy points of any team (R1: 1759 vs Power & R2: 1892 vs Bulldogs), the Saints were much better against the Magpies in Round 3 but the Hawks are a scoring juggernaut especially at Aurora Stadium. St Kilda (Currently Ranked 2nd for Ave Team Points in 2016) are not totally out of the question to the throw up some serious individual scores in Round 4 with Leigh Montagna & Jack Steven both averaging over 120.0pts so far in 2016.
2 Games are still random but 3 games are a trend
The normally AFL Fantasy Friendly Magpies have failed to set the world on fire early in 2016, alongside Brisbane & Fremantle they are the only teams not to have not scored 1,500 Teams points in any game this year. Collingwood currently has only 1 player averaging over 100pts (Taylor Adams 100.7), the Magpies lost Dane Swan in Round 1 likely for the season  and Steele Sidebottom via suspension for 2 games.
Scott Pendlebury is currently averaging 96.7pts playing more around half back, the last time he averaged under 100pts in a season was back in 2009 (94.1 Including Finals) whilst his lowest season average since has been  106.5pts in 2010 (Including Finals). Steele Sidebottom returns this week from suspension which could see the Magpies increase scoring, as a team they are averaging 2.7 100pt games in 2016 after averaging 4.2 (Ranked Eq 3rd) in 2015.
AFL Fantasy coaches should be a little concerned with the 0-3 start for Fremantle in 2016, if this form is not rectified instantly then all coaches could face the possibility of a volatile scoring year from the purple haze. The Dockers currently have zero players averaging 100pts or more this year, Nat Fyfe (Ave 99.0) & Lachie Neale (Ave 94.3) are the only 2 players averaging over 85.0pts in 2016.
Brisbane have again been hit with injuries to key players in 2016, Tom Rockliff & Dayne Beams are currently on the sidelines injured and Stef Martin has been up against it early competing against the likes of Nic Naitanui & Todd Goldstein. Brisbane are currently Ranked 18th with 1295.0 Ave AFL Fantasy Team points in 2016, this is a differential of -202.1 points compared to 2015.
Brisbane have a brutal opening 10 games to start the 2016 season and could be 0-10, if the early scores are any indicator for the Lions then they could be a Fantasy wasteland for the non-premium players until at least the midway point of the season. Finally the concerns for Stef Martin are somewhat justified as he is averaging 6.5 fewer Hit-Outs & 2.7 fewer Disposals compared to 2015, favourable match-ups in the next 2 weeks should see his numbers increase and provide some comfort for his owners.
Top AFL Fantasy Ave Team Points
1. Western Bulldogs 1846.3
2. Essendon 1686.7
3. St Kilda 1685.3
Worst AFL Fantasy Ave Team Points
18. Brisbane 1295.0
17. Melbourne 1417.3
16. Collingwood 1435.0
Follow @aflratings on Twitter
CLUB
PTS
FOR
>100
FOR
>120
FOR
PTS
AG
>100
AG
>120
AG
ADE
1601
2
0.6
1552
3
2
BL
1293
1.3
0.3
1662
4.3
1.3
CAR
1493
2.3
0.6
1603
3
1.6
COLL
1434
2.6
0
1729.3
5
2
ESS
1694.3
5.3
1.3
1556
3
1
FRE
1493.3
1.6
0.6
1686.3
5
1
GC
1677.3
4
2.3
1470.3
2.6
0.6
GEE
1546.3
3
0.6
1467.6
2.3
1
GWS
1550.6
3.3
0.3
1471
2
0.3
HAW
1660
4
1.3
1520
2
1
MELB
1416
1.3
0
1611
4.3
1.3
NM
1507
2.3
1.3
1401.6
1.3
0
PA
1559.3
3.3
1.3
1716
5
1.6
RICH
1582
3.6
1.3
1532.3
2
0.6
STK
1685.3
3.6
2
1681.6
4.6
1
SYD
1629.6
4.6
1.3
1469
2.3
0
WB
1843.3
4.6
1.6
1481.3
1.6
0
WC
1606.6
4
1
1584
3.6
1.3