Benjo's PODs – Round Four
Benjo is back with his POD series. He discusses seven unique options, ahead of round four.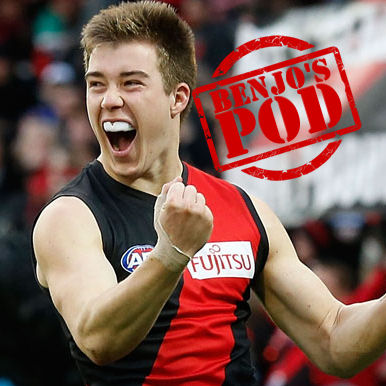 Well… I'm back? Yes, I'm back with my POD series! As per usual, I'll discuss two PODs from each of the four positions (only one in the ruck), of which you should think about including them in your sides, if I am persuasive enough.
First off, let's review the weekend scores. The weekend was full of a mixed bag of results, but hopefully you managed to score over the 2000, par mark. Todd Goldstein ($601,000) had a day out at Blundstone, scoring a monstrous 149 points, against a respectable ruck in Gawn! But what could I possibly do without this guy… Aaron Hall ($525,000) was epic once again on the weekend, with 151 points! In fact there were seven players who scored over the 130 mark on the weekend! One of these was Bachar Houli ($502,000) who knocked out a 140 against the Crows! Who saw this coming?
However, what happened to our midfield rookies all of a sudden? George Hewett ($221,000) scored a putrid 23, and is on the chopping block for many coaches, as is Callum Mills ($252,000) who didn't do much better managing 31!
One of the most traded out players last week was Michael Barlow ($474,000) , whose first half was amazing, however fading late as the rain belted down in Perth. However he still managed a respectable 99, only losing 10k. Another heavily traded out player was Ryan Harwood ($201,000) who scored 65. I still think it was the right decision to trade him out.
Well done to the Descendants, coached by Louis T, who won the weekly prize in AFL Fantasy. He scored 2372, however he drew on points with the second placed team, but he won the prize because he was the first to register! Heart breaking for the guy who came second. However, I was looking at the top four ranked teams and they almost look identical. Three of the four have the exact same backline, rucks, and very, very similar forward and midfield lines!
Now, enough of last week, we are now focusing on this week. Let's get stuck into this!
*If I may sound in a bit of a negative tone, it's because of my Fantasy team. The boys are very disappointed with their Fremantle like start, and know that they have to lift, to impress the coach.
DEFENCE
Shane Biggs
443k – 68 BE – 95 AVG – 2.4%
I brought Biggs in this week in Fantasy. I was a little disappointed with his 71, but he showed promising signs against the Hawks.
Biggs faces Carlton, Brisbane, North Melbourne, Adelaide and Melbourne in his next five. Four of these five matches are going to be played at Etihad Stadium. The Bulldogs average a team total of 1,843 DT points a game whilst playing at Etihad, and average a further five DT hundreds a game.
People may prefer Johanissen as an option, but I prefer Biggs. In fact, here is a great stat found by @jimbobholder on Twitter. "Johanissen 2015: @Etihad 84 average. Away from Etihad he averages 69. After round seven, Bulldogs play at home only seven times." Of course this isn't the necessity to happen, but it's just a buyer beware.
Is the Biggs hype real? When he was previously playing for Sydney, he averaged 108 over seventeen games for the reserves team in the NEAFL, averaging 31 disposals. Last year over the first half of the season, he played ten games in the VFL, averaging 97 DT.
Biggs has kicked off the season with scores of 125, 94 and 71, averaging 95. I can see him averaging somewhere between 80-95. He would be a reliable D5/6 option by seasons end.
Biggs is in the prime time of his career, aged 24. He looks at home in the Bulldogs outfit; as the Bulldogs look to improve, I can't see him producing any shocking scores throughout the season.
Verdict:
I think Biggs will be in the top 10 defenders, by seasons end (including the new DPP additions). I'm predicting him to be extremely consistent. Trading him into your side this week would give an instant reward, as he plays Carlton, at Etihad. Enough said.
Sam Docherty
464k – 76 BE – 91 AVG – 5.3%
At 5.3% ownership, I believe Docherty could be a relatively good trade-in option.
Leading up to the bye, Carlton faces the Bulldogs, Fremantle, Essendon, Collingwood, Port Adelaide, North Melbourne, Geelong, Brisbane and St Kilda. Of these opponents, Carlton will struggle only twice from a DT perspective. They do not have a hard run leading into the bye rounds.
Believe it or not, Docherty is averaging 25 disposals this year. He's further averaging 8 marks a game.
As Carlton are progressively improving as an overall team, I expect that there DT output will also benefit. As a result, this places some Carlton players underpriced.
I think Docherty will be fairly consistent this year as well.
Verdict:
Despite Docherty's low ownership, I think he is a great option. The only downside could be his round thirteen bye round, shared by the likes of Houli, Laird, Simpson and maybe, possibly, Brandon Ellis in the backline? If you are looking for a consistent, underpriced back-premium, I would look no further than Docherty.
MIDFIELD
Andrew Gaff
559k – 99 BE – 103 AVG – 3.4%
Gaff will average over 110 DT in the near future. He is a ball-magnet.
Gaff has already shown that he can step it up a notch in the big games. He scored 111 against the Hawks in round two, in a 46 point loss.
Over rounds 8-17 last year, Gaff didn't drop below the 100 mark! This is unbelievable consistency.
When the Eagles play at Domain, they always put up monster DT totals.
Gaff dropped under 80 only three times last season.
Gaff is ever improving, and has always been a ball winner. He averaged 110 during the NAB under-18 championships.
Verdict:
Gaff will become more consistent over his career. He will average over 115 come the near future. Still a decent pick if you are in need of a POD.
Jack Steven
611k – 102 BE – 120 AVG – 6%
I brought Steven into my RDT side last week, and even captained him, much to the delight of a sweet 133 points!
Steven's lowest score last year was 70, where he was the victim of the Jacobs tag. Apart from that, his two other lowest scores were 87 and 89.
Steven went over the 120 mark eight times last year!
Steven averaged 113 against last year's top eight teams, proving that he isn't just a flat track bully.
Steven provides us with a great captaincy option. He has great consistency and ceiling levels.
Steven plays the Hawks this week, who scored 133 points against last year.
Verdict:
If you have the cash and need a valid captaincy option, look no further than Steven. Just keep an eye on your round thirteen bye round midfielders, however.
RUCK
Jordan Roughead
364k – 43 BE – 80 AVG – 3%
The 'other' Roughead is going about his business quietly for the Doggies, posting scores of 80, 76 and 84. Is he an option?
Yes. Roughead has had scores of 80, 76 and 84.
Yes. The Bulldogs play four games in a row at Eithad.
Yes. He is cheap, and still has a relatively low BE.
Does he have history to back up this form? I'm afraid not. Before this season, Roughead has averaged 60, 47, 52, 57 and 57 DT.
Verdict:
Probably not the best option. I think an average of 70 is not out of the question. If we have Leuenberger, I think we should upgrade to the best, in Goldstein.
FORWARD
Zach Merrett
565k – 61 BE – 128 AVG – 6.7%
Man, this kid is an absolute gun! I watched him play at the Eagles vs Essendon NAB match, and he was everywhere. They love the ball in his hands!
He's scored 119, 136 and 128. Have I mentioned that he's a gun?
He's owned by almost 7% of the competition! Amazing unique. You'd be winning if you started with him.
1.46 PPM rate!
Third season breakout. Averaged 118 in the VFL in 2014, which is a pointless stat, but it's further illustrating that he's a beast!
As I said before, I watched him play during the NAB, and I seriously think that a bad game from him would be between 75-85. He's that good!
Verdict:
Yes, he's pricey, but for the forward line he's a must. Clear top six forward. Will average anywhere between 100-110. Gun!
Leigh Montagna
608k – 83 BE – 123 AVG – 7.1%
Wow… I did not see this coming. 160?! Maybe I should have? He has to be in everyone's team by seasons end.
Last year he didn't score under 80.
He's averaged over 105 four times before.
CEILING. 160 on the weekend was massive and would have most likely resulted in a massive score for the week.
54% of his scores last year were over 110.
I tried counting how many times he's scored over 130 in his career, but I gave up. He must have scored around 130 over thirty times in his career.
Verdict:
If you can afford him, I'd just bring him in. We thought that he'd get cheaper, but will he? Definite top six forward, no doubt about it.
The Weekly Roast + Toast
This is a new segment, kind of a rant and an area of discussion. I'll kick things off.
ROAST
Mills and Hewett. I expected a lot more than 31 and 23 from these boys, as they were both on the field. Another mare of the week goes to me, for not trusting Adams on the field against the Hawks in Fantasy, which backfired badly.
TOAST
I brought in Jack Steven, and captained him in RDT, which was a major success. Aaron Hall was beautiful as always.
Around The Grounds
I managed a pathetic 1928 in Fantasy. Thankfully, my RDT team is going well, currently ranked inside the top thousand.
However not all doom and gloom, as I managed one good result, finishing 25th in The West Australian's Pick 7 competition. My team was Shaw, Simpson, Steven (C), Adams, Goldstein, Hall and Montagna. Unfortunately if I selected Houli over Simpson I would have taken home the weekly prize. Oh well.
This week's team selections will be critical. I've got many borderline rookies, such as Dunkley and Hewett. I'm thinking of going Bartel down to Ruggles and Hewett up to Dusty/T. Adams in Fantasy, who are both due for some respectable scores.
I hope you guys enjoyed the first edition of Benjo's PODs for the year!
Comment your trade ideas down below and I'll try and answer as many as possible. As always, my Twitter handle is @BenjoDT, so feel free to ask me any questions on there!