The Weekend Wash-Up – Round 3
There are some weeks when you're just up and about, that's me this week! When the Yo is up you know it's going to be your Round, so I'm enjoying it while it lasts. You're probably all thinking I've cracked 2300, don't be ridiculous.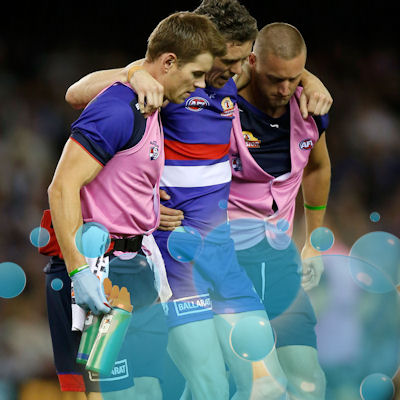 There are some weeks when you're just up and about, that's me this week! When the Yo is up you know it's going to be your Round, so I'm enjoying it while it lasts. You're probably all thinking I've cracked 2300, don't be ridiculous. No, I just had a good week and sometimes you need to celebrate the small things in life.  There's a noticeably shorter list of losers this week, not to mention some monster scores. Let's keep the positive vibes going, it's time for the weekend wash-up!
Legends
Merrett (128) – If you can only get 1 player in this week, I'd make every effort to make Zach Merrett that player. I loved watching him live last week and I loved what I saw on Friday night. He's a Fantasy made player and should comfortably average 100+ this season. He'll be extremely expensive after this week but as a forward owned by just 6%, he's worth every penny.
Zaharakis (112) – I thought Zaha was just as good! Both Merrett and Zaharakis are at every possible centre bounce and their teammates always look to give them the ball. I love a good handball receive and Zaharakis gets plenty. Strongly consider him at $500k, Essendon will have quiet weeks but he should still average over 100. Gun.
Montagna (160) – How dare us write off a DT legend. Over 90% of the competition refused to pay the premium and get Joey as a forward (lol). 40 disposals and 160 points later and I think we're all slightly regretting that. Especially when you consider we picked Barlow at what turned out to be a premium price!
Steven (133) – If you wanted to pay top dollar for a reliable premium, Jack Steven was the way to go. He's so good, averaging over 30 disposals again this season, not to mention tackling hard and bagging snaggers. Certain top 8 mid!
Newnes (121) – One year too late Jack… At least we can look back on it and know the potential was there! Moving on…
Ellis (144) – Brandon Ellis has moved back to his beloved wing role and whilst it hasn't helped Richmond, we don't care! 33 uncontested disposals and 11 marks is classic Ellis. Will he beat last seasons average? I'm not so sure, but he's certainly worth consideration at $548k. Value this week.
Houli (140) – Houli just racks up off half back, I doubted his final pre-season game but he looks to have taken his game to a new level. He won't maintain this level of scoring and $500k is the absolute max I'd pay for him, but he's looking fantastic at the moment!
Parker (121) – Here's a new Brownlow medal smokey to throw into the mix. Parker is on fire this season racking up another 30 possessions this week. I'm kicking myself for not sticking with him, but I think the ship has sailed for now. I'd be surprised if he doesn't end up a top 8 mid, he should only get better!
Scully (119) – Is Tom Scully an option we need to seriously consider? Based on his performances so far you'd have to say YES! No longer held back by his lock down role he has turned out to be a prolific ball winner. Kicking is still a worry for him though, 48% disposal efficiency isn't too flattering. As much as he's in form right now, I can't see Scully averaging much more than 100. Pass.
Hall (151) – Yes, Yes, Yes. SO MUCH YES. What else can I say? 40 disposals (27 kicks), 6 marks, 4 tackles… I thought he'd rack up 30 each week through the midfield, turns out I was being conservative! Crazily all I've heard from the commentators is how good it is to have Ablett back in form, and whilst that's true Hall deserves more attention. I guess he's now captain material…
Ablett (124) – Bald Jesus refused to be completely overshadowed by Aaron Hall's performance, racking up a lazy 35 touches and 8 tackles. If you didn't pick him Round 1 and haven't rectified that error by now, good luck getting him in…
Lynch (123) – Tom Lynch has taken the next step this season, averaging 107 with a low of 98. Certainly not a Fantasy option but well worthy of recognition for those who grabbed him in their draft leagues!
Weitering (106) – I may not have seen this game, but I could tell from Round 1 that Weitering is an absolute star. No I didn't mean to say he was "going to be" either! What a pick he was, and to think we tried to save $40k by picking Mitchell Brown…
Fyfe (122) – It's never too early to go searching for value, and whilst many traded Rockliff to form players I snuck in a Brownlow medallist for $540k. Even though he's not quite at his best he should still comfortably average around 110. Not many teams will bother to tag him so I'm locking him in as a top 8 mid! He's still great value this week if you're in the market for a midfielder.
Goldstein (149) – Sigh. It's hard to watch Goldy monster games like this when you don't own him. It's even harder to bear when you realise you'll need to take out a billion dollar bank loan to afford him. He faces Freo likely to be without Sandilands next week… Scary.
Gawn (116) – I don't often label a bloke a legend on the back of a 60, but Gawn has to be given credit for this performance. He was appalling last week, but wanted to prove himself against the competition's best ruckman. With 18 disposals (17 contested), 7 clearances, 4 contested marks, 2 goals and 63 hitouts I reckon you could say he did a decent job. Also note that some of his 7 free kicks against were harsh. With over 100 hitouts recorded for the match this could be a one off, but he's certainly worth holding.
Ziebell (137) – Yeah he tackled well… But that's enough time we need to waste here. Simply not worth $500k solely as a midfielder.
Daniel (128) – Unfortunately I missed out on what I presume was the match of the round, but I've heard great things about Caleb Daniel. Firstly he finally shut down Sam Mitchell, and secondly he went ape sh*t himself! At $365k he's worth having a look at, although his long term role is questionable… I'm keen to watch him closely next week, but with a break even of 4 he'll be almost out of sight!
Adams (107) – This bloke is the very definition of legend. 15 marks and 100% time on ground!!! Thanks for coming. Must have him on your ground, an error most of us rectified this week and he came through in spades.
Mitchell (117) – Sam Mitchell got it done again, but at over $600k you'd be a brave man to pay those dollars. He looked on track for another ridiculous score on 70 midway through the 2nd term before he was finally shut down. Surely teams won't let him have his own way all season!
If you're new here (or had forgotten), I live by the Dylan Shiel rule. What's that you ask? Great question, I may or may not have had to go into the archives to see what I'd labelled it… Anyway, Shiel famously started the 2015 season with a ton and then 136, only to back up the week after with a 47. He then went 135 next next! The point? If you've had a shocker you can't suddenly walk around like your the dogs balls next week, debts must be paid. Same goes for players who've earned brownie points (Looking at you Johannisen). If ever there has been a case for the Shiel rule, it's Duncan. Sure he went bang with a 120, but he owes his owners a lot more! Non-owners however, watch him at $425k…
Losers
Martin (81) – Positive vibes gone. I guess 81 isn't the worst score but seriously Stefan… I never even considered selecting Goldy over Martin and if I had my time again I still wouldn't. There's plenty of time left in the season but so far Martin hasn't looked like going huge, we paid $630k for this bloke!!! I thought he was a no brainer but that was miles off the mark. If you can only get 28 hitouts and 1 mark against Zachary Smith there's a problem. Shit haircut too. I like to call a man bun the **** antenna… Make of that what you will.
Brown (46) – It's the moment you notice you could've had Clay Cameron for $70k less that you realise how badly 36% of the competition messed up. Why did we pay the premium again?! I can't see things getting any better…
Riewoldt (71) – This was incredibly harsh on Riewoldt owners (I'm guessing he's more draft relevant). Roo was on 71 just 18 minutes into the second quarter. Sometimes this game just sucks.
Hewett (23) – The Sydney rookie bubble burst this week and it burst in a big way. Whatever that means. Feel free to hit me up with your crap footy lingo in the comments. Anyway, Hewett was shocking and will probably be dropped next week. Thanks for your service and goodbye.
Mills (31) – WHAT WAS THAT? I'm seriously wondering what tempted me into paying out of my ass for Callum Mills. The kid is going to be a star there's no denying it, but he's currently playing a lock down role! This makes it even harder to watch Parish tear it up, Clayton Oliver stepped up this week as well. It's looking like a big mistake but I see no choice but to hold him and hope for a turn around next week, 40% are in the same boat.
Greene (52) – There's not much good about owning Toby Greene, all you're going to get is a hernia. 24 disposals for 54 points is a sign that it's just not going to be… I'd trade.
Simpson (57) – Now that's more like the Simmo I know and hate. To be fair at one point he looked on track for 30! When you watch guys like Houli, Laird and Johannisen hunt the footy, owning Simpson is excruciating.
Murphy (59) – I'm guessing the Marc Murphy hype has cooled off a little? Strange how a player of his ability can score so poorly, 59 is a good dodgeball effort in my opinion. No danger of a tackle either.
Lonergan (65) – Is 65 really enough from Jesse…? No it's not. Lonergan is averaging 72 and to be honest I'm struggling to see him pushing that up past 80. He had 21 disposals and 4 tackles but just doesn't score well unfortunately. Hold him though!
Redden (49) – Any danger of getting involved Jack! The Eagles gave up a lot to bring him in and so far haven't been given much. That's a pretty early call after 3 Rounds, I think it's time for me to pipe down. No Fantasy relevance whatsoever so let's move on…
Sandilands (15) – You can call it unlucky, but Lyon rolled the dice by selecting only 1 recognised ruckman… Not sure where Freo go from here. Sandi is a massive loss for the Dockers, and also my Draft squad! More importantly my draft squad…
Lewis (60) – Lewis clearly has a problem with Etihad, does he not like indoors? Is the grass itchy? Not a big enough stage? Either way at $620k you'd be spewing with this performance. Don't even consider trading him though, you've paid the big bucks to own him for 23 Rounds. Not negotiable.
Stringer (54) – Didn't see this game but 'The Package' must have had a shocker. 46% efficiency for the very few things he did! If you selected him you had to be prepared for a roller coaster ride and that it will be.
Murphy (94) – On a softer note, you have to feel hollow after hearing this news. Murph looks to have done his ACL and at 33 it's going to be a long road back… Let's just hope he makes it! Get well soon Bob.
I feel I owe it to the integrity of the stubby to nominate 5 players, so here they are…
Montagna – Any other week I'd have Monty at 2/1 odds for the stubby, 40 touches and 15 marks. Now that's how you play Dream Team.
Houli – What a pick he has been! Another triple double for Bachar with 21 kicks, 15 handballs and 10 marks. Sensational.
Goldstein – Those who gambled on Goldy over Stef must be on cloud 9, he kicked 5 freakin goals! What a player.
Merrett – A lazy 3 game average of 127.7 as a $500k forward, you can't ask for anything more.
Hall – I'm sorry but if Hall doesn't win the Stubby this week I might retire it. 40 disposals. 27 kicks. 151 points. A 3 round average of 134 for a bloke we paid $422k and stuck our necks out for! Those in the know had Hall and he's earned this!
Who gets your vote?
This Game Sh*ts Me
Some weeks this is easy for me, today is one of the rare occasions I'm struggling to find a negative!  Hang on, no of course there's one. In the last couple of weeks I've had to see way too many basement priced rookies kill it while my premium rookies spud. Clay Cameron is a prime example. Who is he? Do any of the 28% of the competition who own him actually know what he looks like? He must be a decent player, but there was seemingly no signs of him being capable of averaging more than 50. He was just 'there' and cheap. Now a quarter of the competition are getting an armchair ride and I'm left with Ryan Hardwood (That is genuinely what it autocorrected to). Heck, even Ciaran BYRNE scored well this week. I've gone for Ruggles so avoid at all costs. This game sh*ts me.
The Other Bits and Pieces
My days of potato farming are over, on the back of 2163 I'll be next seeing you guys having spent the $25k on a private jet over to Melbourne to see the Eagles win the flag. Over confident? Never. This is my season and Elliot Yeo will carry me to glory, heard it here first. So yeah, if you happened to pull one of my standard rounds let me know about it. I'll probably just laugh at you but I guess that's why you guys read this article, so have some of it back! I hope you all fared slightly worse than me and I'll see you all next week having fallen back to Earth harder than Mumford hit Duncan.
*Sure there's about 2 pixels here but that's how the ump saw it*